12 Things You Should Never Do When Planning a Bachelor Party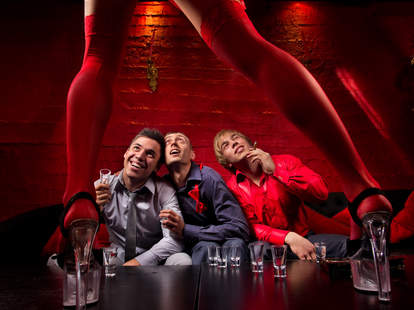 Ahhhhh the bachelor party. The time-honored tradition of getting a group of guys together and causing absolute mayhem with minimal responsibility and zero inhibitions. Basically, it's your early 20s, but with more money and slightly better decision making.
But merely attending this kind of party doesn't guarantee a good time; and if you're the best man in charge of planning it, a failure to provide awesomeness will be blamed squarely on you. So, no pressure or anything.
That said, if you are the go-to guy assigned with throwing your buddy's last hurrah (hopefully) as a single dude, you've gotta minimize the mistakes. And to help you do that, we've talked to a ton of experienced best men to uncover the 12 things you absolutely should NOT do.
Schedule a three-day drinking marathon
This may be a party full of your old frat bros but... NEWSFLASH... you're not in a frat anymore. And if you spend the first night at a local bar pounding Old Crow and Skoal and Ron Rico, you'll spend the next two days pounding Aquafina and Advil.
 
Plan without consulting the groom
Sure, YOU may think a weekend in a Colombian condo with 14 women and industrial-grade dishwashing soap is a great idea. So would a lot of people. But the groom -- and, more importantly, his bride to be -- might not be so keen on the idea. It's his party, and he can cry... no, sorry, but you should do what he wants.
 
Invite anyone related to the bride
Nothing screams "weekend of uninhibited fun" like having your future father-in-law tag along to the strip club.
Price people out
By the time you're old enough to get married, you should never be that guy who insists on calculating the bill eight ways because all he ordered was a Diet Coke and French fries. If you're gonna go all Floyd Mayweather, that's great, but let everyone know what will cost so they can plan accordingly.
 
Invite the whole wedding-guest list
If you need proof that making decisions in large groups is pretty much impossible, turn on C-SPAN.
 
Try to please everyone
Trying to pin down a specific weekend for a bachelor party with a group of 10 guys is like trying to get everyone to agree on pizza toppings. Take suggestions from the group, consult with the groom, then set a solid date. You'll see those who can't make it at the wedding.
Post ANYTHING on the Internet
Wil Wheaton taught us all this lesson, didn't he?
 
Plan it last minute
Because everyone enjoys a raging, four-day-long game of "I dunno, what do you wanna do?"
 
Front cash to anybody
Unless you plan on your plus-one to the wedding being a goon with a baseball bat, give everyone in the group specific amounts, due dates, and instructions to pay you when you send out any planning correspondence.
Just show up at a club
That's cool. Of course, your buddy wanted to spend his last few days as a single man looking like a schmuck behind a velvet rope. Why wouldn't he? Call a promoter ahead of time, find out what it'll take to get your group in, and go from there.
 
Overschedule
It may seem like waking up at 7am to go deep-sea fishing, then playing 18 holes of golf, then going go-karting, then having steaks, then singing karaoke, then scoring bottle service, then hitting the strip club sounds like the greatest night of your life. What it actually sounds like is a recipe for everyone hating you.
 
Meet up with the bride-to-be
And if she's the one insisting on this, getting married might not be the best decision after all.