Badass Hotels, Motels & More You Can Barely Find on a Map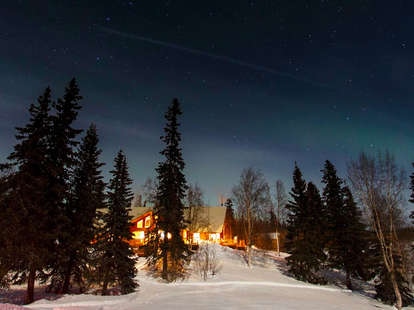 <a href="https://www.facebook.com/130394020330869/photos/a.133689383334666.12153.130394020330869/941410369229226/?type=3&amp;theater" rel="nofollow" target="_blank">Jeff Schultz/Within The Wild Adventure Lodges/Facebook</a>
1. Ultima Thule Lodge
Chitina, AK
Where: You can't get much more remote than Ultima Thule Lodge, deep in the Wrangell Mountains -- the highest coastal mountain range on Earth. The hotel sits on the banks of the Chitina River, 100 miles from the nearest road. That means the only way in and out is by bush plane, from which you can take in views of the Lodge's 13 million-acre backyard, Wrangell-St. Elias National Park.
Why: Since you're far from cellphone range, switch that thing off and hike some glaciers and volcanoes, and catch the Northern Lights if you're lucky.
2. Ludlow's Island Resort
Cook Island, MN
Where: Smack in the middle of Minnesota's Lake Vermillion.
Why: Ludlow's Island Resort features just 22 cabins hand-built by the Ludlow family -- all located within 50 feet of the water. Some are towering four-story treehouses that your childhood self would have killed to live in, others are romantic one-bedrooms for your grown-up self, complete with private boathouses. As if living like a tree elf wasn't cool enough, there's swimming, fishing, and canoeing at the lake's 40,000 acres of navigable waters, and all amenities are exclusive to resort guests.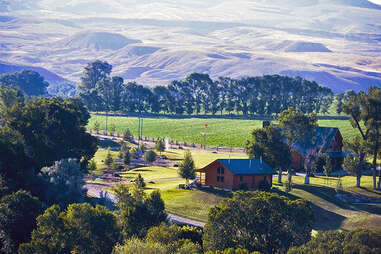 3. The Hideout Lodge and Guest Ranch
Shell, WY
Where: 650,000-acres close to Yellowstone National Park.
Why: This "working dude ranch" is limited to 25 guests per week, and maintains a strict one-to-one guest to staff, but offers 95 steeds for riding, working cattle, brushing up on your horsemanship, and general city slicking. Other amenities include a fly-fishing guest ranch, hiking and biking -- elevations range from 4,200 to 13,200 feet -- as well as trapshooting and archery. It's hungry work, but you'll chow down on locally grown vegetables and meat sustainably sourced from the surrounding land.
4. Frying Pan Tower
Offshore North Carolina
Where: A discontinued Coast Guard light station 34 miles off the coast of North Carolina might just be the most adventurous bed and breakfast in the United States. It sits in just 50 feet of water, on the southern edge of what sailors for centuries have called the Graveyard of the Atlantic. As terrifying as that sounds, a diver's lift and super-fast hoist can get you in and out of the Atlantic in under a minute and back to the tower's helipad.
Why: Frying Pan is staffed entirely by volunteers, and guests contribute to the ongoing restoration project, so don't expect to chill. But it's worth it: at the end of the day, climb the 130-foot light tower for 360-degree views and the best stargazing around.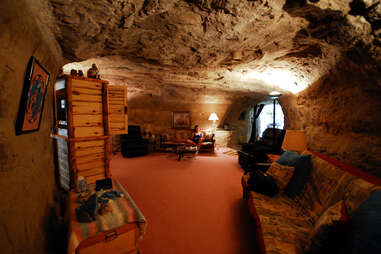 5. Kokopelli Cave Bed & Breakfast
Farmington, NM
Where: Follow unmarked sloping paths and then descend a sandstone trail 70 feet below ground level to enter Kokopelli, a 1,700-square-foot bed and breakfast nestled into the 65-million-year-old Tertiary Ojo Alamo cliffs, overlooking the La Plata River valley below.
Why: The cave was originally intended to be a one-of-a-kind office for geologist Bruce Black, but today you'll find a master bedroom, living area, replica Native American kiva, kitchen, bathroom, and waterfall shower and Jacuzzi built into the rock walls. The temperature naturally remains between 68 and 73 degrees year-round, perfect for some R 'n' R after visiting outlying attractions like the Animas River, Aztec Ruins National Monument, and the Four Corners of New Mexico, Arizona, Colorado, and Utah.
What car better captures the spur-of-the-moment road trip than the Camaro? Forget packing a bag -- pack an extra t-shirt and make sure you've got gas… because the only thing you need to prepare for is awesome.
6. Little Palm Island
Florida Keys
Where: This five-acre inlet is 25 miles from Key West, and accessible by boat or seaplane.
Why: Palm Island's strict rule against modern devices -- cellphones, motorized transportation, TVs, and even clocks – may sound like deprivation, but see if the private white-sand beaches and chilled Champagne upon arrival don't make you switch that stuff off fast. Stay at a cute thatched-roof bungalow, with secret concierge services, and one of the highest-rated luxury spas in Florida on site. If you are physically unable to chill even with all that, take the guided backcountry fishing excursions, and trips to Dive Looe Key National Marine Sanctuary.
7. Lambert's Cove Inn, Farm, & Restaurant
Martha's Vineyard, MA
Where: Now that you've already committed to taking the ferry to the third-largest island on the Eastern Seaboard, go the whole nine yards – or mile-long winding driveway.
Why: Walk off a visit to Lambert's Cove Inn's award-winning restaurant with seven acres of sprawling lawns, gardens, forests, and meadows, or check out the indoor pool and private beach. You won't trip on any children eight; they aren't allowed, so expect a quieter vibe than the rest of the island – which swells to 100,000 visitors at peak season.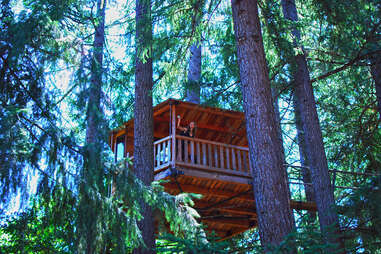 8. Out 'N' About Treehouse Treesort
Takilma, OR
Where: 36 acres of "treesort" next to Siskiyou National Forest and... not a lot else.
Why: Ziplines, rope ladders, and swinging bridges between treehouses (FUN!), horseback riding, river rafting, hiking, biking, and climbing. Also all-inclusive arts, craft, and music workshops. Before local officials finally recognized the soundness of this grown-up jungle gym, guests had to stay there at their own peril (close friends of owner Michael Garnier purchased Treeshirts dubbing them "Tree Musketeers"). But these days, sleep safe in the knowledge that your digs' patented Garnier limbs are supported by steel 1 ½ inch thick bolts designed to hold 8,000 pounds.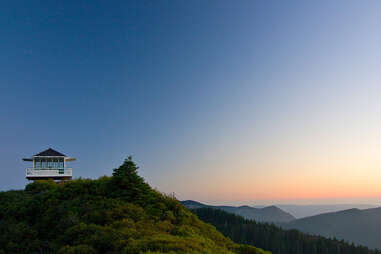 9. Bear Basin Lookout and Pierson Cabin
Crescent City, CA
Where: This solo outpost is located on a mile-high ridge in the Six Rivers National Forest, to which you and up to 11 friends can take a 10- to 12-mile drive, hike, ski, or snowshoe in (how far in you can drive is all contingent on ever-changing Northern Californian weather patters). Remember. the more the merrier for… melting snow for drinking water.
Why: Ok, the cabin lacks electricity and even indoor plumbing -- its main amenities are listed as "a countertop suitable for organizing supplies and preparing food," and note that "board games and various books may be available for use." May. BUT, the views of the Siskiyou Wilderness to the east and Pacific Ocean are worth it.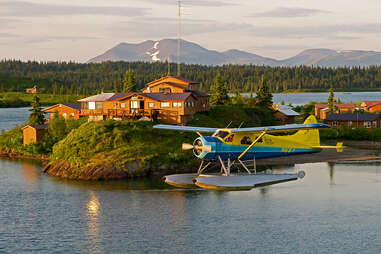 10. Tikchik Narrows Lodge
Bristol Bay, AK
Where: Clearly, Alaska has its share of badass Hotel Nowheres. Still, the Tikchik Narrows Lodge might just take the cake: located on the tip of a peninsula in Wood-Tikchik State Park, it's nearly 300 miles from the nearest connecting roads system. Four full-time pilots ferry guests to and from Dillingham via seaplane.
Why: The sportfishing in Bristol Bay remains second to none -- this "salmon factory of the world" offers the chance to catch five types of the legendary Pacific Northwest species, along with seven kinds of coveted freshwater fish. If you do put the rod and reel down, you can enjoy other local delicacies like reindeer sausage and moose tenders.