Presented By
Baku, Azerbaijan Is Opening up to the World -- Here's How to Have the Perfect Trip
A quirky mash-up of old and new, East and West.
Presented By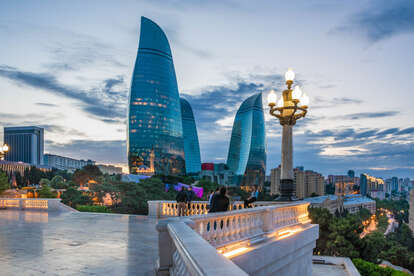 Baku is steeped in history but always looking to the future

| Ayhan Altun/Moment/Getty Images
Baku is steeped in history but always looking to the future

| Ayhan Altun/Moment/Getty Images
Note: The US State Department has issued a Level 3 travel advisory to reconsider travel to Azerbaijan. Azerbaijan has temporarily suspended the issuance of e-visas, and commercial flights are currently unavailable. For now, use this guide as inspiration to satisfy your wanderlust safely from home.
Baku is still a place few people have heard about, yet is full of such an intriguing history, ranging from the seriously old -- think 40,000-year-old rock carvings or a medieval walled city full of legend -- to hyper-modern architecture and luxury shops and accommodation that reflects its oil wealth.
Located on the old Silk Road at a crossroads between Russia, Turkey, and Iran, and on the shores of the world's largest body of inland water, the Caspian Sea, Baku is a perfect spot for a city break. Add the surrounding sights and you can easily keep yourself enthralled for days, and that's without even venturing far into the country of Azerbaijan itself.
Get to know Baku and its 2 million citizens with a walk on the 2-mile promenade that lines the shores of the Caspian Sea, where families lounge in grassy areas and locals meet outside the many cafes. Friendly street cats at times demand you to stop, bend down, and exchange caresses. Don't be surprised, either, by curious Azerbaijanis stopping you to practice their English or quiz you in Azeri, eager to show you the virtues of their culture.
A quick trip from the city center finds you in fields of gurgling "mud volcanoes," and more than 6,000 examples of ancient rock carvings, some as much as 40,000 years old. Add a Fire Temple in an old Caravanserai once on the old Silk Route and spots where the ground is still aflame from seeping oil and gas underground, and Baku really offers a varied location full of ancient history and modern treats.
Now the nation is diversifying its oil-dependant economy and opening to the rest of the world. Onerous visa restrictions have eased, and more international flights are arriving in Baku -- directs from New York's JFK depart twice a week. That's why we chose this fascinating cultural city as one of our 20 Places We're Dreaming About in 2020. What follows is a weeklong itinerary of places to go and things to do to get the most out of your visit.
Know before you go
Baku has a steppe climate, meaning winters are mild and summers are warm but not oppressively hot. You may want to avoid the wetter fall months. There's a wide range of accommodation options, from very reasonable and often huge Airbnbs to super luxury hotels. For great atmosphere and central location, head to Sabayil, the Old Town area where small hotels rooms can be had for $35 a night, or hostels, from $6.
Day 1: Walk the promenade and breathe in the Caspian Sea
American passport holders who fly directly to Baku from JFK can get a visa upon arrival in the airport when they land. But Americans who fly a connecting flight or are arriving from elsewhere will need to apply for a visa in advance.
Once you make it into town, get to know your new surroundings as you walk the Baku promenade along the shores of the Caspian Sea, stopping off at the many cafes along the way for sweet pastries and to appreciate Baku's spectacular mix of old and new architecture. You'll spot turn-of-the-century residential buildings; Baku's old walled city with the dramatic 12th century Maiden Tower of mysterious origins (it's unknown exactly who built it or why, but it comes with many legends); a cultural event center that looks like an adaptation of the Sydney Opera House; and the whimsical Carpet Museum, which looks, amazingly, like a rolled up carpet. Wherever you go, you'll see the Flame Towers, an iconic, futuristic trio of skyscrapers that looms over the city.
MORE: You know who else has surprisingly badass architecture? Brazil
Traveling may be on pause, but that doesn't mean your dreaming and planning has to be. With The Marriott Bonvoy Boundless™ Card, earn 6X Points at 7,000+ hotels participating in Marriott Bonvoy™ and 2X Points on all other purchases, including future flights. For the journey ahead, carry a card that's here for you now.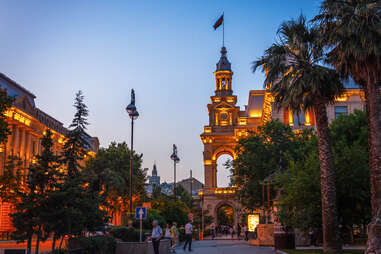 Day 2: Wander the ancient Old Town
Take your time and while away an entire day exploring the old walled city: Check out the Palace of the Shirvanshahs, climb up the Maiden Tower, and linger in the small alleys crammed with art galleries and traditional shops where they'll haggle with you for all things covered in shaggy sheep fur or colorful ceramics. Be guided by your nose at lunchtime, when food stalls and tiny restaurants fire up their grills. For a two-birds-one-stone experience, treat yourself to lunch at the Art Club Restaurant, where you get reasonably priced local dishes surrounded by interesting art. Pop into the quirky Museum of Miniature Books, the 14th century Keygubad Mosque, and walk along the ancient city wall. If you want more of a feel for the history, read Ali and Nino by Kurban Said, an insightful, easy-to-read novel set in Baku around the 1920s.
Day 3: Behold the Heydar Aliyev Cultural Center
Jump in a taxi and spend the day exploring the flowing white building designed by architect supreme Zaha Hadid. It looks different from every angle and is Instagram gold. Go inside, as the center houses a variety of galleries and levels for exhibitions, and just the architecture alone will keep you busy for a long time. Explore the gardens, view the exhibition of photographs along the steps, and grab an obligatory selfie with the large Baku sign.
Grab lunch or dinner across the street at Kebapçi, a traditional Azerbaijani restaurant with juicy shish taouk: grilled chicken skewers worth going back for.
MORE: This is just one of many underrated countries not enough Americans visit
Day 4: Mud volcanoes and ancient Gobustan rock carvings
Head southwest with your driver toward the Gobustan region, home to ancient rock carvings and otherworldly mud volcanoes. Azerbaijan is home to a third of the world's mud volcanoes, ranging from large -- up to 10km in width to 700m height -- to absolutely tiny and palm-sized but still blowing bubbles and spitting. Make sure you wear clothes and shoes that can get splattered, because you'll want to climb close to snap video of the muddy explosions.
On the way back to Baku, stop at the Gobustan rock carvings, where you'll spot rock art tens of thousands of years old -- drawings of people, animals, hunting scenes, and many examples of showing the importance of women in the ancient cultures. The quality of these ancient pictures are absolutely stunning, and tell a story of a civilization long gone, but incredibly rich.
Day 5: Fire
Azerbaijan is known as the Land of Fire, arriving at the name not only from the natural gas and oil seeping out from the ground literally setting the land on fire, but also from the old Zoroastrian religion and its fire temples. Dedicate at least one day to exploring the fiery countryside.
Take a drive to the Ateshgah, or Fire Temple, and Yanar Dag, the Fire Mountain toward the north of the Baku Peninsula. The Fire Temple was once the site of worship of Zoroastrians, or possibly a Hindu sect (it is still a little unclear), and is lit by a natural gas flame inside a caravanserai that once lay along the path of the ancient Silk Route. Now a museum, it gives you a look at what the region was like before vast reserves of oil were discovered, transforming the culture and economy.
Really doubling down on this Land of Fire thing, Yanar Dag is where you'll go to see flames 10 feet high leap straight out of the Earth. An otherwise plain piece of land overlooking the city, natural gas reserves seep up from deep down in the Earth, causing the natural phenomenon. Sadly, the flames grow weaker each year as resources are extracted from the Earth -- another reason to go right now.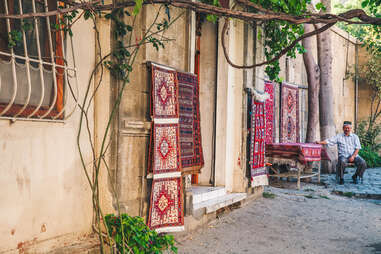 Day 6: Textiles and shopping
Time to explore more of Baku and learn something about carpets. Walk along the promenade and pop into the Carpet Museum, the way-more-fun-than-it-sounds museum designed to look like a giant rolled up carpet, where you'll see rugs that tell stories and convey hidden messages, others that weave portraits, maps, and stunning landscapes. There is even an art installation where an entire room is covered in carpet.
After, meander back past or through the Old Town and the surrounding area toward the large modern promenade of Füzuli Park. This is where locals sit and read or text, stay for a coffee in one of the many little places and restaurants, and meander between the State Theatre, the various statues, and the old and new banking buildings showing off the country's wealth. Pop into the Emporium Port mall by the water for some upmarket window shopping or treats from designers such as Armani, Chloe, Pucci, and Gucci -- and pretty much every other designer label you can think off. This is where the Baku elite shop and stroll around decked out in their finery. Looking at all the history and quirkiness of Baku, it is sometimes easy to forget that there is some serious oil and trade money in this city, and this is a great place to spend some of it.
MORE:Tips for haggling when you're shopping abroad
MEET THE WRITER
Ulrike Lemmin-Woolfrey is a freelance travel writer, guidebook author, and a travel-holic based out of Paris. If she's not busy packing or unpacking her suitcase, then she's probably away.
When was the last time you were in Baku?
I went in January 2019, solely to see architect Zaha Hadid's building, the Heydar Aliyev Cultural Centre, but ended up surprised at how the eclectic mix of cultures, architecture, and history pulled me in.
What was the most surprising thing about Baku that you didn't expect?
Expecting a city break, before I knew it I found myself poking my fingers into mud volcanoes, gawping at millennia-old rock carvings and seeing Earth quite literally (and naturally) on fire. Some rock carvings date back to 40,000 years. They just blew my mind.
Number one can't-miss recommendation for a visitor?
Just next to the Zaha Hadid building is a traditional restaurant, Kebapçi, which serves simply the juiciest shish taouk: grilled chicken pieces on a skewer with enormous, warm loaves bread. I went there two days in a row.
How easy is it to get around the city for English speakers?
Taxis are cheap and locals friendly. Language can be a barrier, but everybody is happy to try some words of English and otherwise use hands and feet to communicate. I always had a print-out of the place I stayed on me, just in case.
What's your top tip for someone going for the first time?
Hire a driver/guide for a day to take you out of the city limits. It is cheap -- less than a $100 for an entire day -- and so much more personal than going as part of a big group. Your hotel reception can arrange it for you.
Next big trip you have planned in 2020?
I am hoping to go and explore Saudi Arabia, another destination to watch.
Ultimate bucket list destination you've always wanted to visit?
Bhutan and Antarctica. I am getting quite desperate to go.