Barcelona's packed with bars -- it's even in the city's damn name! -- but while many of them are first-rate, not all are worth your time, money, and late-night attention. To keep you from getting trapped in the tourist vacuum of Las Ramblas, we've picked out the finest watering holes the city has to offer, from a glass-enclosed wine bar to a mountaintop tapas bar.
Remember: nothing is open from 3-7pm, bars that don't serve food aren't open until 9pm or later, and if you're looking to mix with locals, don't arrive anywhere before midnight.
Classiest spot for impressing a date: Dry Martini
Carrer Aribau, 162-166
Seal the deal with a classic cocktail at this world-famous speakeasy -- order a dry martini (duh) from the white-jacketed bar staff, soak in the unpretentious Old World glamour, and act like you're waiting for your yacht to dock.
Passeig del Born, 12
Whether you start the day or end the night at this Gothic Quarter spot, the plan's the same: consume delicious craft cocktails (try the Popeye, with strained spinach and ginger) alongside savory/sweet crepes. The vibe is welcoming and festive, like a tropical party you'll never want to leave, and as an added bonus, the staff are almost universally gorgeous.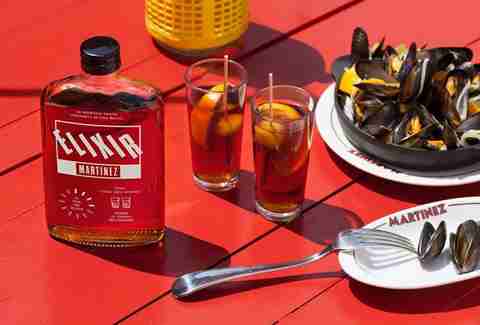 Carrer del Rosselló, 442
Sunday mimosas aren't actually a thing in BCN: vermouth (or "vermut," in Catalan) is the brunch drink of choice, and this storefront for the Casa Mariol wine label has its own in-house variety. Sit outside, sip your aperitif, and then enjoy a late afternoon brunch.
Carrer del Poeta Cabanyes, 25
Tapas are key to survival in a city where dinner's not served until 10pm, so do like the locals and squeeze in here for preserved seafood plates, open-face sandwiches, and wine/spirits on the cheap. Yes, the fact that it's standing room only is a bit of a bummer, but the dark beer brewed in-house more than makes up for any soreness you might eventually feel.
Best cocktail bar named after a cocktail: Negroni
Carrer de Joaquin Costa, 46
Step into this cozy, dimly lit cocktailery and order up with no menu required: just tell the mix master your flavor profile, then marvel at the creation you receive. Failing that, you can always order Barcelona's cocktail du jour, the gin & tonic.
Carrer de la Diputació, 249
If you're a true devotee of the art of smushed grapes, this homage to all things vino will just about bring you to tears. Go in for a glass chosen from the magnificent, glassed-in reference library, then stay to admire the sleek beauty of the bar's interior design. Just be sure to change out of those flip-flops before you drop by.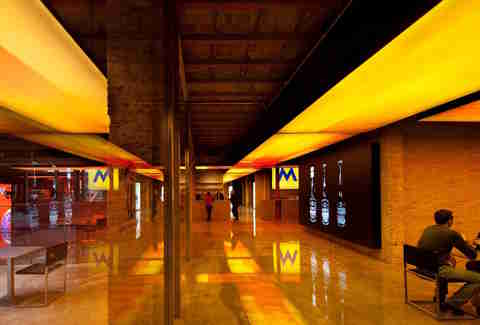 Ronda Sant Antoni, 41
Moritz beer has been a Barcelona original since 1856, and this is its sudsy shrine. The gorgeously hip microbrewery + taproom + kitchen is the place to mingle with local and international cool kids, assuming you yourself are a cool kid as well.
Best drink with a view: Mirablau
Plaza Doctor Andreu
Perched atop Tibidabo (the mountain overlooking the city), this is hands-down the best spot to take in the beauty of Barcelona and its gorgeous Mediterranean coastline. The patio's the place to be at sunset, especially with a cocktail in your hand, and once night falls the bar turns into a lively disco.
Best boozy dance party: Luz de Gas
Carrer de Muntaner, 246
Once its nightly live music shows are finished, this lushly decorated venue shifts gears and becomes a popular nightclub. The move's a twofer: wait out the live music with some pregame cocktails at Luz de Gas Bar (the sister establishment around the corner), then swing back to the venue in time for some dirty dancing.
Rambla del Raval, 22
Legend has it Madame Jasmine was the belle of the brothel back in the day -- until her baby died, and she went completely nuts/opened an opium den. The decorative oddities throughout the place are purported to be be relics from her life, and they say the doll head lights are meant to be a nod to her son's death by decapitation. Charming!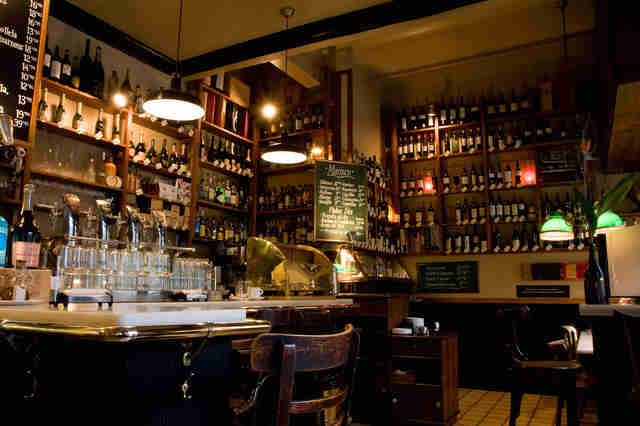 Best secret cocktail club: Bar Mut
Carrer Pau Claris, 192
This private club is where famous people go to have a discreet cocktail in a luscious, speakeasy setting; expect velvet curtains, candles, and live music. According to the word on the street, the best way to gain entrance to this exclusive spot is… to call and politely make a reservation. C'mon, not everything has to be a big mystery!
C/ Pamplona 88, 1er piso
This massive industrial space stretches over a city block, and contains five clubs that offer nightly bands and DJs from Wednesday through Saturday. The main floor regularly opens up for world-famous acts to sweep through -- as in St. Germain, The Strokes, and Kanye West.
Sign up here for our daily Thrillist email, and get your fix of the best in food/drink/fun.
Annie Crawford is a freelance-writing country hopper. Follow her @ReinaAnnie.