Ever watch a rerun of 'The Big Bang Theory' and think, "If Sheldon is so freaking smart, how come he can't tell that place looks nothing like a Cheesecake Factory?" That's because, SPOILER ALERT, they don't really film it in The Cheesecake Factory. Sorry.
There are, however, some bars and restaurants around the country that: A) served as actual filming locations for some of your favorite movies and TV shows, and/or B) greatly inspired a fictional joint, either in concept or actual set design. Here are 11 you can visit.
Real name: Kansas City BBQ
Where it is: 600 West Harbor Drive, San Diego, CA
While this SD sports bar was the site of Goose's impromptu rendition of "Great Balls of Fire", it was not where he and Maverick lost that lovin' feeling. So don't bother popping that one on the old jukebox or you'll look like a colossal... Iceman.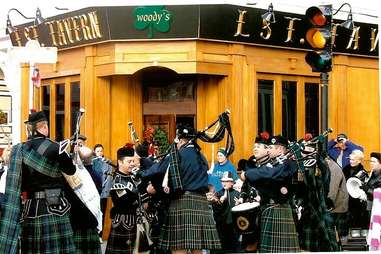 The South Boston Bar from Good Will Hunting
Real name:L Street Tavern
Where it is: 195 L Street, Boston, MA
Good Will Hunting was complete BS because, despite the fact that Minnie Driver's CLEARLY holding a can of fire-brewed Stroh's while she hangs at this bar, the L Street Tavern doesn't actually sell it. Then again, IT'S JUST A FREAKIN' STORY!
Double R Diner from Twin Peaks
Real name:Twede's Café (formerly Mar T Café)
Where it is: 137 West North Bend Way, North Bend, WA
Some might call the cherry pie here -- which Agent Cooper managed to eat, like, four times a day without gaining any weight -- the most famous in the world. Those people clearly haven't watched enough Warrant videos.
St. Elmo's from St. Elmo's Fire
Real name:The Tombs
Where it is: 1226 36th Street NW, Washington DC
While the '80s don't exactly live on in this DC drinkery where Brat Pack stars Emilio Estevez, Rob Lowe, Mare Winningham, Demi Moore, Judd Nelson, and Ally Sheedy hung out, it IS still a popular spot among Georgetown students.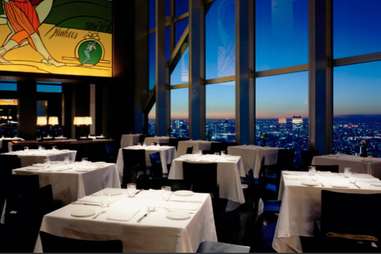 New York Bar from Lost in Translation
Real name:New York Grill
Where it is: Park Hyatt Hotel: 163-1055 Tokyo, Shinjuku, Nishishinjuku
This is the bar where Bill Murray hangs out every night. That sweeping view of Tokyo can be yours for a mere 2000 yen ($17), plus $8.50 for a beer. Scarlett Johansson, however, is not included.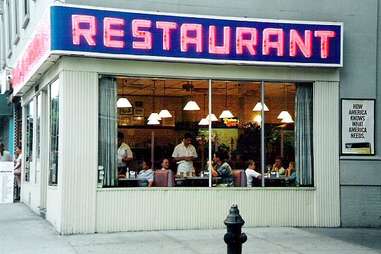 Monk's from Seinfeld
Real name:Tom's Restaurant
Where it is: 2880 Broadway, New York, NY
Sadly the waitresses don't all look like they stepped out of a Russ Meyer movie, and the big salad isn't really all that good. But this Morningside Heights spot up near Columbia is still an excellent place to plot a potential "roommate switch", or enter into a contest to see who can go the longest without... drinking coffee.
Real name: Katz's Deli
Where it is: 205 E Houston, New York, NY
If you go in and tell the waiter you'll have what she's having, he'll punch you in the mouth. Ok, no he won't but he should, because anyone that cheesy is probably way more familiar with faked orgasms than the old lady in this movie. And, while we're on the subject of Meg Ryan, hit Cafe Lalo on the Upper West Side if you want to see where she hung out in You've Got (Junk) Mail.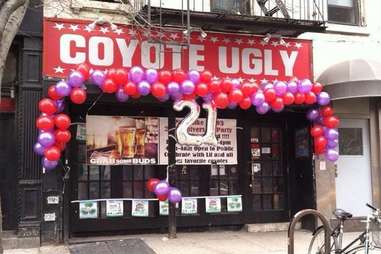 Real name: Coyote Ugly
Where it is: 153 First Avenue, New York NY
The chain of spinoffs you'll find around the country don't seem to capture the same glorious aromas of stale liquor, bathroom urine, and cigarette smoke as the NYC original. Truth be told, though, while the movie was named after this East Village bar, the exterior/interior decor was modeled after a cross-town spot, Hogs & Heifers.
Cheers from Cheers
Real name:Bull and Finch
Where it is: 84 Beacon Street, Boston, MA
So, that souvenir "Cheers" shirt you bought at the chain bar in the Detroit airport isn't really gonna hold much weight unless you've been to the original on Beacon Hill in Boston. While the interior looks nothing like the show, your walk down the outside stairs should evoke plenty of funny Frasier Crane memories. Sadly, though, there won't be a know-it-all mailman posting up at the bar to name three people who've never been in your kitchen.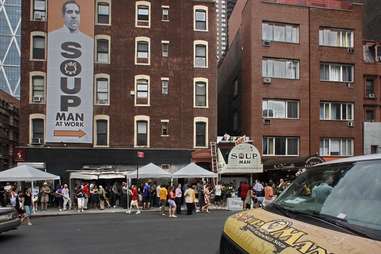 The Soup Nazi from Seinfeld
Real name:Original Soupman (formerly Soup Kitchen International)
Where it is: 259-A W 55th Street, New York (plus various locations)
Rebranding The Soup Kitchen International as Original Soupman, the real-life version of the the Soup Nazi -- Ali "Al" Yeganeh -- has parlayed his success into multiple locations and millions of dollars. Further proof that being an unreasonable a-hole is the quickest route to success.

Real name: Holsten's
Where it is: 1060 Broad Street, Bloomfield, NJ
This ice cream and sweets shop was the setting for the final scene ever from the Soprano's. No matter what you order, you'll leave feeling strangely unsatisfied. And... cut to black.