Those wily Germans are at it again! No, we don't mean having lederhosen-clad strudel fights in the streets of Dusseldorf. We're actually talking about one particular German hotelier who has arranged a bunch of vintage trailers, vans, motorhomes, and campers in a vacant former-Lancome warehouse and called it a hostel. Check it out:
Welcome to Base Camp. Comprised of 15 sleeping cars, two caravans, and two Airstreams, it's a totally radical hostel that you'd actually want to stay in, even though you're an adult and should be able to afford a hotel by now.
Taking the term "drive-in movie" to vastly more literal lengths.
This homey lodging option's not setting any records for size, but'll do the trick when compared with that 20-person "semi-private" room you checked into back in Amsterdam.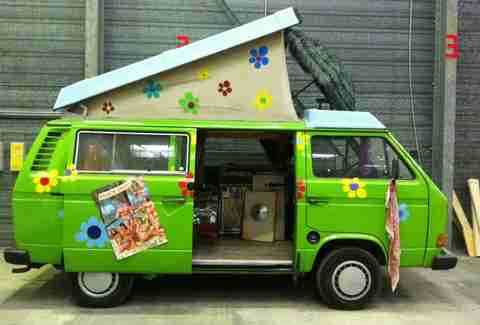 The only mystery here is why this room doesn't have a four-month waiting list.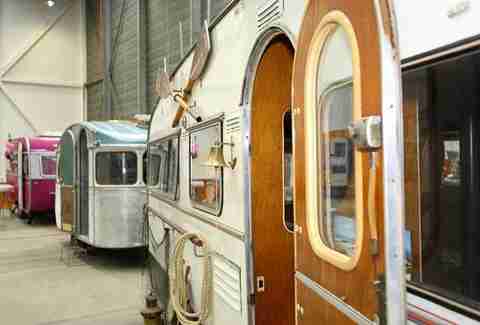 Live in constant fear of floods, you Old Testament mother f-er? Well then, THIS is the room for you.
There is a very real chance that when you get to Base Camp and they only have one room left, it's this one. So, start thinking of ways to justify that color as "salmon" to all your friends who see the pics on Facebook.
This trailer's the polar opposite of that last one.
Looks like somebody left the sunroof open during one of those storms Prince sings about.
That's trailer livin' for ya.
Each trailer even has its own yard.
Some yards have rugs on top of rugs, and people sitting awkwardly on red cushions, and other people in pod swings... because BASE CAMP!
Astro turf yards aren't the only way they've brought the outdoors in... WHOA, look out for that totally-realistic plane!
There's even a mini version of Base Camp within Base Camp. Leave it to those wily Germans to be all meta-hostel!