Photo by Rob Kachelriess
Photo by Rob Kachelriess
Nevada is synonymous with bright neon lights, easy entertainment, the allure of casino cashouts, and an Old West cowboy culture that appreciates a good shot of whiskey, especially if it's distilled from the grain of the land. But there's something a little less expected in the northern half of the Silver State. From Gardnerville to Reno to Ely, a strong presence of Basque culture fills the deserts with European family-style dinners, dancing to accordion music, and numerous summer festivals full of games and lots of red attire. The Basque community was part of a wave of immigration during the gold and silver rush that shaped the character and fortune of the Wild West.
The story begins more than 12,000 years ago, or maybe 30,000 years ago, depending on how you add things up. The Basque civilization lived in the Pyrenees Mountains, occupying undefined borders in a region that now overlaps with Spain and France. With promises of a better life, Basque immigrants flourished in California and Idaho during the late 19th century, drifting into Nevada as sheepherders, a trade that provided food and clothing to those working in the mines.
"The Basque people are so incredible," says Craig Benson, manager of Louis' Basque Corner. "They're very family-oriented. They work hard—and they eat and drink hard."
Family-style dining is a hallmark of Basque-American culture, dating back to when field workers would stay in boarding houses. A bell rang at dinnertime and everyone feasted together at communal tables—a practice still common in Basque restaurants today. Be ready to sit next to strangers; you'll make friends fast.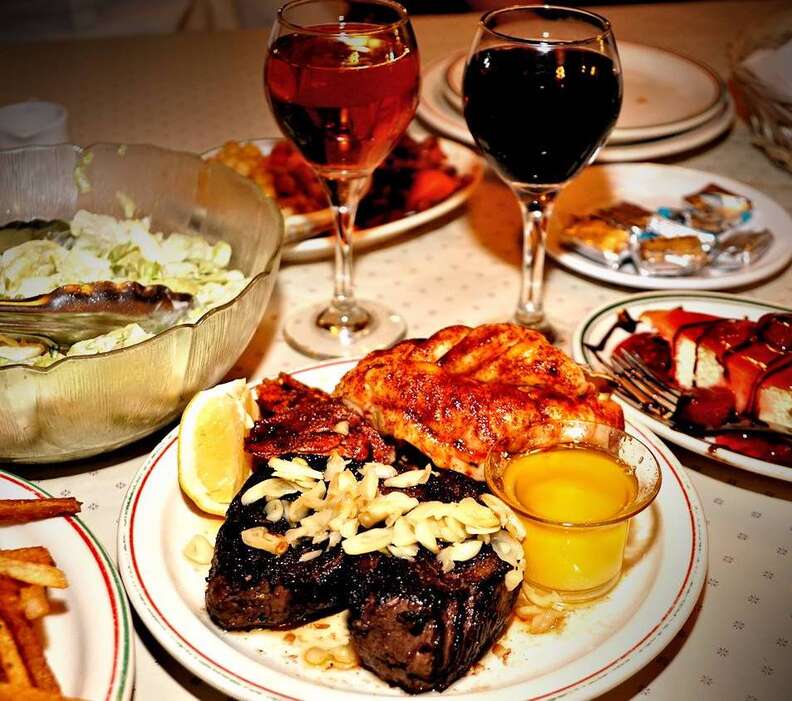 A meal at a Basque restaurant in this part of Nevada always comes with soup, salad, beans, and french fries for the table to share. The only thing you choose is a main entree: typically something high-protein like steak, chicken, pork, or lamb chops. A generous serving of sauteed garlic on top is a popular touch. Organ meats make regular appearances too, following a Basque practice of utilizing the full animal. Depending on the restaurant, the meal may also include additional sides, stew, wine, and/or dessert. Most entrees are in the $20 to $40 range (with prices creeping a bit higher for higher-end steaks), making this a better food value than any Las Vegas buffet.
"Meals got so big because there was a friendly competition between the Basque houses," says Marie-Louise Lekumberry of JT's Basque Bar & Dining Room, "'If I add one more course to my meal, maybe I'll get more boarders than the guy down the street.' So little by little, the meals became bigger and bigger. And what were these young men wanting to eat? Meat and more meat."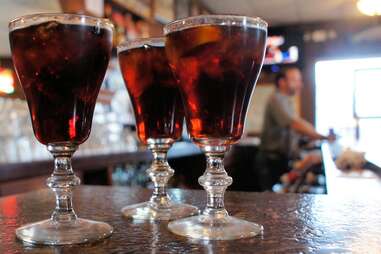 No matter where you dine, ask for a round of Picon Punch, a stiff cocktail served on the rocks (always) in a bell-shaped glass (usually). It's a famously acquired taste, traditionally combining a burnt orange aperitif named Amer Picon, brandy, a little bit of grenadine, and a lemon peel garnish. Some bartenders add a touch of club soda to take the edge off. Make your way through the cocktail list and you'll also come across Kalimotxo (a red wine and Coca-Cola combo popularized during the Running of the Bulls in Spain), 43 & Cream (a Spanish liquor mixed with cream to taste like a vanilla milkshake), Patxarran (a sloe or blackthorn berry after-dinner liqueur), and Winnemucca Coffee (brandy and anisette in hot coffee with a lemon twist). Cocktails tend to be well under $10.
Of course, Basque culture goes beyond food and booze, from traditional dancing and music (big on accordions, flutes, and drums) to fashion (especially if red is your color), and pelota (a handball game similar to jai alai). If you want a crash course this summer, Northern Nevada is loaded with big events: The Winnemucca Basque Festival June 10-11, Elko's National Basque Festival July 1-2, and the Annual Reno Basque Festival July 15. Gardnerville also hosts an unadvertised festival of its own the second weekend of August in conjunction with the local Basque Club, beginning with Friday-night music and dancing on the patio at JT's. But why wait? Put together the ultimate road trip and explore five Nevada cities—Gardnerville, Reno, Winnamucca, Elko, and Ely—with deep connections to Basque heritage. Here's where to begin.
Find out what happens when you mix sheep and casinos in Gardnerville
Gardnerville is about 50 miles south of Reno/Sparks in Carson Valley, where the earliest settlements took shape in the Nevada territory. It's home base for Borda Ranch, which raises sheep in the Basque tradition (typically with a donkey, dog, and considerable patience), a practice that hasn't changed much over the past 100 years.
It's not uncommon to spot Borda sheep from hiking trails with locations occasionally updated on Facebook. It's even more common to find the ranch's meat at restaurants throughout Northern Nevada. The new IMBĪB Eats & Drinks in Sparks, for example, has a delicious Basque-influenced sandwich with Borda sausage (supplied by Butcher Boy Meat Market), rosemary honey, goat cheese, mint, pecans, and pepper.
The business began when a member of the Borda family won his first sheep in a poker game. One of the first Basque families in the region, the Borada legacy is documented at the Carson Valley Museum & Cultural Center, which occupies a brick building formerly used as the Douglas County High School. There's a Basque exhibit on the main level and a downstairs "Main Street" with recreations of vintage storefronts.
Elsewhere in Gardnerville, the family-owned JT's Basque Bar & Dining Room is in a Victorian-style boarding house brought over in full from Virginia City (an Old West mining town that hasn't changed much over the years). The second floor guest accommodations closed long ago, but the downstairs dining room is so busy, it's expanded dramatically over the years. Ask about the dollar bills tacked to the ceiling and rancher hats nailed to the wall—there's a story behind each one. From beef tongue to oxtail, the dishes incorporate as much of the animal as possible. Stew is served as its own course with beans on the side, and a bottle of wine and an ice cream dessert finish off the hefty meal.
The Carson Valley Country Club serves similar family-style meals with the green grass of the Carson Valley Golf Course as a backdrop. Overland Restaurant & Pub is a former Basque establishment that's shifted to a more contemporary format under Mark Estee (the closest thing Reno has to a celebrity chef). A few Basque-influenced items remain on the menu, including a Wednesday night special and vegetable soup.
Try to learn an ancient language in Reno
Walk through the north trails of Rancho San Rafael Regional Park in Reno, and you'll come across an imposing 23-foot-tall bronze sculpture honoring the legacy of the Basque sheepherder. It's an abstract portrait of a man at work, with a lamb wrapped around his shoulders and the moon overhead. Much like its subject, the National Monument of the Basque Sheepherder stands in solitude on a slope used decades ago for grazing.
A miniature version of the monument is less than a mile away at the University of Nevada, Reno, home to the William A. Douglass Center for Basque Studies and Jon Bilbao Basque Library. Both are inside the Mathewson-IGT Knowledge Center, which has its own statue of a Basque sheepherder with a dog and lamb outside. The university offers classes on Euskara—a Basque language that doesn't overlap with any modern European languages—and graduate programs in Basque studies.
To fuel your Basque wanderings, head to Louis' Basque Corner, a staple of downtown Reno in a three-story brick building. First opened in 1908 as a hotel, the business closed and was revived in 1967 as a Basque restaurant by the late Louis Erreguible, whose own recipes are still followed today. Always check the specials board, which frequently offers fun stuff like beef tongue, leg of lamb, braised oxtail, and sweetbreads sauteed to a crisp with a choice of peppers, onions, and garlic or a red wine mushroom sauce. The restaurant is known for popularizing Picon Punch in Reno and is often credited for coming up with the recipe (although the staff here will freely tell you it was originated by Italians in San Francisco). An alternative, Nevada Punch, substitutes traditional Amer for a locally produced version from The Depot, a neighboring brewery and distillery. The second level, where rooms used to welcome overnight guests, is now used as an overflow bar and private event space.
Dine in an old speakeasy in Winnemucca
Winnemucca is more than a riverside travel stop between Reno and Elko. Learn about the city's role as a pivotal railway depot at the Humboldt Museum, which is free to enter (with donations encouraged). Originally located inside a small church, the museum now houses most of its collection in a neighboring two-story building with rusted vintage automobiles gathering dust in a backyard lot. Step inside and you'll see better preserved vehicles and a digital mural that documents the Basque community, allowing users to interact with point-and-click.
For food, The Martin dates back to 1898, which makes it the oldest restaurant still operating in Nevada (although there's been at least one name change, a few different owners, and a fire along the way). The attic operated as a speakeasy during Prohibition, which only adds to the building's historical significance. Located near the train tracks, the Martin remains a timeless relic of the past—a white wood building you'd swear was haunted, although no ghost stories are played up in the marketing. All meals come with a glass of burgundy and a bread pudding dessert. The signature Steak Martin is a perfectly charred 16-ounce ribeye, seasoned with lemon pepper and topped with sauteed mushrooms and garlic. You also get ample sides, which typically include hominy and chorizo, a bean and salad mixture, garlic mashed potatoes, and glazed carrots.
Ormachea's (rebranded Bakarra at one point before reclaiming its original name under new ownership with no website or social media) is about five blocks away, serving Basque cuisine in a more contemporary environment. There are no multi-course meals here, but you can order Basque cocktails and receive a choice of soup, salad, or beans with your entree.
Learn how to pronounce pintxos in Elko
Elko is the largest city in Northeast Nevada and the one with the most visible Basque presence. On the corner of the gritty, walkable downtown district, The Star Hotel is an iconic Basque dining destination that first welcomed customers in 1920. Join a communal table in the main dining room and ask for the baked lamb, which simmers all day and often sells out before the night is over. The bison filet is an excellent backup choice and a nod to Nevada's Old West cowboy culture. Save room for the a la carte bread pudding, which comes with a delicious whiskey sauce. Wine isn't included, but a few Spanish imports stand out from inexpensive table wine commonly served at other Basque restaurants. The Star has a menu of small bites for the bar area, which tends to get more loud and lively as the night goes on.
The couple that currently owns Ogi Basque Deli, around the corner, had their first date at the restaurant more than two years ago. Things went so well, they ended up buying the place. Like true love, the food is hard to resist, especially sandwiches like the Bilotza with thin-sliced roasted lamb or the Basque chicken with piperdale. However, the tri-tip is the best seller, with about 100 pounds roasted every two days. The bread is baked in house and the soups are simmered from scratch. True to Basque form, charcuterie plates heavily feature sheep's milk cheese. There's a noticeable Spanish presence too, with seafood paella and cured ham available. Come on Thursday and Friday nights for cocktails and pintxos (tapas) with happy hour discounts. You can also ask for beer, Basque cider, or one of the many Spanish wines.
Down the street, the Northeastern Nevada Museum is worth a visit alone for the wildlife exhibit—the largest in the state with more than 180 preserved animals in various poses—and an impressive second-floor art collection. Visit the historical wing, however, and you'll see an exhibit dedicated to the Basque community with photos, fashion, and small pieces of art on display, as well as tree trunk carvings, common among Basque ranchers to pass the time. A backyard park is beautifully manicured with a statue of a contemplative Basque sheepherder perched atop a rocky foundation.
The museum is across the street from Toki Ona, a Basque diner and bar that's always ready to serve a glass of Picon Punch. Rather than multi-course meals, everything here is a la carte, including lamb chops and a hearty chorizo sandwich. Pork comes as breaded herb-crusted chops or as a sliced loin with pepper and onions.
Chase dusty ghosts in Ely
Though the Basque community in Ely was never as prominent as those in other Northern Nevada cities and has dwindled in recent years, you'll still discover traces of the heritage at Renaissance Village, a small collection of miner's cabins preserved and maintained by the Ely Renaissance Society. They almost go unnoticed, buried between a neighborhood of hillside homes on a dusty, semi-paved road. Visit on Fridays and Saturdays (10 am till 4 pm) to see how Basque residents decorated their homes more than a century ago with furniture, kitchen appliances, glassware, and other everyday items that are now artifacts. Other cabins are dedicated to the legacy of Slavic, Irish, Chinese, Spanish, and Greek immigrants in Ely. There's a general store and a trackside staircase to watch vintage trains roll by from the Nevada Northern Railway Museum.
Ely's most famous landmark, the six-story Hotel Nevada (the tallest building in the state when it opened in 1929) once served Basque cuisine, but the food options are now anchored by an on-site Denny's. You're better off down the street at Racks Bar & Grill, where the Basque-influenced Chorizo Burger comes with red pepper and chipotle mayo on a fluffy pretzel bun. It's next to the now-closed Ely Hotel, a Basque boarding house and dining hall. You can still see the final menu sketched in view of the front window, left behind to effectively preserve history. An official mural a few blocks away on the Cruise-In Auto Center honors the Basque heritage of the business owner while recognizing Pine County's role as the last open range district in Nevada to welcome Basque sheepherders.
Rob Kachelriess
is based in Las Vegas and has been a Thrillist contributor for more than nine years. His work has also appeared in Trivago Magazine, Sophisticated Living, Modern Luxury, Leafly, Las Vegas Magazine, and other publications. Follow him on Twitter
@rkachelriess
.