These Caribbean Resorts Want Guests to Bone on Their Beaches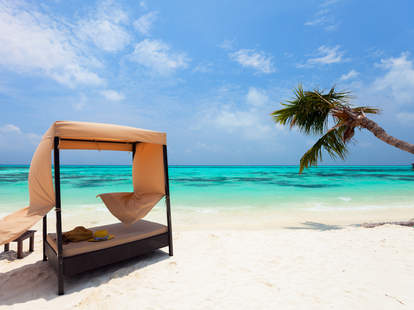 Sex on the beach is kind of like Paris. In theory it sounds wonderfully romantic, but in reality it's a lot of sweat and dirt and vagrants staring at you. Or at least that's been my experience.
But for whatever reason, people seem to fantasize about it. A lot. So much so that a recent survey of 3,000 women from Sleep Cupid found that sex on the beach was among their top fantasies. Of course, a woman who's actually had sex on the beach might wonder why. "Sand on your toes feels great. Sand in your (expletive)? Not great," says Lilly, 26, who's had sex on the beach a number of times and never found it fantasy-worthy.
"Sand friction on a woman's area -- not to mention a dude's -- is the furthest thing from romantic," adds Tatia, 40, who had sex on the beach when she was 20 and is still traumatized. "Peeing sand for days, not hot either."
The sand thing aside, fear of getting busted was cited as a top reason women haven't pursued this fantasy. And that's well-founded: Even in Florida, America's capital of both beaches and instantly regrettable sexual behavior, doing it on the shore can land you in the slammer for up to 15 years.
But what if you could get your surf-side freak on WITHOUT fear of cops or inadvertent exfoliation? CheapCaribbean.com wonders the same thing, and wants to help you make it happen.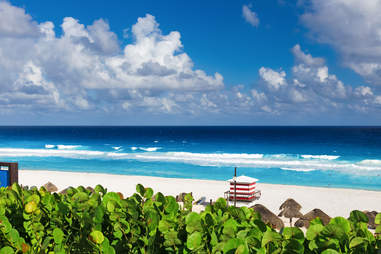 Cancun, Mexico

| photopixel/shutterstock
CheapCaribbean is partnering with all-inclusive resorts in Mexico to offer what they're calling the Sex on the Beach Package. The four-night packages include four uninterrupted hours in a private beachside cabana, complete with beds, towels, and bottled water. Presumably so you can have sex on the beach, but if you feel like discussing the finer points of climate change, ya know, do your thang.
The clothing-optional Desire Riviera Maya Pearl in Puerto Morelos, Mexico, offers a master suite for $1,749. And the Grand Oasis Sens in Cancun throws in a couple's massage and a private plunge pool for $1,149. All prices are per person and include flights. You'll have to book this all before July 31, and the resorts have different dates when the special is valid.
So it seems the reality of sex on the beach really can live up to your From Here to Eternity fantasy. With a private beach cabana, all-inclusive drinks, and no chance of police interruption, this might be your best chance to live the dream without the sandy consequences. And at the very least, it's assured to be a heck of a lot cleaner than Paris.
Sign up here for our daily Thrillist email and subscribe here for our YouTube channel to get your fix of the best in food/drink/fun.

Matt Meltzer is a contributing writer at Thrillist who wonders if that girl from Colgate at Spring Break Miami '06 is somewhere telling her story to a journalist. Follow him on Instagram @meltrez1.