Never get your wallet stolen on the beach again
The beach is supposed to be relaxing, what with the warm sun and soothing sounds of the ocean surf. But how are you supposed to relax when you have to keep an eye on your wallet, and iPhone, and camera, and cooler full of juice boxes. Walk away from your stuff on the beach, and risk having it walk away from you.
Enter the Beach Vault: a screw-shaped storage capsule designed to bury belongings in the sand, safely out of sight from thieves. The container -- which can hold your keys, wallet, phone, camera, and other belongings -- is water/sandproof (so you won't get drinkable sunscreen all over it) and fits through a pre-cut hole in the beach towel that comes with it. Oh yea, you also get an inflatable pillow.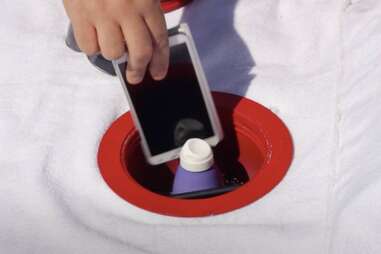 So once you've screwed the container into the sand, you can throw the beach towel over it with the lid exposed (allowing you to grab stuff as needed) and hide it underneath the pillow for added obscurity/security.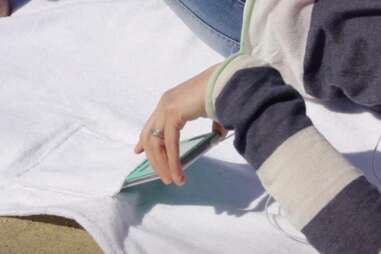 There's also a nifty pouch for keeping your phone/music player under wraps.
Of course, as The Telegraph's gear and accessories editor, Soo Kim, points out, it's not entirely foolproof: "In the time it takes to screw the capsule into the sand, you might draw the attention of 'lurkers' nearby waiting for the right moment". And why, Kim wonders, is there no lock?!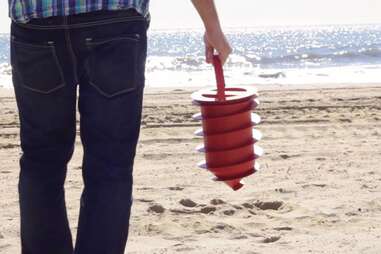 While creator Marcal DaCunha only raised $6,057 of the $15,000 he requested on Kickstarter, you can still buy and/or invest in the beach vault, right here.

But just in case you're still not sold, watch a video demonstrating just how much you can fit into the $30 Beach Vault.
Chloe Pantazi is an editorial assistant on Thrillist's travel team. Yes, that's a British accent. No, she doesn't watch Doctor Who. Follow her on Twitter at @ChloePantazi.