Bear Grylls' Day Off in Moab Includes Jet Skiing and Flying Through Arches
Can you handle free time in the desert the way a survivalist would?
Published on 8/18/2022 at 2:00 PM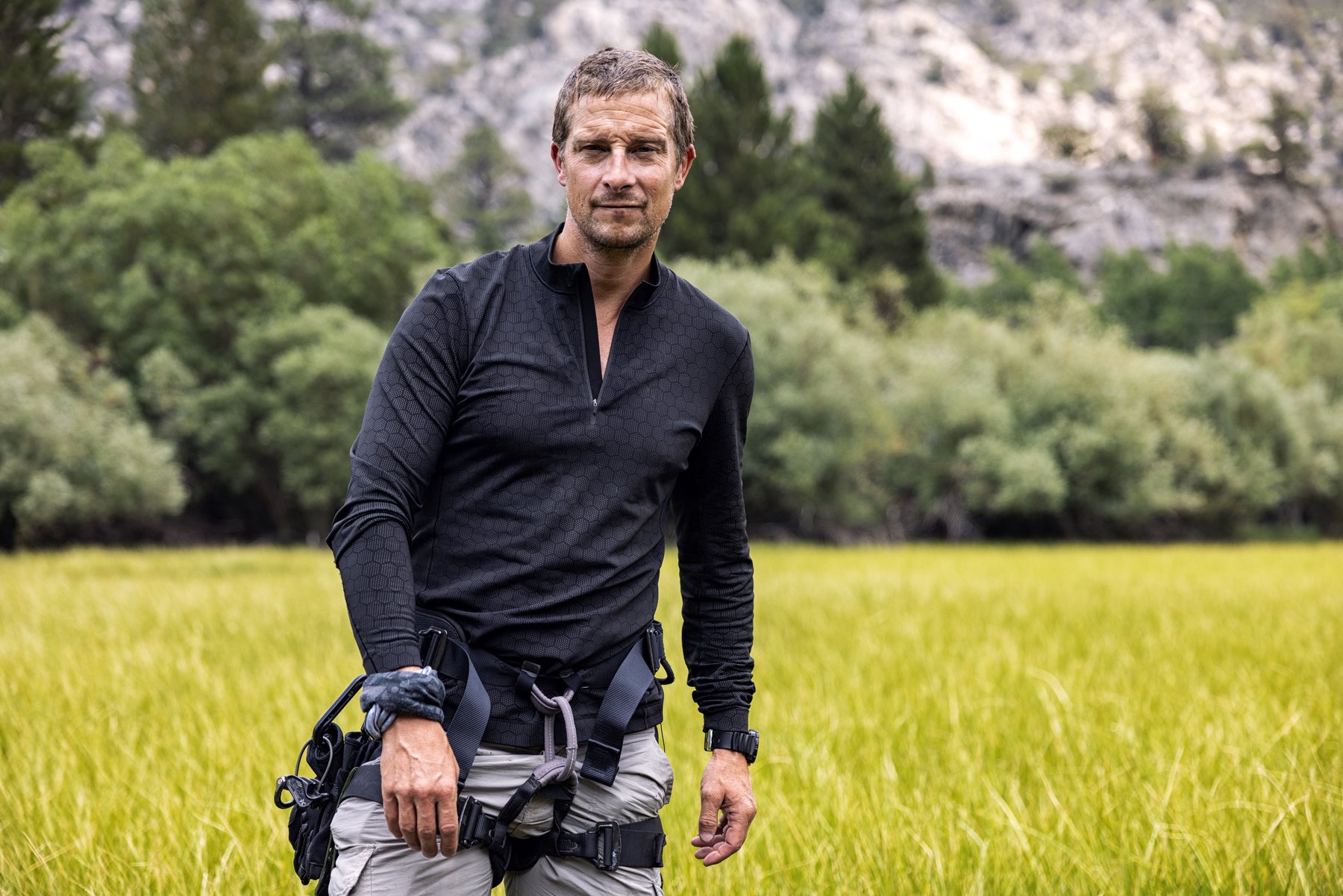 Bear Grylls | Photo Courtesy of National Geographic
Bear Grylls is a lucky man, getting to live out his dream of adventuring all over the world. When filming his show Running Wild with Bear Grylls, where he takes celebrities to the wilderness to learn survival skills, Grylls and his crew sometimes get a day off to rest, recover, and explore the incredible nature of their location. One of his favorite places to take time off is Moab, Utah. From jumping out of planes and gliding through the famous Delicate Arch to Jet Skiing down a river or even just hiking amid sandstone structures, here's what he recommends doing in Moab—or at least what he would do. (The season finale of Running Wild with Bear Grylls: The Challenge airs August 22 on National Geographic and will be available to stream on Disney+.)
A lot of the people I meet tend to stick to the paths a lot. Adventure is so ripe when you step off it. That's what's so great about Utah. You blink and you're in the middle of the wilderness there.
Moab's just this little strip in the desert. Then, once you step two minutes off-piste, you're in the middle of proper wilderness. That's very rare for the rest of the world. America's so big and so incredible like that.
So many adventure-minded people in Moab love that. It's why they go there. As you step left and right and go within 10 minutes, you're in proper virgin territory, where if you sit down and don't move, nobody's going to come and find you for 100 years. It's pretty rare, that.
Arches National Park | Smithsonian/Smithsonian/Getty Images
"It's otherworldly… Incredibly remote, small slot canyons that make you feel like you're a little worm inside a huge cheese."
The great thing about Moab and so much of Utah is that there are so many entrepreneurial adventure guides there who are ready and willing to take people on incredible climbs, horse treks, white-water rafting, hiking, Polaris riding, and motorbiking. You name it, it's all there. It's one of the most spectacular and unforgiving wildernesses on the planet. It's otherworldly. You can go from incredibly remote, small slot canyons that make you feel like you're a little worm inside a huge cheese, to the huge mountains, to skiing, to paragliding, to wide open deserts, to incredible river canyons, then some of the most amazing, huge cliff faces on the planet. It's got such diversity. We're dealing with dynamic places, activities, and adventures. It's no surprise that it becomes a mecca for so many adrenaline adventure enthusiasts that come there.
What's so great about Utah is all the sandstone structures—they change colors all through the day, from the night to the early morning to that pink in the early evening. It's so beautiful. In the desert, when the dynamic heat of the day dissipates and that early-evening sun settles in, a stillness and a calm comes. That heat lifts, and it's golden hour. It's just amazing.
We've filmed there quite a bit over the years. Utah's a great place for us to do a lot of filming because it's good access, whether you're coming from Canada, coming from San Francisco, LA, all the way down to Las Vegas and beyond. It becomes a nice central focal point for people to get to.
The Natalie Portman episode fits into that mold of why we often film in Utah. It's easy to get to and she was excited to go. She's always wanted to do stuff there. She was amazing, out of her comfort zone, but what a great adventure spirit—big smile on her face, facing a few fears, never-give-up attitude. She said, "I want to bring my friends here for a weekend—I'm coming back to this place."
When we were last filming there, we had two or three days off. Days off are really needed as a crew. We're there ultimately to do our job and do the filming side of it well. It's just that everyone can never quite resist throwing in a few toys to the van that carries over all the equipment. We're not total junkie nightmares who can never sit still—we definitely rest up, as well. But also we knew this one in Utah was going to be a fun place. So we just planned another couple of days off in between. We've got the gear and the skills between us all to go and have loads of fun adventures when we're in these places. That really brings our days off alive.
This is a bunch of stuff that we did as a crew during those days off. But you probably don't want all of those for one day off. Otherwise, it'd be a little bit of an insane day.
The day started off with these paramotor buddies saying, "Let's go to the lakes." I said, "Let's try it on the river in Moab. Why don't we pull out the Jet Skis and we'll just bomb up river?" They'd never really done it on the river—they always take it to these lakes. But I said, "Let's do it." It was brilliant. We took these Jet Skis and it was super fun. The Colorado River goes from really deep to two inches deep to rapids to huge areas that are just amazing stretches of calm, flowing river through these gorges. We just bombed up river, swam, and messed around.
Then we headed to Canyonlands National Park. I'd climbed quite a bit on Tombstone Rock around there, which is an iconic one. I always thought this would be really fun to come with the Polaris RZR off-road vehicles and just bomb around here.
I got JT Holmes—my good buddy from School Valley, from Tahoe Palisades—over. He's a professional skier and speed rider. He's now a stunt coordinator for movies and an all-around good guy, like-minded, free spirit, rule breaker, laughs at himself, loves the adventure, doesn't take anything too seriously—apart from staying alive. We've traveled a lot around the world and had many great adventures.
He did a bit of a road trip, came and joined us for our days off. JT brought the Polaris with him on this road trip. In the afternoon, we just fired them up and drove. That was really fun. You get to cover a lot of ground. Again, in a second, you're in the middle of nowhere. But it's so fun with those vehicles because you're not on foot. It's not a survival mission where you blink and you're out of water and you're dead. You can be well equipped: GPS, water, all the stuff. We had a great afternoon.
Bear Grylls and Danica Patrick | Photo Courtesy of National Geographic
"Then as a small group, we flew through all those canyons. Flying through the arch was iconic—quite tight, but super cool."
Next we went skydiving. I've had a long-term ambition to take our executive producer, Delbert Shoopman, on a tandem jump, even though he's quite nervous of it. Delbert is an original, but is definitely not an adventurer. He's got an adventurer spirit, but by his own admission, he's not adventure-trained in any capacity. We just took him. I got one of the best photos I can remember of him and me tumbling out and this look on his face of, "You better have me, brother." It was just great to be doing it above all of those sandstone cliffs and lakes underneath us.
Later we headed to Arches National Park. I always wanted to try and take the paramotors and go through the amazing iconic Delicate Arch just by Moab. I found a good local guy who's into paramotoring.
It was just a really magical early evening. Five of us laid the wings out, strapped the backpacks to the engines on our back, ran, inflated that wing, ran, and just took off. Then as a small group, we flew through all those canyons.
Flying through the arch was iconic—quite tight, but super cool. I think that sight of all five of us flying in formation, skimming our toes along the river, through the arch there, it was just great colors and great moments.
Then we went and flew some of the other canyons with high walls. You can literally just tickle the edges of these cliffs with your parachute and then skim the Colorado River, which is amazing, just skimming it with your feet, flying for miles up it like glass.
At the end of each episode, we try to find a good steakhouse together. There are two rituals, I suppose, for our team at the end of shoots: really good steak and a pina colada. Sometimes in jungle locations or in the middle of rain forests, it's not always so easy—we have to work a little harder for the steak and the pina colada. But Zax was perfect. Zax is definitely what my family always called "country style," which is basically how I cook: It's still got everything in it, it's only half cooked, and it doesn't have any shape. It's a two-minute walk down the road, and bingo, everyone's happy.
It's nice not having to eat for survival. On the show, I eat raw, fast, on the move. I'm in a different mindset then. But I'm definitely a foodie. My go-to is steak and liver. I'm not so much into the cordon bleu type of thing. I love primal living. If I can eat with my hands, brilliant. My family doesn't let me do that so often, so I quite like it when I'm with the crew and don't feel I have to be quite so well behaved.
Arches National Park | Scott Smith/Corbis Documentary/Getty Images
"I'm not so convinced about this switching-off thing. I don't think that's particularly healing, either. I think it's about switching in."
If you're going to adventure and you're going to go into this privileged wilderness playground, wherever you are around the world, bear in mind we all share the same planet. You've got to respect it and you've got to protect it. Certainly Utah's steeped in history—it goes back to primitive times, like a lot of those caves. It's our duty to protect it. Leave only footprints and take only memories.
One of the big attractions and the big healers of the outdoors is that it stops us looking in and it asks us to look out. We've got to listen. It's not like switching off. I'm not so convinced about this switching-off thing. I don't think that's particularly healing, either. I think it's about switching in. It's about listening, slowing down, and tuning in a bit. I think it all comes back to respect. But it takes our eyes off ourselves. It reminds us of our place. Things that breed humility, demand respect, and help us to see something bigger than ourselves is always good for the soul. I think the environment of Utah definitely does that.
Places to Eat & Drink
Things to See & Do