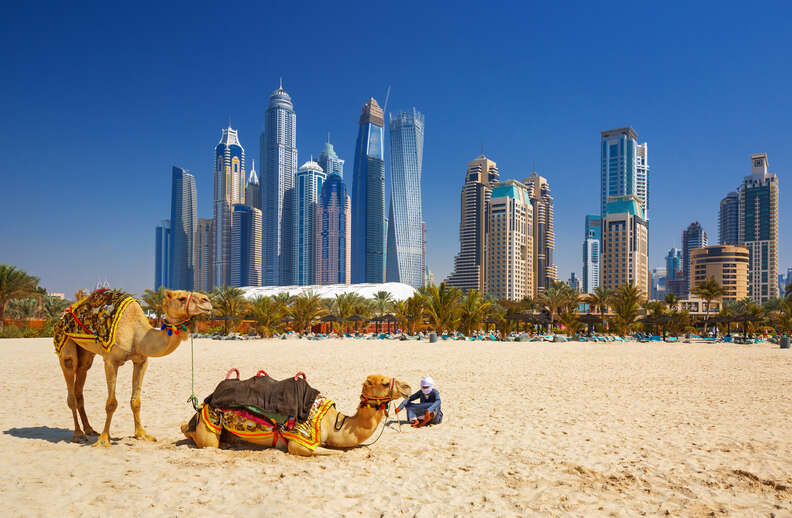 The Most Stunning Sights in Dubai, a City That Loves the Impossible
If you look at photos of Dubai in the 1960s, right before the petrodollars started flooding in, how different it appears now is dumbfounding. Ratchety abras delivering fish and pearls have been replaced with luxury yachts. Open-air souks have been ousted by air-conditioned mega-malls. Today, the city boasts driverless trains, and pretty soon, helicopter taxis. Dubai's evolution has been supersonically charged, and there's no end in sight (so long as you keep filling your tank with gasoline).
That bygone Dubai still lingers, though, in historic areas that aren't mentioned nearly enough in this emirate's narrative, and in the harmonious intermingling of world citizens and expats from all over. Sure, Dubai might be built according to superabundance and bragging rights, but no one can deny it's pretty awesome to see it all at least once.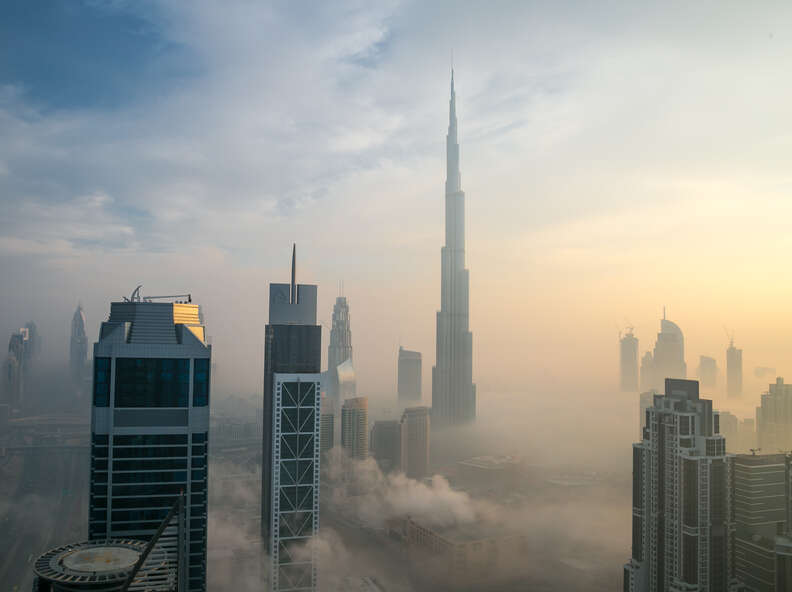 Burj Khalifa
There it is, the world's tallest building -- despite being unveiled all the way back in 2010 (which in Dubai years might as well be a century), the otherworldly Burj Khalifa is constantly reinventing itself. On New Year's Eve, it slipped into the Guinness Book again for staging the largest light and sound show on one building, and in 2014 opened the world's highest observation deck. The 2,700-foot-tall edifice (that's more than two Empire State Buildings, stacked) will soon have to forfeit its biggest accolade though, with Saudi Arabia's new Jeddah Tower, slated to be an absurd 591 feet taller, on the way.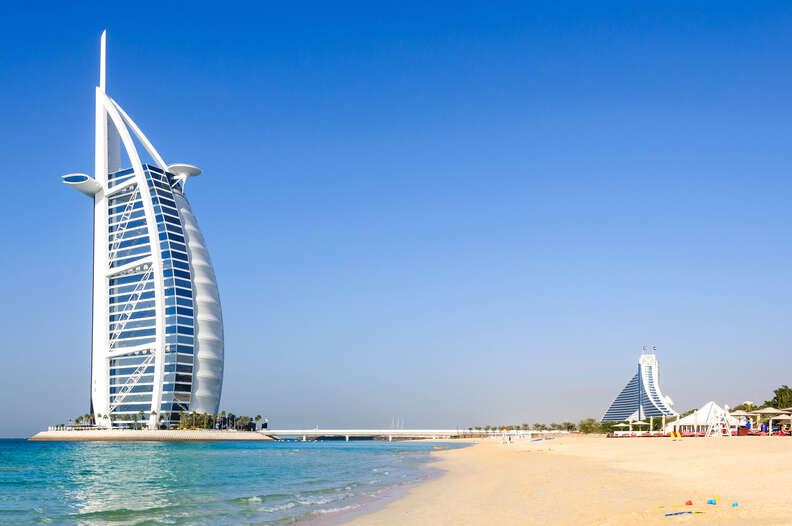 Burj Al Arab
Even at a relatively human-scaled 1,053 feet tall, Burj Al Arab is no less a stunner than its enormous sibling. Shaped like a dhow sailboat, harking back to Dubai's fishing and pearling origins, it sits quite literally out to sea, on an artificial island propped up by a couple hundred columns beneath Gulf waters. Unless you've got $1,000 a night to spend on a room, you might just admire it from the beach -- though $100 or so a person will get you an unforgettable sundowner drinks session at the cocktail bar.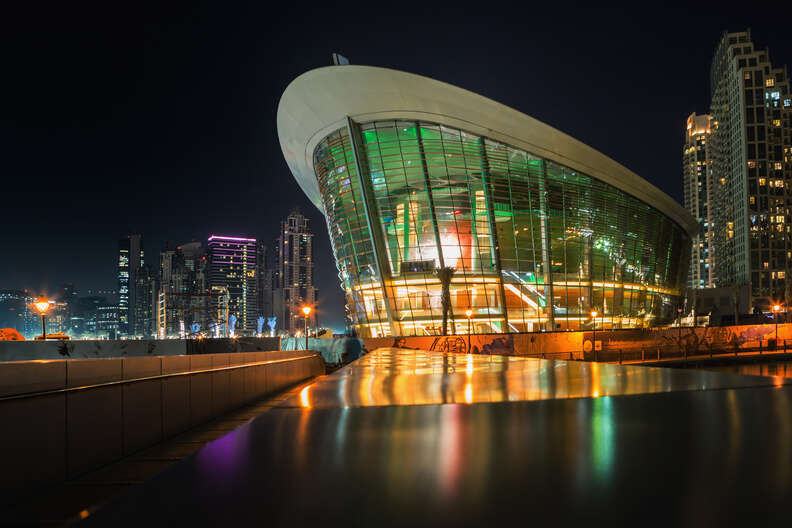 Dubai Opera
Get a load of the most futuristic, high-tech opera house ever. Thanks to modern hydraulics, about half of Dubai Opera's 2,000-seat capacity can transform into different setups like "theatre," "concert hall," and "flat floor" at a button's push. A sophisticated acoustics shell made of towers and reflectors offers otherworldly sound, while wraparound glass walls and a chandelier with 2,900 LED lights are among the trimmings.
Dubai Water Canal
Launched in 2016, this ambitious megaproject transformed a big, busy downtown area into an artificial island with solar powered street lights and device charging stations. Visitors can cruise the canal in a traditional abra, even passing under a motion-sensored, LED-illuminated waterfall. The $7 billion project was completed in a speedy three years, with upgrades ongoing; Recently, floating homes arrived from Finland.
Dubai Miracle Garden
Like Alice in Wonderland's Mad Tea Party garden come to life, this garden rocks more than 50 million flowers planted into whimsical and wacky designs. There are gigantic floral-wreathed ants, swans, and mushrooms. Sunflower fields. Arches serried with petunias, bougainvillea, and calendulas. There's even a life-size Emirates Airbus A380 festooned with vibrant blossoms from nose to tail. It amounts to a true assault on the senses -- and the closest one can get to a psychedelic trip in the UAE.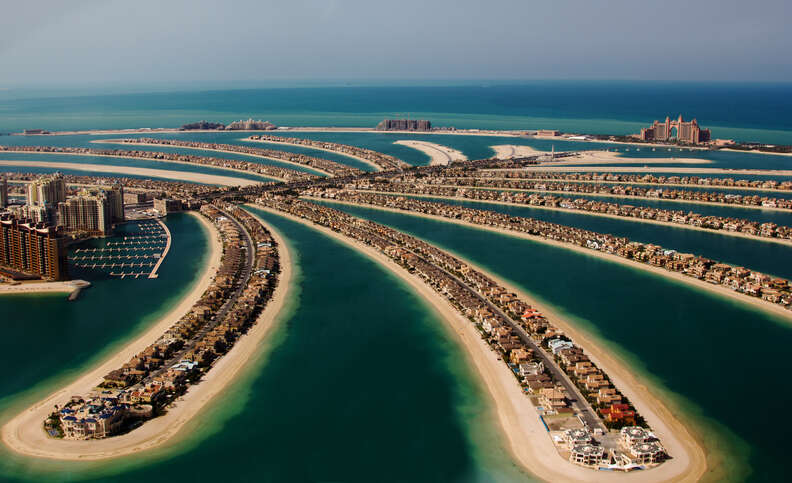 Palm Jumeirah
There's a famed snap of Palm Jumeirah taken from the International Space Station: Just as intended, the man-made island really looks just like a palm tree growing out of Dubai. The artificial archipelago, the world's largest, was made by dredging and spraying sand into "vibro-compacted" shapes using GPS precision technology. Its 17 detached fronds add 323 miles of shoreline for big villas and for lavish resorts to have lengthy private beaches. Think large backgrounds and plunge pools hedged off by tropical shrubbery where women can remove their burqas in solitude.
Dubai Marina
This artificial marina, modeled after False Creek in Vancouver, British Columbia, offers an epic skyline panorama of some of Dubai's most impressive buildings, like the 75-story Sulafa Tower and Cayan Tower, the world's tallest structure to twist in a 90-degree spiral. The waterfront, fashioned out of excavated desert sand and Persian Gulf waters, is home to a walkway teeming with bright trendy cafés and pop-up clothing and craft markets. Jet Skis chop waters past a dock of luxury yachts, but these days, hydroflying is all the rage -- thrill-seekers wearing jetpacks or jet boots are launched into the air by water pressure, for what is the closest sensation you can get (for now) to riding Marty McFly's hoverboard.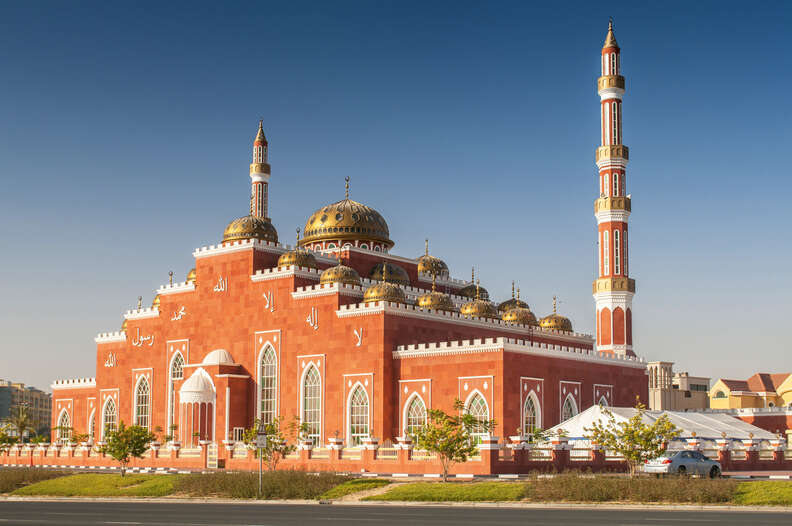 Al Salam Mosque
The Al Salam Mosque is anything but traditional. Opened in 2014, its design blends together Ottoman and Andalusian influence with elaborate gold domes and minarets that are brightly illuminated at night. A salmon pink exterior and white trimmings fit in perfectly to the laid-back Al Barsha suburb where it presides. A green waterfront park and eclectic eateries -- for authentic Indian, gelato, chocolate, the works -- make this one of Dubai's loveliest districts for an outdoor stroll.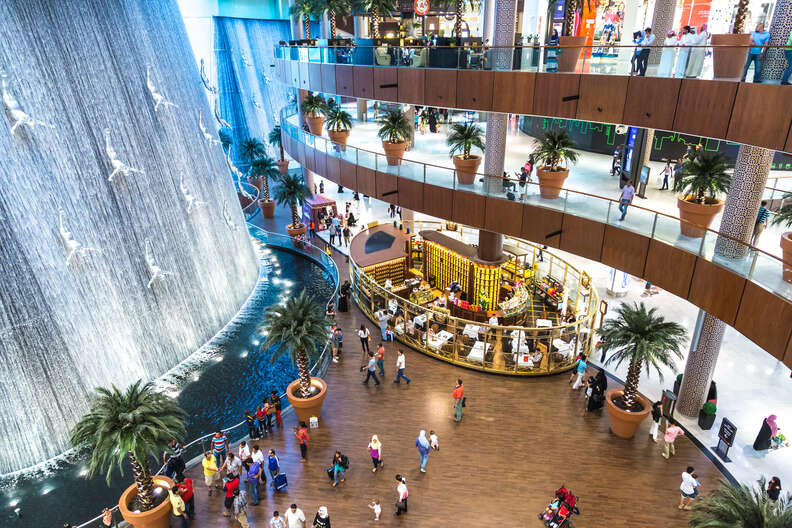 Dubai Mall
Triple the total land area of the Mall of America, this 12 million-square-foot behemoth is home to an ice rink, a massive aquarium, an indoor theme park, more than 1,200 shops, and over 200 places to eat. If you want to eat your way through the region -- or even the world -- this is one of the planet's best places to do it.
Dubai Fountain
The Dubai Fountain outmaneuvers the Bellagio's in Vegas by both size and repertoire. Some 900 feet in length, it's framed by the Dubai Opera House and the Burj Khalifa. A complex array of color projectors, and thousands of water expressions and super lights make for powerful performances that keep you loitering by the lake all evening for the free entertainment. You might hear twangy Bedouin tributes, Andrea Bocelli, Michael Jackson, and Edith Piaf, while as much as 22,000 gallons of water splashes and swirls in the air.
Al Fahidi Fort
Al Fahidi Fort is a must-visit in Dubai, if only for escaping all those humongous skyscrapers and taking a time warp to understand the city's humble inception. Located in Bur Dubai, a charming historic district, the fort is Dubai's oldest existing building, built around 1787. Take a tour and read up on its stints as a prison and garrison before becoming a museum, then venture around surrounding Al Fahidi Historical Neighborhood, a pocket filled with heritage homes housing cultural centers, darling art galleries, and a couple famously cozy traditional restaurants.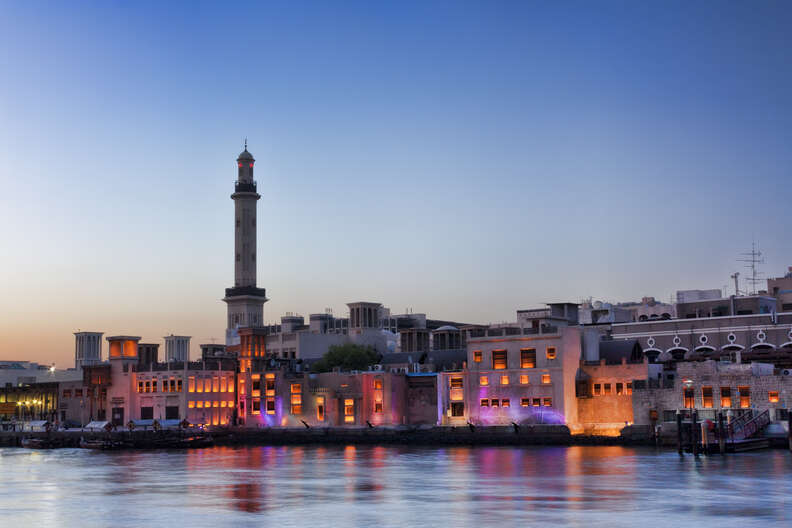 Dubai Creek
This is where it all began -- Dubai's sole harbor and, a hundred years ago, the hub of pearl divers and welcoming traders on dhows from as far away as India and East Africa. Today, you can still hop on a rickety abra for just a few dirham and discover historic districts such as Deira and Bur Dubai, where you'll find traditional shopping souks, Indian vendors selling hot chai, and no-frills eateries slinging Pakistani and Persian lunches. After all that futurism downtown, it's ultimate refreshment.
Sign up here for our daily Thrillist email and subscribe here for our YouTube channel to get your fix of the best in food/drink/fun.
Barbara Woolsey is a Canadian writer who, after all Dubai's excess, is happily back to leading a "poor but sexy" life in Berlin. Follow her on Facebook and Instagram.