In the age of Netflix and takeout, going to a movie can often seem like more of an effort than it's worth. Long lines, $17 popcorn, having to put on pants -- why bother?
Because, of course, most movies are better on the big screen. And if they're playing in one of these 12 venues, well then, your ho-hum evening at the movies just became a night to remember.
With beds, couches, dinner, and booze, these theaters are as memorable as some of the films they show. Unless they're showing The Wedding Ringer, in which case they're MUCH more memorable. 'Cause really, isn't that just a bad remake of Hitch?
San Francisco, CA
This cutting-edge, Matrix-like movie den from the folks at New People, a big time distributor of Japanese paraphernalia and general promoter of all things Japan, is aptly located in SF's Japantown and shows current-release films and anime from... Guam! Kidding. From the Land of the Rising Sun, of course.

Jaipur, India
This brightly colored palace of a cinema opened in 1976 and is often referred to, much like that dude on The Big Bang Theory, as "the pride of India." Wait, he's not? Anyway, it's still saying a lot about the theater, considering there's also a little place in India called the Taj Mahal.
Berkhamsted, UK
Sitting in palatial velvet chairs around dimly lit tables, and facing a stage framed by a gold floral stucco frieze, you're probably expecting gorgeous burlesque dancers to sashay out of 1938 at any minute (they won't). But this opulent, art-deco palace still evokes that classic vibe of yesteryear and boasts a "good wine list with snacks on clean plates." So, there's that.
Amsterdam, Netherlands
A hodgepodge of Jugendstil, Art Nouveau, and Art Deco architectural styles combined with colorful Moroccan carpet and a psychedelic lobby makes this cinema a much bigger attraction than Taken 3, or whatever other Liam Neeson flick you came to see.
London, UK
Mood lighting, love seats, and leather chairs with footstools, not to mention six double beds with cashmere blankets (huh?!?); the folks behind London's Electric Cinema clearly want customers to be comfortable and relaxed. Which is why they also serve cocktails, beer/wine, and snacks.
Oakland, CA
Sometimes you just want to get out of the house… to do exactly what you would have done if you had stayed home. That's the idea behind the New Parkway Theater, sort of, which is furnished with pretty much the same mismatched couches and coffee tables (plus pizza and beer cans) that're currently in your apartment.
Los Angeles, CA
Despite being one of the most famous movie theaters in the world, this opulent film palace is often overshadowed by the famous handprints etched in concrete on the Hollywood Walk of Fame outside. Opened in 1927, the intricate, Asian-inspired cinema is adorned with temple bells, pagodas, and other imported Chinese artifacts, as well as 30ft stone dragons and lotus-shaped fountains created by local Chinese artisans.
Castro Theater
San Francisco, CA
Go big or go home, right? Architects modeled the elaborate Castro Theatre after -- and in the same Spanish Colonial Baroque style as -- a Mexican cathedral in nearby Mission Dolores.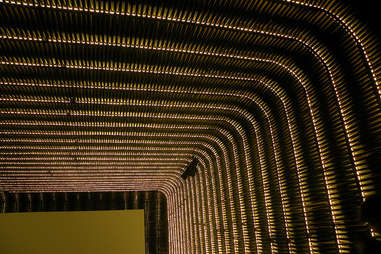 Madrid, Spain
Part of a cross-disciplinary arts center built inside an old slaughterhouse, this beautiful cinema -- decorated with woven tubes that make it look like a glowing picnic basket -- mainly shows documentaries and experimental films.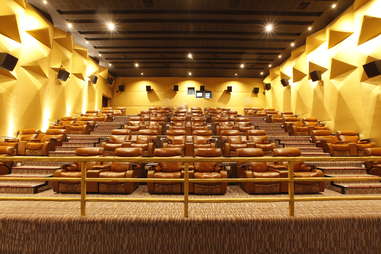 Kathmandu, Nepal
It may not be sexy but dinner and a movie is a classic, universal date night -- even in Kathmandu. Although at least dinner here, served during the film, is a three-course meal prepped by fancy chefs. Plus, the intimate cinema only seats 60 and is tricked out with crazy comfy chairs designed by the folks who usually only make seats for royalty in United Arab Emirates. Yes, apparently royalty in UAE have their own, exclusive seat makers. Who knew.
Birmingham, AL
The ornate Mighty Wurlitzer organ is a remnant from the Alabama Theater's glory days screening silent movies in the '20s… and, allegedly, hosting weddings for the likes of stars like Ginger Rogers. While the theater is used mostly for concerts these days, it also shows classic films.
Lake Buena Vista, FL
It's like a drive-in but better because, you know, you're not watching from your Ford Fiesta. Also, because it still exists. Inside this Walt Disney theater, you'll enjoy old-school movie clips and cartoons while taking down '50s style burgers and milkshakes from the comfort of your own private convertible.
Sign up here for our daily Thrillist email, and get your fix of the best in food/drink/fun.
Sophie-Claire Hoeller is Thrillist's über-efficient German associate travel editor, and has had frequent flyer status since she was born in a Lufthansa terminal. Follow her @Sohostyle