If the recent controversy in Ukraine and Russia has you pining for the good ole days of the Cold War, and the USSR, and Rocky 4, here's your chance to assuage said nostalgia without actually signing up to be a separatist rebel.

Soviet Bunker is a three-hour, interactive tour through a genuine, abandoned fallout shelter in the middle of a Lithuanian forest, replete with KGB-style interrogations, "beatings", and abusive guards in authentic uniforms.

Located 15 miles outside of Vilnius, Lithuania, Soviet Bunker offers two programs: "Back to the USSR – easy way!" is their simple,"no stress" tour through the 18ft-deep bunker where you'll see "civil defense" rooms, sing songs, and safely observe your surroundings. Thankfully, "cameras and laughter are allowed".
The second tour is a little different -- it's called "1984. Survival Drama", and it's an interactive experience where you become a "a citizen of a totalitarian state". There are actors. A ton of yelling. And a definite loss of dignity.
The theatrical drama promises total immersion: you'll be marched through freezing tunnels in Soviet garb, shown propaganda, "beaten" with belts, and forced to sign false confessions.

In fact, guests yearning for such a taste of life under Soviet rule need to first sign a waiver that includes the following clause: "In case of disobedience, participants may receive psychological or physical punishments".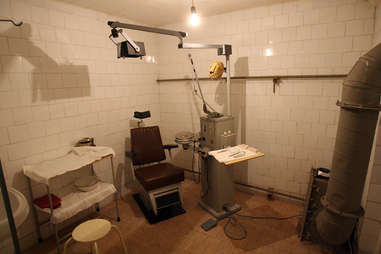 It's been reported that someone almost always faints during the show, which is not at all hard to believe when you imagine getting a "root canal" in this room.
German shepherds and their KGB owners -- some of whom are, in fact, real live former KGB agents -- "guard" the property. Turns out old habits die hard too; despite the fact that they're all now actors, some have been fired for being a little too authentic.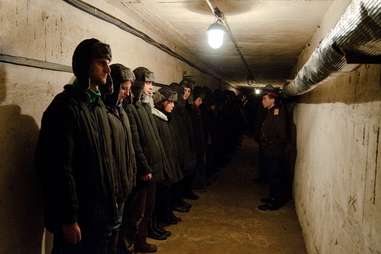 A little background: The 32,290sqft bunker was built in 1984 as an emergency base for a secret TV station in the event of a nuclear attack, and was known as "Dom tvorchestva" or "House of Creation".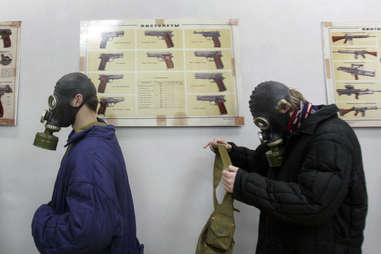 While inside, you can watch TV shows from the era, shop in old-school stores, and check out the apartments and cafés. There's even a hotel down there. Also, you'll prepare for a nuclear attack by donning one of these sweet gas masks.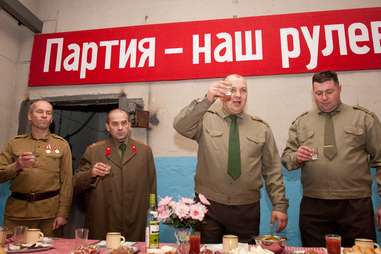 Finally, unwind with traditional Soviet music, dinner, and vodka shots, of course. And if you survive without divulging your ATM code (or whatever other info the interrogators try to extract), you'll even receive a certificate commemorating your time as a Soviet citizen.
Sound like fun? Book your gulag getaway here.
Sophie-Claire Hoeller is Thrillist's über-efficient German associate travel editor, and she'll meet you for those vodka shots at the end. Follow her @Sohostyle