Go behind the scenes at a Mexico City lucha libre match
Everybody knows that the reason Mexican lucha libre is, like, 25x more badass than American pro wrestling is because it's totally real of the radical masks they wear. So, next time you're in Mexico City (because, clearly, you always find yourself in the most dangerous city in Mexico) do yourself a solid and look up the folks at Lucha Libre Tour, who'll curate a deep-dive into lucha libre in the city that made it famous.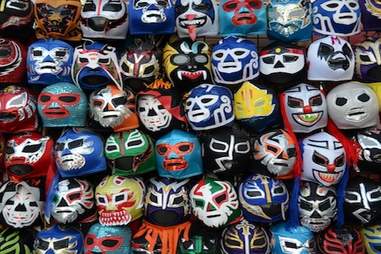 Wikimedia Commons
Chances are this is all you currently know about lucha libre.
Lucha Libre Tour
These are the cats behind Lucha Libre Tour (plus a couple of pro lucha libre dudes)... In the span of one evening, they'll turn you into a LL master.
Lucha Libre Tour
Your tour begins when they pick you up at your hotel in their unmarked, windowless van, which we assure you is kosher because, apparently, all those people survived.
Said van will take you to the Arena Mexico, which's basically the Yankee Stadium of lucha libre.
That's the Arena Mexico back in the day. It was built in '56 and quickly became known as the "cathedral of lucha libre"... It even hosted the boxing matches in the '68 Summer Olympics. But what are we telling you all this for? That's all stuff you'll learn on the tour!
Pre-match, you'll learn everything there is to know, not only about Arena Mexico, but about lucha libre's history and greatest fighters, its rules, and the fighters on that night's card.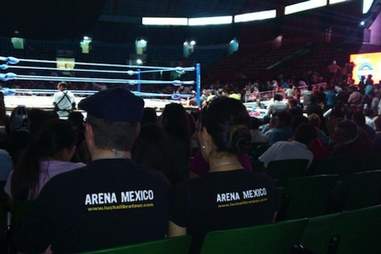 Lucha Libra Tour
Come match-time, your seats will be super-close to the ring in an area of the stadium called "center stage", most likely because that's also where they filmed 2000's top teen dramedy about the competitive world of arts high school dance programs.
Lucha Libre Tour
Just think... you'll know exactly who those dudes are and what move they're doing.
Lucha Libre Tour
Post-match, you'll get a chance to swing by the souvenirs flea market and splurge on a radical mask of your own, and then -- before they drop you off for the night -- the whole group will swing by a local bar so you can all wear your masks and talk about how much fun you had over a mezcal.