Two years ago we told you about the Naked Sledding World Championship in Germany, and you were like, "Whaaaat, topless sledding, no way?!? Show us more!" Well, we heard you. This year, we sent a real live reporter to (un?) cover all the naked sledding action up close and personal. Here's how it went down.
Turns out, a lack of snow, or even a proper sledding hill, wasn't going to stop the town of Schlettau, Germany (a tiny hamlet in the Ore Mountains of Saxony near the border of the Czech Republic) from hosting this year's event. In an attempt to reign in the overly enthusiastic and rowdy crowds of years past (which have topped 14,000 fans), organizers deliberately held the event in a smaller location and off the actual ski slopes.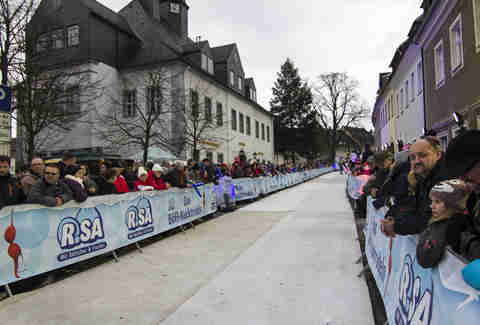 Instead, over 4,000 topless-sledding enthusiasts watched contestants -- who used city hall as an undressing room -- slide down the town's Main St, which wasn't even covered with snow but rather an all-weather sledding run. The setting certainly added to the bizarre atmosphere of the event.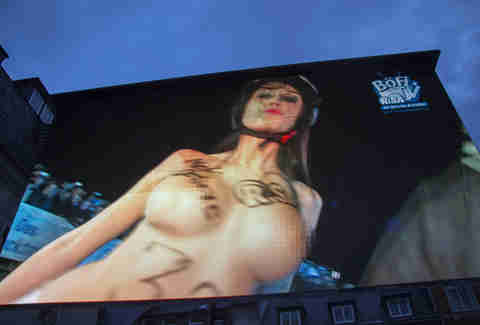 Fans who braved the cold, however, were treated to a highlight reel from past competitions.
Look how serious they are -- you'd think they were watching a lunar landing. Or Bill Pullman's speech in Independence Day. Also, just for the record, luckiest 10-year-old boys around.
By the way, after watching said highlight reel (with hot naked girls, snow, a real mountain, and actual sleds), this year's competition felt like a letdown, even before it began. It was as if you'd spent all of high school waiting to go to that one amazing nightclub your older siblings talked about, but when you were finally old enough to get in, you discovered that behind the black metal front door, it wasn't nearly as cool as you had hoped. Or as it used to be. But you were still determined to have a good time anyway. Yes, that was the crowd in Schlettau.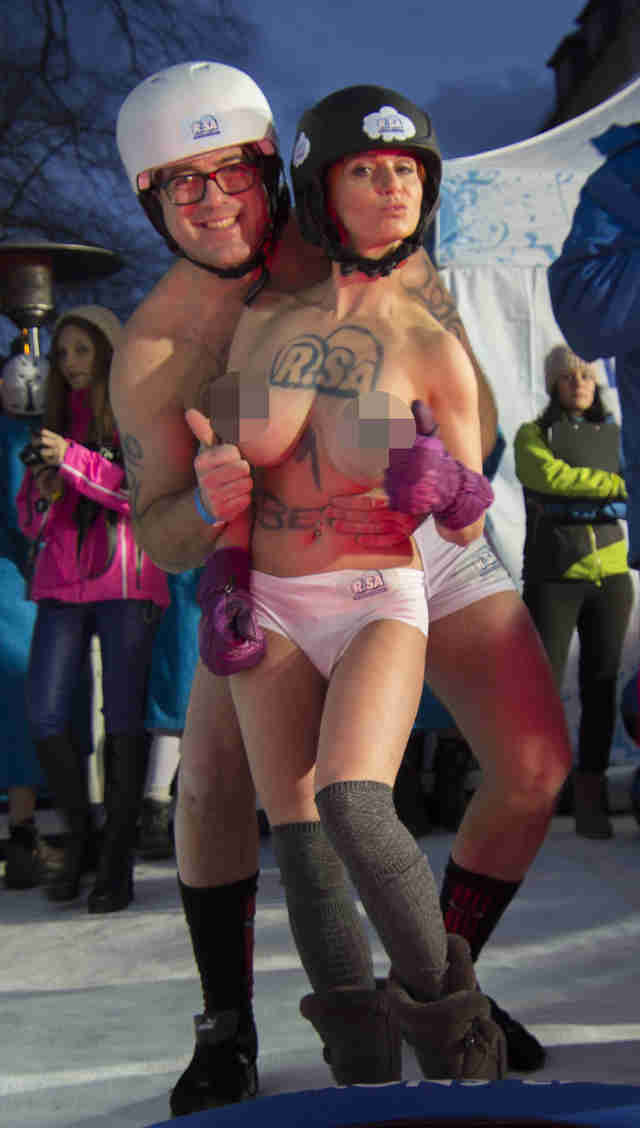 But hey, on to the naked people! Around 12 two-person, co-ed teams stripped down to their boots and white skivvies in zero-degree temps (celsius!) to compete for the title of "Nacktrodelmeister" (or nude luge champion, in English).
The 24 contestants were chosen from an applicant pool of amateur and professional nudists, including porn stars, go-go dancers, and webcam girls. The poses, perpetual duckfaces, and names like "Sexy Christal" and "Violetta Angel" were a pretty solid giveaway that many of the contestants spend more time "at the office" peeling off their clothing than sitting behind a desk. Nevertheless, everyone looked completely comfortable in their birthday suits.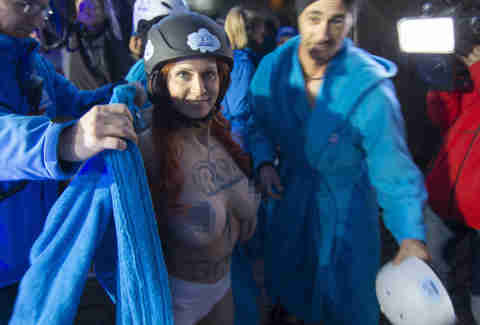 Actually, one of the contestants was a VIP celebrity sledder: "Germany's Only True Busenwunder" Bettie Ballhaus. According to the Internet, "busenwunder" means "busty star."
Unlike other years when sledders hailed from all over Europe, this year's group was almost exclusively from Germany. Only one man, Heinz, made the seven-hour trip north from Graz, Austria, saying he waited a long time to be able to participate and, "No distance is too far for me to be here!" Love your enthusiasm, Heinz. Also, that's him pictured above. Poor Heinz always looked very, very cold.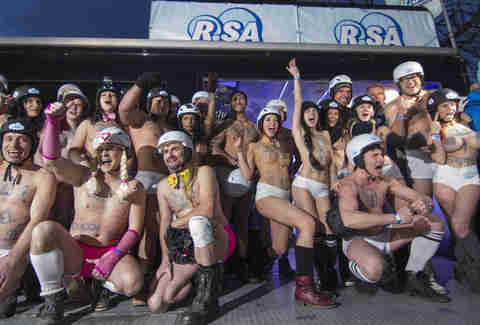 Contestants proudly strutted their stuff down the slope in the pre-race parade and shed their bright blue robes for introductions on the R.SA Radio stage.
"Auf die Piste! Nackig! Los!" Or... "On the slopes! Naked! Go!"
Teams competed in three-on-three and two-on-two heats. The ladies settled into giant winter tubes and at the green light...
... the male "pushers" gave the first hard thrust down the hill.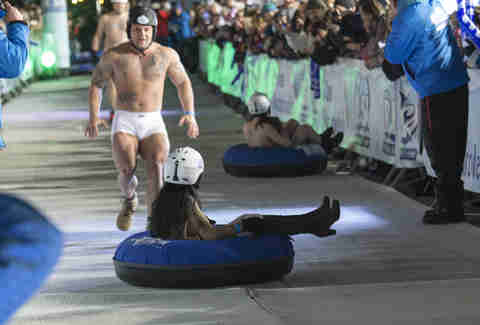 Friction and a lackluster incline didn't work in their favor, so the ladies stopped about halfway down the hill. Yes, incredibly anticlimactic. The men ran after their partners and, on a second signal, gave the final five-step push. 
The girls had a few collisions and spun like runaway Alice's Teacups.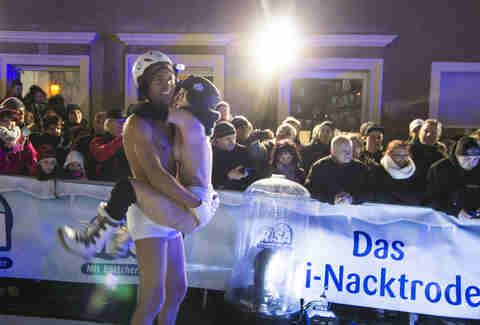 Teams celebrated and gave post-heat commentary at the finish line...
... and then ran back to the top to reset.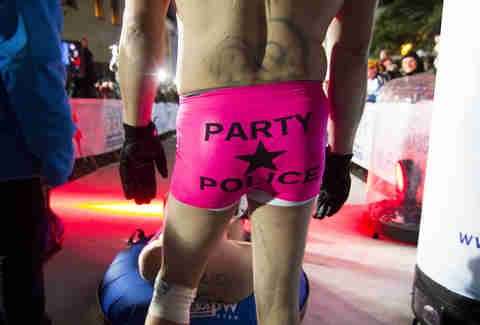 Meanwhile, local morning show radio hosts kept score and the crowd entertained with weird carnival music that resembled something you'd hear in an old "caper" movie. And this dude made sure the party stayed under control.
Up close, the knobby plastic sheets of the sledding run looked like a cross between Velcro and AstroTurf -- neither of which is easy on the knees and elbows. Unfortunately for the "pushers," there's no blood rule in naked sledding.
First-place winners Sandra and Ricky repeated last year's win and took home not only a fancy trophy but around $2,200.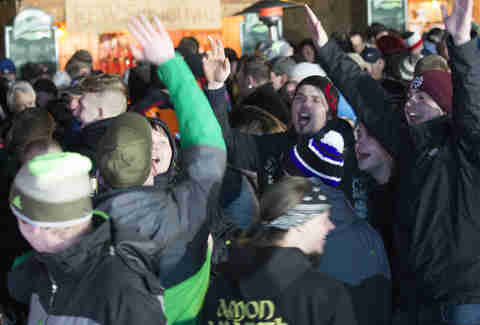 And these dudes could not contain their excitement. They may have also just been happy to see boobs.
Remember, the couple that sleds naked together...
And finally, because a single NSFW video is worth a hundred pixillated images, here's the one we shot. Enjoy! (Also, again, it's NSFW. Consider yourself properly disclaimed.)
Want to compete next year? Keep an eye on the R.SA website for the 2017 application. You'll need Google Translate for the form, but the event organizers speak English.
Sign up here for our daily Thrillist email, and get your fix of the best in food/drink/fun.
Erin Snell prefers to do her winter sports fully clothed. Follow her on Twitter & Periscope @snellybean.