Whether you're after pumpkin ravioli, haddock risotto, or roasted lamb rump, Belfast is a surprising bastion of top-quality restaurant options. With easy access to fresh seafood and produce, as well as a constant drive to keep up with nearby hubs like London and Edinburgh, Northern Island's capital on the River Lagan offers all the big-city flavors without as much big-city faffing. Here are the 10 best places to eat.
Recommended Video
Debatable: It's Fine To Recline Your Seat On a Plane
Best BBQ:
Sugar Rays
Address and Info
Dundonald
Meat is the name of the game here, and the owners really took that whole "Americana" thing to heart, with lots of old-school-style posters, neon, and exposed light bulbs. Yes, it's a touch contrived, but after you eat your way through a meat platter of fried chicken, pulled pork, ribs, and brisket, we doubt you'll be complaining.
Best understated local ingredients:
Howard Street
Address and Info
Golden Mile
Putting seasonality and locally sourced ingredients at the forefront of his program, chef Marty Murphy puts together plates that are as visually stunning as they are delicious. Surrounded by exposed brick, dark wood, and other rustic touches, you'll find a menu full of dishes like pork belly with crispy champcake, black pudding, and celeriac purée. The pre-theatre menu is a great way to check out this award-winning spot while keeping an eye on your pennies: three courses, plus a cocktail, for under £30.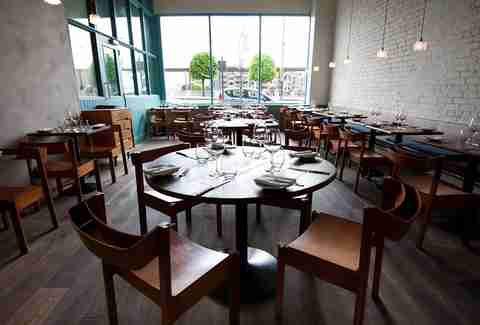 Best tasting menu:
OX
Address and Info
East Bridge
With bare-wood tables, whitewashed brick, and a stunning view of the River Lagan, this Michelin-starred spot offers fine dining that's simultaneously elegant and easy. The concise and regularly changing a la carte menu often features only one meat, one fish, and one veggie option, so jump in with both feet and go for the tasting menu -- five courses for £50.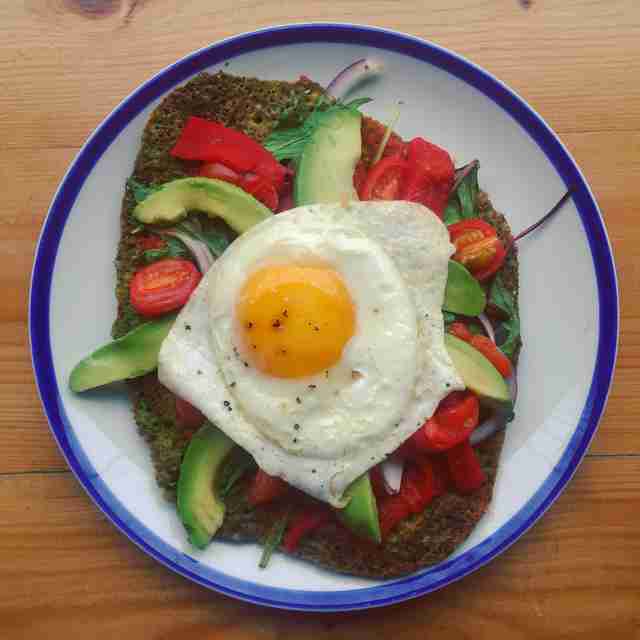 Best pop-up gone legit:
Home
Address and Info
Golden Mile
What started life as a pop-up has taken Belfast by surprise, settling into a permanent fixture and picking up a Bib Gourmand from the Michelin Guide along the way. High ceilings, exposed structural elements, chalkboard menus, and plenty of up-cycled bits help to create an atmosphere you might find in one of those "best-designed home" magazines. Order a pumpkin ravioli with spinach, sauce vierge, and pine nuts, and imagine just how much better your life might be if this actually was your home.
Best dinner and a show:
Shu
Address and Info
Lisburn Rd
Named for the Egyptian god of atmosphere (because why not), this French restaurant housed in an old Victorian mansion is stunning from start to finish. Start off by unwinding at the basement cocktail bar, then move on to the flawless plates -- like Clandeboye wild pigeon with lentils, glazed chicory, and pomegranate molasses -- coming from the theatre-like open kitchen.
Best old-school Italian:
Villa Italia
Address and Info
Queen's Quarter
This is one of those places that could easily fall into hokey, try-hard territory, but the fact is, it's been rocking those red-checkered tablecloths and fake grape trellises for nearly 30 years. It feels like a slightly more authentic version of a Disney Italian restaurant, which actually makes it kind of perfect when you're wrangling a large group to take over the joint with massive pizzas, or trying to hide away in a candlelit corner for a date. If it's the latter, get your Lady and the Tramp on with some of the fresh pasta on the menu.
Best beer pairing:
Molly's Yard
Address and Info
Queen's Quarter
Housed in a converted stable on the edge of Queen's Belfast Uni, this place has a small menu that changes day-to-day -- meaning the chefs have the freedom to really experiment, giving diners a reason to come back over and over. If beer is your thing, this place also specializes in beer pairings by partnering with local breweries, so you can either join in on the special tasting menus or just grab a few pints of delicious brew. Either way, you're in for a treat.
Best seafood:
Mourne Seafood Bar
Address and Info
Golden Mile
The name says it all: fish, oysters, crab, lobster, and all of the tasty treats from the sea are available in myriad combinations, and all of it remarkably fresh. How fresh, you ask? Well, considering Mourne sources morsels from its own dedicated shellfish beds, pretty damn fresh. The restaurant might not look especially fancy from the outside, but you're not there for the architectural detailing, so maybe focus on eating your beer-battered fish and chips instead.
Best terrace:
The Barking Dog
Address and Info
Queen's Quarter
Sometimes you just want the kind of home-cooked meal you'd make yourself -- y'know, if you could actually cook. The whole menu is solid, but you'll want to pay special attention to the beef shin burger with onion marmalade and cheese on a fresh sourdough bun, or the pan-roasted lamb rump with Pommes Anna, chervil root purée, asparagus, and red wine jus. The vibe here is super chilled out as well, especially if you can snag a seat and unwind on the AstroTurfed seating area out front.
Best modern European:
Ginger Bistro
Address and Info
Golden Mile
This understated spot has been pulling in hungry locals and awards lauding its easygoing attitude and delicious food for over a decade. While the menu is extensive, it's the fish dishes that get people dreaming: ultra-fresh mussels, haddock risotto made to order, and picture-perfect sea bass, just to name a few. The restaurant does get pretty busy, though, so you'd better wise up and book ahead.

Sign up here for our daily Thrillist email, and get your fix of the best in food/drink/fun.