All aboard, y'all! It's
Trains Week
at Thrillist, which means we're celebrating our obsession with trains—fast trains, slow trains, wine trains, even snow trains. Throughout the week, you'll find off-the-rails stories and handy locomotive guides to help you plan your next great adventure. In the meantime, we'll see you in the bar car!
The year is 1951, and someone has been murdered. Their killer lingers on board the Belmond British Pullman luxury train—and they might get away with the crime, if you're not able to track them down. No, this isn't a real British whodunit; it's A Moving Murder Mystery Lunch, a fanciful and opulent train ride that might just be the best way to get your murder mystery kicks without the risk of being offed in your sleep. Those with a penchant for Clue and Agatha Christie (or anyone with a love for theatrics and whimsy) will feel right at home on the glamorous and historical train. Everyone else? Well, there's nothing to hate about the five-course, silver service lunch that accompanies the experience.
It all begins at Platform Two in London's famous Victoria Train Station. Enthusiastic passengers mill about dressed to the nines, chilled apple juice in hand, as live music plays. They're eventually greeted by dedicated stewards who escort them onto the train.
Each of the train's 11 carriages comes with its own name, ambiance, and history. For example, you might find yourself seated in Audrey (known to be the Queen Mother's favorite carriage), whose ornate wooden wall paneling is inlaid with 35 different species of wood, buffed and lacquered to a high shine. Damaged in an air raid at London Victoria Station in 1940, Audrey was repaired to be good as new and today boasts stunning art deco lighting strips, luxurious armchairs and deep pile carpet fir for a queen. Or perhaps you'll settle in Cygnus, a Wes Anderson-designed carriage that's particularly in demand with passengers. The design manages to strike a balance between preserving the original interior while incorporating subtle, modern design interpretations. Anderson's signature symmetrical lines, unique color pallets and art nouveau style are everywhere in Cygnus, and there are even two swanky private coupés (compartments) within the carriage. You will most likely pay top dollar to reserve one of these, but the Champagne will flow freely all day, and hey, life is short.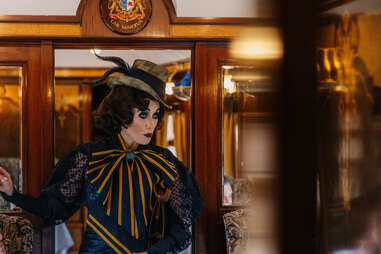 In this state of luxury and comfort, the murder mystery begins to unfold. Over the course of five hours, ten suspects—each with their own motive or agenda—spend their time traversing the carriages, chatting to passengers, and dropping clues about who may or may not be the murderer. Passengers are each given a clue sheet and encouraged to interview the suspects to crack the case. It's engaging, sociable fun with many passengers joining forces within each carriage to crack the case. And it hardly feels like work, since all this brainstorming takes place in a plush armchair, glass of Champagne in hand.
The drinks won't go to your head, since a five-course lunch is served over the course of the ride. The Belmond group is owned by iconic luxury brand LVMH holdings, whose brands include Moët & Chandon and Veuve Clicquot, so it comes as no surprise that the food (and Champagne) are top notch. Lunch is served to your table as the train rambles over the rolling hills of Kent and you sink deeper into your armchair. Expect top quality local ingredients, excellent wines and a classic British cheese plate to finish.
As coffee is served and the train returns to Victoria Station, peak murder mystery status is achieved with the anticipation building as the characters invite passengers to name their number one suspect. Finally, the murderer is revealed and the festivities begin to wind down. It's not an easy case to crack, but you'll have fun even if you don't nab the killer.
Unless you live in the area, you'll want to complete your experience with an overnight stay at the Belmond Cadogan Hotel in leafy Knightbridge, just a 20-minute stroll from Victoria Station. A series of immaculately restored townhouses are now home to ultra luxurious rooms and a breakfast that'll make you want to stay forever. Guests can enjoy a leisurely stroll in the private Cadogan Gardens, a perk usually reserved for residents of Cadogan Square, and the perfect way to celebrate a case closed and murder mystery solved.