The Most Surprising All-Purpose Travel Hack Requires Only a Pair of Running Shoes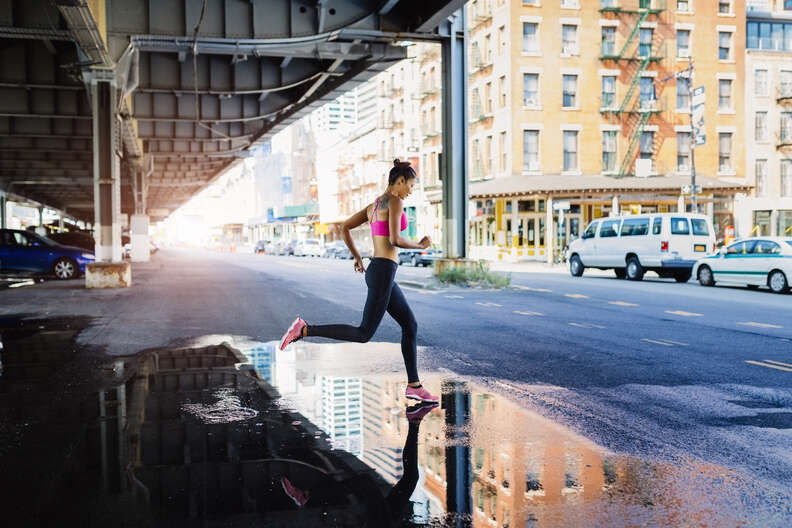 Westend61/Getty Images
Westend61/Getty Images
As I reached the top of a hill at Fort Tryon Park, I stopped running. I pressed paused on my playlist -- which this morning featured the upbeat pulse-thump of Francis and the Lights -- and turned around to look back at the distance I had just covered.
The moment felt surreal. The day before, Winter Storm Quinn had blanked New York City in about 3 inches of snow. In the new morning, the snow was pristine, save for where a couple of dogs had marked territory. I've spent most of my life in Texas; I'd seen this much snow only a handful of times, and even then it was usually slush.
Beyond the snow-covered park, I could see the Hudson and, across the river, the woods and homes of New Jersey. In that moment, I felt at peace in the quiet stillness. I chose to run there instead of Central Park on the recommendation of a friend who told me no ones goes to Fort Tryon Park. Even on a perfect spring day, he said, this 66-acre green jewel near the top of Manhattan feels like it's your own.
Moments like this are why I make a point to go running when I travel. The park was all new to me, and as soon as I continued running, it didn't matter which trail I chose: they all led to places unknown. The 23-degree wind chill seared my lungs every time I took a breath, and my nose was diuretically leaking snot into the frigid air. But I felt great. You get a profound sense of freedom when you realize any direction you go, you'll find something totally new.
In a new city or town, getting your feet on the pavement opens up a place like no other mode of transportation. Once you get the rhythm, running offers a way to see a new place that's faster than walking, simpler than biking, more intimate than driving -- and, for entertainment, cheaper than drinking. Just going for a jog is an all-purpose travel hack with benefits that go far beyond just staying fit.
For one, you explore and see a helluva lot more
I didn't always used to run when I was on vacation or on a trip. I got into the habit of doing so a couple of years ago when I was in Surprise, Arizona (suitably). I was there to watch spring training games with a couple of friends, but I was also training for my first half-marathon. I had already made a lot of progress, and I knew a week of sleeping in, plus nachos and domestic drafts, would set me back. So every morning of my trip, I woke up an hour before my friends and set out on a run.
Since then, I've kept the habit, regardless of whether I'm actually training. I've run through the mountains in Salt Lake City, around all of Central Park, along Chicago's Lakefront Trail, and down San Diego's coastline. Aside from Central Park, these aren't exactly bangin' tourist hotspots. When you run through a city, you're nimble enough to see a city the way locals do. And if that's running the National Mall in Washington DC, well, you can soak up the tourist sites along the way, as well.
Deena Kastor, an Olympic long-distance runner, tells me the most memorable experience she's ever had was on a racing trip to Marrakech, Morocco, to compete in the IAAF World Cross Country Championships. "The day before the race, I was walking around the souk [marketplace] deciding where to eat lunch, and felt an overwhelming sense of gratitude," she says. "As colorful fabrics, intoxicating spices and music filled my senses, I fell deeper in love with the sport for bringing me there."
I'm far from a pro, but I know that sensation. After stopping in the snow-covered Fort Tryon Park, I turned around and ran down Fort Washington Avenue until I reached Broadway. Along the way, I saw the students at Public School 187 enjoying an early recess. I saw some red-eyed medical students from Columbia University leaving an overnight shift while others shuffled into work. And I saw a woman with a bag full of recyclables, inserting plastic bottles into a machine one by one to make some money.
You realize pretty quickly that people ignore runners, which is sort of a paradox, because on trips like these, my senses are heightened. Beyond the twinges in my quads and calves, I felt like I was floating as I observed the sights and sounds of the area. When I finished my run that morning, had at least a cursory understanding of the Washington Heights neighborhood, and an appreciation for its unique rhythms. Consider your morning run a preview for what you can come back and see later. That might be a landmark, or, in my case in New York, it was a diner I hit later for breakfast.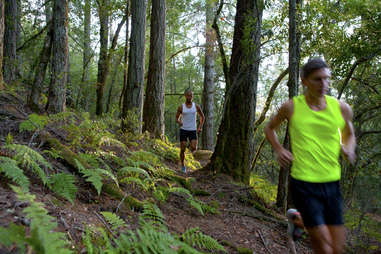 You fend off the cruddy feelings that come from hardcore travel
Calories don't count on vacation, science has proven that over and over, don't @ me. But -- and hear me out, now -- what if while you were eating and drinking your way through Basque Country or Mexico City or Emilia-Romagna, you also did just a wee bit of exercise?
"For one thing, it'll make sure you don't come back from your vacation feeling like a slug after a week of bad food and no exercise," says Alex Hutchinson, the author of Endure: Mind, Body, and the Curiously Elastic Limits of Human Performance. "But more immediately, starting the day with a run puts you in a good mood and -- believe it or not -- gives you more energy for a day of sightseeing."
Think of it this way: You didn't buy a plane ticket somewhere just to sleep in, right? A run will actually help you get more travel out of your travel. To that end, it can also help you beat jet lag. A study published in Medicine and Science in Sports and Exercise found that "the molecular circadian clock in peripheral tissues can respond to the time of exercise." What does that mean? Essentially, if you work out at the same time every day before and during your trip, you're able to adjust to a time change more quickly.
Bonus, too: If you're in any kind of shape when you leave, you're going to feel more like yourself when you get home. Hal Higdon, an author and marathoner, tells me that runners lose fitness in 48 to 72 hours, and it takes two days of "retraining to regain the fitness lost for every day skipped." You'll probably feel fine if you skip your runs on a weekend trip, but any longer than that, you'll want to get out and hit the pavement.
Once you get that momentum, you never know what'll happen. I've only picked up running again lately; I ran cross country and track in high school but stopped in college. Eventually I realized my metabolism was slowing and I had a dad bod growing around me. I chose running because, to me, it seemed easier than lifting weights. My casual neighborhood runs turned into a 5K, then a 10K, then a few half-marathons, and now a couple of marathons. That's all been over the course of about a year. Running went from something I did just to keep the pounds off to something I look forward to every morning (most of the time), and something I miss when I take a day off.
You won't find any cheaper thrills when you're on the road
Everyone will think you're some kind of superhero when you say you run on trips. In reality, you're just a cheapskate. That $50 ride on a double-decker bus through a city's "most exciting and historic sites"? Go ahead and jog 'em instead, at your own pace. You'll see the same sites, and if you go in the morning, when a city is still yawning and stretching, you'll dodge the mobs.
"When I'm in crowded tourist cities, an early morning run can be an amazing way of seeing the city while the streets are still empty, and getting a different perspective on ordinary life there," Hutchinson says. "Sometimes I like running from my hotel out into some totally non-touristy neighborhood, finding a random cafe to get a bite of breakfast in, then running back to my hotel."
It's also a shortcut to seeing more of a city on a short trip. Hutchinson says one of his favorite running experiences was on a trip to Slovenia. "Someone told me that all Slovenians have to climb Mount Triglav, the highest peak in the country, but I didn't have enough time left in my visit to do the hike -- unless I ran," he says. Hutchinson and his friends ran the trail to the peak of Mount Triglav (at an elevation of 9,396 feet) and stopped on the way down for soup in an alpine slope before going to the airport. "It was a great way to finish the trip," he says.
Running is the cheapest way to work out because you can do it all over the world, with your lightest pair of shoes. "The greatest benefit to running is that you can take it with you anywhere," Kastor says. "No matter your lifestyle, it is easy to stay committed to running, and it is the best way to tour cities, towns and villages around the world."
Looking back at my run at Fort Tryon Park, I thought about if that moment would have been different if I had just taken a taxi to the riverside and walked around for a bit. Somehow the magic would've been diminished -- my morning would've been less vigorous, less earned, less real. New York may not be my town, but for a second there, I was the guy running the city.
Sign up here for our daily Thrillist email and subscribe here for our YouTube channel to get your fix of the best in food/drink/fun.