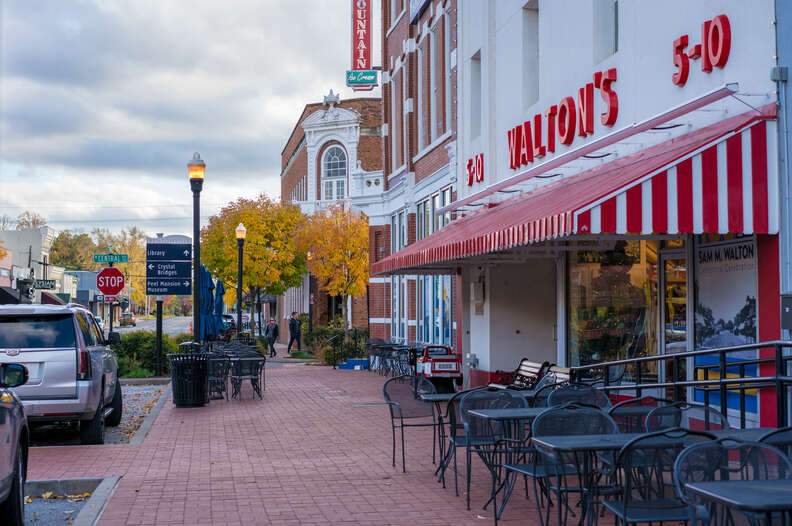 The original Walton's Five and Dime in downtown Bentonville, Arkansas is now the site of the Walmart Museum

| shuttersv/Shutterstock
The original Walton's Five and Dime in downtown Bentonville, Arkansas is now the site of the Walmart Museum

| shuttersv/Shutterstock
The Curious Cultural Rise of the Town That Gave Us Walmart
In the first half of the 20th century, the city of Bentonville, Arkansas, lived through a series of brief but spectacular successes. Benton County was the leading tobacco-producing county in Arkansas, but then tobacco prices fell. It became the #1 apple-producing county in America, but then disease set in, overspraying created a plague of pesticide-immune superbugs, and farmers were forced to destroy their crops; there are no apple orchards in Bentonville today. By the 1940s Benton County was dominating Arkansas poultry production, and while the poultry industry is actually still pretty big around Bentonville, that storyline, along with all the others before it, got full solar-eclipsed by the one that came next.

In 1951, Sam Walton opened Walton's Five and Dime variety store with a dream of selling everyday products at low prices. Armed with a talent for undercutting his competitors through cheaper suppliers, Walton was profitable immediately and expanding by the 1960s. But then, instead of reaching the top and promptly failing, or being overtaken by the next new player in town, the business simply kept getting bigger -- franchising relentlessly across the state, then the country, on its way to becoming the largest retailer in the world.

Walmart Inc. could have brought monstrous investment into any of America's biggest and most expensive cities, but the Walton family has kept it continuously headquartered in Bentonville. And so, for the second half of the 20th century, Bentonville's cycle of rises and falls was effectively on pause. Walmart was the only name in town. It overtook the identity of the region entirely, providing between 14,000 and 18,000 people in Benton County with jobs, if not much in the way of culture or aesthetics beyond strip-mall capitalism at a discount.

Then, in 2011, Bentonville unveiled the Crystal Bridges Museum of American Art. It was the biggest art museum opening in America in almost 40 years, and it launched Bentonville -- a rural community known only for Walmart -- into the cultural spotlight overnight. Free to the public and stocked with the finest collection that money can buy, Crystal Bridges has since pulled in more than 1 million visitors and collaborated with the Louvre. A world-class attraction like that creates demand for amenities to match -- places to stay, places to eat, places to shop. Not big-box stores; nice places.
In less than a decade, Bentonville's image has been successfully rehabilitated from bland corporate flyover country into a "must visit" up-and-coming travel destination. It had been a long time since folks had anything to associate with the place besides Walmart, but once Crystal Bridges arrived everything else went like dominos. Because of the museum's central location, the city had busied itself renovating everything downtown before it even opened. In the years since, the downtown area has been buffeted by a rapid succession of boutique hotels and artisan shops and fashionable bars and restaurants. There is now an 80,000-square-foot Bentonville Community Center and an exceptional children's museum called the Amazeum. There's a charming splash pad/outdoor community movie theatre in the summertime, which converts into ice rink in the wintertime. A 21c Museum Hotel (part museum, part hotel) was opened to cater to the influx of art tourism. Galleries followed; downtown Bentonville has an arts district now. In 2020, Crystal Bridges will open a sister institution, a contemporary visual and performing arts venue called the Momentary, in a facility last occupied by a Kraft cheese factory.

The food scene is rapidly becoming the sort of thing people refer to as "exciting." The Preacher's Son serves locally sourced, 100% gluten-free food inside a restored historic church, complete with seasonal rooftop bar. Trendy coffee and cocktails can be found at the Pressroom. And if you're visiting and ask anyone where's a good place to eat downtown, chances are they'll point you to 8th Street Market, a trendy food hub that works with local farmers. Benton County was dry up until a few years ago, but now you can buy alcohol there, too.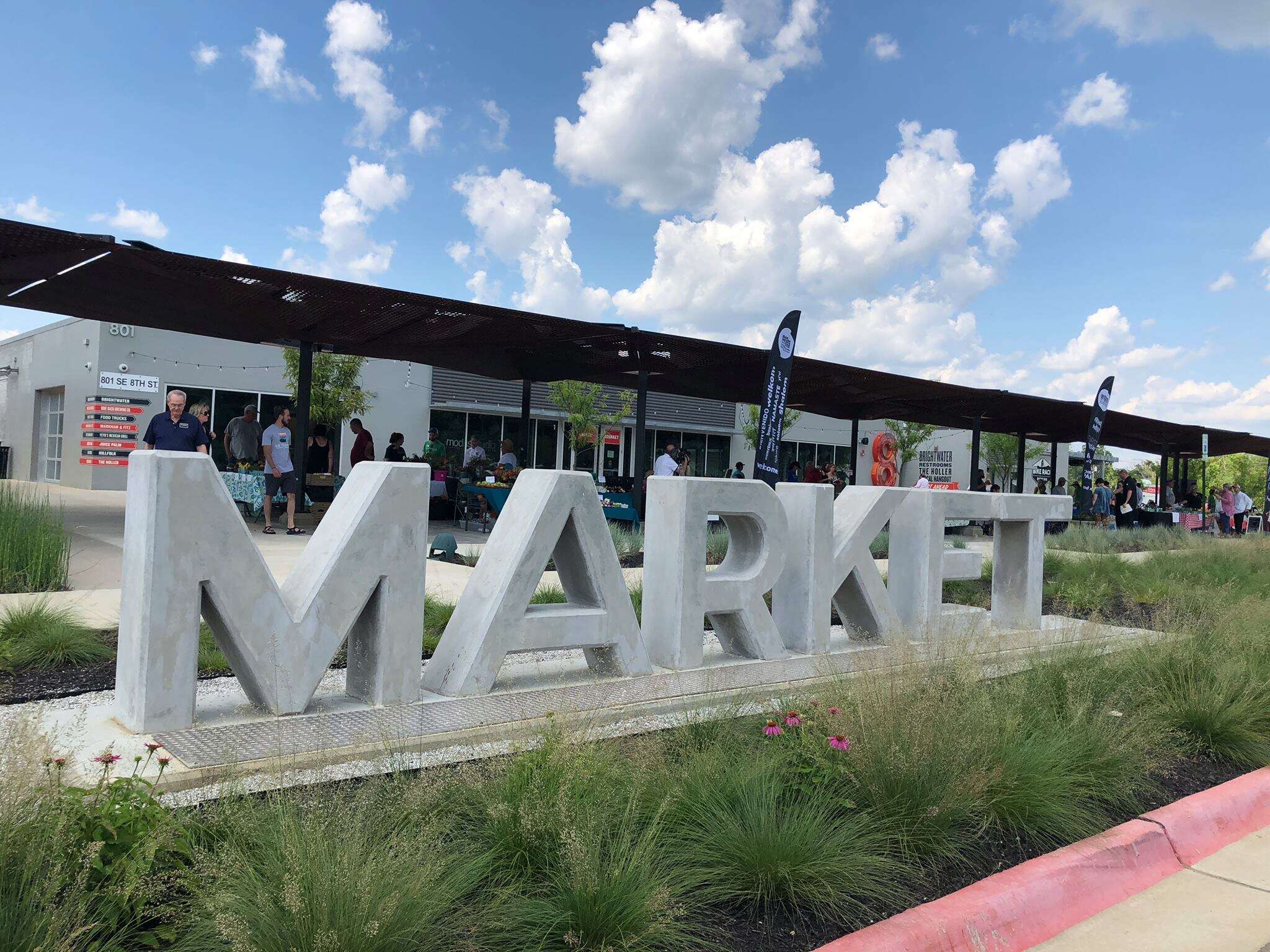 Northwest Arkansas is well on its way to becoming an arts destination, probably a culinary one too, but as an outdoors destination it's already arrived. Hiking, fishing, canoeing, and floating down the region's lakes and streams and rivers are popular pretty much year-round, because the weather is just that lovely. Siloam Springs, another city in Benton County about 30 miles southwest of Bentonville, is home to a massive, free-to-the-public kayak park and is in the process of building a $15 million whitewater rafting park. In a particularly niche tourism play, the region is also becoming a hub for backcountry aviation. Visitors can enjoy a network of rural airstrips around the Ozarks. Osage Park, a 55-acre "adventure-based outdoor destination" opening in downtown Bentonville, will have an aviation theme.
Benton County's marquee open-air attraction is the Northwest Arkansas Razorback Regional Greenway -- a 37.6-mile trail that opened in 2015 and connects Bentonville to Fayetteville, and with it the University of Arkansas. It's the spine of a network that includes 250 miles of natural surface trails and an additional 150 miles of paved paths, and spans six municipalities. Set off from downtown Bentonville by bike and within five minutes you can be fully immersed in the woods of the Coler Mountain Bike Preserve. In just the eight years since Crystal Bridges came onto the scene, bike infrastructure added to Benton County has included the Back 40 and the Slaughter Pen Trails, the Railyard Bike Park in Rogers, pump tracks in Springdale, and the Kessler Mountain Regional Park trails in Fayetteville. Bentonville has hosted the International Mountain Bicycling Association World Summit as well as the massive demo event Outerbike. Fayetteville will host the Cyclocross World Championships in 2022.

"You can ride a bike all across Northwest Arkansas," said Brandon Ranger, a buyer at eSCO Processing & Recycling, whose main customer is Walmart. "It's a whole culture here. As surfing is in San Diego, mountain biking is here."

Ranger lived in Benton County from the age of 9 until he went into the Navy at 17. He eventually ended up in San Diego, and he and his family relocated back to Arkansas a year and a half ago. "Physically, what's changed is the emphasis on infrastructure and mobility," Ranger said. "When I was growing up it was a lot of two-lane roads, it was very difficult to do business or even go and enjoy yourself, just because of the travel time. Now, they've got infrastructure going up all over the place. Looks like a first-rate city."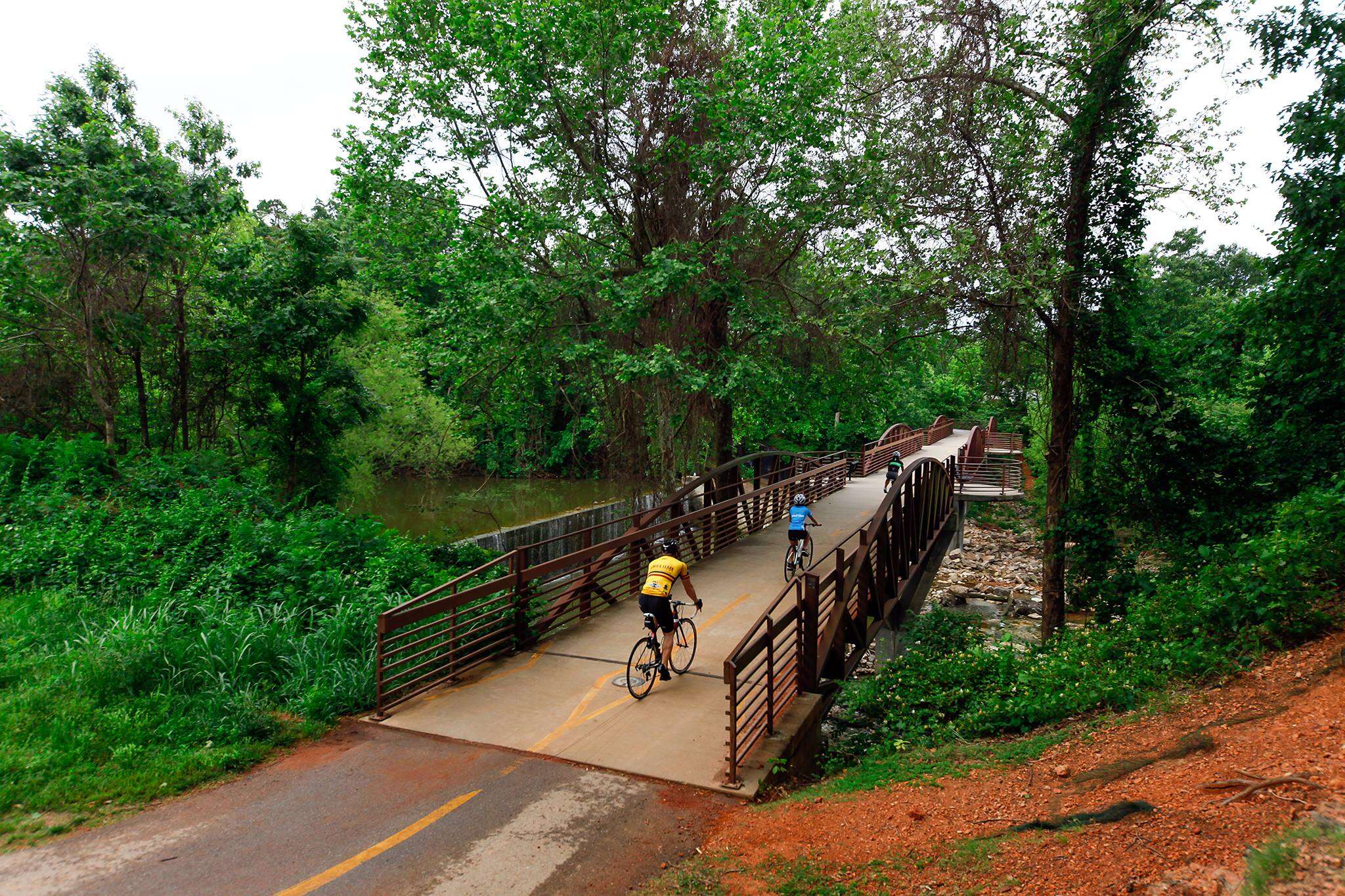 From the outside, Bentonville would seem to be finally emerging from its big-box shadow, garnering attention from national publications as a destination to watch and blossoming into an improbable mini-mecca of arts and culture and gentrification that all runs counter to, or is at least independent from, Walmart.

Not quite.

Crystal Bridges was founded by Alice Walton, daughter of Sam and usually either the richest or second-richest woman in the world, depending on how a certain L'Oréal heiress's shares are performing. The cycling infrastructure and hundreds of miles of trails were commissioned by Tom and Steuart Walton, grandsons of Sam and both avid mountain bikers. Tom is the managing principle of Ropeswing Group, a hospitality company focused on bringing destination venues to the area -- like the Pressroom, the Preacher's Son, and new additions to 8th Street Market. Steuart is a pilot, and owns an aircraft manufacturing startup on Northwest Arkansas. The push to switch Benton County from dry to wet was successful after the Walton brothers donated around $600,000 to what was ultimately a $680,000 campaign. The Waltons were behind the 21c Museum Hotel. The Walton Family Foundation has bankrolled the Momentary, the community center, the Amazeum, Osage Park, the Razorback Greenway, and more than 1,000 other projects in the region since 2011, including a network of green public spaces across Bentonville, Fayetteville, Rogers, and Springdale.

Crystal Bridges is sponsored by Walmart, but most of the financial backing for these projects doesn't come from Walmart directly. It comes from the Walton Family Foundation, whose fortune comes from Walmart. In Bentonville, all roads lead to Walmart in the end.
"They're creating a kind of Millennial wonderworld, is what they're doing."
Crystal Bridges is often framed as the catalyst for a wave of inevitable economic development, but it's not clear to what extent that's really true. All this development has not resulted organically so much as it has just also been put there by the Waltons -- a single family manufacturing, simultaneously, both the demand and the supply. "They're creating a kind of Millennial wonderworld, is what they're doing," said one Bentonville resident. "I can't quite get my mind around — it's this instaculture process. It's just so top-down."

The Waltons, it should be noted, are not the only dynasty in Northwest Arkansas. The region has a surprising number of wealthy philanthropic families who hit it big and never left, and whose fingerprints are all over Benton County today. There are the Tysons (processed foods) and the Georges (poultry) in Springdale; the Hunts (trucking) in Rogers; the Walkers (Walmart) in Fayetteville. But the Waltons are the wealthiest family in America, with a net worth that exceeds $175 billion. That's more than the Tysons, Georges, Hunts, Walkers, Kochs, Trumps, Sacklers, and Murdochs combined, with enough leftover to pay all 1.5 million Walmart US employees their average wage of $14.26/hour for a year, give or take. It's the kind of money that allows you to build a museum in the Ozarks that attracts art lovers from all over the world, or to market as a premiere mountain biking destination a region that can at best be described as "hilly."
MORE: The best mountain towns in America
"There's a lot of people who do partake [in the new downtown attractions], but I don't know how many are… local," said Jennifer, a 34-year-old Bentonville resident whose name has been changed at her request. "I think they're catering to the type of employee they're hoping to bring here. If they want to compete with the Amazon model or the Google model of having that young hip talent, then they've got to boost Arkansas' appearance on paper, because everyone's like, 'What? You wear shoes there?'"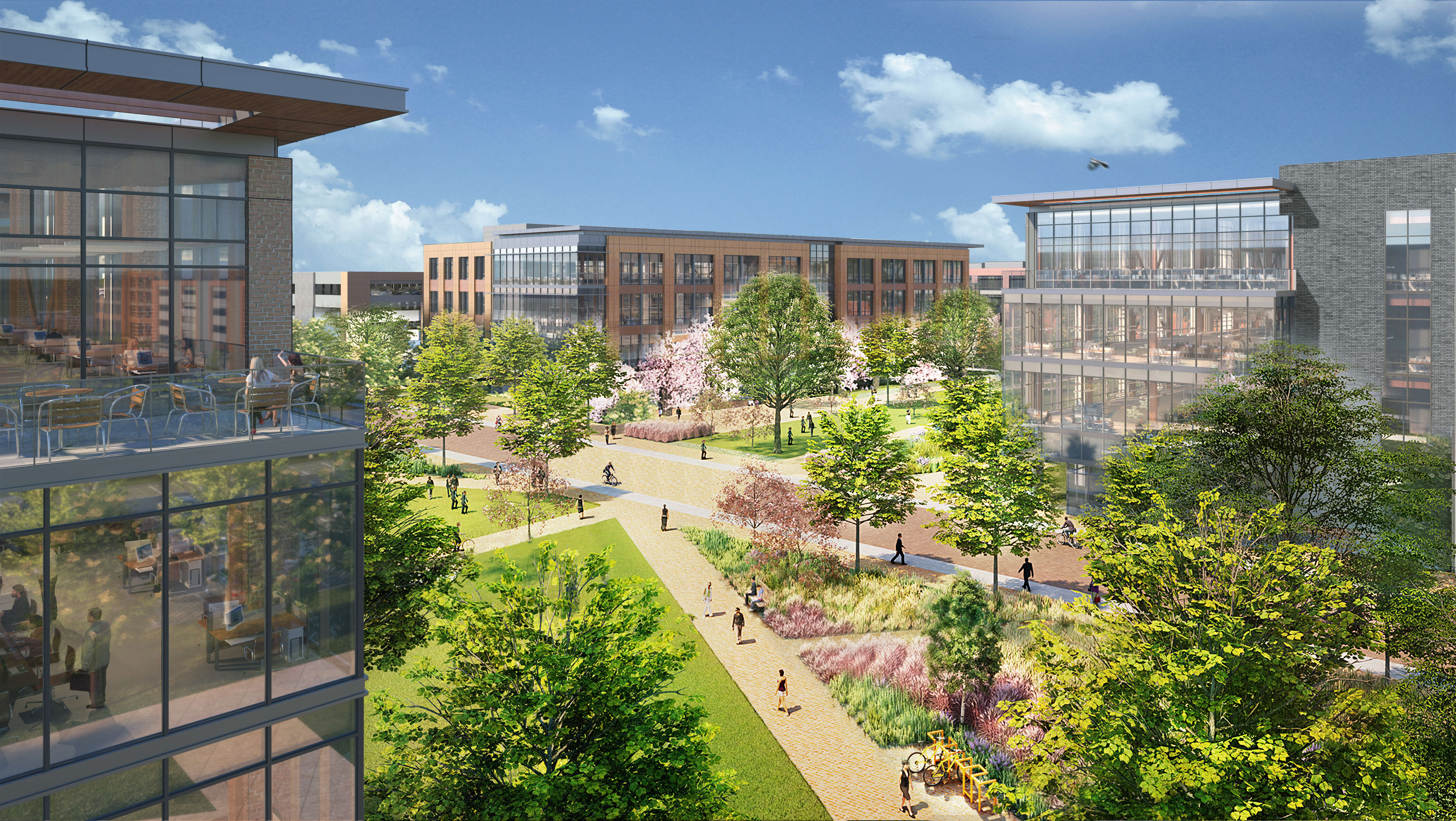 The biggest irony of Bentonville's whole Walmart saga used to be that Walmart, long criticized for desiccating small towns, does a lot of hyping its home-grown commitment to the community. But these days, it's arguably the fact that in order for Walmart to remain competitive with, say, Amazon -- which recently surpassed Walmart as the world's biggest retailer -- it needs to attract the sort of people who do not shop at Walmart. Not just tourists, nor the legions of visitors who historically parachuted in to do business with Walmart and left the moment they were done, but employees who move to Bentonville to stay. This is a goal that also appeals to other developers in the region.

"We feel like if we can get 'em here to see it, then we certainly increase our chances of landing them as residents," said Mike Harvey, Chief Operating Officer of the Northwest Arkansas Council. "We're still competing with Dallas, Kansas City, those are our closest big metros here. So, y'know, you gotta kinda punch above your weight class to attract and retain that talent… we compete -- very successfully -- for mid-career professionals here."

In 2017, Walmart announced it would consolidate its existing Home Office -- which is actually multiple physical offices that have been spreading across the city since 1970 -- into a new 350-acre campus slated to open in phases between 2020 and 2024. The amenities for this thing look unreal. Bike-accessible, woven through with green space and native plantings, with a goal of zero waste and 100% renewable energy.

"One of the goals of the new Home Office is to attract top talent for the future," said Walmart Director of Global Communications Anne Hatfield. "This new campus will establish itself as a new district that complements that growth and… seamlessly integrates into the community."
Benton County is the northwesternmost corner of the state, flush against Missouri to the North and Oklahoma to the West. There is no urban core from which to gentrify, but gentrification has arrived nonetheless, willed into existence by the sheer scale of the Walton family fortune. With a population about to pass 50,000, Bentonville is Arkansas' fastest-growing city, far outpacing all better-known destinations like Little Rock. This growth predates Crystal Bridges, but only now is the development accelerating to match.

"'Drastic' is probably the word here," Jennifer said. "There's so many apartment complexes that are going up… do we even have this many people? It's mind-boggling for me to think that they could all be filled."

Jennifer was born in Bentonville and has lived there all her life. Her grandparents moved there before Walmart, when it was a 2,500-person town. When you went to the grocery store, you were almost certain to run into someone you knew. If you wanted to eat at a restaurant or do any shopping, you drove the half hour south to Fayetteville.

"Downtown has changed so much, so many of the smaller homes being bulldozed and townhomes being put up, brownstone-type homes where it's just- I just don't know who's going to live there," Jennifer said. "Like, 2,000 square feet, no yard, could easily be $800,000, which is unreal compared to what you could get 15 minutes down the road. What type of person buys that?"
"It's a very unique little corner of the world down here, in the middle of the country..."
The new shape Bentonville is taking might look foreign to its long-time residents, but it will be extremely intuitive to the legions of urban, middle- and upper-middle class late-Millennials it's designed to attract. Airbnbs are sprouting up. Bentonville will soon get its first WeWork. Ropeswing is bringing 8th Street Market the town's first ramen shop. "They're definitely going after this cool factor," Jennifer said. "You walk anywhere in town, the average age is 30ish." The Waltons have funded a number of projects designed to appeal to young families, including quality-of-life grants and a new private school.

"It's driven up property values, I'll be honest about it," Harvey said. "With the Momentary and 8th Street Market and of course the big new Walmart headquarters… there's a very deep and intense discussion going on right now about affordable housing in the region. For long-term residents, the appreciation has been pretty dramatic."

The development is now pushing into the southeast part of downtown, an industrial warehouse area that's historically been lower-income. Crystal Flats, a mixed-use development going up near Crystal Bridges and all the rest of the downtown attractions, aligns nicely with Walmart's goal of having at least 10% of its new Home Office workforce commuting to the campus by bike. It's also sparked considerable local controversy, including protests at the City Planning Commission. One Benton County resident, who also requested anonymity, said that backlash was partly a culmination of all the development that's already been squeezed into downtown -- that people are concerned about the traffic, that they feel the Waltons are getting greedy. "And, it looks like a spaceship."
"If you ask somebody here what they think, they'd say that what Walmart wants, Walmart gets," Jennifer said. "If they want to change the appearance of this town, then by all means they can do that... they can basically get whatever they want."

Both Walmart and the Walton Family Foundation said there's no Walton tie to Crystal Flats and similar housing developments coming to the area; Harvey said he doesn't believe the Waltons are very involved in local politics. But it's not surprising that Bentonville natives remain suspicious of each new development being connected to the Waltons because, historically, everything has been connected to the Waltons. (The company that owns the Crystal Flats property, along with more than a dozen other tracts of Crystal Bridges-adjacent land, has the same post office box as Walton Enterprises and has ties to a Walton-founded bank. The family does donate prominently to Bentonville city council members.)

"As a community becomes more desirable, it becomes more expensive," said Karen Minkel, Home Region Program Director for the Walton Family Foundation. "What we're really focused on is how we can ensure this remains a place where the quality of life is accessible to everyone… [transportation and housing are] probably the biggest questions and themes for us to consider as we think about what will be the key focus over the next five years."

Introductions like the expansive cycling infrastructure seem appreciated across the board. Everyone's on the trails on the weekends. According to a seriesofstudies, cycling contributed $137 million to the economy of Northwest Arkansas in 2017. And, according to a recent quality-of-life survey, 95% of Northwest Arkansas residents are "very happy" or "fairly happy." The studies were commissioned by the Walton Family Foundation, too.

Some Benton County residents like Rogers are excited by the rapid growth; others like Jennifer are apprehensive, or angry. But everyone seems united in the understanding that the Waltons are going to continue grafting their many financial and recreational interests onto the place, and that everyone else is simply along for the ride. It's the Waltons' world; they're just living in it.

"It's a very unique little corner of the world down here, in the middle of the country," Harvey said. "It's really something to see. You're just like, 'really? Right here?'"
Correction: A previous version of this article stated that the Walton Family Foundation bankrolled the 21c Museum Hotel. The hotel's financial backing came from private Walton family contributions.
Sign up here for our daily Thrillist email, get Next Flight Out for more travel coverage, and subscribe here for our YouTube channel to get your fix of the best in food/drink/fun.