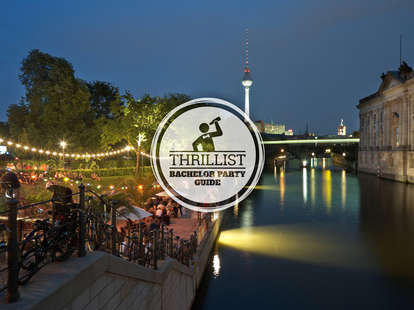 Shutterstock
Shutterstock
From Brecht, to Bowie, to Berghain, Berlin has always held a reputation as one of the world's hedonistic capitals. And that notoriety has grown in recent years as word of the city's cheaper prices and anything-goes attitude has made it an attractive alternative to traditional European stops like London and Paris. Berlin might not offer as much in the way of grand historical sites, but a bachelor party's never really been the time to climb aboard a tourist bus. Unless that tourist bus has a stripper pole and a DJ.
In an effort to help you find just such a bus (or something equally debaucherous, but more fitting of the Fatherland), we've compiled this comprehensive guide to your next Berlin bachelor party.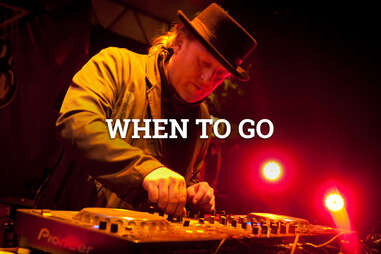 The weather is always tricky in Berlin. Don't even think about coming during the winter, when the sun goes down not long after lunch (that is, if you ever see the sun break through the incessant gray overcast). A good rule of thumb for when to visit is May 1 through September 31, but pack for a variety of temperatures and precipitation, even at the height of summer.

Busy Times
Mayday: Speaking of May 1, the traditional workers' rights holiday has come to symbolize the start of summer and sees millions pour into the streets -- not in protest, but in celebration. DJ-driven sound systems (mainly of the techno variety) fill areas like the previously immigrant working-class, now totally hipster district of Kreuzberg, and the police have a habit of letting revelers revel way past the normal 10pm outdoor noise curfew.
Fashion Week: Far more edgy (some say low-rent) than most FW's worldwide, you'll definitely notice an uptick in the number of style-savvy fashionistas prancing around Mitte during this week in July. If you're looking for parties with a liquor-brand sponsor, this week is your best bet.
Berlinale (Film Festival): One of the largest in the world, celebrities and cinephiles pour into the city during this two-week event in February. But we already told you not to come during winter, so it's a moot point.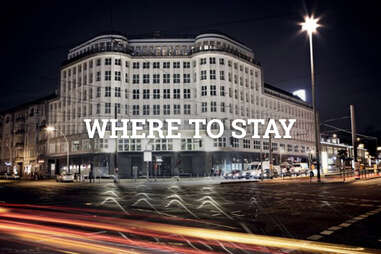 ...if money's not an issue (or at least you're going to pretend it's not):Soho House
Not quite as exclusive as the locations in New York, London, and LA (forget celebrity spotting), this members-only establishment offers stylish surroundings that'll have you thinking twice about your epic trashing-the-hotel-room party fantasy. If you can stay an extra night, Mondays offer 50 percent off food and drink to members under 27 years old. Great for young, rich Eurobabe-watching.
...if you're a little more budget-minded: Michelberger
Best described as Berlin's version of the Standard Hotels (or the Ace Hotel brand), the one and only Michelberger has its own line of coconut water that comes in Monster Energy-sized cans. Perfect for nursing that hangover.
...if you think bachelor party budgets are better spent on red meat and strippers than hotel rooms: Ibis Berlin
Spread throughout the city, this perfectly serviceable Euro-chain actually runs cheaper than a lot of the dive-y haunts with "character" and "charm". For when all you need are clean sheets.
...if you like staying in other people's places:AirBNB rules
AirBNB has become so prevalent in Berlin that city planners have moved to restrict its usage as developers buy up properties specifically for vacation rentals. For now, no rules have taken effect, and even when they do, there's plenty of Berlin residents willing to crash on a friend's couch while earning their entire month's rent in a weekend or two.
...and want to see the city: Rent a bike
Bike paths might be the cool, hipster thing in some US cities, but they're a way of life in Northern Europe. Virtually every corner bakery has a rental rack out front where you can grab two wheels for about €10/day. You'll save a fortune on cabs and get to see the city like a local.
...and want to get out on the water: Rent a raft
We recommend the completely ridiculous Huckleberry Finn rafts, which look like they were stolen from Disney World and dumped into the Spree River.
...and want to stay indoors: Ogle naked women at the Helmut Newton Foundation
The famed '80s fashion photographer knew how to shoot a naked lady better than almost anyone in history. You can act cultured while exploring that magic moment in time when women began trimming their pubic hair.

...and need to sweat out the toxins: Liquidrom
This sauna and thermal bath is the perfect place to recover from a night of debauchery. But be warned, nudity is expected from both sexes, and it's not always the sort you want to see.
...and want to taste everything: KaDeWe
A shopping center might seem like the last place for a bachelor's blowout, but the sixth floor of this 107-year-old department store is a food-lover's paradise, with plenty of high-end kiosks where you can pull up a stool and sample some truly delicious snacks. There's also plenty of top-shelf booze to sample, although we realize this is suppose to be the non-drinking portion of the weekend, right?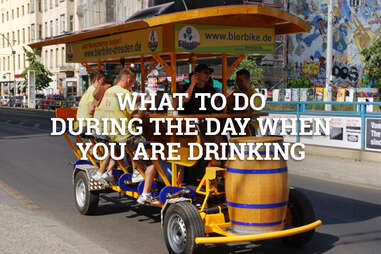 ...and want to be part of the "scene": Görlitzer Park
Public drinking is tolerated almost everywhere in Germany, including its many parks. Which is why spots like Görlitzer Park overflow with scene-searching tourists, sun-starved locals, kids, dogs, bikes, and BBQs, all in a happy semi-legal cornucopia of local color. Speaking of semi-legal, the dudes lurking around the edges in the trees can supply a different plant-based intoxicant as well.
...and don't mind looking a bit silly: Beer Bike Tours
Germans are known for their love of two things -- beer and engineering. So it seems obvious that someone thought to combine the two and create these popular, if peculiar, pedal-powered vehicles where your posse sits on stools around a small bar while quaffing brews and propelling the vehicle down the strasse (street).

...and want a taste of traditional Germany: Prater Biergarten
Berlin's oldest biergarten might not be as traditional as what you imagine (those Oktoberfest fantasies are better played out in the south of the country) but that doesn't mean you shouldn't hit up this classic outdoor spot, where the beer goes great with traditional brats and pretzels. If you're wondering about the brightly colored red and green drinks you see some folks sipping, those are called Berliner Weiss -- a low-alcohol brew mixed with a shot of flavored syrup, specially designed for daytime imbibing.
For the best burger in Europe: The Bird
Burgers thicker than hockey pucks. Steaks imported from the good old US of A. Even a turkey club that's downright outstanding. The Bird impresses all who walk through its doors. For this reason, it's booked solid almost every night, so a reservation is a must. Big groups should call at least a week in advance.
For TV-approved Turkish food: Hassir
Thanks to a large immigrant population, Berlin is a mecca for Turkish dining. There are literally hundreds of places to choose from, but none other than Anthony Bourdain himself visited this Kreuzberg fave during the first season of No Reservations. Grilled meats galore.

For some Wilhelmine-era charm: Borchardt
Opened in 1853, this white-tablecloth restaurant is a favorite haunt for well-heeled Berliners. Those loud young ladies you see smoking cigarettes at the corner table are allowed to flaunt the rules because they come from actual Germany royalty.
For that classic German flavor: Schnitzel
Pounded thin, breaded, and fried, this Deutschland delicacy comes in a variety of styles. Check out our "Berlin's Seven Greatest Schnitzels" guide to pick the one you want the most.
Berlin is legendary for its club scene, with people traveling from all over the world to indulge in the hedonism. The problem is, getting a large group through the door can be nigh impossible, especially a large group of dudes. Your best bet is to split up and approach two to three at a time. Stay cool, and show no fear to the door guy. Also, dress down. These aren't the bottle-service spots you're use to in Vegas and Miami.
For a club you can actually get into with your group: Matrix
Built inside an abandoned train station (every club in Berlin is built in an abandoned fill-in-the-blank), this epic-sized spot with five dance floors and nine bars offers enough room for everyone, and a diverse enough music selection to shut up the one guy in your group who hates techno.
For an only-in-Berlin experience: Club der Visionaire
Built directly on the canal feeding from the Spree, this ramshackle spot offers open-air fun, with a tiny dance floor that occasionally hosts popular European DJs.
Bump into women, literally: King Size
Purposefully ironic in name, this tiny dive of a bar in Mitte gets so packed that the door guy often jumps on a bar stool to determine if there's any room left in the back. It's uncomfortable, but you will be forced to talk to plenty of women as you squeeze chest to breast.
For drinking on the (relatively) cheap: The Kiez Bars...
You can hardly walk a block in Berlin without passing a bar of some sort. These neighborhood spots are usually kitted out in some vintage-shop furniture and offbeat décor that mixes European style with odd '90s artsy vibes. The highest concentration of spots accepting of visitors is found in Kreuzberg.
For the next generation of German beer: Craft Beer Bars
Germany might be famous for its beer, but only in the traditional sense. If you're looking for something not brewed to 100-year-old standards, try Vagabund in Wedding or Hops & Barley in Friedrichshain. If you want something brewed onsite, it's hard to beat Rollberg Brewery in Neukölln.
For big, greasy burgers to soak up the alcohol and/or ensure nobody cheats on his wife: Burgermeister
Located under the U-bahn tracks at Schlesischer Tor station, this late-night burger stand draws long lines, but is one of the few alternatives to doner kebabs after midnight.
And about that doner: Mustafa's Gemüse Kebab
Another stand on the opposite end of Kreuzberg, folks line up in all weather for these delicious meat, cheese, and veggie delights served on bread (doner) or in wraps (durum).
For when you never want to go home, ever: Sysiphos
Berlin is infamous for its endless party hours, and this newcomer to the scene pushes things even farther with throwdowns that run from Friday night to Monday morning.

And because everyone is going to ask you about it: Berghain
Easily the most infamous club in the world, this legendary den of techno debauchery is just as famous for its fickle door policy. If you're lucky enough to meet some clued-in locals, then maybe they can help get one or two of your group in (but that's a big if for a three hour wait in line). Honestly, just skip it this trip and come back on your own some time.
German women are especially fond of their independence, which means the usual throw-money-at-bottle-service tactics don't work here (we're not even sure where to get bottle service in Berlin). However, there are enough tourists from all over the world looking for a wild Berlin story that getting a quickie in the bathroom isn't out of the question. Just be straight about your intentions. European women are generally a lot more open about discussing such things. You won't get slapped. Probably.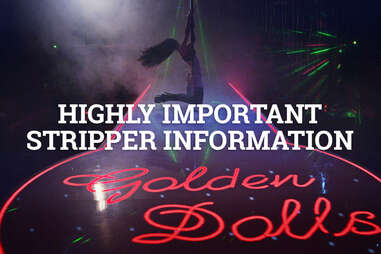 This might be hard to believe, but Berlin is not really a strip-club town -- probably because prostitution is legal and the socio-sexual scene is significantly more hardcore (more on all that later). But if you just want some classic pole- and lap-dance action (called table dance in the EU), it can be found.

The best strip club on a fairly short list of strip clubs: Golden Dolls
Located in the seedy Kurfürstenstraße area, this club is actually the nicest in town. The girls are mainly Eastern European (and hot!), and you can pre-pay for a group package that, if you have the willpower to stay in-budget, will leave you enough cash for the actual prostitutes swarming outside.
The next-best club: CP Club
Formerly Caesar's Palace Club (until a lawsuit with the Vegas institution), CP Club offers a traditional US strip club vibe for an economical €10 cover. The drinks, sadly, follow the more usual strip club pricing -- 50 percent more than anywhere else in town.
Berlin has Uber, and nobody knows about it
Perhaps because the taxi and transit system works well, the Uber thing hasn't really caught on. But that means short waits and little peak-time pricing for those who are in the know.
MyTaxi
On the other hand, everyone uses MyTaxi, so a decent-priced cab is always close by. And you can pay with the app, which is EXTREMELY important because…
Almost no place takes credit cards
We're not just talking transport here. Bars, restaurants, stores… half the businesses in Berlin don't take credit cards. So fill your wallet with Euros and expect to have €20 in change clanging around in your pocket by the end of the night.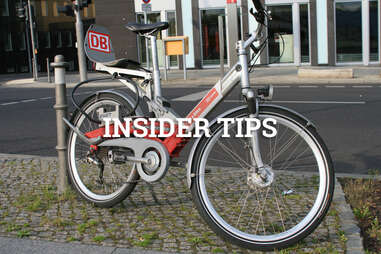 Bike lanes are holy
Many of the bike lanes in Berlin are part of the sidewalk, not the street. So be very aware of the red brick paths that cyclist whiz down at all times day and night. And if you hear the ding-ding of a bell, it's probably telling you to get out of the way.
Club Mate keeps you awake
This beloved highly-caffeinated beverage packs a Red Bull power punch, without the disgusting chemical flavor. It takes a few sips to get used to the herbal essence (Vernors, for those who know what that is), but Mate mixes great with vodka and will keep you going all night (and well into the next day).
Expected costs
Compared to other major cities, Berlin is extremely cheap. But the glory days of whole nights out for less than €40 are coming to an end, as gentrification rapidly transforms the city. Still, you can spend less for a long weekend in Berlin than you would on one night in Miami.

Beers run in the €3 range, with long drinks (vodka soda, jack and coke) costing about €6. Shots can be had for as low as €2, if you don't mind warm Jagermeister in tiny plastic cups.
Drugs
We already told you where to get weed (in Görlitzer Park). €20 will buy you a nice handful, and we mean that literally since it's not uncommon for the dealers to just pour a fistful of bud into your open palm. Being far from the source makes cocaine rather expensive and not very good.

Someone climbed up on one of the slanted rooftops overlooking Görli a few summers ago and in giant white letters painted "M D M A". If you're willing to go that route, just remember to drink plenty of water and do not call it Molly.
For the best massage, swim, and sex: Artimis
This "wellness brothel" lives up to its slogan with a full pool and spa, so you can really relax before (or after) indulging.

For something a bit edgier: Kit Kat Club
Germans have a reputation for kinky, and Kit Kat Club is the most well-known spot in the city for fetish-y fun. Again, you won't get a large group of guys in, but the clubby environment and energy means you can still have a good time.
For overpriced streetwalkers who won't eff you: Oranienburger Straße
Right in the middle of tourist-heavy Mitte, the Amazonian hookers who sashay on the sidewalk in front of the Neue Synagogue will quote you one price, then spend the rest of the evening upselling you on every inch of skin shown or service rendered.
With its refreshing lack of bro culture, Berlin might not be the most obvious place for a bachelor party. But if overpriced booze and fake boobs don't do it for your crew, then it can be a great city to both go wild and recuperate. Be aware that the onus is on you and your buddies to prove wrong the negative stereotype associated with stag parties. Keep you collars un-popped, and the city will show you a great time.