Berlin's Legendary Club Scene Goes Digital to Keep the Beat Alive
 A tidal wave of live streams from Berlin's most renowned techno DJs is providing the city's soundtrack during quarantine.
Berlin's DJ Mira prepares for a live-stream set on March 20, 2020.

| JOHN MACDOUGALL/Contributor/AFP/Getty
Berlin's DJ Mira prepares for a live-stream set on March 20, 2020.

| JOHN MACDOUGALL/Contributor/AFP/Getty
An everyday journey across Berlin is set to a pulsing score: you'll hear electronic basslines in supermarkets, convenience stores (we call them spätis), and blaring from speakers on bicycles or in parks. You'll be minding your business one minute and suddenly -- boom! -- you're in a rave.
But with the world on lockdown, everything's different. Even music. DJs aren't hypnotizing hundreds at the city's iconic nightclubs, or busking with portable controllers for late-night subway stragglers. Even May Day -- Berlin's annual street party with open-air stages, mini-raves, and ground-floor apartment parties (window entrance only) -- is canceled.
Around the world, musicians and venues are taking to the cloud to broadcast performances, and Berliners are no different. A tidal wave of live streams is helping locals like me indulge in our daily soundtrack -- and giving global access to those who want to immerse themselves in our legendary club scene from afar. After all, Berlin is the world capital of techno thump. Why shouldn't it reign supreme for "digital clubbing" too?
Techno is Berlin's musical lifeblood
Electronic music is everything in Berlin -- the rhythm interweaves with the city's history. In the 1990s, after the Berlin Wall fell, underground techno raves in abandoned East German buildings symbolized a reunified Germany and newfound freedom for all.
"The golden age [of the Berlin club scene] started around 2004 when tourism began, and it's continuing today," says Ellen Allien, a Berlin native and one of the world's most renowned techno DJs.
The club scene is a serious economic driver, responsible for a whopping €1.48 billion in revenue. Seemingly every third tourist comes to Berlin to party. In the clubs, I've been lucky enough to encounter all kinds of colorful characters from all over the world, including a pair of techno-loving seniors with pink mohawks and a dad in a lime-green bikini top taking his daughter out for her first clubbing experience. No matter who you are, in Berlin's clubs you are free to be you.
"[In Berlin], the people all dance differently, they all look different and not uniformed, you get all ages. A total mix from 16 to 60. You even get mothers and fathers [clubbing] with their kids. Girls can kiss girls. I have the feeling it's freer [in Berlin]," Allien says.
But the scene is about so much more than its wild, carefree spirit. For DJ Mira, born on the other side of the border in the German Democratic Republic, Berlin represents a liberation she clings to as an artist. Her father, a musician, fled across the border to West Berlin in 1989, seeking the freedom of expression which wasn't possible under a socialist state.
"I travel a lot, but the extreme freedom and creative space you have here is unique," she says. "For example, the [no-camera policy] in clubs. Outside of Berlin, you always have a phone in your face when you're DJing. A protection of space doesn't really exist quite like it does here."
Berlin's club scene takes on a new digital life through streaming
Despite being woven into the city's identity, the past few years have dealt a series of blows to Berlin's music community. Several of Berlin's nightclubs were forced to close due to increased rents and rampant gentrification. On March 13, the COVID-19 pandemic forced all clubs to close their doors, leaving the scene and its 9,000+ employees in a suspended state of uncertainty. Many believe they will be the last businesses to resume operation post-pandemic.
And yet... the clubs have reopened. Sort of. On March 19, Berlin's Club Commission, a non-profit supporting local nightlife, launched United We Stream to reignite the city's soundtrack.
At 7pm local every day (2pm EST), DJs broadcast live sets from Berlin's techno temples. Venues range from old-guard underground legends like Tresor -- founded in 1991 in an abandoned department store -- to heirs apparent like Zur Klappe, a club hidden in a former public toilet once popular for cruising; Anomalie, an industrial-area club in a former car repair; and Kater Blau, located in a riverside market that was once a commune of techno-loving hippies.
Berlin-based techno titans like Ellen Allien, Mira, Pan-Pot, and Claptone have already performed. Sets are available on United We Stream's website, Facebook, or partner ARTE Concert's streaming platform. The Club Commission is also collecting donations to support the venues. At press time, more than 300,000 euros have been raised.
The streams will continue until the official end of lockdown in Germany, or "as long as it needs to," the Club Commission's spokesman told me. Clubs in other German cities such as Munich, Leipzig, and Chemnitz are also joining in.
Meanwhile, several other Berlin nightclubs are also streaming on Facebook to raise money. Klunkerkranich, a rooftop beer garden hidden atop a parking garage, has posted sunset performances overtop Berlin. SO36, a historic nightclub where David Bowie and Iggy Pop once ran amok (and where I frequent a monthly '80s music party), took the latest edition of its monthly queer party featuring Arab and Turkish dance beats online.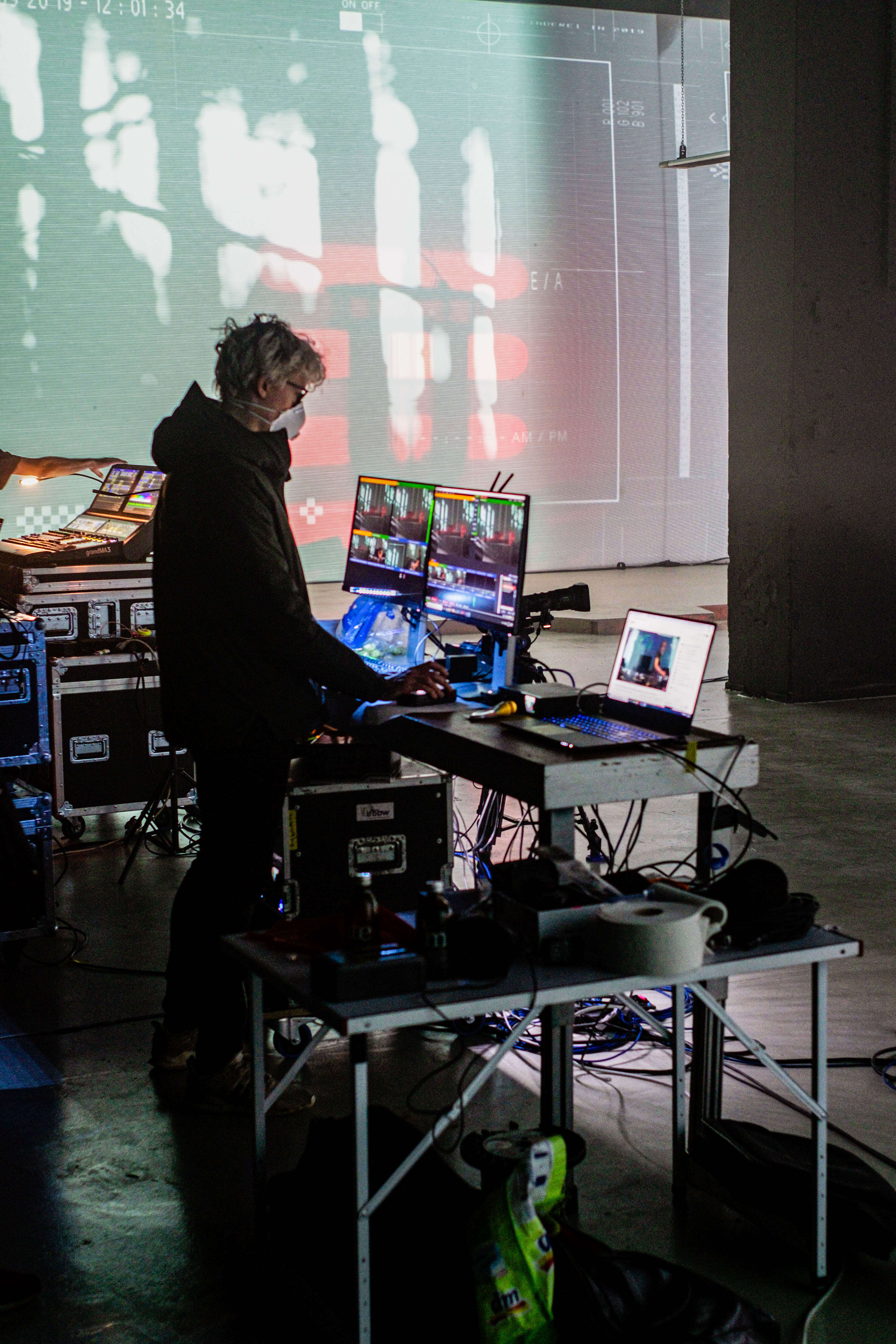 The spirit has extended to the non-techno party scene as well. House of Red Doors -- a raucous blend of burlesque and drag show, cabaret, concert, circus, and costumed sex party -- Streamed its first Quarantine Special on March 26. The ambitious, multi-channel Twitch live stream was broadcast from performers' homes, and included drag queens, comedy, and live DJ sets. The plan is to make this a regular jam during lockdown and raise donations.
"We're kind of experimenting (with the Quarantine Special), and then it will get bigger and better soon," says co-founder Alex Eccleston. "Our performers have really become like a family whose livelihoods have also been totally stopped."
Such collaborative efforts are at the essence of Berlin's club scene. Even in times of confinement, the community stays intertwined.
"Artists help other artists here, and that's great for getting inspired, (because) artists inspire other artists," says Chi-Thien Nguyen, co-founder of party series Hallo Montag, which has been live-streaming for years. The series' personnel shared their technical and production prowess to help United We Stream go live as soon as possible. "It's always about helping each other, never just 'you do your thing and I do my thing.' That's what makes Berlin an epicenter of electronic music."
And it's in solidarity that artists, venues, and fans are working in tandem to ensure that the tight-knit, all-encompassing club world Berlin built from the rubble of oppression stays vibrant even as doors remain closed.
"It's really special that the clubs are reacting in solidarity and not in competition, that doesn't happen anywhere else. Overseas, it's a shark pool," says Mira. "Clubs and artists working together to save our scene shows our spirit. It's less about profit, not about money flowing in to be hoarded, but flowing into art and cultural projects as a whole."