Airlines that actually serve good food
Everyone loves to complain how awful airplane food is -- inedible, greasy, and an embarrassment to meals on land. But, we've managed to find six airlines that actually bring gourmet goodness to 30,000ft. Rather than show you glossy images from plane PRs, we've sourced real, honest-to-goodness shots of what's on offer, so loosen that belt buckle and enjoy.
6. Etihad Airways
The Abu Dhabi-based airline recruited for its "Flying Chef" program at Michelin-starred restaurants around the world . Their goal's to offer the service and standard of food you'd experience at a five-star restaurant, in first class. Didn't score first class seats for this (or any) flight? Etihad's fairly equal opportunity -- meals in coach still deliver when it comes to both taste and selection.
North American gateways: Chicago, Washington DC, New York, and Toronto.
5. Cathay Pacific
As one of the first and few airlines to carry in-house skillets, toasters, rice cookers, and steam ovens, travelers wake up to made-to-order fresh toast, organic scrambled eggs, and espresso or cappuccino. Even premium economy passengers are served with metal cutlery, and get Häagen-Dazs for dessert. Still hungry in the back? Everyone's entitled to unlimited Cup Noodles throughout the flight.
North American gateways: Los Angeles, San Francisco, New York, Chicago, Vancouver, and Toronto.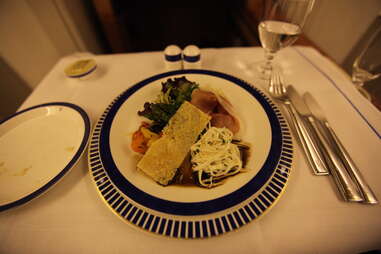 4. Singapore Airlines
This bird's known for catering meals to each of its specific destinations -- experience Hong Kong-style noodles and braised beef short ribs in Chinese wine when you're headed that-a-way, a traditional Japanese tea service if Tokyo-bound, an incredible thali en route to Delhi, and so on. They put experts in charge -- two-time James Beard award winner Suzanne Goin, Michelin three-star restaurant owner and head chef Georges Blanc, and local celebrity Singaporean chef Sam Leong -- just to name a few.
North American gateways: San Francisco, Los Angeles, Houston and New York.
3. Emirates
Flying first class? Don't plan on getting any sleep in that fancy lie-flat bed of yours. There's no time -- seven-course meals must be had! If money is an object, and all of yours would fit into your carry-on, don't fret -- dinner in economy starts with slices of smoked tuna served with marinated vegetable salad, followed by a lamb brochette, accompanied by broccoli, roasted baby corn, and steamed rice. Top it off with sticky date pudding, cheese and biscuits, brandy, and chocolate.
North American gateways: Seattle, San Francisco, Los Angeles, Dallas, Houston, Toronto, Washington DC, New York, and Boston.
2. Air France
Thibaut Ruggeri, winner of the Bocuse d'Or 2013, and general, all-around fancy-sounding chef, is the man behind Air France's onboard menus. But don't get too comfy, Thi-bo -- the carrier chooses a new, world-famous chef to recreate their entire raft of meal options every eight months. Frequent (French) Fliers, no need to fear repetition; whatever the route, the meal program is swapped out for another one every ten days.
North American gateways: San Francisco, Los Angeles, Mexico City, Houston, Minneapolis, Detroit, Chicago, Atlanta, Miami, Washington DC, New York, Boston, Montreal, and Toronto.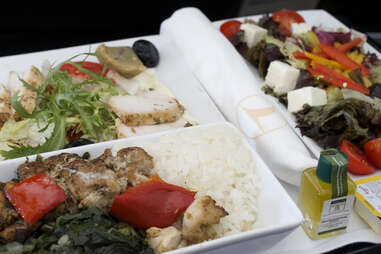 1. Turkish Airlines
Once again numero uno for 'best food and beverage' at this year's Passenger Choice Awards, Turkish takes the delight and brings it up a notch come meal time. As passengers board, they're greeted by the flight's chef (complete in whites and silly hat), as if they're walking into a restaurant. Go local and opt for appetizers like stuffed eggplant marinated in olive oil, followed by grilled beef with creamy eggplant. M'kay, time to eat.
North American gateways: Los Angeles, Houston, Chicago, Washington DC, Toronto, New York, and Boston.