Because no one likes having to settle for the Spear O Mint Life Savers in the baggage-claim vending machines, we've painstakingly sought out the best restaurant and its precise location in each of the 40 largest American airports. Please adjust your travel plans accordingly.
Austin-Bergstrom International
Austin, TX
Maudie's Tex-Mex (Gate 12)
Although Salt Lick Taco Bar is right up there, our move is to hit this classic Austin Tex-Mex joint for queso, the specialty fajita tacos, or the enchiladas perfecto. Or, if you're there in the morning, the sausage migas is silly good.

Baltimore-Washington International
Baltimore, MD
Obrycki's Restaurant & Bar (Concourse B2. Although there is a smaller Obrycki's A-Bar at Concourse A)
If you think you're going to come to a Baltimore airport and not eat crabs, you are silly (and/or allergic to seafood?). Get a Crabby Mary, the famous spicy deviled crab cakes, and the Crisfield roasted oysters with crab and breadcrumbs on top. If I happen to walk by and see you ordering the barbecue chicken flatbread, I will walk to your table, throw it on the floor, and then apologize to your server and pay for the mess.

Charlotte Douglas International
Charlotte, NC
Beaudevin (Atrium between Concourse B and C)
Well, technically it's a wine bar. But it's a wine bar with a big, solid food menu, and yes, you should be into the idea of eating a charcuterie plate filled with capicola & salami Calabrese, plus one of 30 wines by the glass while waiting for your flight.

Chicago Midway International
Chicago, IL
Miller's Pub (Concourse B by Gate B11)
There are not a ton of great options in Midway, but the real Miller's Pub is a Chi institution since 1935, and it has some very solid BBQ ribs and Greek dishes. So maybe just suck it up, and opt for the ribs and some hummus w/ grilled pita and tzatziki while waiting to fly to Milwaukee.
Chicago O'Hare International
Chicago, IL
Tortas Frontera by Rick Bayless (Terminal 1, Concourse B, Gate B10; Terminal 3, Concourse K, Gate K4; Terminal 5, Concourse M, Gate M12)
You have to eat here. There is no second option in O'Hare worth mentioning at all. Go get a fantastic torta from the most famous Midwestern maker of Mexican cuisine, and sit and read your John Grisham tome in blissful happiness.

Dallas Love Field
Dallas, TX
Sky Canyon by Stephan Pyles (Main terminal hallway next to Tech on the Go)
Though Cantina Laredo has perfectly serviceable fancier Mexican, opt for the famous Dallas chef's dining option, and get the honey fried chicken, plus an actually very legit cocktail and be pretty damn happy.

Denver International
Denver, CO
Root Down (Gate C)
There is something invigorating about drinking a cocktail of gin, coconut, sparkling water, and lime in the airport. And something even more invigorating about eating cranberry-chipotle Buffalo duck wings and a bánh mì turkey burger while drinking that cocktail. By far the best restaurant in an airport filled with pretty solid options.

Detroit Metropolitan Wayne County Airport
Romulus, MI
National Coney Island (Terminal A)
Ignore your gut instinct that chili-cheese hot dogs might just be the least airplane-friendly food you can find, and go get the Detroit classic.
Dallas/Fort Worth International
Arlington, TX
Cousin's Bar-B-Q (Terminal D, near Gate 28)
I used to eat at the original Fort Worth location when I was a child and had no business making judgments on any sort of food. But the "low-and-slow" BBQ is still very good, especially if you get a brisket sandwich with a couple of jalapeño-cheddar links on the side.

Fort Lauderdale-Hollywood International
Fort Lauderdale, FL
Casavana Cuban Cuisine (Terminal 4 Concourse H)
We were tempted to opt for the Steak 'n Shake, but this Florida mini-chain has some delicious sandwiches (get the Cuban pork) and ham & Swiss empanadas. Plus batidos (essentially Cuban smoothies) to drink!

George Bush Intercontinental
Houston, TX
The Fruteria (Terminal B)
Though 3rd Bar Oyster & Eating House is also a solid option, we prefer Johnny Hernandez's ode to fresh fruit and booze, mostly because the house-infused tequila and mezcal cocktails go very well with chiles rellenos and guacamole with grapes in it.

Hartsfield-Jackson Atlanta International
Atlanta, GA
One Flew South (Terminal E)
It was hard to leave One Flew South off our Best Airport Bars list especially since we'd choose it as one of our favorite places to grab a cocktail in Atlanta if it didn't require a plane ticket to get access, but the Asian spot is, at its heart, a restaurant, not a bar. That hazy divide means you can get a damn good pisco sour alongside your chicken fried rice.

Honolulu International
Honolulu, HI
Lahaina Chicken & Pizza (Central Concourse, by Gates 14-23)
We admit that we also think it's weird to name a buffet as the best place to eat in an airport, but we promise Lahaina has amazing roasted chicken. We can't vouch for the pizza though.
John F. Kennedy International
Queens, NY
Piquillo (Terminal 5)
Seafood paella from the chef behind Txikito, one of our favorite Spanish restaurants in the country, almost makes up for the nightmare of traveling to and from JFK.

John Wayne Airport
Santa Ana, CA
Javi's (Terminal B/C, Gates 13 and 14)
This Mexican restaurant is an oasis in an airport that is somewhat lacking in creative or original dining options. We recommend the green sauce enchiladas and several jalapeño margaritas.

Kansas City International
Kansas City, MO
Pork & Pickle (Terminal B)
While the airport is woefully barren in the Kansas City burnt-ends department, Pork & Pickle will ensure you get decent brisket and ribs before leaving town. But KCI: please get on the burnt-ends situation.

Los Angeles International
Los Angeles, CA
ink.sack (International Terminal Great Hall Level 4)
The most annoying thing about LAX (other than occasionally getting hassled by Jake Busey) is that all the best restaurants are in the international terminal. But if you happen to be flying to Mexico or Canada or some crazy place outside of North America we've never heard of, you'll get to enjoy chef Michael Voltaggio's ridiculously delicious sandwiches.

LaGuardia Airport
Queens, NY
Custom Burgers by Pat LaFrieda
Even though LaGuardia now has a pizza spot that boasts Di Fara lineage and restaurants from the likes of Michael White, our pick goes to the super-simple Custom Burgers by Pat LaFrieda. Actually good food you can grab without committing to a sit-down meal is usually preferable in an airport; when that food is a fully customizable, perfectly griddled burger made with the same ground beef used by most of our favorite patties in the city, it's easy to guess where our loyalties fall.

Lambert-St. Louis International
St. Louis, MO
Brioche Dorée (Concourse A, near Gate A4)
There is a somewhat hilarious website called The Lambert Experience, which seems to have been some sort of slide show a mayor's staff would put together to show people in the community their plan "to better promote the St. Louis region" after they spent $150 million on improvements. Anyway, this is all a long way of saying that this hasn't really come together from a dining perspective, and so your best shot (outside of just drinking beer at the Schlafly Tap Room) is to get some cinnamon brioche or a ham and cheese on a baguette from the French boulangerie chain. Seriously.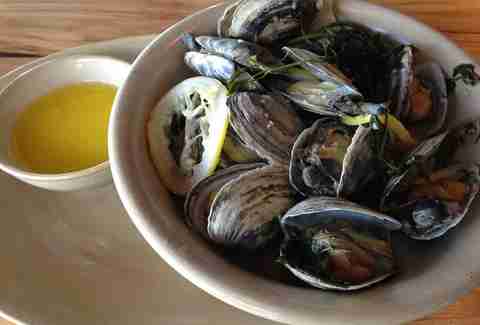 Logan International
Boston, MA
Legal's Test Kitchen (Terminal A, Near Gate A3)
There is something to be said for the healing power of Legal's clam chowder and some freshly shucked Cape Cod oysters, especially if you're a little bit homesick for Boston. Also, the strong cocktails certainly help.

Louis Armstrong New Orleans International
New Orleans, LA
Dooky Chase Restaurant (Terminal)
Granted there's very little competition at MSY, but this airport outpost of one of New Orleans' legendary soul food spots could go head to head with the best from airports and still win, thanks in no small part to its insanely well-spiced fried chicken and its fried catfish and its cobblers and pretty much everything else on the menu.

McCarran International
Las Vegas, NV
Las Vegas Chophouse & Brewery (Terminal 3)
We said it last year: there's nothing great at McCarran. Your best bet is this steakhouse where the choices go from filets to crab cakes, so at least you can continue the overwhelming options that you've hopefully just gotten adjusted to after attending at least seven buffets in Vegas.

Miami International
Miami, FL
Cafe Versailles (Terminals D, E, F, and G)
Cafe Versailles is grab-and-go, but that just means you'll face less judgment when you order five ham croquettas, go savor them by yourself, and repeat as many times as possible until you board.

Minneapolis-Saint Paul International
Hennepin County, MN
Mill City Tavern (Terminal 1, Concourse G, near Gate 17)
We're in love with this place both as a bar (got to get the Aviation here) and also as a delicious restaurant you'd want to eat in outside of an airport. Also, name another airport where you can eat bison tartare. NAME ONE!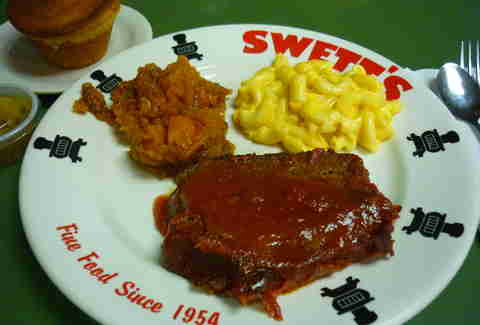 Nashville International
Nashville, TN
Swett's (Concourse C)
Go to Swett's. Get the squash casserole and the fried okra and the mac & cheese and the fried chicken. Digest for at least 20 minutes. Order a slice of pie. Leave Nashville happy that you've sampled one of the most iconic restaurants in the Southern meat-and-three game.

Newark Liberty International
Newark, NJ
Vo Banh Mi (Gates C70-99)
If you've ever been to Cambodian sandwich shop Num Pang in NYC and seen the lines, you know that Newark getting them to put a similar sandwich shop in their airport is a damn steal.

Oakland International
Oakland, CA
Andale (Gate 28)
Yes, it's a chain, but it's a very good one. And yes, you're not doing any better in this airport.

Orlando International
Orlando, FL
ZaZa Cuban Coffee (Terminal B, Gates 30-59)
It says something about the lack of original good food that the pick of the litter here is a coffee shop. But its guava con queso pastries and vaca con queso sandwiches are pretty damn tasty, and that cafe con leche is a hell of a way to wake up.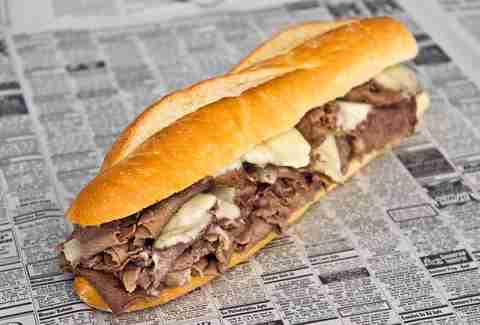 Philadelphia International
Philadelphia, PA
Tony Luke's (Terminal F)
It would be a tragic error if we didn't tell you about one of the best cheesesteak shops in Philly sitting right there in Terminal F.

Phoenix Sky Harbor International
Phoenix, AZ
Matt's Big Breakfast (Terminal 4, Gates B1-B14)
We've said it before, but this is one of our favorite breakfast spots in the country, period. So yes, it definitely needs to be your first stop when you inevitably retire to Arizona.

Portland International
Portland, OR
The Country Cat (North Lobby)
PDX's food carts are cool and all, but you had your choice of the city's 700+ before you hit the airport, so the move here is the newly opened Country Cat, where you can grab chef Adam Sappington's whole hog and his family recipe for pimento cheese (that's the potted "Judy" on the menu).

Raleigh-Durham International
Raleigh, NC
42nd St. Oyster Bar (Terminal 2)
There are very few places where we'd recommend ordering crab cakes, oysters Rockefeller, or shrimp cocktail at an airport, but, at 42nd St. Oyster Bar, you should really just get all three.
Ronald Reagan Washington National Airport
Arlington, VA
Ben's Chili Bowl (Terminal B/C, pre-security)
If you don't get a legendary half smoke or the chili-burger sub while you have the opportunity, we cannot help you.

Salt Lake City International
Salt Lake City, UT
Cat Cora's Kitchen (Terminal 1, Concourse B)
The famous chef opened three of these in airports around the country, and it definitely beats any of the other Salt Lake City options in terms of food and cocktails (though go to High West too!). Bonus -- it has a little market to get sandwiches and other things to go if you're too polite/worried about being judged to order more food during your meal.

San Diego International
San Diego, CA
Phil's BBQ (Terminal 2)
If you've got one of the best BBQ joints in California in your airport, you should immediately go there and start in on its famous El Toro char-grilled tri-tip and one of Phil's delicious but uncomfortably named "Tickler" meals.

Seattle-Tacoma International
Seattle, WA
Beecher's Handmade Cheese (Terminal C, near C1)
Don't dismiss this local legend as merely a cheese shop: it's got ridiculously good ("World's Best"!!!) mac & cheese, grilled sandwiches, and everything else you need. Also, if I may say -- considering how delicious Seattle's food actually is, the fact that this airport isn't more of a culinary destination is somewhat ridiculous.

San Francisco International
San Francisco, CA
Lark Creek Grill (Terminal 2, main hallway)
I've eaten here more times than any other restaurant in any other airport, and I keep coming back because it's that damn good (and has a solid bar). If you're getting eggs in the morning, ask for the tomatillo sauce on the side. It shall change you, and your perception of airport food.
Tampa International
Tampa, FL
Columbia Cafe (Airside E)
Tampa's Cuban food scene gets overshadowed by Miami, but the Columbia Cafe (an outpost of a restaurant opened by a Cuban immigrant in Tampa's Ybor City 'hood in 1905) and its insane ropa vieja or giant Cuban sandwich will convert you to Cigar City's claim on the cuisine.

Washington Dulles International
Dulles, VA
Bar Symon (Terminal D, near Gate 16)
Cleveland-based Iron Chef Michael Symon's comfort-food pub opened last February (with power outlets at every table!) and has a very solid list of craft beers, cocktails, and damn good burgers (get the Fat Doug and you won't need to eat again for 11-14 hours). If you can't make it here, we recommend hitting Chef Geoff's by Terminal C14.

William P. Hobby Airport
Houston, TX
Pappadeaux Seafood Kitchen (Central Concourse, in the food court)
If you don't like food from the Pappas family, you're kind of out of luck in this airport. They control most of the big-name restaurants across Hobby, but luckily, their seafood kitchen is delicious. Start with oysters Pappadeaux and work your way into the gumbo.
Sign up here for our daily Thrillist email, and get your fix of the best in food/drink/fun.
Kevin Alexander is Thrillist's executive editor and regularly walks to other terminals just because he heard rumors that Rick Bayless was hanging there. Follow his peripatetic ways: @KAlexander03.
Liz Childers would miss her flight in favor of a good lineup of raw oysters. Follow her: @lizchilders1.