There is nothing quite as bleak as shelling out $25 at the airport for a wilted, plastic-wrapped sandwich and a 20-oz bottle of water. We hate to see that. Which is why we've painstakingly sought out the very best restaurant and its precise location in each of America's 40 largest airports. Just remember this very important unwritten rule of flying: We do not bring hot food onto an airplane. So adjust your travel plans accordingly -- some of these spots are so legit delicious you'll be downright tickled when your flight is delayed.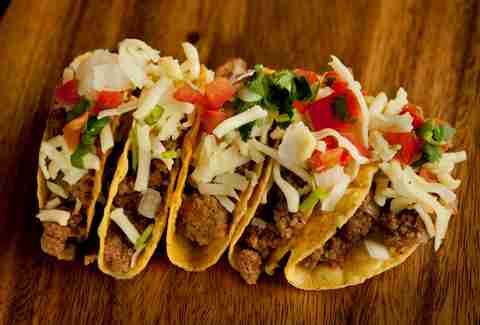 Austin-Bergstrom International
Maudie's Tex-Mex (Gate 12) 
Austin, Texas 
Although Salt Lick Taco Bar is right up there, our move is to hit this classic Austin Tex-Mex joint for queso, the specialty fajita tacos, or the enchiladas perfecto. Or, if you're there in the morning, the sausage migas is stupid good.
Baltimore-Washington International
Obrycki's Restaurant & Bar (Concourse B2. Although there is a smaller Obrycki's A-Bar at Concourse A) 
Baltimore, Maryland
If you think you're going to come to a Baltimore airport and not eat crabs, you are silly (and/or allergic to seafood?). Get a Crabby Mary, the famous spicy deviled crab cakes, and the Crisfield roasted oysters with crab and breadcrumbs on top. If I happen to walk by and see you ordering the barbecue chicken flatbread, I will walk to your table, throw it on the floor, and then apologize to your server and pay for the mess.
Charlotte Douglas International
1897 Market (Atrium between Concourse A and B)
Charlotte, North Carolina
If you're thinking "I should probably eat something before hopping on this nine-hour connecting flight to Paris" but feel utterly indecisive as to what, just get yourself to 1897. This spot in the atrium has CLT's most varied selection of food, from a raw bar to a carvery, to a woodstone pizza oven. If you're thinking "I should probably have at LEAST four drinks so I sleep right through this nine hour connecting flight to Paris," this is likewise your go-to. It's got a full bar featuring small-batch bourbons.
Chicago Midway
Café L'Appetito (Triangle food court)
Chicago, Illinois
There are a great many advantages to flying into or out of Midway. Shorter train ride. Fewer crowds. It's not O'Hare! Sadly, food is not one of them. Your best option is this classic Italian deli where Parma sandwiches, meatball subs, and sesame-crusted hoagie rolls filled with all varieties of Italian pork are the move.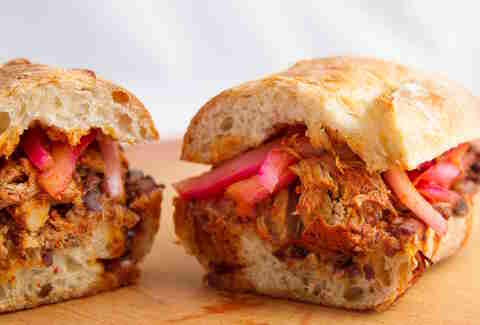 Chicago O'Hare International
Tortas Frontera by Rick Bayless (Terminal 1, Concourse B, Gate B10; Terminal 3, Concourse K, Gate K4; Terminal 5, Concourse M, Gate M12) 
Chicago, Illinois
You have to eat here. There is no second option in O'Hare worth mentioning at all. Go get a fantastic torta from the most famous Midwestern maker of Mexican cuisine, and sit and read your John Grisham tome in blissful happiness.
Dallas Love Field
Crú (Terminal 1, Post Security)
Dallas, Texas
I'm not aware of any hardcore sommelier-level training being required to work at an airport wine bar, but an hour or so at Cru really had me wondering, or maybe that's just how Southwest Airlines likes to roll. The staff at this small Dallas-based chain of wine bars know more about the 30 glasses of wine on the menu than some so-called experts, and they'll happily explain what to pair with the grilled cheese tomato basil or tuna tartare.
Denver International Airport
Grill & Vine (Hotel and Transit Center, Level 5)
Denver, Colorado
Say you're landing in Denver, looking around at the Rocky Mountains and the glorious sunshine, and thinking "It's a daggum shame I've gotta spend my entire three-hour layover inside!" Silence that little Bobby Bowden in your head and head over to the Hotel and Transit Center where this casual eatery has a big, expansive patio for you to take in all that good Colorado scenery. The actual food at Root Down DIA might be a little better, but this is the only place to experience Denver without trekking into the city.
Detroit Metropolitan Wayne County Airport
National Coney Island (Terminal A)
Romulus, Michigan
Ignore your gut instinct that chili-cheese hot dogs might just be the least airplane-friendly food you can find, and go get the Detroit classic.
Dallas-Fort Worth International
Whitetail Bistro by Kent Rathbun (Terminal D, Gate 22)
Grapevine, Texas
The D Terminal at DFW has a better food scene than like 97% of the cities in Texas. Not one to be left out, Dallas' Crown Prince of Restaurants Kent Rathbun opened this French-inspired spot with a Texas twist, which might boast the most creative menu you'll find in a US airport. Your inevitable six-hour holiday delay at DFW is much more enjoyable when paired with bobwhite quail on a johnnycake with sausage gravy. I mean, it definitely beats Friday's.
Fort Lauderdale -- Hollywood International
Shula Burger (Terminal 1, Concourse C)
Fort Lauderdale, Florida
Big ups to the Corona Bar in the baggage claim, but unfortunately the dining options there don't extend much past vending machine M&Ms. For actual food to soak up the residual liquor from your cruise, hit this spot from the local legend. The burgers are a char-grilled delicacy made from brisket, chuck, and short rib, and could stand up as Broward's best burgers even if it were up against stiffer competition than Chili's.
George Bush Intercontinental
Hugo's Cocina (Post-security, Gate D6)
Houston, Texas
It's not every layover you get to sample eats from the most recent James Beard Award winner for Best Chef -- Southwest. So there's absolutely no reason, other than an irrational hatred of cilantro, to eat anywhere other than Hugo Ortega's IAH outpost. A trip to one of his restaurants is a must on any visit to H-town, even if that visit doesn't include leaving the terminal. The cochinita pibil wrapped in banana leaf with habanero salsa will have you raving about the food in Houston even if you've never actually been. Just maybe make sure you have an aisle seat.
Hartsfield-Jackson Atlanta International
One Flew South (Terminal E)
Atlanta, Georgia
It was hard to leave One Flew South off our Best Airport Bars list, especially since we'd choose it as one of our favorite places to grab a cocktail in Atlanta even if it didn't require a plane ticket to get access. But the Asian spot is, at its heart, a restaurant, not a bar. So here we are! Get excited to order a damn good pisco sour alongside your chicken fried rice.
Honolulu International
Lahaina Chicken & Pizza (Central Concourse, by Gates 14-23) 
Honolulu, Hawaii
We admit that we also think it's weird to name a buffet as the best place to eat in an airport, but we promise Lahaina has amazing roasted chicken. We can't vouch for the pizza though.
John F. Kennedy International
Deep Blue Sushi (Terminal 5, post-marketplace)
Queens, New York
Airport sushi sounds about as appealing as, well, ever flying out of JFK. But Deep Blue is perhaps the most shockingly good dining experience you'll ever have at an airport. Ignore, for a moment, that you're in the busiest international hub in North America, and this place feels like a trendy sushi joint in some Manhattan 'hood that's too cool for you. But an airline ticket is all you need to get a table (or a to-go bag from Deep Blue On the Fly), and enjoy the extensive sushi menu, pad Thai, or teriyaki filet mignon.
John Wayne Airport
Javi's (Terminal B/C, Gates 13 and 14) 
Santa Ana, California
This Mexican restaurant is an oasis in an airport that is somewhat lacking in creative or original dining options. We recommend the green sauce enchiladas and several jalapeño margaritas.
Kansas City International
Pork & Pickle (Terminal B)
Kansas City, Missouri
While the airport is woefully barren in the Kansas City burnt-ends department, Pork & Pickle will ensure you get decent brisket and ribs before leaving town. But KCI: please get on the burnt-ends situation.
Los Angeles International
ink.sack (International Terminal Great Hall Level 4) 
Los Angeles, California
The most annoying thing about LAX is that all the best restaurants are in the international terminal. But if you happen to be flying to Mexico or Canada, or some wild and crazy place outside of North America, stop in and enjoy chef Michael Voltaggio's ridiculously delicious sandwiches.
LaGuardia Airport
Custom Burgers by Pat La Frieda
Queens, New York
Even though LaGuardia now has a pizza spot that boasts Di Fara lineage and restaurants from the likes of Michael White, our pick goes to the super-simple Custom Burgers by Pat La Frieda. Actually good food you can grab without committing to a sit-down meal is usually preferable in an airport; when that food is a fully customizable, perfectly griddled burger made with the same ground beef used by most of our favorite patties in the city, it's easy to guess where our loyalties fall.
Lambert-St. Louis International
Grounded in St. Louis (Gate A9)
St. Louis, Missouri
Though we give The Lou serious credit for being a low-key great city to visit, its airport food is... low-key not-so-great. The lone standout is this gourmet burger joint with one of the best airport restaurant name puns ever, and burgers that are just as creative. The Cubano -- topped with cherrywood ham and Swiss on brioche -- is the star of the show. But for the love of everyone else on the plane, finish it before you board.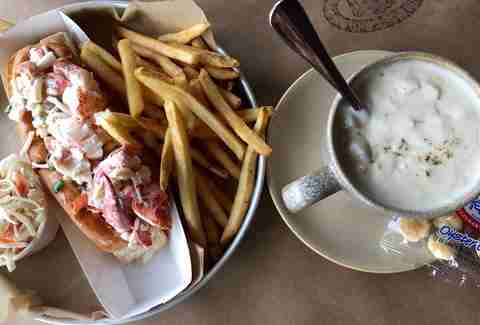 Logan International
Legal's Test Kitchen (Terminal A, Near Gate A3) 
Boston, Massachusetts
There is something to be said for the healing power of Legal's clam chowder and some freshly shucked Cape Cod oysters, especially if you're a little bit homesick for Boston. Also, the strong cocktails certainly help.
Louis Armstrong New Orleans International
Dooky Chase Restaurant (Terminal)
New Orleans, Louisiana
Granted there's very little competition at MSY, but this airport outpost of one of New Orleans' legendary soul food spots could go head to head with the best from airports and still win, thanks in no small part to its insanely well-spiced fried chicken and its fried catfish and its cobblers and pretty much everything else on the menu.
McCarran International
Metro Pizza (Between Gates D34 and D36)
Las Vegas, Nevada
Your Sunday flight out of Vegas will expose you to the most miserable swath of humanity you'll find outside the presence of correctional officers. This is why McCarran has never put a lot of effort into its food options, since the average person leaving the city has a stomach full of vodka and a wallet full of nothing. The best thing to accommodate both is Metro Pizza, a must-visit pizza place whenever you're in Vegas. But if your antics caused you to forget about stuff like "eating," the airport is the perfect place to try it.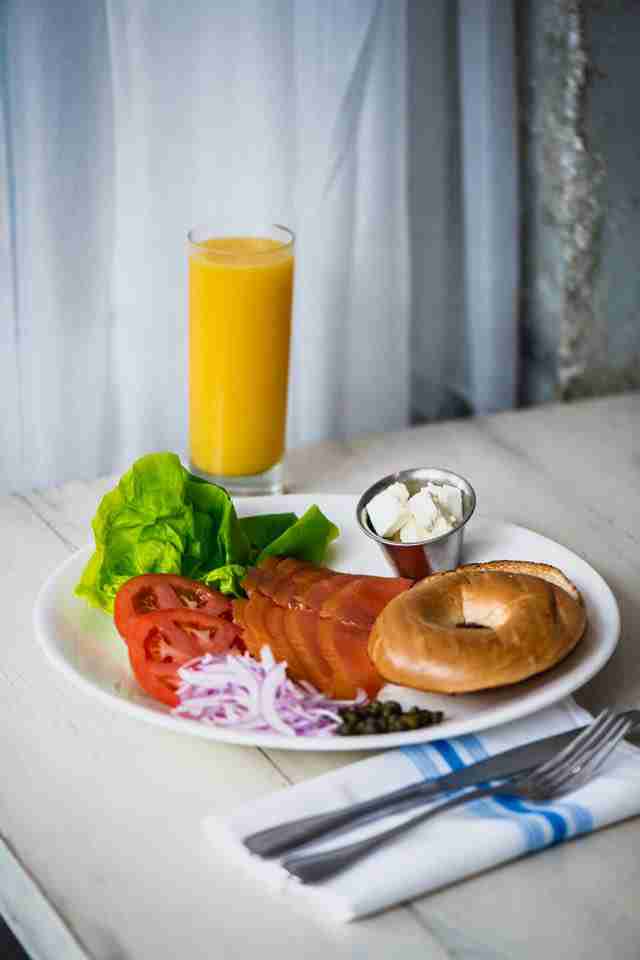 Miami International
Icebox Café/Fig & Fennel (D28)
Miami, Florida
Though Cuban food at MIA can be tempting, remember most Cuban food is roughly 100% lard and might not sit so well on an eight-hour flight to Argentina. Instead opt for this healthy local favorite that serves up fresh sandwiches, smoothies, and the best chocolate chip cookies in the city. Its grab-and-go offshoot, Fig & Fennel, has stuff like pita bread with sun-dried tomato pesto spreads and turkey meatball pitas. Both will leave you satisfied without the heaping side of regret.
Minneapolis-Saint Paul International
Mill City Tavern (Terminal 1, Concourse G, near Gate 17) 
Hennepin County, Minnesota
We're in love with this place both as a bar (got to get the Aviation here) and also as a delicious restaurant you'd want to eat in outside of an airport. Also, name another airport where you can eat bison tartare. NAME ONE!
Nashville International
Swett's (Concourse C)
Nashville, Tennessee
Go to Swett's. Get the squash casserole and the fried okra and the mac & cheese and the fried chicken. Digest for at least 20 minutes. Order a slice of pie. Leave Nashville happy that you've sampled one of the most iconic restaurants in the Southern meat-and-three game.
Newark Liberty International
Vo Banh Mi (Gates C70-99) 
Newark, New Jersey
If you've ever been to Cambodian sandwich shop Num Pang in NYC and seen the lines, you know that Newark getting them to put a similar sandwich shop in their airport is a damn steal.
Oakland International
Andale (Gate 28) 
Oakland, California
Yes, it's a chain, but it's a very good one. And no, you're not doing any better in this airport.
Orlando International
Cask & Larder (Terminal 2)
Orlando, Florida
If airports are good indicators of their cities, the arrival of this local food scene pioneer in Terminal 2 should convince everyone O-Town is about a lot more than chain restaurants. The farm-to-table favorite relocated from charming Winter Park to MCO in 2016, bringing with it comfort foods like burnt ends meatloaf, a southern Cuban sandwich with collard greens, and bourbon-glazed wings. All of which cost about as much as a hamburger combo in any of the theme parks.
Philadelphia International
Tony Luke's (Terminal F) 
Philadelphia, Philadelphia
It would be a tragic error if we didn't tell you about one of the best cheesesteak shops in Philly sitting right there in Terminal F.
Phoenix Sky Harbor
Blanco Tacos + Tequila (Terminal 4)
Phoenix, Arizona
Burritos might be the perfect layover food: filling, small, and edible in enough time you won't bother the person sitting next to you. The best airport burrito in the country is at the small window attached to one of the valley's best Mexican eateries. If you've got more than a few minutes, the fajitas are among the best you'll have, period, airport or not. And if you're the type who likes to catch a buzz before catching a flight, the margarita menu is better than most Mexican restaurants'.
Portland International
The Country Cat (North Lobby)
Portland, Oregon
PDX's food carts are cool and all, but you had your choice of the city's 700+ before you hit the airport, so the move here is the Country Cat, where you can grab chef Adam Sappington's whole hog and his family recipe for pimento cheese (that's the potted "Judy" on the menu).
Raleigh-Durham International
42nd Street Oyster Bar (Terminal 2)
Raleigh, North Carolina
There are very few places where we'd recommend ordering crab cakes, oysters Rockefeller, or shrimp cocktail at an airport, but, at 42nd Street Oyster Bar, you should really just get all three.
Ronald Reagan Washington National Airport
Kapnos Taverna (Terminal C)
Arlington, Virginia
Top Chef alum Mike Isabella opened this sister restaurant to his wildly popular College Park Greek spot back in 2015. It doubles as a fantastic place to chow down on fire-grilled kebab, souvlaki, and pork shoulder, and as a welcome respite from the perpetually-packed eating tables in the rest of the terminal. Sip on a glass of Greek wine and you'll almost forget about that dillhole who muscled you out of the last seat at Dunkin' Donuts.
Salt Lake City International
Cat Cora's Kitchen (Terminal 1, Concourse B) 
Salt Lake City, Utah
The famous chef opened three of these in airports around the country, and it definitely beats any of the other Salt Lake City options in terms of food and cocktails (though go to High West too!). Bonus -- it has a little market to get sandwiches and other things to go if you're too polite/worried about being judged to order more food during your meal.
San Diego International
Phil's BBQ (Terminal 2) 
San Diego, California
If you've got one of the best BBQ joints in California in your airport, you should immediately go there and start in on its famous El Toro char-grilled tri-tip and one of Phil's delicious but uncomfortably named "Tickler" meals.
Seattle-Tacoma International
Seattle, Washington
Beecher's Handmade Cheese (Terminal C, near C1) 
Don't dismiss this local legend as merely a cheese shop: it's got ridiculously good ("World's Best"!!!) mac & cheese, grilled sandwiches, and everything else you need. Also, if I may say -- considering how delicious Seattle's food actually is, the fact that this airport isn't more of a culinary destination is somewhat ridiculous.
San Francisco International
Lark Creek Grill (Terminal 2, main hallway) 
San Francisco, California
I've eaten here more times than any other restaurant in any other airport, and I keep coming back because it's that gosh darn good (and has a solid bar). If you're getting eggs in the morning, ask for the tomatillo sauce on the side. It shall change you, and your perception of airport food forevermore.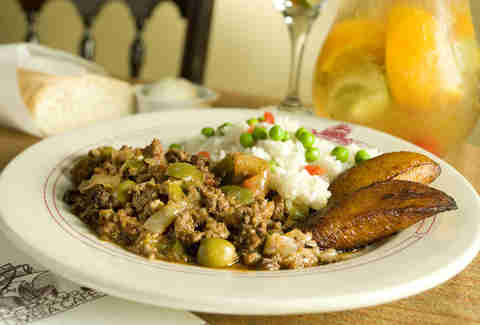 Tampa International
Columbia Cafe (Airside E)
Tampa, Florida
Tampa's Cuban food scene gets overshadowed by Miami, but the Columbia Cafe (an outpost of a restaurant opened by a Cuban immigrant in Tampa's Ybor City 'hood in 1905) and its insane ropa vieja or giant Cuban sandwich will convert you to Cigar City's claim on the cuisine.
Washington Dulles International
Bar Symon (Terminal D, near Gate 16) 
Dulles, Virginia
Cleveland-based Iron Chef Michael Symon's comfort-food pub has power outlets at every table and a very solid list of craft beers, cocktails, and mighty fine burgers (get the Fat Doug and you won't need to eat again for 11-14 hours). If you can't make it here, we recommend hitting Chef Geoff's by Terminal C14.
William P. Hobby Airport
Pappadeaux Seafood Kitchen (Central Concourse, in the food court) 
Houston, Texas
If you don't like food from the Pappas family, you're kind of out of luck in this airport. They control most of the big-name restaurants across Hobby, but luckily, their seafood kitchen is delicious. Start with oysters Pappadeaux and work your way into the gumbo.
Sign up here for our daily Thrillist email and subscribe here for our YouTube channel to get your fix of the best in food/drink/fun.