The world's 7 best airport coffee shops
While a tasty pint of craft suds has become an easy airport find these days, not so when it comes to a decent cup of pre-flight joe; chain drips and mediocre muds still rule the runways. But not everywhere. Which is why we scoured the world's airports in search of the best cafes and java joints, and came back with our top seven.
7. Guava & Java -- Philadelphia International Airport (Concourse B)
While G&J might look like your usual airport coffee shop stop, this one serves up world-renowned La Colombe, known for its seven single-origin blends made with beans from Brazil, Colombia, and Ethiopia, among others. Better still, they brew their Lyon -- a light-roast charity collab with actor Leonardo Di Caprio, the proceeds from which go to his environmental foundation.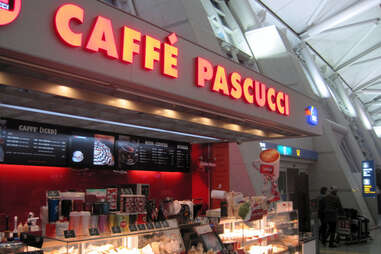 6. Caffe Pascucci -- Seoul Incheon International Airport (Second floor, near Exit 12)
Assuming you've had your fill of instant Maxim Originals, CP's been specializing in cappuccinos since 1883; and with a vibe more evocative of a swanky bar than a cafe, you won't even feel like you're at the airport. Also, in case you didn't believe the rumors, a second airport-based Pascucci's DID open recently in Latvia's Riga International Airport. So there, coffee-loving jetsetters, take note!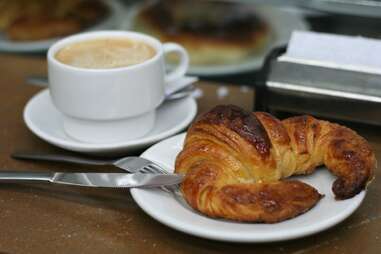 5. Paul -- Dubai International Airport (Terminal 3)
A failsafe for travelers in search of a cuppa with a touch of sophistication, this fancy French cafe uses only posh local (as in French, not UAE) beans and bakes an assortment of tasty pastries and macaroons.

4. Dome -- Perth Airport (Level One, T1)
Boasting more polished brass and varnished wood than the set of Captain Ron, the Dome feels more like a throwback European cafe than an airport coffee shop. Even better than its ambiance, though, is the java itself, highlighting beans from Columbia to Costa Rica; Aussies dub it some of the best hand-roasted dirt on the market.

3. Metropolis Coffee -- Chicago O'Hare Airport (T5)
Metropolis is your must-hit whilst stuck in O'Hare, and their Schweik's Blend is the brew to try; described as "cognac-like", it's a a full-bodied beast with hints of orange, jasmine, and caramel.
2. Mojo Cafe -- Wellington International Airport (Level One, Domestic Terminal)
A well-loved boutique roastery in Wellington, Mojo puts an emphasizes on "crop to cup" and brews a variety of single-origin Guatemalan, Ethiopian, and Peruvian blends. Their signature house java, though, is Dr. Mojo's Medicine, which rocks "hints of nut and chocolate, and a spicy toffee finish".
Top tip: If you've already passed through security into the International terminal and are craving another cup, worry not; there's a second incognito Mojo branch brewing under the name "The Rocks".
1. Joe and the Juice -- Copenhagen Airport (T2)
Named the best airport coffee shop at last year's Airport Food and Beverage Awards (hosted, no doubt, by Ricky Gervais), J and the J's a lively spot with a bustling vibe and live lunch-time tunes. In addition to their kick-ass juices, they also brew up some seriously sexy coffee, including an eccentric signature ginger latte.
Chloe Pantazi is an editorial assistant on Thrillist's travel team. On planes, she's the annoying passenger who asks the flight attendant for coffee refills. Follow her on Twitter at @ChloePantazi.