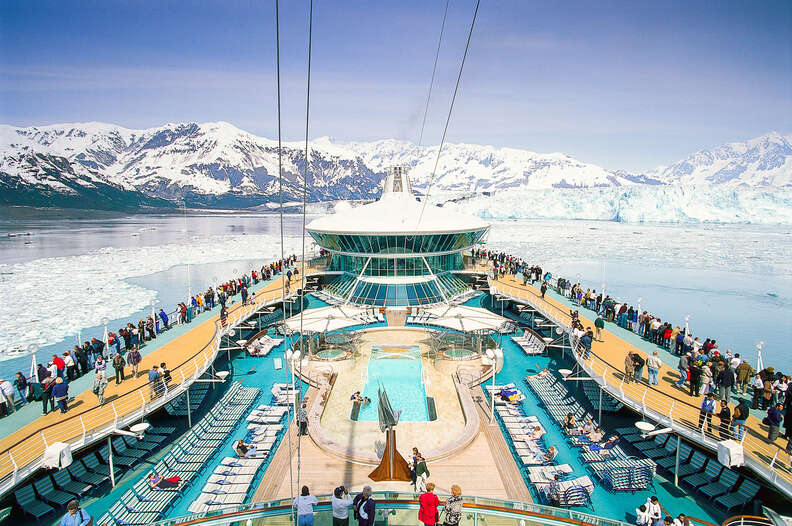 Cruiser Rhapsody of the Sea

| Jan Greune / LOOK-foto/Getty Images
Cruiser Rhapsody of the Sea

| Jan Greune / LOOK-foto/Getty Images
The 6 Best Cruises for Exploring Alaska
If you're even thinking of being in Southeast Alaska, check out the rest of our DestiNATION Juneau travel guide. It's stacked with expert advice from locals on where to eat, what to bring, where to stay, and how to fully unlock the wild adventures that await you.
When you think of cruises, you mostly picture toddler-filled pools and mediocre buffets and a geographically disparate yet suspiciously interchangeable succession of nice beaches. While they'll remain forever popular, there's no point denying that many of you think cruises are, well, for sissies.
But cruises are making a comeback, and there's no better way to see a boat-load (!) of places with not that much time or effort. And sometimes, the easiest option is also the only option -- take Juneau, Alaska, the only state capital in America without any roads leading in or out. You're going to be getting there by boat, so why not make it a very large, very comfortable one?
More than 1 million people visited Juneau by cruise ship last summer -- a record that will likely keep getting broken. A cruise to Alaska will carry you past humpback whales and Kodiak bears, to snow fields for dog sledding, and within earshot of thunderous glaciers collapsing into the water. Here follow some of the best cruises up the Alaskan coast. Don't forget sunscreen, you still need that.
Cost: Starts around $114 per night (7 days)
Sails from: Seattle
Norwegian Bliss sounds like a name for either a very expensive spa treatment or an indica-heavy blend, but while both of those things probably do exist elsewhere in the world, this particular Norwegian Bliss is branded around a different kind of serenity. The Seattle-based cruise ship (capacity: 4,000) debuted in 2018, and its superpower is the 20,000-square-foot Observation Lounge (bigger than a hockey rink, for context). Like the ship itself, the lounge was designed specifically for the scale of the scenic views in Alaska; you'll find interactive screens that explain everything you're looking at in real time. Pull up a chair at the bar, gaze out at the full panorama, and presumably contemplate whether the glacier toward which you are advancing is also advancing toward you.
Also on board: a huge-ass go-kart track and laser tag arena. Which, fine, but a better source of entertainment is Alaska. You'll make memorable stops for dog sledding in Juneau, as well as Skagway, Victoria, and the island of Ketchikan. Pay extra for additional activities like whale watching, visiting the Klondike Gold Fields, and touring Skagway on one of the most beautiful train rides in the States.
Cost: Starts around $120 per night (7 days)
Sails from: Los Angeles and Seattle
Dancing under the midnight sun is just part of the appeal on this seven- or 12-night cruise, stopping at Ketchikan, Glacier Bay, Skagway, Victoria, and of course Juneau. If you'd like to fish from the boat (and are not so inept at doing so that you don't actually catch anything) the onboard chefs will take your personal catch of the day, prepare it to your liking, and serve it back to you for dinner. The top deck grill also serves crab cakes from Tracy's King Crab Shack -- one of the best fresh seafood joints in Juneau -- and you'll meet some of the Deadliest Catch fishermen. You'll also meet mountain climbers who've scaled Denali, participate in an axe-throwing competition, and play with the sled dog puppies who join you on board one day.
Cost: Starts around $512 per night (5-10 days)
Sails from: Sitka, Alaska
Not all cruises are enormous. In fact, some of the very best cruises are quite small. The Native Alaskan-owned Alaskan Dream Cruises carries just 40 passengers on their catamaran, and many specialty cruise options take on even fewer than that. You can choose among unique packages that focus on wilderness and wildlife, or others on glaciers and islands.
The big advantage of this small vessel, aside from not being packed with hyperactive children, is that it can go where the behemoths cannot. The "Denali Explorer" and "Grand Slam Alaska" packages let you spend most of your time inland, exploring Fairbanks, Denali, Anchorage, and Talkeetna. The company makes a point of serving only locally sourced seafood from wherever you happen to be that day (there are vegetarian options too), and also invites you to Orca Point Lodge, its exclusive glamping retreat on Colt Island.
Cost: Starts around $685 per night (7 nights)
Sails from: Sitka
Another popular cruise line on the smaller side is the Seattle-based UnCruise Adventures. Unlike its larger, more one-size-fits-all comrades, UnCruise is an "adventure cruise" -- meaning, the trip is built around things to do off the cruise ship, as opposed to spending your days lounging on deck. This is a great option for active travelers who want to kayak, hike, and snorkel (don't worry, wetsuits will be provided). And the guides double as experts in fields like glaciology and marine biology, so you'll actually learn about the stuff you're seeing as opposed to just gaping slack-jawed at it. Stops are subject to change, but during your weeklong trip from Sitka to Juneau, you'll likely be seeing the Icy Strait (for the whales), Glacier Bay National Park (for the glaciers), and Chichagof Island (for the bears!).
Cost: Starting around $128 per night (7 days)
Sails from: Seattle
This ship on the long-time favorite Holland America Line carries just over 2,000 passengers and stops at Victoria, Ketchikan, Glacier Bay, Sitka, and Juneau. You can add on options for wildlife viewing, sport-fishing for salmon and halibut, hiking, biking, kayaking, and all manner of other outdoor pursuits that fall happily in the middle of the Venn diagram for Relaxing and Energetic. The cost includes on-ship activities like specialty cooking classes and live shows at the blues club, but also "BBC Earth Experiences." In partnership with the BBC, these include concerts, talks, trivia, film screenings, and family-friendly activities to get your kids excited about the planet and not just the fact that they're on a boat.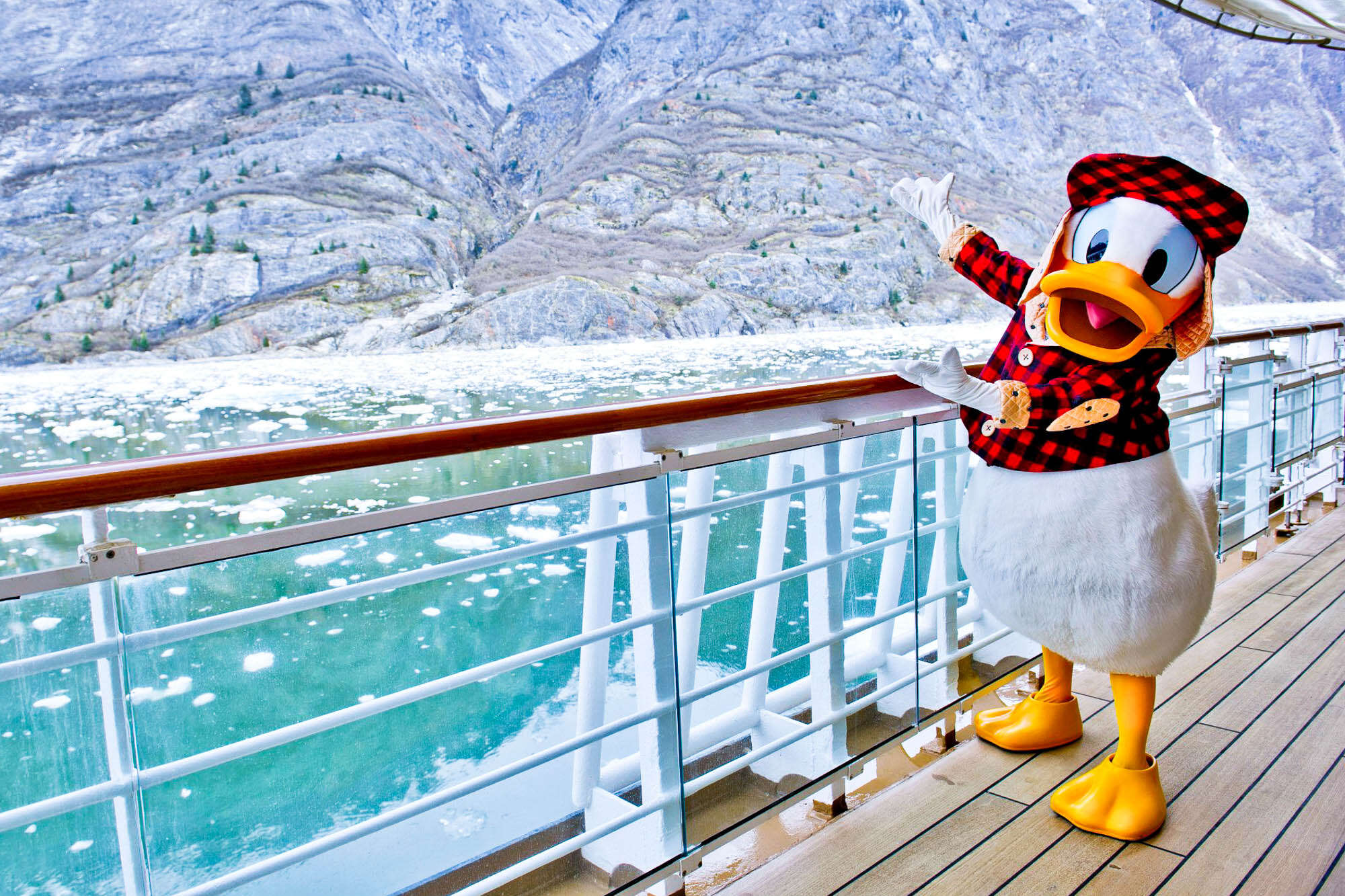 Cost: Starts around $218 per night (5, 7, or 9 nights)
Sails from: Vancouver
The Disney Cruise Line will outlive us all, such is its enduring popularity. It is consistently reviewed as one of the best themed cruises out there, and of course one of the best cruises for families. You can choose from packages lasting either five, seven, or nine nights, and from British Columbia your ship sets off to Tracy Arm and Ketchikan. The Sail Away celebration is a party of its own, the kind with confetti and streamers and the OG cast of Disney characters (Goofy, Pluto, both Mouses, and both Ducks). There are so many places to (safely) leave your children behind on this ship, but if you miss them after recharging your parent batteries in one of the many adults-only areas (bars, nightclubs, a restaurant) you can also take them gold panning and dog sledding.

Sign up here for our daily Thrillist email and subscribe here for our YouTube channel to get your fix of the best in food/drink/fun.