The best US airports for beer snobs
The quality of economy air travel deteriorates every year, bar one glimmering area where things've actually improved: airport watering holes. No longer forced to settle in with a can of Coors Light, today's travelers have access to local breweries that've set up camp to pour craft suds -- one even doing the brewing on-site. We check out the eight best airports in the country for the discerning (and delayed) beer fan.
7. Philadelphia International Airport --Terminals B and C
Plan on setting up camp pre-flight at Jet Rock Bar and Grill, where they serve 22oz-ers of 48 different draft brews.
Tip: Desperate for a layover brew but trapped in Terminals A West, D, or E? Catch an Iggles game and down crab fries at Chickie's & Pete's, which opened its first PHL location in 2007. Bring on the Dogfish Head, Ommegang, and Flying Dog.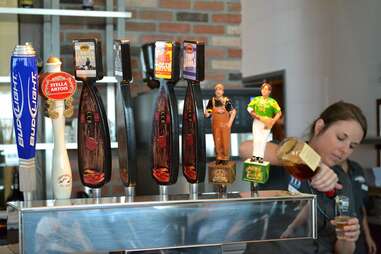 6. Tampa International Airport -- Terminals C and F
In 2012, Tampa-based Cigar City Brewing opened a pub at Terminal C, becoming the only spot in the country where beer's actually brewed onsite at an airport. Imbibers can also visit the Sam Adams carry-out kiosk eight gates away, and the Stella Artois Bar at Terminal F, where they pour -- you guessed it -- Hoegaarden. Well, along with Stella.
Tip: Try the "Tony Jannus Pale Ale" at CCB; it pays homage to the first commercial pilot who flew from St. Petersburg to Tampa in 1914.
5. Portland International Airport -- Terminals A, D, and E
Portland's "go local" philosophy extends to the airport, where two outposts of the Laurelwood Public House and Brewery (A and E) serve drafts like "Red Range Ale", "Space Stout", and "Organic Tree Hugger Porter". In D, the popular Rogue Ales Public House pours 11 styles of their cask-conditioned ales, unpasteurized suds, and experimental West Coast creations.
Tip: Pair said creations with unusual pastries from Portland's famous Voodoo Doughnuts, in the form of their two collab brews, "Chocolate Peanut Butter and Banana Ale" and "Bacon Maple Ale".
4. John F. Kennedy International Airport -- Terminals 2 and 4
Kick back at the BRKLYN Beer Garden in Terminal 2, where they pour over 20 drafts (mostly from New York-area brewers) like the rich Brooklyn Chocolate Stout, crisp Captain Lawrence Kolsch, and aromatic Southampton Double White. Other great spots include Sam Adam's Bar (4) and Tigin Irish Pub (4).
Tip: BRKLYN Beer Garden's chef pairs innovative meals with your craft pints, including: beer sausage with spicy pork and beef; beer garden fried steak with black forest ham and gruyère; and hot brown melted beer-cheddar with smoked turkey, smoked gouda cream, bacon, and rye.
3. Logan International Airport -- Terminals A, B, C, and E
As you would imagine from the city that brews Sam Adams and Harpoon, your local craft beer needs'll be covered. Hit popular area brewer Beer Works (C) and sip from ten different suds including "Back Bay IPA", "Beantown Nut Brown Ale", and "Boston Garden Golden". In Terminals B or E? Nantucket-based Cisco Brew Pub's your go-to. And the Harpoon Tap Room serves nine hop-heavy IPAs, old-style ales, and rich stouts by the flight in A.
Tip: If you're scurred of flying, Harpoon Brewery's English-style Bronze King and American hop-centric Harpoon Leviathan IPA both boast a burly 10% ABV.
2. Minneapolis/ St. Paul International Airport -- Terminal G
In addition to being an awesome passenger-friendly airport in general, MSP's bars and restos showcase over 15 regional and local breweries. Mimosa, Minnibar, Twinburger, and Mill City Tavern collectively cover crafts from Schells, Fulton, Lucid, Grain Belt, Brau Brothers, Surly, Finnigans, Rush River, Bells, and Great Lakes breweries. Phew! Over in F, Ike's on Summit boasts seven beers from St. Paul's largest craft brewer, Summit. Rock Bottom Brewery rocks locations in Concourses C and D.
Tip: If your love of beer extends beyond just drinking it, make time for Local Brew Beer Gear between all the above suggestions; it's a beer-themed gift shop peddling local apparel, glasses, hats, and whatever else you can think of to slap a brewery logo on.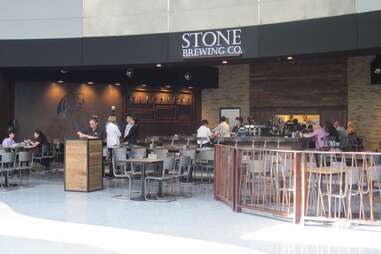 1. San Diego International Airport -- Terminal 2
Not surprisingly, the Craft Beer Capital of America's also home to one of the best beer airports, complete with 12 bars. Terminal 2 is especially brew-focused, with two locations of Stone Brewing Co. pouring over a dozen drafts, a full flight menu, and assortment of suds-infused sustenance; meanwhile, the Urban Crave rocks almost 20 brews and, for the beer enthusiast on a budget, a PBR Tallboy in a brown paper bag (should you have no interest in appearing upgrade-worthy).
Tip: If you're stuck in Terminal 1, Craft Brews on 30th Street has a Green Flash Pale Ale -- a fragrant and spicy brew -- created especially for the airport.