The Best Cities in America for Street Art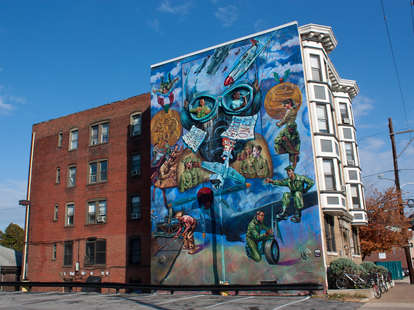 Philadelphia, PA

| <a href="http://www.shutterstock.com/gallery-2066669p1.html?cr=00&pl=edit-00">Fernando Garcia Esteban</a> / Shutterstock
Philadelphia, PA

| <a href="http://www.shutterstock.com/gallery-2066669p1.html?cr=00&pl=edit-00">Fernando Garcia Esteban</a> / Shutterstock
Once upon a time (like, just a short decade or so ago) it was dismissed as mere graffiti. Now "street art" is the new fine art, and murals are the new go-to strategy for economic and community development, placemaking (that's development-speak for turning a shitty area into something kind of nice), and beautification (ditto) efforts. If mural chasing is your favorite hobby, these are the American cities you need to hit.
Philadelphia, Pennsylvania
Philadelphia is known as both the City of Brotherly Love and, to a slightly lesser extent, the City of Murals, and this is because of the City of Philadelphia's Mural Arts Program, the largest public art program in the country. Established in 1984 as part of the Philadelphia Anti-Graffiti Network, this program focuses on collective mural-making as a means through which to address deeper community issues and spark economic revitalization. Today they engage communities in 50-100 public art projects each year while also maintaining its ever-growing collection through a restoration initiative, attracting 12,000 residents and visitors specifically to their sprawling outdoor art gallery every year. The programming is always evolving and expanding, with an eye out for progressive new projects like 2015's Open Source.
Detroit, Michigan
Despite its well-documented excess of empty space and blank/blighted walls, Detroit has only recently exploded in contemporary mural art. The Dequindre Cut, a former rail line that was transformed into a paved greenway in 2009, was long a haven for graffiti artists, and is now an outdoor art gallery featuring 35 murals from internationally known artists. In 2010, Banksy paid a visit, a local gallery saw a way to make some cash on it, and international attention ensued. The Detroit Beautification Project rolled along quietly until 2012 when city-within-the-city Hamtramck was covered in murals literally overnight, provoking ire and national attention.
The Grand River Creative Corridor, featuring over 100 murals on 15 buildings along a half-mile stretch, launched shortly after. 1xRUN, one of the groups behind the Beautification Project, continued commissioning international artists-in-residence to create new murals and spearheaded neighborhood-wide public art initiatives like Murals in the Market, which will add another 50 murals to the district this summer. Now even billionaire real estate mogul and real-life human bobble head Dan Gilbert is in on the game, shipping in Los Angeles-based artist Shepard Fairey for one massive mural prominently placed in the city's center, plus smaller pieces for a stunning new "art alley" called The Belt. And let's not forget the Diego Rivera seven-panel Detroit Industry fresco cycle at the Detroit Institute of Arts.
Honolulu, Hawaii
Hawaii's capital city on the island of Oahu is home to POW! WOW!, Hawaii, a week-long arts festival that takes place over Valentine's Day week and brings together hundreds of local and international artists to create murals and live art installations. POW! WOW! has become a global arts movement, expanding to other cities and countries including Austin (for SXSW), Long Beach, DC, Taiwan, Israel, Singapore, Guam, Germany, and more. The event started in 2010 in Hong Kong, but Honolulu has become the flagship, celebrating its sixth consecutive year in 2016. Dozens of murals now cover the walls of Honolulu's Kaka'ako district and major players have come on board to sponsor the event, including Hawaiian Airlines, Monster Energy, and Detroit's 1xRUN.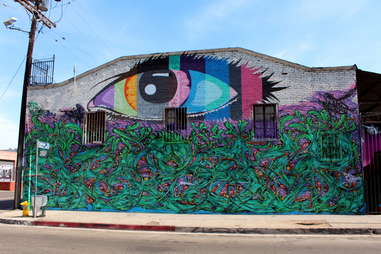 Los Angeles, California
In 2013, a 10-year ban on public murals was lifted in Los Angeles. While battling bureaucracy has remained a challenge since then, the city has hundreds -- possibly even thousands -- of murals both old and new. Many are painstakingly tracked and preserved by the Mural Conservancy of Los Angeles, but newer works need to be sought out; heading Downtown to the Arts District is a good place to start. The temporary mural exhibits at the Hammer Museum are also worth a trip, having become iconic in their own right.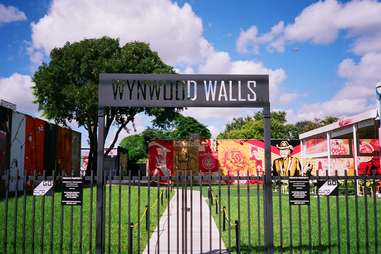 Miami, Florida
Maybe you've heard of this little thing called Art Basel that happens in Miami every December? And maybe you are also familiar with the Wynwood Art District, where the bulk of Art Basel activities take place? Wynwood Walls is a direct result of Art Basel, having launched as a part of the event with a few commissioned murals to beautify the area and growing into an outdoor street art park featuring dozens of murals from some of the world's most renowned mural artists.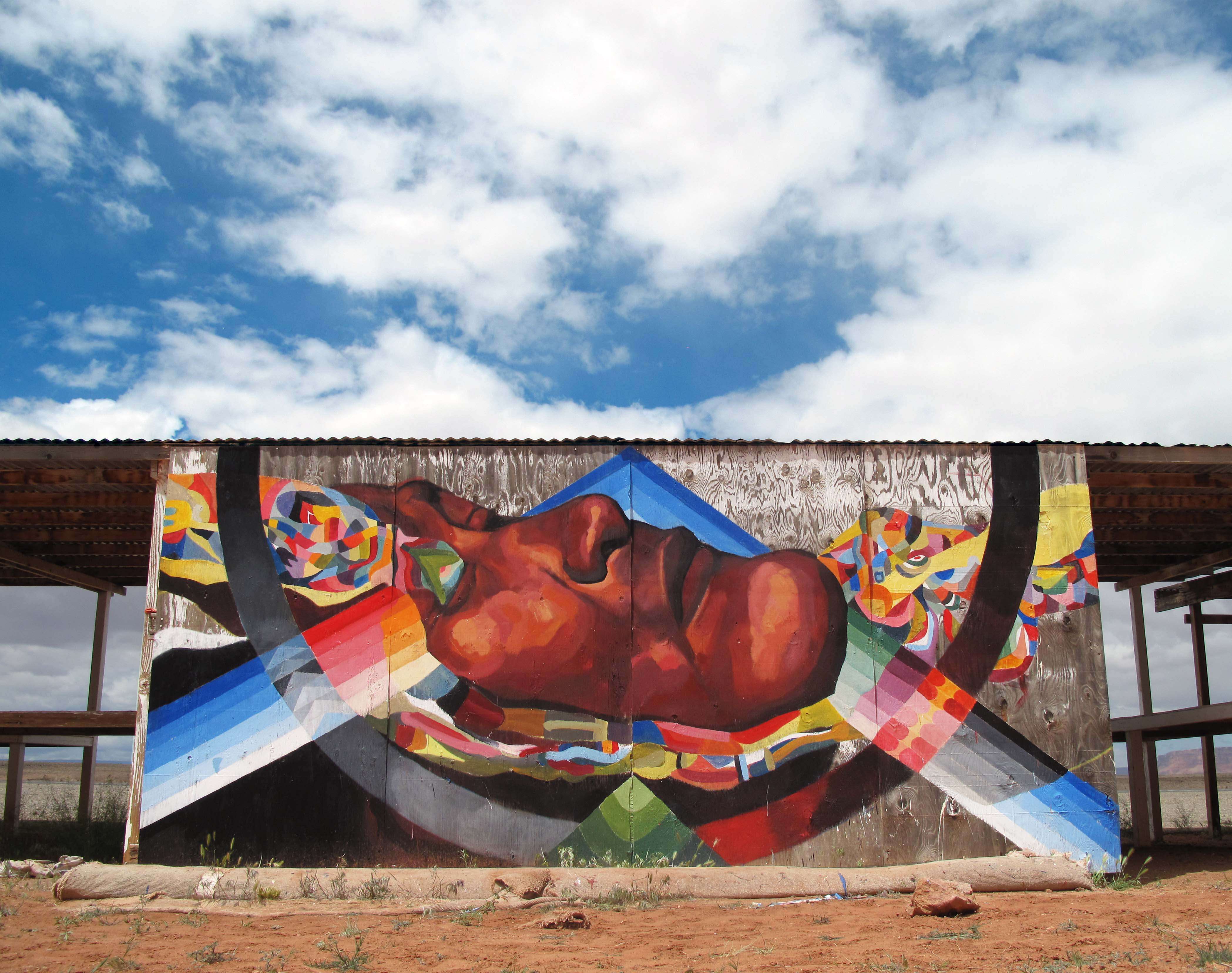 Navajo Nation, Arizona and New Mexico
Doctor-turned-artist Jetsonorama (who is originally from Raleigh, NC but settled "on the rez" as permanent physician in 1987) started the self-funded Painted Desert Project in 2012, inviting world-renowned street artists to paint murals throughout the Navajo Nation in Arizona (and one additional mural in New Mexico) to, he writes, "boost tourism on the reservation, to supplement the incomes of families with roadside stands, and to nurture the creative talent of local youth." The desert murals, placed on long stretches of desolate road in the breathtaking Painted Desert on the Colorado Plateau, take a hauntingly beautiful yet eerie quality, in counterpose to the typical urban environments such art is typically found.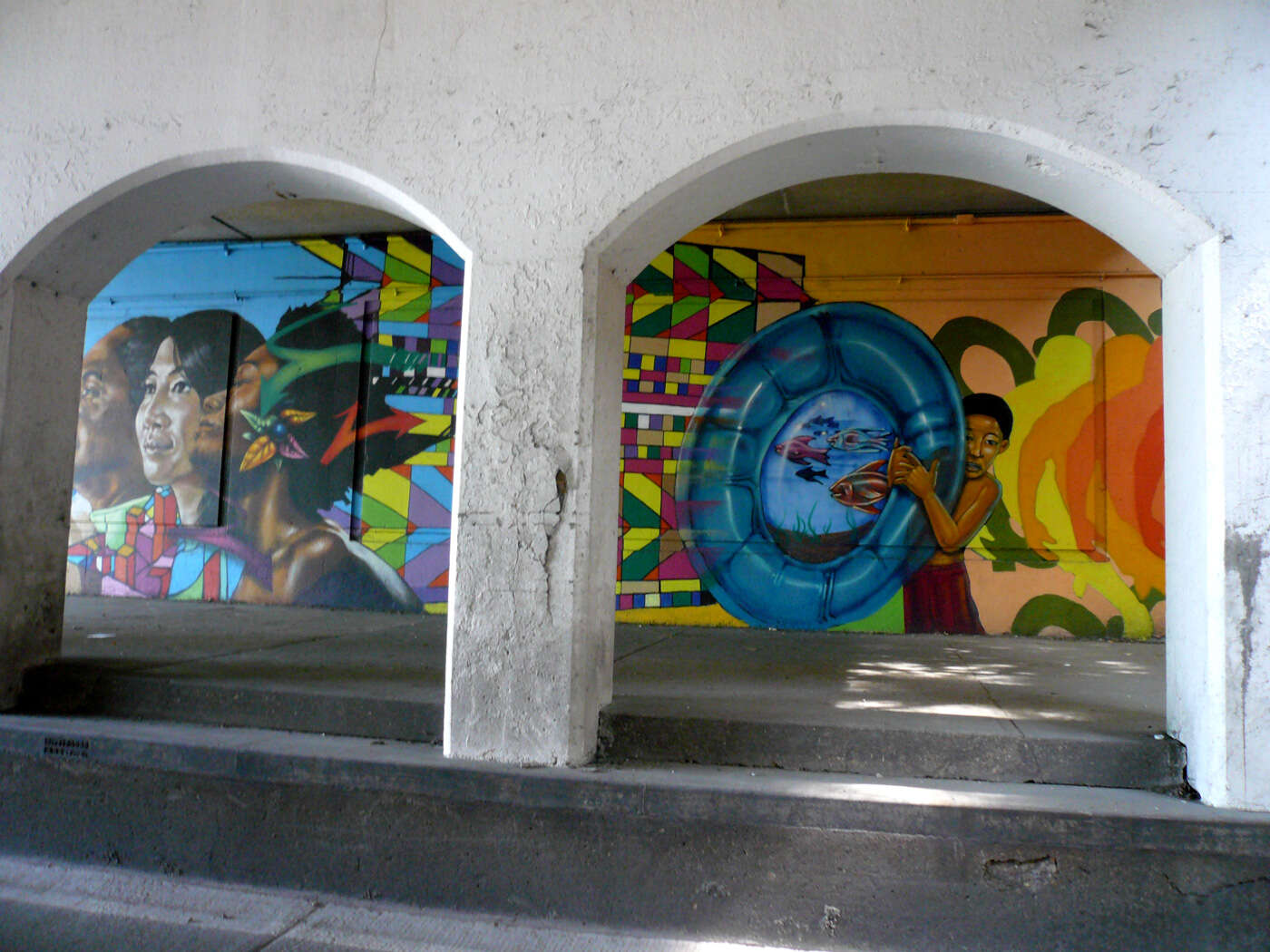 Chicago, Illinois
Chicago is a very large city with lots and lots of public art and many many murals, but special attention is due to the outstanding, ornate murals that you will find in Chicago's underpasses. Created by the Chicago Public Art Group, which formed in 1971, the massive pieces found in the underpasses along Lake Shore Dr are less murals than they are mosaics, utilizing a "bricolage" technique that combines acrylic paint with broken pieces of ceramic tile, pieces of mirrors, photographs, and other three-dimensional objects for pieces of public art that connect and educate communities and captivate passers-by. Over their 45 years of existence, the Chicago Public Art Group has created hundreds of significant pieces of public art that include murals, mosaics, sculptures, and public space/landscape design.
New York, New York
Yes, New York. Obviously, New York. We can't not New York. From the elaborate murals visible from the High Line to the Graffiti Hall of Fame in East Harlem to what remains of the most Banksy this side of the pond, New York still reigns supreme as the capital of street art in America, which is probably one of the only things that can be said to have remained the same about New York over the last few decades. But that doesn't mean street art isn't threatened in NYC. "Graffiti-fication" -- the inadvertent gentrification that often follows artist-led beautification and creative placemaking -- is a real thing. One of New York's most iconic street art hubs, the 5 Pointz Aerosol Art Center in Long Island City, was recently demolished and replaced with condos, while the rents in the Brooklyn neighborhood of Bushwick (of Bushwick Collective fame) continue to skyrocket as internationally renowned muralists add to the neighborhood's cool factor.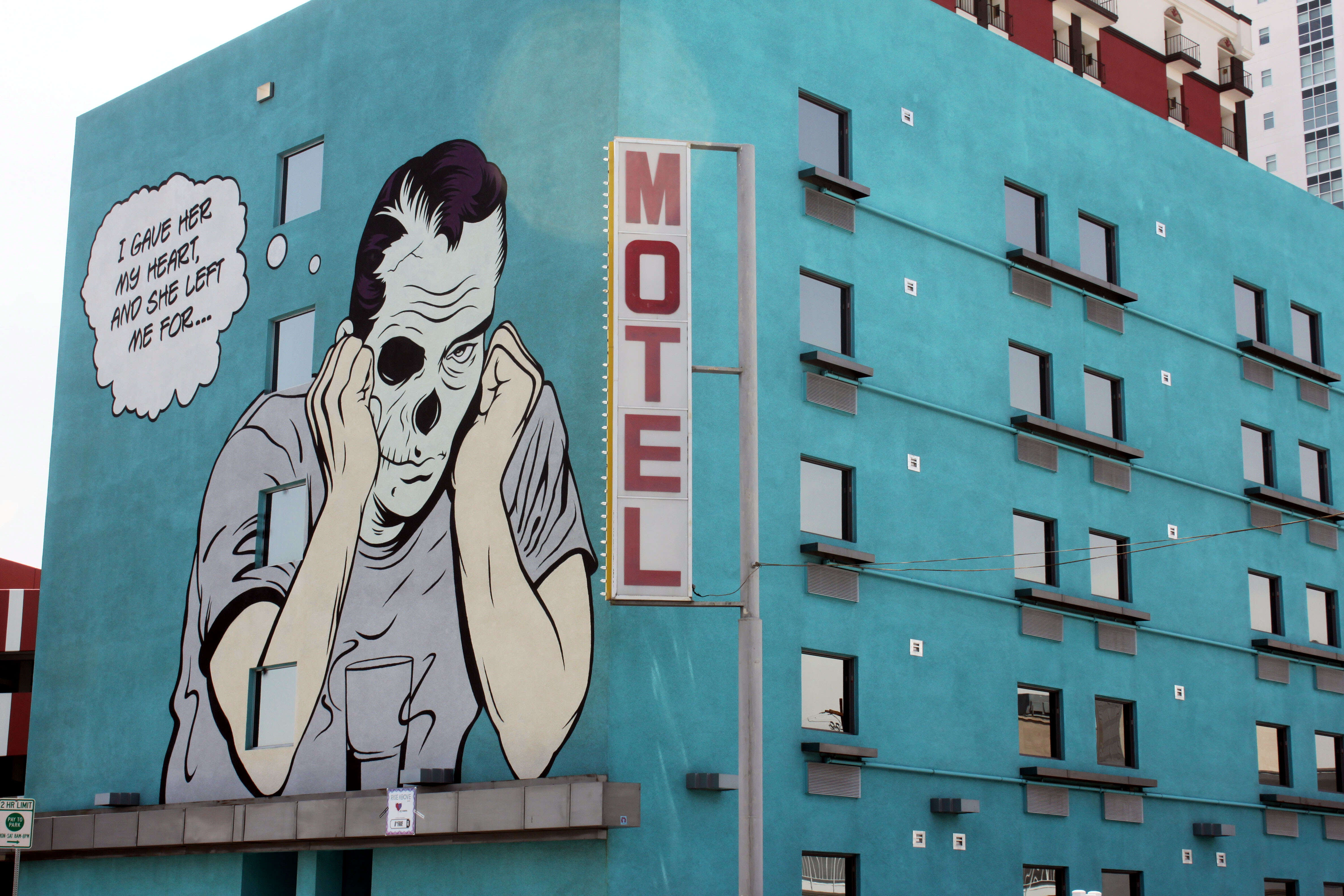 Las Vegas, Nevada
Most people wouldn't really consider Las Vegas to be much of a hub for street art, what with that fact that the casinos generally frown upon people painting on their walls, but murals have been a big part of Downtown Las Vegas culture for awhile, and there has recently been a flurry of new murals that have gone up with the 2013 launch of the Life is Beautiful music, food, and arts festival. This energy has diffused into other parts of Vegas, including --- brace yourselves -- the Strip, with the Linq outdoor shopping and entertainment development (built in what was once an alleyway between the Flamingo and the Imperial Palace-cum-Quad-cum-Linq Hotel) partnering with local arts collective the I.S.I. Group to create a series of murals along the walls, all the way down to the High Roller "observation wheel" at the end. The Clark County Parks & Rec Department has also been leading an effort to pretty up the utility boxes that litter the landscape through their ZAP program, hiring artists to cover the otherwise unsightly boxes in murals.
Baltimore, Maryland
Open Walls Baltimore was launched in 2012 by the Station North Arts and Entertainment District in partnership with Gaia, a leader in the international street art movement and a resident of Station North, with the goal of enlivening public spaces, stimulating community revitalization and national dialogue, and attracting visitors and investors to Station North. Twenty-three murals from internationally renowned artists were produced during that first round, with a follow-up in 2014 that produced more than 20 additional murals.
Fresno, California
Sometimes mural projects are led by artist collectives and/or community development organizations, and sometimes an enterprising developer sees the value in public art without needing to be approached by such collectives and organizations, or only showing interest after the others have already done the beautification work. Such was the case in Fresno, where artist and developer Reza Assemi renovated several buildings into mixed-use residential and commercial developments and covered them all in eye-popping murals in what is now called the Mural District, which has become the cultural and arts epicenter of Fresno.
Sign up here for our daily Thrillist email, and get your fix of the best in food/drink/fun.
Nicole Rupersburg chases lots of things, murals included. See her #chasingmurals, #chasingwaterfalls, #chasingmountains, #chasingbeer, and #chasinginstagramposts on IG @eatsdrinksandleaves.