America's 13 Best Amusement Parks That Aren't Six Flags
When it comes to amusement parks, one big name comes to mind: Chris Sawyer, the designer of Roller Coaster Tycoon. What, that wasn't who you had in mind? Well, you'd be forgiven for thinking of close second Six Flags, as they have pretty much dominated the hearts, minds, and queasy stomachs of Americans since their inception back in 1962. So, in the interest of giving the spotlight to a bunch of other places (that also aren't Disneyland), we rounded up a list of some of the other best amusement parks this country has to offer.
Sandusky, OH
Known for: Millennium Force, Top Thrill Dragster, and many, many more
We'd be remiss -- and we'd be failing you -- if we didn't include Cedar Point on this list. The self-billed "Roller Coaster Capital of the World" would probably be exactly that, if roller coasters were sentient and could vote democratically on such matters. Its site, a Lake Erie-adjacent peninsula, currently contains 16 of them (and 72 rides total), three of which made it onto our list of the scariest roller coasters in America, but don't discount the park's other thrills, including a giant frisbee and the world's largest swing ride.
Williamsburg, VA
Known for: Apollo's Chariot, Griffon
It's kind of odd that an amusement park with areas themed after old-world Europe could be so fun, since they had all that feudalism and disease and stuff, but Busch Gardens -- originally founded by Anheuser-Busch (the beer people!) back in 1975 -- accomplishes that goal through a mix of awesome roller coasters (like Apollo's Chariot), immersive settings, and impeccable groundskeeping (note: it has actually won awards for this). Plus, animals at Jack Hanna's Wild Reserve! That's the guy from your childhood nature documentaries!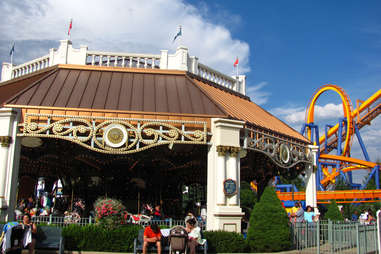 Allentown, PA
Known for: Steel Force, Thunderhawk
The fact that Dorney Park is owned by Cedar Fair -- the company responsible for Cedar Point -- will be enough to convince anyone who's heard of Cedar Point give it major props. It's home to the longest roller coaster on the East Coast (Steel Force), as well as one of the oldest (Thunderhawk, running since 1923), is adjacent to a huge waterpark (Wildwater Kingdom), and is probably the most fun you can have in East Central Pennsylvania besides at a Lehigh University frat party.
Hershey, PA
Known for: Chocolate, primarily, but also Skyrush
Yes, Hersheypark is an amusement park run by a chocolate company. Yes, you can eat a ton of chocolate at the park and ride on chocolate-themed rides. And yes, the height requirements for kids have cutesy names like "Miniatures," "Kisses," and "Reeses." But the park also features some seriously gravity-defying roller coasters like Skyrush, Storm Runner, and… SooperDooperLooper. OK, so that last one is a bad example, but this park knows what it's doing, dammit!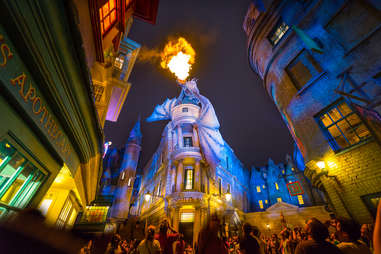 Orlando, FL
Known for: The Incredible Hulk, The Wizarding World of Harry Potter
If you've ever wanted to live inside a movie or TV program, please watch The Truman Show -- it'll teach you about your misguidedness. But if you've ever wanted to visit those places, well, Universal Studios in Orlando is about as close as you can get without being that kid from Boyhood. With several movie-themed rides & attractions including Jurassic Park, Shrek, The Incredible Hulk, and Harry Potter, Universal Studios manages to re-instill a sense of awe for "the movies" that some folks might think had left them long ago. Then again, that might just be the Butterbeers talking.
Salem, NH
Known for: The Yankee Cannonball, Untamed
Canobie Lake Park was opened back in 1902, before the concept of amusement parks had even been invented -- and that's not because nobody was having fun, it just didn't occur to people to create parks specifically for that purpose. Instead, it was a trolley park designed to increase the buzz around the Massachusetts Northeast Street Railway Company. The trolley business eventually went under, but Canobie Lake Park survived, and today flourishes as the one field trip destination kids from Massachusetts and New Hampshire (and their adult chaperones) get truly excited about.
Kansas City, MO
Known for: Mamba, Prowler
How much fun can a world contain? That's the question posited by Worlds of Fun in Kansas City, MO, but it turns out to be irrelevant -- there are multiple worlds involved, so the fun is, in theory, limitless. Yet another Cedar Fair venture, this park boasts a total of 43 rides (including seven roller coasters and a 301ft, 30mph swing) and a Snoopy-themed area for kids, although the central motif of the park is Around the World in Eighty Days (don't worry -- it'll take you considerably less time than that to circumnavigate).
Mason, OH
Known for: Dinosaurs Alive!, The Beast
60 dinosaurs. 364 acres. A 42,000sqft pool with perpetually crashing waves. No, this isn't Jurassic Park, although that place would definitely be improved by the addition of 14 awesome roller coasters, which is exactly what Kings Island has! And while the dinosaurs here are only animatronic, that also means they can't eat you. At least, not until the singularity occurs.
Doswell, VA
Known for: Intimidator 305, Volcano: The Blast Coaster
Kings Dominion is the younger, larger sibling of Kings Island (the Luigi to its Mario, if you will), and also contains dinosaurs, roller coasters, and wave pools. However, it's also home to Intimidator 305, one of the scariest roller coasters in America, and has a Peanuts-themed area for the younger crowd. Yeah, Snoopy again. Deal with it.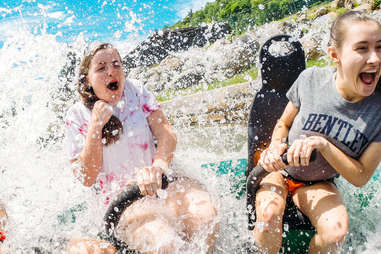 Bristol, CT
Known for: Boulder Dash, Wildcat
Lake Compounce, America's oldest continually operated amusement park, got its start in 1846 when a scientist tried to blow up a raft in the middle of the lake (he failed), noticed that his attempt drew a big crowd, and then another dude decided to make an amusement park there, thus beginning the longstanding American tradition of opening businesses on the sites of abandoned scientific experiments. Since then, it's replaced the literal explosions with equally exciting roller coasters, and contains a wooden one whose construction dates back to 1927.
Buena Park, CA
Known for: Silver Bullet, Timber Mountain, fried chicken dinners
"What kind of an amusement park name is Knott's Berry Farm?" is what you're probably thinking. Well, back when the place was actually a berry farm in 1920, it made a lot of sense. And while they've dialed back a bit on the berries, Knott's Berry Farm still knows how to jam (sorry). It's got an absolutely insane log flume ride, 10 roller coasters, and is renowned for its homestyle fried chicken dinners. And in case you haven't reached the Snoopy saturation point (SSP) by now, it's got Snoopy, too.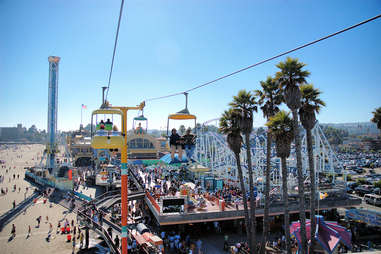 Santa Cruz, CA
Known for: Giant Dipper, bumper cars
Occupying a beautiful stretch of seafront territory, the Santa Cruz Beach Boardwalk is California's oldest surviving amusement park, founded back in 1907. And while it lacks the crazy backstory of other parks, you won't be worrying about all that as you stare out at the sun setting over the Pacific with your mouth agape and a corn dog in your hand. Of course, then you'll hear excited screams from the Giant Dipper roller coaster and get snapped back to blissful reality.
Saco, ME
Known for: Excalibur, Splashtown USA
Is Funtown Splashtown USA a town? Not in a legal sense, no. But is it a place where fun (and splash [sic]) lives? Again, in a literal sense, no, but in a more figurative sense, absolutely. In case you couldn't infer from the name, Funtown is adjoined by a water park (Splashtown), and, while modestly sized, contains Maine's only wooden roller coaster: the legendary Excalibur. Don't load up on funnel cakes before you ride it.
Adam Lapetina is the partnerships editor, and thinks Snoopy is pretty rad. Read his musings at @adamlapetina.