The Best Amusement Parks to Visit This Winter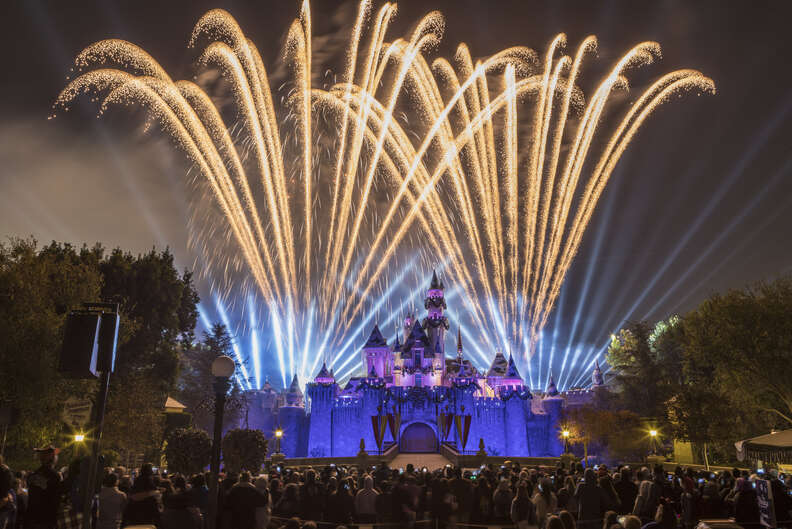 Joshua Sudock/Disneyland Resort
Amusement parks are great during the summer, but there are definitely some drawbacks. Huge lines. Sweaty crowds. the unbearable heat that blasts down from above and radiates up from the asphalt. But while some parks close up shop once the temperatures dip, some actually improve drastically during the wintertime. Many completely transform their aesthetic during the cold months, morphing into winter wonderlands and staying open well into the bitter cold of the season. And in warmer climates—where theme parks thrive and waterslides flow continuously—the holiday break crowds give way to reduced attendance come January. Here are the best theme parks to visit this winter.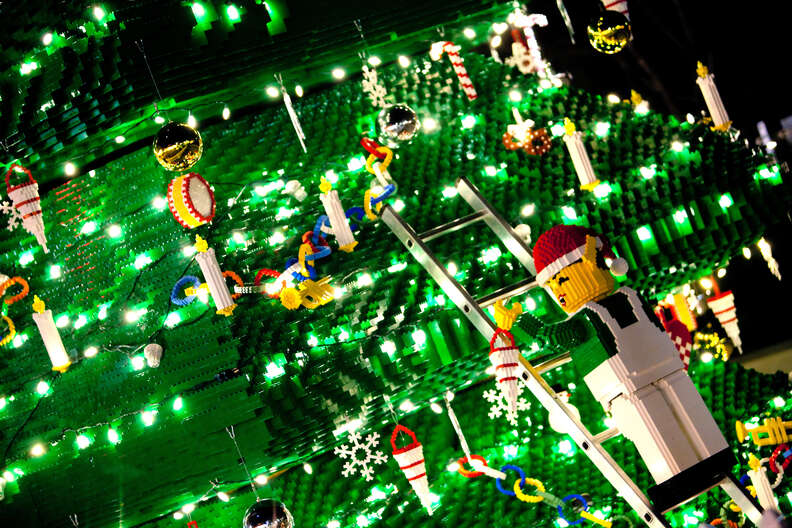 LegoLand
Carlsbad, California & Winter Haven, Florida
LegoLand isn't just for kids, and a visit to either its California or Florida location during the winter means you picked the ideal time to go. Given the mild climates of both states, visiting the parks means you get to unleash your inner bricklayer without a bulky parka getting in the way. Both bring polar vibes to warmer climates, including a 30-foot Christmas tree made of, yup, LEGOs. If a mountain of colorful plastic doesn't really excite you (you monster), then go for the nightly snowfall, especially if you don't live in a place where winter means snow and gray skies 24/7. But even the most ardent Grinch—who's actually associated with a different theme park on this list, but bear with us—should consider winter a prime time to ride the rides and walk among the block cities: Both parks are open year round, ensuring that, even in the middle of February, everything will remain awesome.
Buena Park, California
Fact: One of the most exciting parts about winter is the comfort food, and what better place to spend your time eating than California's very first theme park, Knott's Berry Farm? What started as a roadside berry stand and chicken dinner restaurant almost a century ago is now one of Southern California's most popular theme parks, complete with coasters and water slides. A wintertime trip to Knott's means gracious helpings of poutine, "Christmas Chicago Dogs," peppermint and horchata funnel cakes, and eggnog Christmas tree-shaped cheesecake on a stick. If you're planning a holiday trip, time you visit with the Holiday Ice Show, which features Snoopy and the rest of the Peanuts gang (on ice, obviously) and runs through early January. After that, there's still plenty of Peanuts-themed fun to be had—but minus the peak season crowds and peak summer sunburns usually incurred while waiting for the Supreme Scream.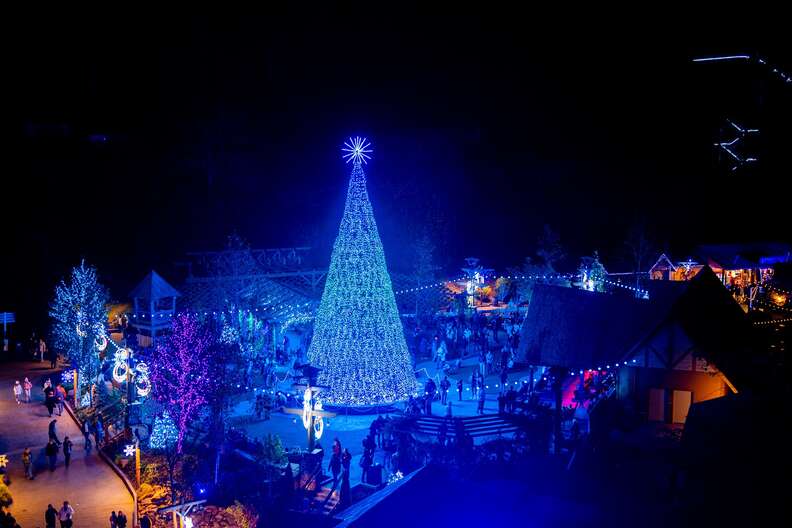 Pigeon Forge, Tennessee
If your idea of a vacation involves being nestled within the Great Smoky Mountains at one of the most visited theme parks in the world—really!—then Dollywood is the place to go. Basically, Dolly Parton's amusement-filled monument to, well, Dolly Parton, the Tennessee theme park has appeal beyond fans of country and bluegrass—though those people are more or less guaranteed an experience similar to finding out heaven is covered in rhinestones.
From November 5, 2022, to January 1, 2023, Dollywood features parades, plus several award-winning live shows, including the musical revue Christmas in the Smokies and Christmas theater classics It's A Wonderful Life and 'Twas The Night Before Christmas. There's also a Parade of Many Colors. The park remains closed between January and Mid-March, so plan accordingly if you want to spin on the Dizzy Disk—essentially a giant spinning saucer—and a walk through Chasing Rainbows, which is an interactive museum filled with many of Parton's dazzling gowns and awards, plus a hologram of Dolly herself.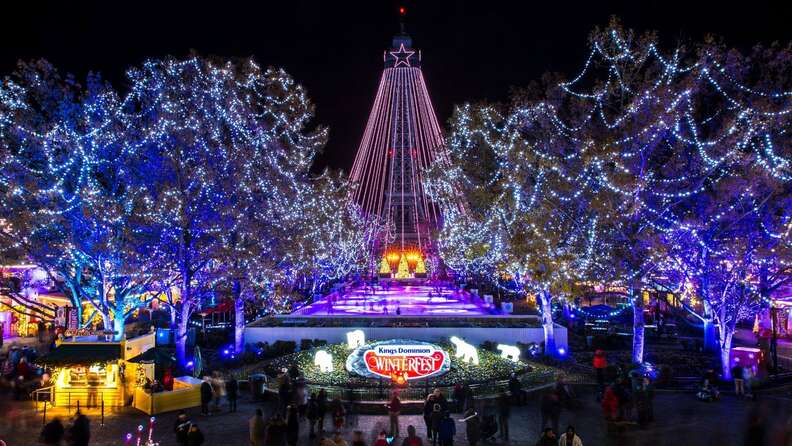 Doswell, Virginia
There are many reasons to go to Kings Dominion, like testing your bravery on the Berserker or flying at 67 miles per hour on the Dominator. But during the holidays, it comes down to three words: Spiked hot chocolate. While many kid-centered amusement parks prohibit the selling and drinking of alcohol, you need not worry about that at Kings Dominion. There are multiple spots to grab a nice cup of this spiked treat, along with a range of local craft beers, wine, and another adult Christmas classic: spiked eggnog. The park closes for the winter on January 1 and specific operating dates prior to then can be found here.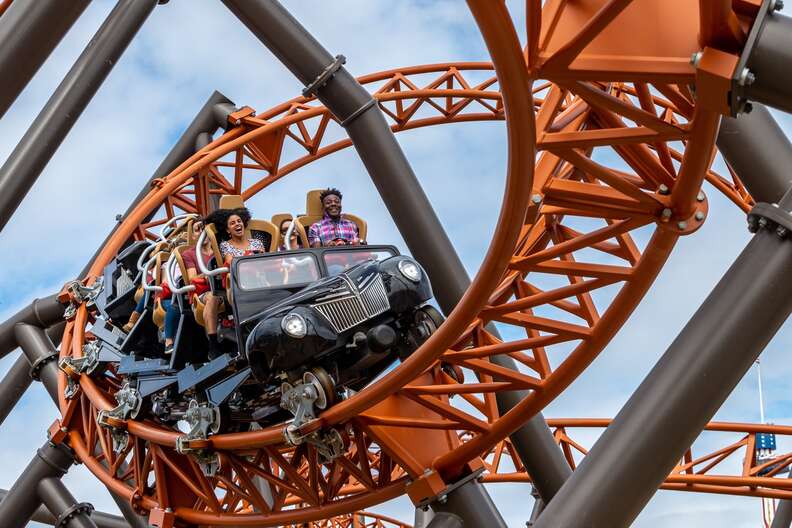 Charlotte, North Carolina
There's so much happening at Carowinds Winterfest that it would take the rest of winter just to tell you about it all. Just know there will be many, many lights and live performances, including jingles from Carowinds' musical acts Christmas Bluegrass, Cool Yule, and the Yule Logs. If you're more into thrill than musical trills, hop on any of the numerous rides that'll be operating, like the Scream Weaver (the name is accurate) and the Electro-Spin, which we don't suggest going on right after eating a full plate of roasted pork mac and cheese. WinterFest lasts until December 31, after which the park closes for the winter, but feel free to stay a few hours later for the New Year's Eve at WinterFest celebration.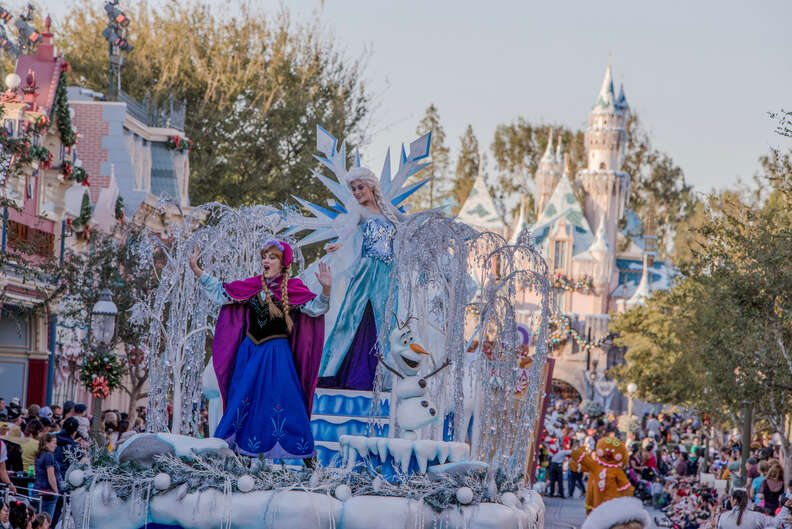 Orlando, Florida and Anaheim, California
Why it's great in the winter: The Disney parks are often cited as the happiest places on Earth, and their winter makeovers manage to somehow dial up the cheer. The usual suspects are present—weekend fireworks extravaganzas, nightly parades, actors sweating it out in giant animal costumes—but everything is given a winter twist, from the occasional puff of cinnamon wafting through the air to holiday-themed shows and It's a Small World's snowy makeover, including all new decor and "Jingle Bells" blaring through the speakers in lieu of the iconic titular earworm. The food—which some people actually visit the park for, specifically and weirdly—also gets a makeover, while the characters get into the spirit of the holidays with new costumes. Oh, and of course Santa's at the parade along with Anna and Elsa, who are now unescapable. But let's be real: Just the sight of that iconic magic castle dripping with icicle lights and given a nice dusting of fake frost is enough to make a Disney trip during the holidays.
Things stay festive through January 6, at which point the crowds dwindle, the rides go back to normal, and the nerds at Galaxy's Edge stop talking about the Star Wars Holiday Special and go back to complaining about The Last Jedi. The magic, though, remains.
Jackson Township, New Jersey
Sure, there are tons of Six Flags across the country and they put on pretty cool holiday events, but when's the last time you got to ride a "hypercoaster" at 80 miles per hour in New Jersey's frigid temps? Never, that's when. But no worries, that can all change after you conquer your fears and hop on one of the world's top steel coasters, Nitro. Its name is just as intense as the first hill you'll go up which is a casual 233 feet high (pack extra underwear). Buuuuttt if you'd rather spread out your coaster terror, Holiday in the Park is on until January 1 and that's just enough time for you to go on every ride in the park—or you can try to ride all 36 of them in one day.
Before you lose your voice screaming from the top of Batman, remember to grab a handy entertainment schedule at the front gate of the park so you don't miss any of the cheerful singing and holiday shows. After you're all sung out and you've gotten your picture on Santa's lap, wind down the day with s'mores in S'mores Village (original, huh?) and warm up your hands with the fire pits. Be sure to peruse the operating hours schedule as the park is closed from January until the beginning of April, at which point you can start eyeballing those other Six Flags in warmer climates.
Universal Studios
Los Angeles, California and Orlando, Florida
Both coasts are in for a treat as Universal Studios Hollywood and Universal Orlando are decking their parks with holiday decor, food, music, and enough Harry Potter to get you through 2022. If you're in Orlando, you'll want to start your day by having breakfast while the Grinch stops by at your table to bring some holiday cheer—or not, depending on how big his heart is that day/your tolerance for a guy doing an impression of a Jim Carrey impression. Then, get lost in the sorcery of The Wizarding World of Harry Potter as you walk the streets of Hogsmeade and Diagon Alley (only in Orlando).
California friends, have no fear. Along with the theme park action, there are exciting events for you too and the most anticipated one is the holiday takeover of Universal CityWalk, part of the Universal City complex. You have until December 26 to lay your eyes on the extremely lit (200,000 music-synced lights to be exact) Christmas tree at the 5 Towers Stage. And when your eyes need a break, wander inside all of the shops on CityWalk and pick up those last-minute gifts you've been putting off since Black Friday. And after December 26? Well, you're in either LA or Orlando, so the only thing that changes is the wattage of the lights and the wait times.
Kristen Adaway is a travel and local editorial assistant at Thrillist. It is very likely that you'll find her eating multiple funnel cakes at many of the parks on this list this winter. Send her your support @kristenadaway.