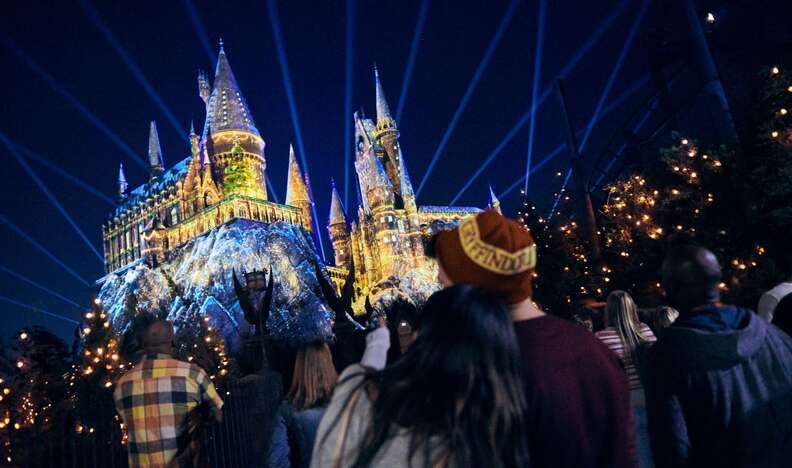 This definitely beats being home for the holidays.

| Photo courtesy of Universal Orlando Resort
This definitely beats being home for the holidays.

| Photo courtesy of Universal Orlando Resort
Amusement parks may be a staple of summer, but there are drawbacks to visiting when everyone is on vacation: long lines, crowded restaurants, heat that doesn't seem to let up, even when those misters are on full blast. But while some parks shut for the season once temperatures dip, others take a cue from Christmas markets and festivals around the country and deck the halls, er, rides, for the holidays. From an Eiffel Tower-turned-Christmas tree to parades led by Anna and Elsa—plus the rest of the Disney characters—here are the best theme parks to visit this winter.
LEGOLAND
Carlsbad, California & Winter Haven, Florida
Given the mild climate of both states, visiting the LEGOLAND parks means you get to unleash your inner bricklayer without a bulky parka getting in the way. Both bring polar vibes to warmer climates with a Holiday Village Postal Service where you can send letters to LEGO Santa and 30-foot-tall Christmas trees made of, yep, LEGOs. If a mountain of colorful plastic isn't enticing enough, then go for the 360-degree light show or nightly snowfall, especially if you don't live in a place where winter means snow and gray skies 24/7. More for the kids, there's also a holiday character crew that comprises LEGO Santa and LEGO Gingerbread, plus holiday shows. But even the most ardent Grinch—who's actually associated with a different theme park on this list, but bear with us—should consider winter a prime time to ride the rides (without standing in lines all day) and walk among the block cities. Both parks are open year-round, ensuring that, even in the middle of February, you'll find entertainment.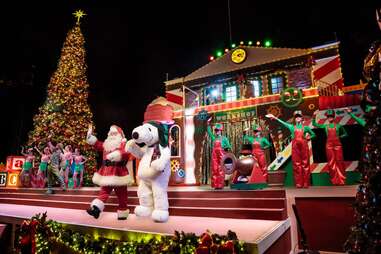 Knott's Merry Farm
Buena Park, California
One of the most exciting parts about winter is the comfort food, and what better place to spend your time eating than California's very first theme park, Knott's Berry Farm? What started as a roadside berry stand and chicken dinner restaurant almost a century ago is now one of Southern California's most popular theme parks, complete with coasters and water slides. A wintertime trip to Knott's means gracious helpings of Tinseltown's turkey, bacon, and alfredo tater bites, funnel cakes, and Santa's apple pie cupcakes. Time your visit with the holiday ice skating show, which features Snoopy and the rest of the Peanuts gang—and this year marks the 40th anniversary of Snoopy on Ice, so there's a special spin to the show. Holiday music comes in the form of a capella singers serending with Christmas classics and a bluegrass duo crooning classic and new hits. And there's plenty of family entertainment in the form of cookies in Mrs. Claus' kitchen and photos in Santa's Christmas cabin.
Dollywood
Pigeon Forge, Tennessee
If you're planning a mountain getaway in the South, one of the best escapes for the holidays is the Great Smoky Mountains, where you can spend your days at one of the most-visited theme parks in the world—Dollywood. Dolly Parton's amusement-filled monument to, well, Dolly Parton, has appeal beyond fans of country and bluegrass—though those people are more or less guaranteed an experience similar to finding out heaven is covered in rhinestones. Up until new year's day, Dollywood features parades, plus several award-winning live shows like musical revue "Christmas in the Smokies" and classics like "Twas The Night Before Christmas." The park is closed from early January through mid-March, so plan accordingly if you want to spin on the Dizzy Disk—essentially a giant spinning saucer—and a walk through Chasing Rainbows, an interactive museum filled with many of Parton's dazzling gowns and awards, plus a hologram of Dolly herself.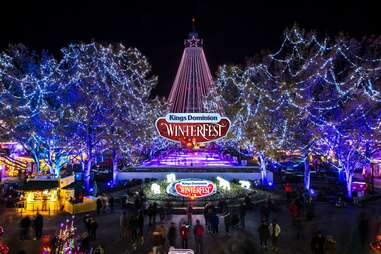 Kings Dominion
Doswell, Virginia
There are many reasons to go to Kings Dominion, like testing your bravery on the Berserker, a viking ship replica that swings in a 360-degree loop, or flying at 67 miles per hour on the Dominator, the world's longest, floorless steel roller coaster. But, during the holidays, it comes down to three words: spiked hot chocolate. While many kid-centered amusement parks prohibit the selling and drinking of alcohol, you need not worry at Kings Dominion. During WinterFest—which takes place select nights through New Year's Day—there are multiple spots to grab a nice cup of this spiked treat, along with a range of local craft beers, wine, and another adult Christmas classic, spiked eggnog. Of course, there's more to do than just drink here, as the Eiffel Tower transforms into a 300-foot-tall Christmas tree and the fountain on International Street turns into an ice-skating rink, letting you live out all your Rockefeller Center holiday fantasies in a place—dare we say it—that's much more magical.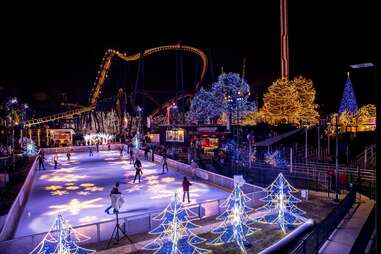 Carowinds
Charlotte, North Carolina
There's so much happening at Carowinds WinterFest that it would take the rest of winter just to tell you about it all. Just know there will be many lights (millions, if you want us to be more precise) and live performances, including jingles from Carowinds' musical acts Christmas Bluegrass, Cool Yule, and the Yule Logs. Hop on any of the numerous rides that'll be operating, like the Scream Weaver (the name is accurate) and the Electro-Spin, which we don't suggest going on right after eating a full plate of roasted pork mac and cheese. WinterFest lasts until January 1, after which the park closes for the winter, but feel free to stay a few hours later for the New Year's Eve at WinterFest celebration, where you can count down to the fireworks at the largest party on the state line.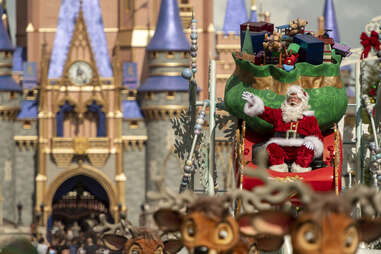 Disneyland and Walt Disney World
Anaheim, California & Orlando, Florida
The Disney parks are often cited as the happiest places on Earth, and their winter makeovers—particularly during Magic Kingdom's beloved Mickey's Very Merry Christmas Party—seriously amp up the cheer. The usual suspects are present—weekend fireworks extravaganzas, nightly parades, iconic characters in costume—but everything is given a winter twist, from the occasional puff of cinnamon wafting through the air to holiday-themed shows and It's a Small World's snowy makeover. The food—which some people actually visit the park for—also gets a makeover, while the characters get into the spirit of the holidays with new costumes. Oh, and of course Santa's at the parade, along with Anna and Elsa. Just the sight of that iconic magic castle dripping with icicle lights and a nice dusting of fake frost is enough to make a Disney trip during the holidays.
Six Flags Great Adventure
Jackson Township, New Jersey
Sure, there are tons of Six Flags across the country, and they put on pretty cool holiday events, but when's the last time you got to ride a "hypercoaster" at 80 miles per hour in New Jersey's frigid temps? Never, that's when. But no worries, that can all change after you conquer your fears and hop on one of the world's top steel coasters, Nitro. Its name is just as intense as the first hill you'll go up—which is a casual 233 feet high. For something more winter-themed, Holiday in the Park is on until January 1, and that's just enough time for you to go on every ride in the park—or you can try to ride all 36 of them in one day.
Before you lose your voice screaming from the top of Batman, remember to grab a handy entertainment schedule at the front gate of the park so you don't miss any of the cheerful singing and holiday shows. After you're all sung out and you've gotten your picture on Santa's lap, wind down the day in S'mores Village (pretty obvious what you'll find here)—or snag a gingerbread or peppermint funnel cake—and warm up your hands at the fire pits. You can also pick up last-minute gifts at the North Pole Village, in case you still have a few to check off your list.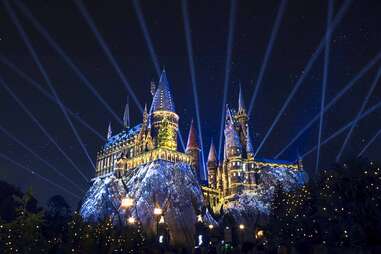 Universal Studios
Los Angeles, California and Orlando, Florida
Both coasts are in for a treat as Universal Studios Hollywood and Universal Orlando are decking their parks with holiday decor, food, music, and enough Harry Potter to get you through 2023. If you're in Orlando, you'll want to start your day by having breakfast while the Grinch stops by at your table to bring some holiday cheer—or not, depending on how big his heart is that day/your tolerance for a guy doing an impression of Jim Carrey. Then, get lost in the sorcery of The Wizarding World of Harry Potter as you walk the streets of Hogsmeade and Diagon Alley.
California friends, along with the theme park action, there are exciting events for you, too—the most anticipated being the holiday takeover of Universal CityWalk, where you can take photos by the extremely lit (200,000 music-synced lights, to be exact), 40-foot-tall Christmas tree at the 5 Towers Stage. And, when your eyes need a break, wander through the shops at CityWalk and pick up those last-minute holiday gifts you've been putting off since Black Friday.
Kristen Adaway is a travel and local editorial assistant at Thrillist. It is very likely that you'll find her eating multiple funnel cakes at many of the parks on this list this winter. Send her your support @kristenadaway.