America's Best New Attractions Worth Traveling For
We scoured the country for the coolest new things that have opened in the past year. Time to update your great American bucket list.
Why do we travel? As travel editors we are constantly asking ourselves this question. Sometimes you travel simply because you must; pure obligation lands you at a hotel conference, or a bachelorette party you can't really afford. You travel to spend time with family, or to escape, often with the explicit purpose of doing nothing at all (they call this "vacation"). And sometimes, if you're very lucky, you travel for no reason other than your own boundless curiosity. It's not so much the why -- but the things you see, eat, drink, and do while you're there -- that matters.
In that spirit, we scoured the country for the latest and greatest attractions we're most curious about: the restaurants, hotels, parks, museums, and entertainment we'd hop on a plane to check out this summer. We weren't so much interested in headline-grabbing, multi-million dollar developments (although there are certainly some of those) as we were in new spaces that are driving real conversation in their communities, and places we think will change the American travel map in the decades to come.
Some are about to open their doors for the first time ever; some are familiar landmarks fresh off a full-scale renovation. Others have been quietly gaining steam over the past year, turning into that new, cool thing to check out next time you're in the neighborhood. Each of them is changing the landscape, both literally and figuratively, of cities across the United States.
Tulsa, Oklahoma
Opened September 2018
A mid-size city in Oklahoma is not where you'd expect to find a $465 million park, but here it is. Gathering Place is putting Tulsa on the map, drawing visitors from as far away as Austin and Little Rock. Star landscape architect Michael Van Valkenburgh helmed the park's design. The Roots performed at the opening last September.
Why all the fuss? Gathering Place is far more than its simple name implies. Like most parks, there is much green to behold: 1.2 million plants, 16 acres of gardens, a vast trail system, a pond for boating, and two great lawns offering views of the Arkansas River. There's also a mammoth adventure park for all ages, with seven unique realms for play and one truly epic treehouse. You'll find sculptures and murals by local artists throughout, plus a cutting-edge BMX skate park, sports courts, a lodge, and a boathouse. And all this is just phase one: By late next summer, the park's 70-acre footprint will expand with an interactive children's museum.
The fairy godmother in this story is billionaire George F. Kaiser, a Tulsa-born banking tycoon and philanthropist who donated $200 million to the park, plus an additional $100 million endowment to help maintain it for the next 99 years. Admission is totally free. There is no gift shop peddling obscenely priced souvenirs. Gathering Place measures success not by the number of tickets sold, but by the amount of diversity in the park's attendees.
"I've never seen a project like this that did not have an aggressive return on investment plan," says Tony Moore, Gathering Place's Executive Director. "The primary ROI here is a social one that unites. It's an economic changer, social changer, green space, and democratic space where all people can come together." Sometimes a name says it all. -- Becki Iverson
Queens, New York
Opened May 2019
The legendary TWA terminal at JFK opened in 1962 and shuttered in 2001 when Trans World Airlines went bankrupt. Nearly two decades after it was abandoned, the iconic New York City landmark has been reincarnated as a retro-chic 1960s-style hotel, complete with shops, bars, floor-to-ceiling windows, and a rooftop pool and observation deck looking out over an active runway. In addition to a restaurant helmed by world-renowned chef Jean-Georges Vongerichten, there's a cocktail lounge inside a decommissioned Air Force One jet -- one of just four such models left in existence (she goes by the name "Connie"). The room decor is authentic to the early '60s -- think rewired, fully functional vintage rotary phones.

Airports are often the worst part of traveling. And they know it, which is why they're increasingly trying to rebrand and become destinations in and of themselves. The TWA Hotel pays homage to the Golden Age of air travel when flying still felt like a glamorous enterprise. More than 2,000 artifacts from the Mad Men-era will be displayed: matchbooks, playing cards, posters, vintage furniture, model planes, and other exhibits related to TWA's history.

But the hotel is also firmly rooted in the present, with an LEED-certified rooftop power plant, the absolute best soundproofing that money can buy, and a convenient 24/7 airtrain that runs every few minutes to the rest of the airport and to public transportation. Rooms start at $249 per night, though it remains to be seen whether TWA will become a true overnight destination, or just an intriguing place to hang out during your layover. Either way, it's one-of-a-kind, and the coolest airport amenity we've seen in a minute. -- Kastalia Medrano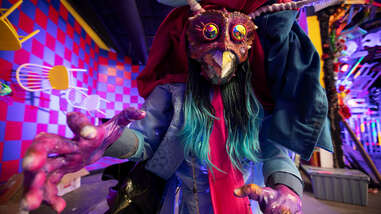 Elitch Gardens Theme & Water Park, Denver, Colorado
Opened April 2019
Inside Elitch Gardens (think Six Flags on a budget, and cuter) is a new amusement park ride that's unique for what it isn't. It's not a roller coaster ride with a billion G-forces. It's not a multi-sensory Star Wars ride that's going to turn you into a Skywalker. And yet, it's the most fun you'll have on a themed ride in 2019. Kaleidoscape is created by the folks behind Meow Wolf, the art collective that's been blowing minds in Santa Fe since 2016, and will soon open a massive, interactive art installation in Denver in 2020. Consider this an amuse-bouche.
It's easy to describe this ride as psychedelic and trippy, but that sells it short. It's giddy, absurdist fun that gets you high without the assistance of Denver's favorite plant. Dip into the gift shop across from the ride and buy the 3D glasses for $1. It'll enhance the experience significantly, turning the neon-drenched artscape into one that's infinitely more textured. Each seat comes with a laser gun -- sorry, a "Conglomotron" -- that you can point at tiny targets throughout the ride.
And it's quite a journey. Just when you think you're looking at a life-sized man made of flowers (?), or a rejected animatronic creature from Pan's Labyrinth (??), or a cheery anthropomorphic fried egg (???), you've already passed it. Don't even bother trying to take photos. The important thing is that about five minutes later you'll leave with a smile on your face. What a short, strange trip it's been. -- Lee Breslouer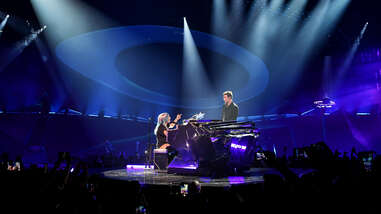 Las Vegas, Nevada
Completed December 2018
The musty old Monte Carlo Resort has been completely transformed and rebranded into one of the most exciting areas on the Las Vegas Strip. There's The Park, a walkable outdoor dining and entertainment district anchored by the $375 million T-Mobile Arena (add "seeing a Golden Knights game at T-Mobile" to your Vegas bucket list). Across the promenade is the more intimate Park Theater, currently home to Lady Gaga, the biggest Vegas residency to date (residencies are cool now -- thanks Britney).
Then there's the hotel itself. There hasn't been a resort (re)opening in Vegas this exciting since The Cosmopolitan in 2010, and the Park MGM has been well worth the wait (and the $650 mil). While the Strip is full of overpriced, overhyped celebrity chef restaurants, here you will find the truly memorable Best Friend, the first Vegas outpost of Chef Roy Choi. It's an immersive, neon-soaked experience (the lobby looks like an LA bodega with booze slushie machines) featuring Choi's signature East-meets-West LA cuisine. There's also a small(er)-scale version of the Italian food theme park that is Eataly; Bavette's, a brilliantly-conceived old-school steakhouse; and Daniel Humm's highly anticipated NoMad Restaurant, which none of us can afford so just get dressed up and have a drink at the NoMad Bar.
For nightlife, there's On the Record, a nightclub that embraces a speakeasy-meets-record store vibe, with walls covered in old eight-track tapes, cassettes, and concert posters. Be sure to sniff out the "secret" cocktail bar hidden in the cassette-lined hallway for a rotating roster of startenders from around the world. -- Nicole Rupersburg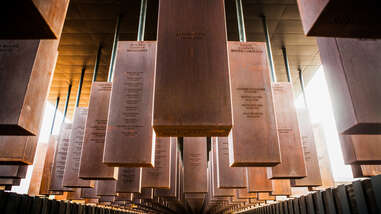 Montgomery, Alabama
Opened April 2018
Montgomery has lived many lives. Its first inhabitants, the Creek people, were forced westward by white colonists. Not long after, it went on to become Alabama's capital of the domestic slave trade, and subsequently the capital of the Confederacy. In the 1950s and '60s, it was a battleground in the nation's civil rights movement.
This Deep South city does not hide from its history, even its opposing narratives. Case in point, a statue of Confederate President Jefferson Davis still adorns the lawn of the Alabama State Capitol while down the block, the Civil Rights Memorial Center honors the memory of those who gave their lives in the fight for equality. It is here that Rosa Parks refused to give up her seat, and where Martin Luther King Jr. served as pastor.
Now, Montgomery is home to two groundbreaking projects opened last year by the Equal Justice Initiative. The Legacy Museum (housed on a former warehouse site where enslaved African and African-American people were caged, tortured, and sold) takes visitors on a gut-wrenching tour linking slavery to today's US incarceration system, the largest in the world, which disproportionately condemns people of color and the poor. Down the road, the National Memorial for Peace and Justice solemnly pays tribute to the 4,400 victims of lynching by white mobs that occurred between 1877-1950, primarily in the Southern states and with complete impunity. Both invite visitors to examine how the racial injustices of the past are still prevalent today.
These days, a brighter future for Alabama can be seen in places where entertainment and cuisine are well-represented: Common Bond Brewers, a welcoming tap room, and Prevail Union, a bright coffee house, don't just boast clever names. Montgomery is a city in conversation with itself, positioned as it is on the front line of the never-ending fight for justice in the United States. -- Megan Frye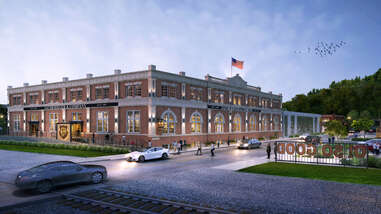 Kansas City, Missouri
Opens July 2019
If Kansas City isn't at the top of your travel list this summer, you might want reconsider -- if not for the fantastic BBQ and nightlife, then for this ambitious new distillery experience from J. Rieger & Co., complete with three bars, a museum, and a 40-foot slide to carry you between floors (seriously).
Located in the former tri-level Heim Brewing Company Bottling Plant -- where the original Rieger whiskey was bottled in the 1920s -- J. Rieger & Co.'s founders aim to spur a revitalization of not just the 60,000-square-foot space, but also the historic East Bottoms neighborhood. They've enlisted some of the region's top talent, including beverage director Andrew Olsen (formerly of James Beard Foundation-recognized bars Bluestem and Rye), who's spearheading the draft cocktail program and overseeing an in-house ice cutting room.
On the ground level, tour where the whiskey, vodka, gin, and Caffè Amaro are made; sample the wares at the Tasting Room bar; sip your way through a local history exhibit; and blend your own bottle of keepsake whiskey. Upstairs, kick back with a classic cocktail -- like the regionally famous Horsefeather, which is something of a mule, made with whiskey, ginger beer, lemon, and bitters -- at The Monogram Lounge, a 200-seat area that will also feature full coffee service and plenty of sustenance throughout the day. If you're looking for a cozier vibe and an elevated menu, check out The Hey Hey Club in the basement, which pays homage to Kansas City jazz culture and the 1930s venue for which its named. -- Anna Archibald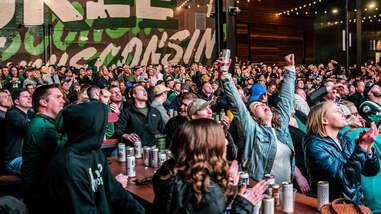 Milwaukee, Wisconsin
Opened Summer 2018
Development moves slowly in Milwaukee, but this has been a banner year for cool new projects. The Bucks -- who just had one of their best seasons in well over a decade -- got a brand new home in Fiserv Forum back in August. The stadium has been lauded for its open concourse design, stunning atrium, nods to Milwaukee's history, yadda yadda yadda -- but the surrounding area is where you most want to be. Simply dubbed "Deer District," it's a prime example of downtown revitalization done right.
There's a massive sports bar complex called The MECCA, plus loads of other new bars and restaurants nearby, including Good City Brewing. The kitschy Drink Wisconsinbly Pub has a lot of local flavor concentrated in one place: think cheese curds and brandy Old Fashioneds for days. Deer District is also home to a giant plaza, beer garden, and outdoor screening area, which is obviously jumping when the Bucks are on, but will host free public movie showings and fitness classes as well.
Also in the vicinity, prodigal son Pabst Blue Ribbon returned to Milwaukee with the revitalized Pabst Brewing Complex and taproom on the historic site of its original brewery. You'll also find the newly opened brewing facility/restaurant/beer hall MKE Brewing, their second location and one of the best brewery experiences in Milwaukee. Throw Good City in the mix, and the spirit of brewing is still very much alive downtown. This being the City of Festivals, Deer District will act as an epicenter for tourists and the hometown crowd alike to drink and gather before enjoying the multitude of outdoor events that define Milwaukee summers. -- Erik Helin
Columbus, Ohio
Opened May 2019
Big city East and West-Coasters may have raised an eyebrow when The New York Times named Columbus one of 52 places to visit this year. But among the new restaurants, museums, businesses, and revitalized riverfront park that are brewing up buzz for Ohio's growing capital comes another kind of attraction: Otherworld, an immersive art installation in East Columbus. The 32,000-square-foot space is comprised of 47 explorable rooms, or "scenes," created through the collaboration of more than 40 local and national artists.
Visitors enter Otherworld not so much as viewers, but as characters in a surreal choose-your-own-adventure story. A loose thematic narrative centers around Otherworld Industries, a shadowy tech entity that discovers an alternate dream realm. As you progress through the rooms, corporate offices and labs gradually give way to some wonderfully weird adventures -- you might find yourself crawling inside of a giant, fuzzy creature; touring a Dada-esque seascape; or hacking into the fictional corporation's computers to piece together what went wrong with their experiments.
Founder Jordan Renda undoubtedly drew inspiration from Santa Fe's Meow Wolf; what sets Otherworld apart, he feels, is the combination of art, sculpture, and tech elements "in a way that hasn't been done anywhere else." Every aspect of Otherworld -- the tactile floors and walls, the sound, the rave-meets-Kusama lighting -- are designed for total immersion. "You're forced into the moment," Renda told Thrillist. "There's not any room to be distracted by your phone." -- Billy Hallal
Los Angeles, California
Established in 2017 with ongoing openings
Downtown Los Angeles is somewhere between a resurgence and a renaissance. If recent pushes in development give visitors a distinct "city within a city" vibe depending on the neighborhood they're in, then ROW DTLA has been upping the ante. Technically opened in 2017, ROW -- a 100-year-old site that formerly housed the LA Terminal Market -- has become the de facto commercial centerpiece of the East Side, with new projects and cool businesses moving in seemingly daily (like beauty bar Things We Do, coffee roaster Paramount Coffee Project, and Karaage sandwich shop Pikunico, to name a few.)

Besides revitalizing historic structures straddling the Arts and Industrial districts of downtown LA, ROW exhibits some welcoming, if un-Angeleno, characteristics: an abundance of green space, plentiful and cheap parking, and people walking (gasp) and exploring the massive 32-acre complex on any given weekend. Perhaps most importantly, and why we believe it deserves a place on this list, ROW has spent the past year evolving into a sort of a culinary Valhalla. In case you haven't heard, LA is arguably the country's most exciting food city at the moment, and ROW delivers on that promise.

Already the longtime home of Smorgasburg's West Coast location, ROW welcomed The Manufactory earlier this year, an impressive (and massive, at 40,000 square feet) restaurant/bakery/pizzeria/supper club/coffee roaster hybrid. Not quite a food hall -- though it flips the notion on its head -- Manufactory is the brainchild of the team behind San Francisco's world-renowned Tartine and Phoenix's Chris Bianco, who many consider the country's greatest pizzaiolo. Whether stopping by for a life-changing sourdough loaf, or noshing on Bianco's flatbreads, your Manufactory experience is a choose-your-own-adventure of the carb-laden variety -- also very un-Angeleno, last we checked. -- Sean Cooley
St. Louis, Missouri
Reopened July 2018
Though locals and tourists have long visited the majestic St. Louis Arch, dubbed the "Gateway to the West," the same can't be said for its surroundings, which included an ugly garage and the muddy Mississippi River. A symbol of western expansion in the 19th century, the Arch was its own draw, but not much else.
Last year, the eyesore park received a massive $380 million makeover by Michael Van Valkenburgh Associates and the National Park Services. The financial influx revamped the Gateway Arch and its surroundings into a national park, renovating 100 acres of park land and adding 46,000 square feet of museum space.
The grounds now stretch over three blocks and include The Old Courthouse (where Dred Scott sued for his freedom during the historic Dred Scott v. Sandford case) and Luther Ely Smith Square, too. The renovation of the Arch -- designed by Finnish-American architect Eero Saarinen (who was also behind the TWA terminal, another landmark on this list) -- took five years to complete, further connecting the iconic monument with downtown St. Louis via a sprawling land bridge where once, only concrete walkways spanned a busy highway. The change is as symbolic as it is physical: The Gateway Arch is now more than a gateway to the West, but to St. Louis itself.
While taking a tram ride to the top of the Arch to see awe-inspiring panoramic views is a given, a museum and visitor center in the shadow of the monument round out what was once a single-note visit. Seamlessly designed to blend into the new landscape, the space features six new exhibits tracing 200 years of history of the area's indigenous people, pioneers, and explorers like Lewis and Clark. Riverboat cruises, meanwhile, embark down the mighty Mississippi, where you'll learn how this river helped to shape the history of America. -- Yolanda Evans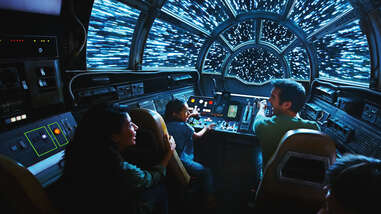 Anaheim, California, and Lake Buena Vista, Florida
Opened May 2019
If you haven't heard of Batuu, you will. It's a planet at the edge of the galaxy -- not our own, but one far, far away. You know, the one with Kylo Ren, porgs, and lightsabers. When Galaxy's Edge finally opens in May (California) and August (Florida), the identical parks will allow you to live out your geektastic Star Wars fantasies to the fullest.
Why is the Force so strong with these parks? For starters, Disney reportedly dropped a cool billion dollars on each location, and in the process, raised the bar for theme park storytelling and attraction technology to stratospheric levels. Disneyland is even requiring reservations to enter Galaxy's Edge between May 31 and June 23 -- demand is so rabid, all of the reservations were scooped up less than two hours after they were made available. It's no wonder.
Like rival Universal's Wizarding World of Harry Potter, something of a blueprint for how transportive a theme park can be, Disney's Galaxy's Edge is a wholly immersive experience. Pilot the Millennium Falcon and jump it to hyperspace in what promises to be an utterly realistic, next-gen ride, or build your own lightsaber, which will activate holocrons throughout the park, inviting you deeper into Star Wars lore. Gone are the herky-jerky Disney animatronics of yesteryear -- looking at you, Pirates of the Caribbean -- as the parks' new A1000 series features advanced robotics with 50 points of articulation. Translation: wildly realistic, lifelike movements from characters like space pirate Hondo Ohnaka, who recruits you for the Falcon mission.
Even now, more rides and experiences are in the works, like one that places you in the middle of a skirmish between the First Order and the Resistance, where you'll board a massive Star Destroyer and come into contact with full-scale X-wing and A-wing starfighters, and, yes, enormous AT-AT walkers. Take that, boy wizard. -- Arthur Levine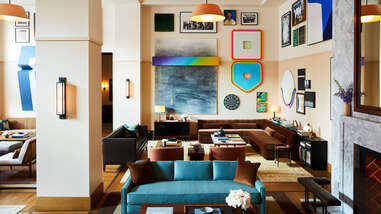 Detroit, Michigan
Opened January 2019
In Detroit, the old and new brush against each other continuously. The Shinola Hotel occupies a grand old skyscraper downtown -- with every conceivable grace note and luxurious touch imaginable -- filling a space that lay vacant for nearly 40 years. The choice 1400 Woodward Ave. spot, once home to the historic T.B. Rayl Co. hardware store (and a jewelry store and a furrier), now teems with fresh new business.
At the Shinola, common areas delight with vibrant art and a warm, expansive openness -- the seating area near the main lobby features an enclosed glass space and an artfully arranged collection of elegant mid century-inspired couches and tables, while in rooms and suites, you'll find fireplaces, marble soaking tubs, and -- of course -- Shinola-branded turntables and speakers.
In a city that's been rewriting its narrative on its own terms, what does the Shinola Hotel mean for Detroit? Despite the buzz around the hotel and its restaurants (San Morello, the flagship Italian restaurant helmed by James Beard Award-winning Andrew Carmellini, and the more casual Brakeman), not everyone is sold. Initially a watch- and luxury-goods manufacturer, Shinola has been knocked by many for its inauthenticity (the company's "Built in Detroit" narrative was stone-walled by the FTC because, well, it's not quite true). But it's hard denying the possibilities for the hotel to do good -- many argue that bringing glorious old buildings out of decrepit retirement and making them centers of jobs, commerce, hospitality, and fine dining improves a city. Time will tell -- if the company proves long-term devotion, things may change in Shinola's favor. In Detroit, sticking around matters, too. -- Rebecca Golden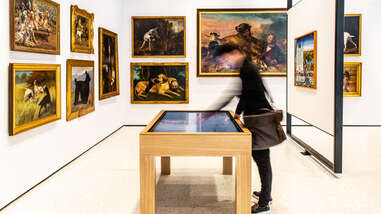 New York, New York
Opened February 2019
It isn't the most headline-grabbing new attraction in NYC, and it's a baby among giants in Manhattan's already saturated museum scene. Helixed staircases may rake in more Instagram likes, but you'd be remiss to pass through town without a visit to one of the world's largest, and most eccentric, collections of dog paraphernalia.
The two-floor space is subtly high-tech, with interactive digital displays sprinkled between more traditional museum fare. Let a selfie kiosk determine your canine dopplegänger, then peer upon dog fossils and take in regal pupper portraits. Get the scoop about all your favorite breeds at one of the museum's interactive Meet the Breeds tables, or learn the old-fashioned way with a book from the upstairs library. While you're on the top floor, teach a virtual dog new tricks and make sure to salute Sergeant Stubby, a WWI hero now memorialized in bronze. It's a choose-your-own-adventure experience -- one that can fill anywhere from 30 minutes to a couple hours -- but if guiding yourself is too much pressure, the mobile app will lead you on a scavenger hunt tour instead.
In a city as flashy as New York, the Museum of the Dog easily flies under the radar. But behind its corporate Midtown exterior lies a people-watcher's paradise: Watch in disbelief as old-money Upper East Siders buy gaudy $200 clutches with dog faces on them from the gift shop, eavesdrop on self-proclaimed terrier experts debating whether the animal in the painting is an Airedale or a Wheaten, and try to keep count of the absurd number of dog figurines as you meander through the galleries. The Museum of the Dog fully satisfies -- even if you're a cat person. -- Kyler Alvord
EDITORIAL
Editors: Keller Powell, Joseph Hernandez
Writers: Keller Powell, Kyler Alvord, Rebecca Golden, Arthur Levine, Yolanda Evans, Sean Cooley, Billy Hallal, Erik Helin, Anna Archibald, Megan Frye, Nicole Rupersburg, Lee Breslouer, Kastalia Medrano, Becki Iverson
Production: Pete Dombrosky, Ruby Anderson, Kyler Alvord, Paul Pierre-Louis
CREATIVE
Design Director: Ted McGrath
Photo Director: Drew Swantak
Motion Graphics Designer: Megan Chong