Backpacks are designed to carry a lot of gear with ease using multiple compartments and sleeves, distributing weight evenly and comfortably. We've hand-picked our favorites -- packs that are meant to class up the carrying game, ensuring that you can haul your stuff and look far above average in the process.
Recommended Video
This Caribbean Villa Comes With Its Own Private Beach
These bags are made mostly of nylon, have more pockets, and may include helpful details like water-resistance. They're slightly more utilitarian than they are fashionable, but not too much so — if anything, they'll broadcast to the multitudes that you give a crap about protecting your gear. Continue Reading
Nixon Waterlock Backpack

Urban warriors should always have a place to store their arsenal (see: Michael Douglas circa his Falling Down days). This camo pack brushes off light moisture, but also encourages water sports with its included wetsuit change mat.
This pack will hold a ton of gear and daily essentials in its multiple, cavernous pockets, and everything is cinched together robustly with two adjustable straps that wrap the main compartment and reign in the bulk of your burden. The handsome colorway won't look out of place in the streets or on a mountain trail.


WHY DID I SET DOWN MY AWESOME NEW BACKPACK IN THE WOODS WHEN IT'S MADE OF CAMOUFLAGE MATERIAL? I NEED TO FIND IT BECAUSE I LOVE THE UNIQUE SHAPE THAT HIDES MY GEAR SO WELL BUT KEEPS IT VERY ACCESSIBLE THROUGH THE TOP-OPENING MAIN COMPARTMENT. I'LL BE AMAZED IF YOU CAN SEE IT, BUT PLEASE HELP ME FIND IT AND DO NOT KEEP IT FOR YOURSELF.
Rugged and rough: the way your stuff likes it. These packs are predominantly canvas and at home venturing off the beaten path. They're equally suited to carrying everything you need for work as they are for a weekend camping out of town and on the trail, and are more than up to a well-styled adventure, wherever you find yourself.
J. Campbell Washed Canvas Backpack

If Teddy Roosevelt were still alive, he'd probably break you in half with one hand just to prove a point — and also buy this backpack. Its leather trim and brass details are safari-ready; just add a bedroll and rifle (unless you're a normal, sane person).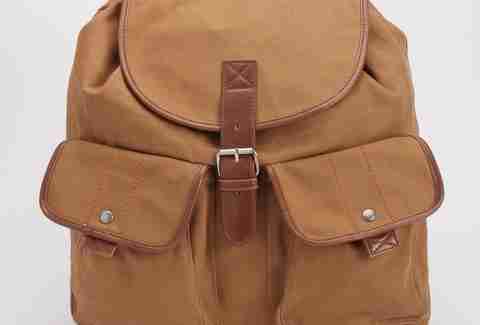 Since you're still using that "I'm a Foreign Legion Veteran" pick-up line, your gear should probably back up the claim. Especially since it's such a steal at this price, broadcast to the world — by way of khaki canvas and a fabric drawcord — that you'd rather be romping around with dromedaries than cruising the concrete jungle.
Combining utility with levity and a little whimsy, these casual packs are your standard go-tos; perfect for fashionable, daily use. They're a colorful, less uptight alternative to a briefcase, made for the commuter who can take himself a bit less seriously than the suits going downtown.
Focused Space The Departure Backpack

So you're heading to Woodstock and you want to bring along two laptops. Jimi Hendrix would hate your guts, but we've got you covered nonetheless with this knit number that sports a multitude of pockets, including two for computers.