More than the history, the music, or even the people, a visit to Barcelona is really defined by one thing: Catalan cuisine! But between all the top-notch restaurants slinging tapas, jamón, and dreamy crema Catalana desserts, it's easy to get bogged down by choices, which is why we've simplified things and singled out the best spots for a wide variety of foods and moods.
Remember to show up really, really late and pay with cash -- you'll fit right in.
Best date spot: Barraca
Passeig Maritim de la Barceloneta, 1
This spot overlooking the beach is perfect for multitasking: you can woo a date, watch the sun set over the Mediterranean, and eat the best paella in town, all at once. Indulge in the tasty and creamy homemade burrata if it's on the menu that night.
C/ Torrent de l'Olla, 169
Owner Petros Paschalidis makes donuts just like his Greek mama taught him -- light, airy, and full of love/fillings. From traditional Greek rounds to cinnamon rolls and glazed donuts, you'll have no choice but to chase down a dozen with a cup of fair-trade coffee. Once you've had your fill, cruise down Carrer de Verdi to soak in the Gracia district's sights.
C/ Balboa, 1
This busy joint in Barceloneta -- the city's fishermen's-quarter-turned-boho-beach-'hood -- is usually packed with young locals and travelers, likely because it's an ideal place to begin or end a night. Dig into grilled prawns fresh from the sea, a lemon pie that will make you weep, and best of all, the award-winning ball of deep-fried meat and potatoes called La Bomba. It's a true Spanish comfort food.
Passatge de Simó, 18
This marine eatery's got it all: low prices, cheap drinks, a chill vibe, and you get to eat with your hands. What's on offer depends on the day's haul, so line up and wait your turn to point out the (sometimes still wriggling) seafood you want the kitchen to cook up. Try the location around the corner from Gaudi's Sagrada Familia for a truly spiritual experience. (Get it?!)
Carrer del Dos de Maig, 268
The toppings here range from traditional Italian to Spanish, with all the sausage you can bear thrown in for good measure. The pies are gluten-free too, though even self-certified pizza snobs wouldn't know it. Oh, and see how everyone around you is eating their own large pie? That's totally normal here -- sharing's for dummies.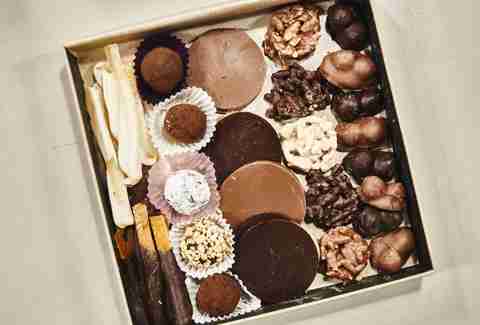 Carrer dels Banys Nous, 17
Smooth chocolate confections are handcrafted on-site in this miniature (and brightly lit) shop, tucked into the narrow pedestrian alleyways that have been around since the Middle Ages. Explore the city's Gothic Quarter while sucking on a paper-thin slice of salted caramel, or munching a dark chocolate truffle. The only two locations in the world are here and in Bali, so take advantage!
Carrer de Pujades, 95
Creamy, inspirational, life-changing: these are just a few of the overwrought terms you'll annoy your friends with back home once you experience the world-class coffee at this independent roastery. Owner Jordi Mestre describes it as more of a coffee showroom than a traditional café, a place to come and worship the gospel of torrefacto black beans. Do a tasting -- like a true aficionado -- to select from the fresh, seasonal flavors.
Carrer de Blai, 9
Sunday afternoon on Carrer de Blai is a straight-up street party of finger food. Three blocks of this pedestrian street in the Poble-sec neighborhood are alive with tapas restaurants specializing in "pinchos" -- essentially bite-sized, € 1 tapas with toothpicks. Fill a plate, find a seat, eat your fill, then hop to the next spot. There's constant turnover, so the food is super fresh, and while Blai 9 is the top spot for a modern take on tapas, the nearby Pincho J offers the best traditional options.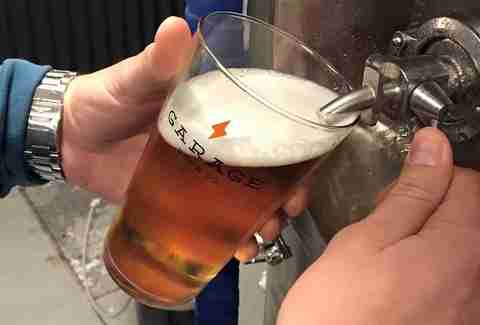 Carrer del Consell de Cent, 261
This old factory space in the Eixample district has been renovated into a small brewery and taproom, with a laid-back and industrial vibe, and shabby-chic vintage furniture to boot. Minimalist murals adorn the walls and the place is full of local, artsy, bicycle-riding, too-cool kids who don't act like too-cool kids. They're actually quite welcoming.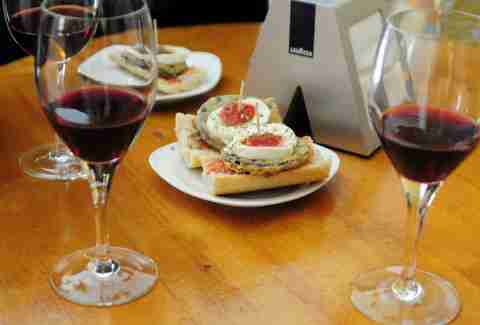 Carrer de Sevilla, 70
After a day on the beach, head into the back streets of Barceloneta and make your way to this funky joint. The vegetarian tapas are delicious -- think peppers au gratin and vegetable tofu skewers with creative sauces. The innovative sangria menu -- with a veritable rainbow of real fruit flavors and interesting spices -- puts your Aunt Ruth's secret recipe to shame. Don't tell her we said that, though.
Carrer Aragó, 236
When you inevitably tire of Galician-style octopus or sardines with toast, the solution is clear: tacos. In fact, tacos are always the solution. Fortunately, this Eixample eatery offers up house-made tortillas (flour and corn), tender meat, and spicy salsa -- which you'll definitely start to crave in the no-heat zone that is Spain -- and wash it all down with one of the taqueria's to-die-for margaritas.
Las Ramblas, 91
This food market dates back to 1200 BCE, and has some serious street cred -- as in, it's older than a lot of actual streets. Set in the heart of Las Ramblas (aka tourist central), it's admittedly packed with people, but the stands are overflowing with fresh fruit, juices, veggies, seafood, meats, sweets, and prepared food, so it's kind of a wash. Pro tip: explore the far reaches of the hallways before committing to your goods, as the food at the front entrance is always the priciest.
Rambla de les Flors, 88-94
If ham is the reason you came to Spain in the first place -- which is totally acceptable -- then this carving station/museum/jamón store is a necessity. Learn all about the curing process, the origins, and what the hogs eat to taste so damn good, then enjoy a regional jamón tasting session paired with beer or cava (sparkling wine). Or, skip the education altogether and buy an entire jamón leg off the wall, complete with pata negra (black hoof), for a cool grand.
Carrer del Torrent de les Flors, 158
Do as the locals do: fast all day, then hit this crazy affordable (€35, or about $40) tasting menu for massive portions of unique and modern flavors. The menu varies constantly, but recent highlights include quinoa sardine sliders; poached egg over cod mousse; and sweet, savory lamb shoulder. Casually finish it all off with not one, but two desserts -- truffles and a passionfruit custard with gentle coconut whip cream.
Sign up here for our daily Thrillist email, and get your fix of the best in food/drink/fun.
Annie Crawford is a freelance country hopper who's based in Oakland, CA. Catch up with her on Twitter @ReinaAnnie.