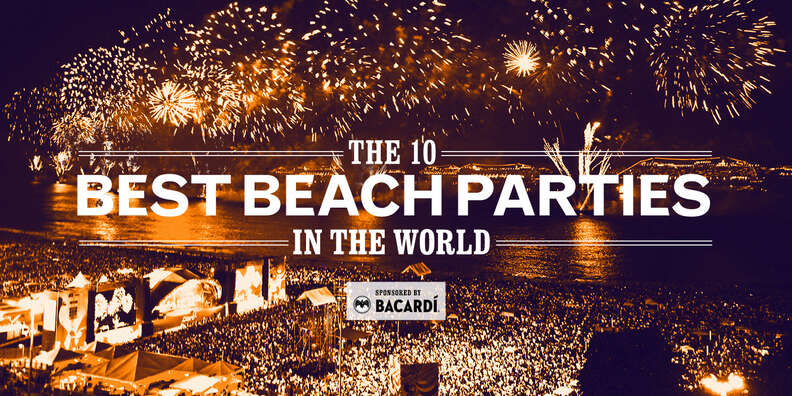 The 10 Best Beach Parties in the World
Crazy dance parties, chill music fests, and mysterious outback bashes -- if you like beaches and love every kind of summer partying, this list is for you. And, thanks to the magic of axial tilt, summer doesn't just mean June through August. That's right, we even locked up those locations south of the equator for when it's getting chilly stateside but just heating up elsewhere, meaning your schedule of summer beach parties is turned up all year-long.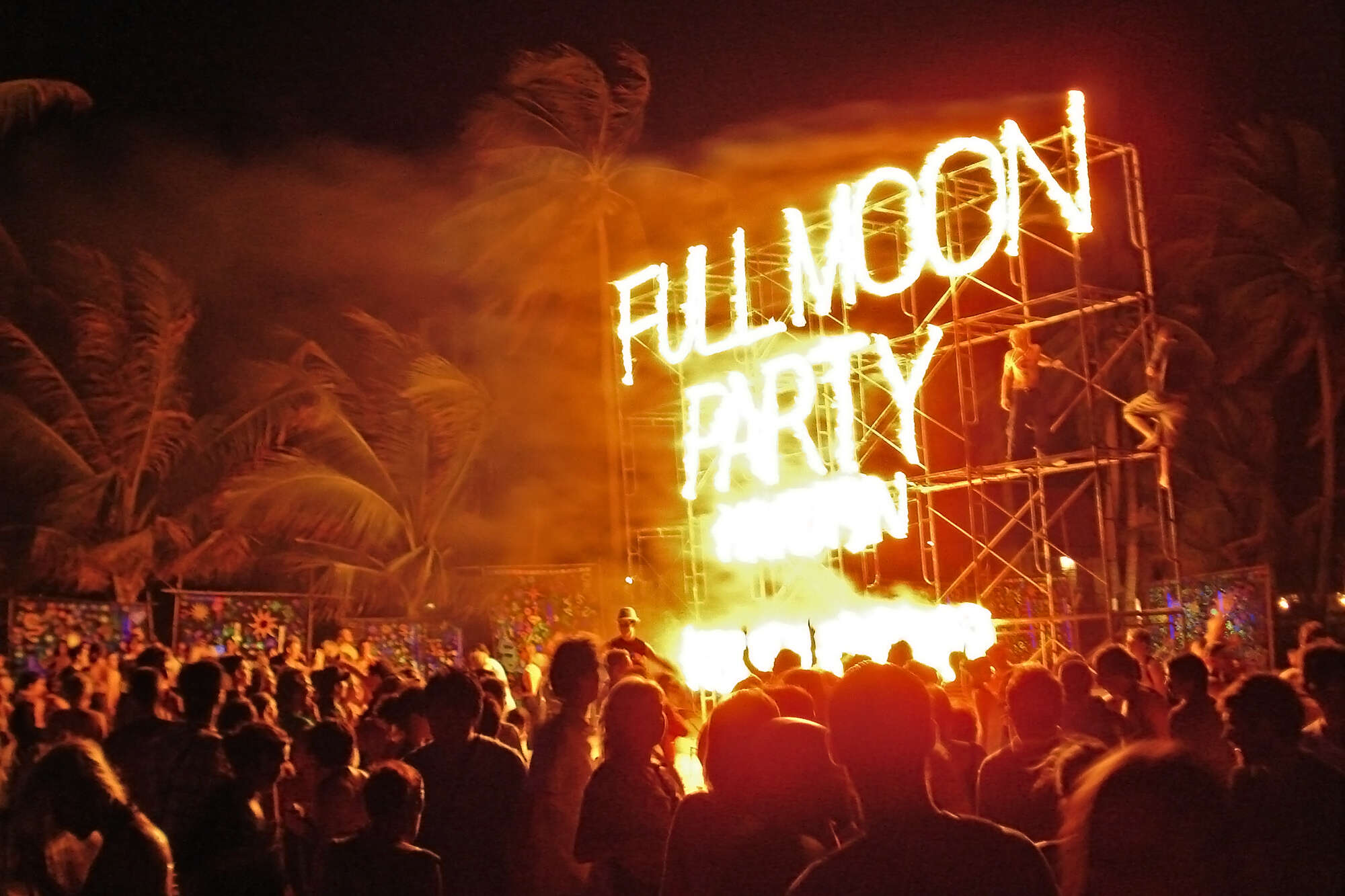 1. Full Moon Party
Where: Ko Pha Ngan, Thailand
When: Every night that there's a full moon
Why you should go: If you aim for lunacy when you party, let the gravity of the full moon pull you towards Ko Pha Ngan. These sandy shindigs began humbly back in 1985, when a dozen moonstruck backpackers took to the celestially sublime beach. Since then the party has swollen (for years only by word of mouth) and attracts up to 30,000 revelers and big stage live music. What else? There's a rave-y jump rope competition, booze sold by the bucket, and (probably) super chill werewolves.
2. Benicàssim Festival
Where: Benicàssim, Spain
When: 2nd week of July (16th-19th in 2015)
Why you should go: Since 1995, the Benicàssim Festival (Festival Internacional de Benicàssim) has been a beach-side annual showcase of film, art, and music. The tunes starts at dark, so spend the daytime sunning on the nearby cliff or by flirting with other beachgoers, most of whom will be nude (dude, relax). Then fire yourself up for another fiesta. This year, check out Florence & the Machine and Public Enemy, among others, all night long.
3. INmusic Festival
Where: Isle of Youth, Trešnjevka Island & Univerzijada Island, Croatia
When: June 22nd-June 24th
Why you should go: Three days, three separate islands, three-times the party... and it's not even on the ocean. Smack on Lake Jarun, this fest has hosted the likes of The Black Keys, Massive Attack, Sonic Youth, and the Pixies, among others. The concerts are held at the so-called Isle of Youth. The other two land bodies, Trešnjevka and Univerzijada (bless you), host attendees, who sleep there in tents; volleyball, rollerblades, mini golf, kayaking -- even yoga -- are provided. Oh, and don't worry, there's WiFi (because without Instagram, it's like it didn't even happen).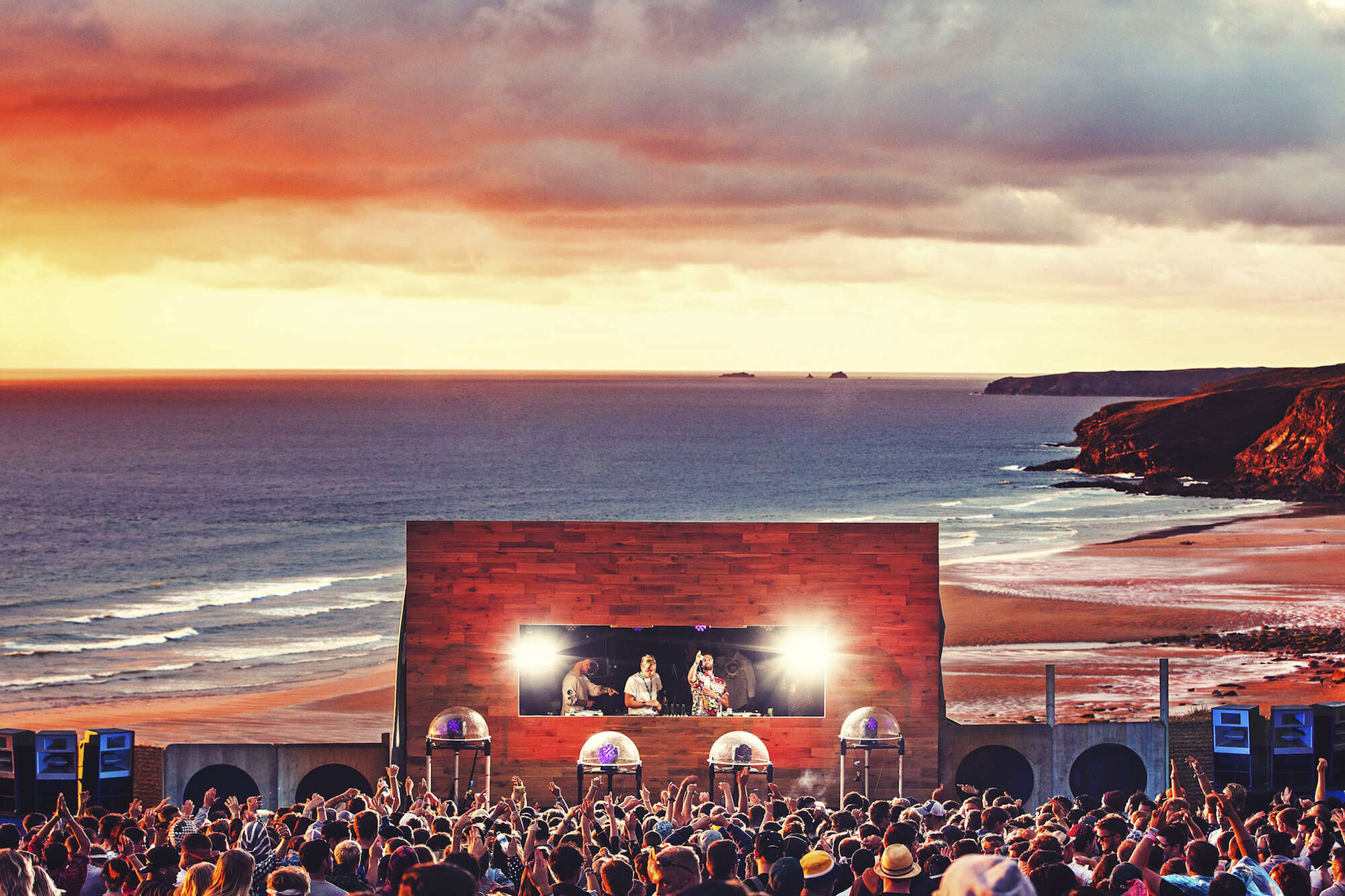 4. Boardmasters Festival
Where: Cornwall, England
When: August 5th-9th
Why you should go: Sure, England may not seem like the natural choice for a party-by-the-sea that centers on surfing and skateboarding. But it is, and has been since 1981. This annual English merrymaking is basically split into two parts: Fistral Beach and Watergate Bay. Fistral Beach is where the surfers and skaters compete, and Watergate Bay is Nixon's final resting place. Just kidding -- Watergate Bay is where there's quality music, food and drink, and even gnarly amusement park rides. Whether you want to shake it or skate it, there's a beach party here for that.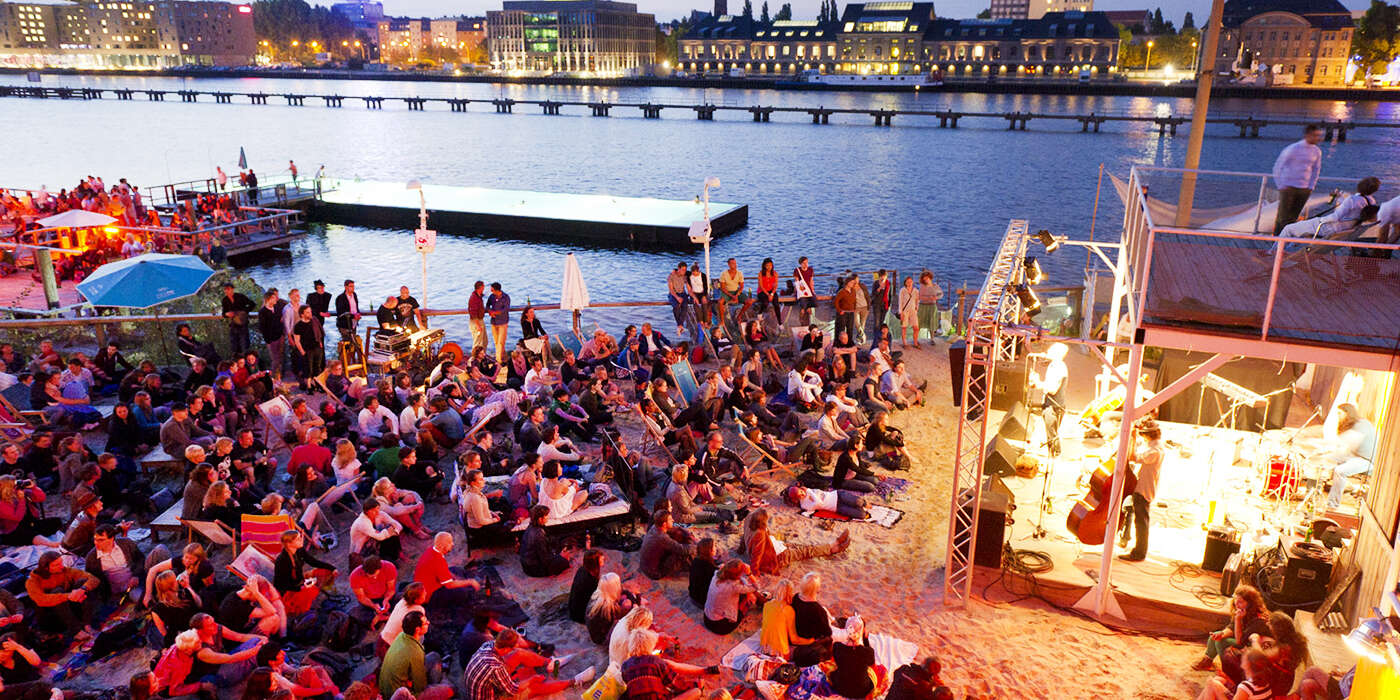 5. Tanzeulen Open Air Sommerfest
Where: Berlin, Germany
When: August 23rd-24th
Why you should go: For more than a century, landlocked Berliners have constructed makeshift beaches to lounge in. And, of all ze Germans' simulated seasides, Badenschiff is their crown jewel. In addition to its generous sand bed, situated along the banks of the River Spree, a swimming pool floats offshore; it's made of a recycled cargo ship, by the design of a local artist. For the past four years, Badenschiff has also hosted Sommerfest, a schnapps-fueled shindig with top-notch Deutsch DJs, at least one of whom (we hope) is named Klaus. Yeah, we know they truck in the sand, but the party is very real, and a German gathering in an old ship hull is too good to pass up.
6. White Night
Where: Tel Aviv, Israel
When: End of June
Why you should go: A "white night" is Israeli soldier slang for a night without sleep, and this annual cultural celebration lives up to its namesake. During the day, there's free everything (lectures, cooking classes, and entrance to museums, etc.), and at night, the festivities conclude on the beaches, which is where things get wild. Big staged concerts and looser gatherings along the shore all have one aim in mind: to party all night. To that end, most storefronts stay open till morning, and you won't have to walk the shore long for coastal company.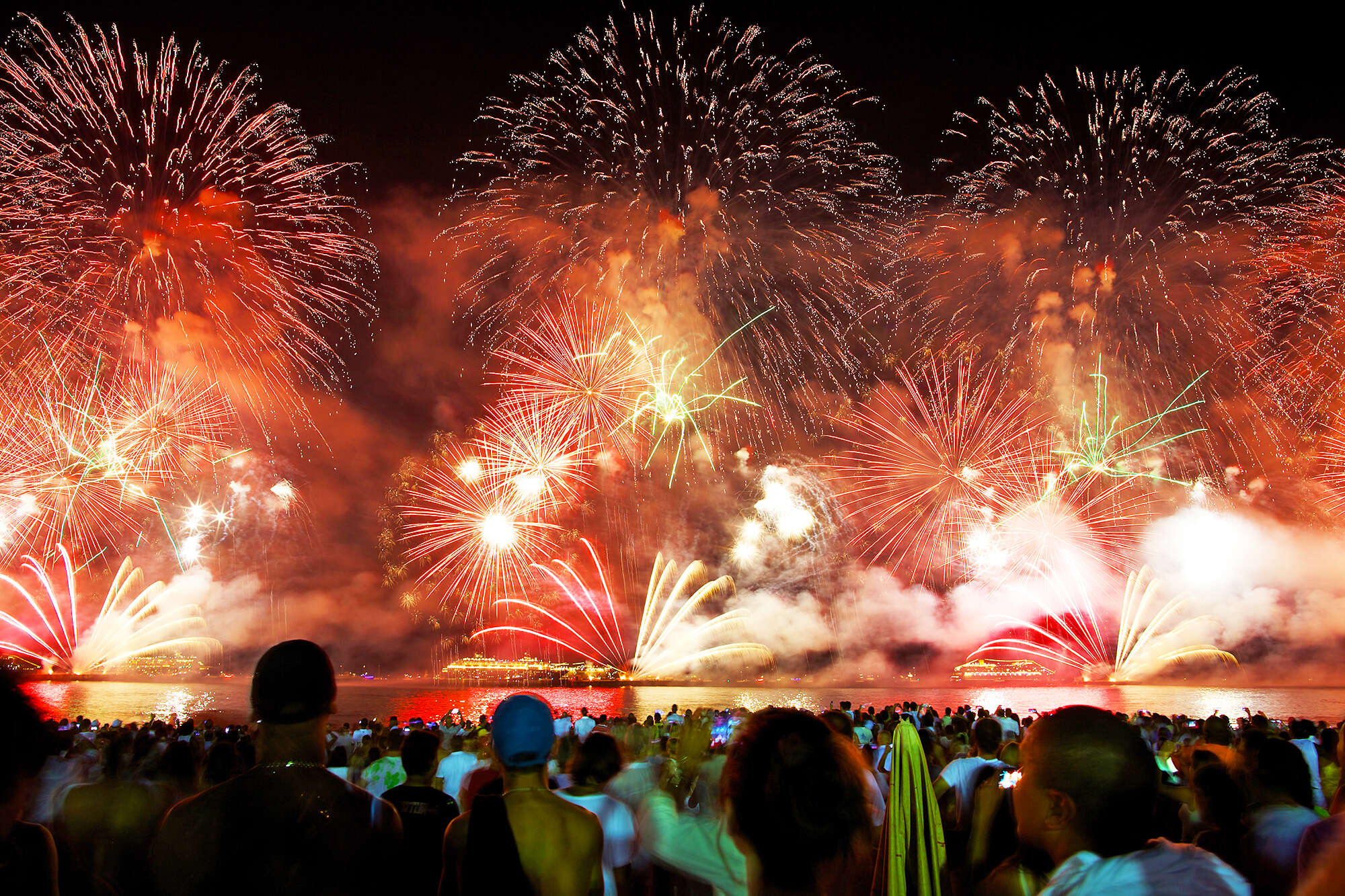 7. New Year's Eve in Rio
Where: Rio de Janero, Brazil
When: December 31st
Why you should go: Outside of Carnival, this is Brazil's big party. So instead of freezing your butt off for an American New Year's, enjoy Brazil's summer celebration, taking place on Copacabana beach since the 1950s. Featuring insane fireworks displays launched from boats, the professional level of partying Brazil is known for, plus all the hype of the New Year, you get one of the greatest bashes imaginable. Bonus: it's estimated that two million people make moves to Rio for New Year's, so you're bound to find at least someone to knock tonsils with when the clock strikes 12.
8. Gold Coast NYE White Party
Where: Undisclosed location, Australia
When: December 31st
Why you should go: For one, going to a secret summer island with 1,000 other seaside party-seekers is pretty cool. Secondly, this is a "white party" which is to say you've got to wear all-white (everything), which gives the whole affair a sense of familiarity, like when a big family reunion has matching shirts. The difference here is that it's all right to hookup with someone dressed like you. One of the DJs last year, DJ Bumpi, is (supposedly) a close friend of Charlie Sheen, if that gives you a sense of the shindig's level of awesomeness. Add in a dash of kangaroos and you've got a worthwhile spot to get down (under).
9. Electrobeach Festival
Where: Port-Barcarès, France.
When: July 10th-12th (varies annually)
Why you should go: Port-Barcarès was just a very small fishing village until recently, and it's still not very over-developed. This party combines the quaint romance of an old town in South France, and the neon-colored rowdiness that EDM festivals attract. It's a weird collision, meaning you should endeavor to get equally weird while there. There's wakeboarding, a trampoline, probably raving mimes, and definitely free Wi-Fi (French say it wee-fee), so you should definitely go.
10. ULTRA Europe
Where: Split, Croatia
When: July 14th (varies annually)
Why you should go: You've probably heard of the Ultra festival in Miami, but for the past few years, the Euro-edition has been nipping at the heels of the party it sprung from. And, for the same reasons that after-parties are often better than the actual party, Ultra Europe is a better scene; it's less crowded, but draws from more countries, and the beaches in Croatia enjoy the rare climate found in the Mediterranean and only a few other places (one being coastal California). Milder weather (ipso facto = better venue), less hoi polloi, and awesome booze makes Ultra Europe the more ultra-er of fetes.