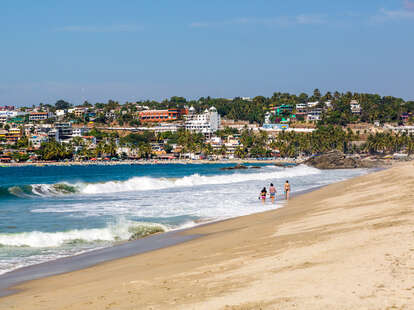 5 Must-Visit Beach Towns on Mexico's Most Laid-Back Coast
Park your umbrella or plan a road trip because beach hopping > bar hopping.
Presented By
Note: The US State Department has issued a Level 3 travel advisory to reconsider travel to Mexico. For more information about travel restrictions to Mexico, click here. For now, use this guide as inspiration to satisfy your wanderlust safely from home.
Between its almost mythically mooned-over mezcal and mole, its paradisal playas and lush green mountain ranges, its affordable price tag and the year-round tropical weather, there are a good number of reasons to head to Mexico's Oaxacan coast.
The biggest allure? Way. Fewer. People—especially when compared to other popular beach destinations like Tulum or Puerto Vallarta.
Along this stretch of Pacific coastline you'll find a string of beautiful, unpretentious beach towns offering rest and relaxation of the highest caliber—towns where your view of the ocean isn't spoiled by high-rises, and the culture is far more genuine than anything you'd find at a Señor Frog's in Cancun.
But while Mexico is open to American tourists right now, these low-key surfer hangouts are currently undergoing waves of COVID-related closures. You can still daydream and plan your road trip along the stunning Oaxaca coast for some sunny day in the (hopefully near) future.
Puerto Escondido
The Oaxacan coast's largest and most well-known town is still blissfully low-key.
Kick things off in Puerto Escondido (that's where the airport is, for one thing). This pint-sized town perfectly encapsulates what's so great about the Oaxacan coast. While it's well-touristed and moderately developed, it still feels pleasantly authentic. It's why PE made our list of 20 places we're dreaming about this year.
After decades of flying under the radar, this fishing port has become something of a global surfing mecca. Playa Zicatela's Pipeline boasts some truly bodacious waves, and that's where you'll find the most experienced boarders. Swimmers and surfers who are still getting their feet wet should head to Playa Carrizalillo, a beautiful horseshoe cove rimmed by lush greenery and a few bars, or to La Punta, a bohemian neighborhood at the far end of Zicatela where the surf is protected by the curved beach point. Plenty of surf schools offer lessons on a daily basis.
Zicatela, La Punta, and the neighborhood above Carrizalillo called the Rinconada are packed with bars, cafes, and restaurants of every variety, from dingey beach dives to more refined seafood spots. Beach-goers looking to party won't be disappointed, either—bands and DJs keep things lively well into morning.
Where to eat: Head to the large market, Mercado Zicatela, and on its beach-side you'll find a string of tasty restaurants offering traditional Mexican dishes. For dinner, splurge at Espadin, owned by chef Patricio Sandoval of Chicago's Mercadito. Or head to Costa Hermosa where the food is tasty, the view is beautiful, and the seafood platter is supremely satisfying.
Must-do: If you're visiting between the months of August and December, you're practically obligated to check out Laguna de Manialtepec, a lagoon that's lit up at night by bioluminescent plankton. Take a guided boat tour, or simply bathe, literally, in the electric-blue glow of the tiny ocean critters.
If you're looking to take home some Oaxacan handcrafts, head over to Mercado Benito Juarez where you can find a slew of leather goods, handmade clothing, richly-patterned blankets, and other mementos. And be sure to grab a bag of Oaxacan coffee beans from one of the roasters nearby.
Rent a car so you can cruise the rest of the coast: Los Tres Reyes is by far the most reputable provider. There are also a few scooter and motorbike rental services scattered around, which are great options if you're traveling light.
Bahías de Huatulco
Mexico's newest resort community is also its most approachable.
Known simply as Huatulco to the locals, this former fishing village saw a boom in development starting in the '80s—but don't let the word "boom" throw you. Buildup has been modest in scale, the town never feels overcrowded even during peak season, and it's maintained a laid-back charm that's rare for a resort community.
Huatulco has a series of seven turquoise blue bays that are calm, clear, and excellent for swimming. They also host a splendid array of marine life, so snorkeling is the thing to do here. The small, leafy center of town, La Crucecita, is anchored by a tranquil public plaza and packed with plenty of restaurant options, from no-frills Mexican diners to buttery French bistros.
Where to eat: Everyone in Huatulco knows Terra-Cotta, not only because it's air conditioned and therefore in high demand, but also because its wide-ranging menu of Mexican and international dishes is rock-solid. Down the street, Giordana's Delizie Italiane is a surprisingly authentic trattoria serving 100%-from-scratch pastas.
Must-do: Snorkeling is affordable and highly encouraged. Head to the harbor at Santa Cruz, where you can rent gear for 130 pesos for the day; then hire a lancha (motor boat) to take you to the coral reefs located in La Entrega, San Augustin, and Cacaluta. And be sure to check out the Hagia Sofia Eco Park for a guided tour of the jungle where you'll encounter over 300 species of butterflies along with a range of other wildlife. Then hit the trees for some ziplining.
Traveling may be on pause, but that doesn't mean your dreaming and planning has to be. With The Marriott Bonvoy Boundless™ Card, earn 6X Points at 7,000+ hotels participating in Marriott Bonvoy™ and 2X Points on all other purchases, including future flights. For the journey ahead, carry a card that's here for you now.
Mazunte
Oaxaca's hippie hub boasts tranquil waves, green juice, and bongo circles for all.
Mazunte has become something of an international playground for harem pants-wearing, essential oils-scented alternative types. The water is the main attraction: gentle aquamarine waves that are among the most swimmable in the area.
You'll find a number of entrepreneurs staking beach umbrellas into the sand for you. Rent one for the entire day for just 100 pesos (about $5 USD). As you lounge and swim, other enterprising souls will roam the beach: a machete-armed man trimming fresh coconuts to drink, señoras balancing tamale- and taco dorado-laden baskets on their heads, groups of teenagers from the local bakery hawking a variety of sweet and savory pastries. The farthest you'll need to roam from your towel is a few meters to the back of the beach, where little bar-huts dispense shots of mezcal, or provide you with a Styrofoam cooler full of ice and bottled beer that you can sip under the shade of your umbrella.
Where to eat: For a non-sandy meal, stray to the town for thin-crust pizzas and a decent selection of imported beers at La Empanada. If you're in the mood for a more romantic setting, look no further than Azulmar, where you can enjoy seafood with a beachside view of the sunset.
Must-do: Climb up to take in the dramatic sunset from Punta Cometa, a rocky outcrop that delivers the region's absolute best view of the horizon. And if you're looking to experience some wildlife, participate in a turtle release via the National Mexican Turtle Center at the nearby Laguna Ventanilla. While you're there you'll have the chance to spot crocodiles and a variety of other animals.
Zipolite
A sort of "Mazunte-lite," this town offers many of its neighbor's charms with a more grown-up vibe.
As laid-back as Mazunte is—and yeah, it's pretty laid-back—the sheer volume of young, tattooed pleasure-seekers can sometimes be a not-entirely-welcome distraction from your beach read. For those seeking the same beautiful coastline, tasty food, and lazy afternoon micheladas, but with fewer waterfront bongo circles and a slightly older crowd, neighboring Zipolite is the perfect choice.
Tiny Zipolite enjoys an outsized reputation as a nudist paradise: In point of fact, the only remaining nude areas are clustered at the extreme west and east ends of the mile-long beach. In between, there's just sun, soft white sand, and the roaring of the ocean. The waves here are choppier than in Mazunte, and the area is not safe for swimming, though bodyboarders and surfers can still do their thing.
Where to eat: Just steps from the beach, the neat, orderly town of Zipolite consists of just a few gridded streets, but there are still plenty of brightly painted shops and restaurants to peruse. The best seafood eatery in the area is Piedra de Fuego, an open-air, family-friendly joint that specializes in grilled catch-of-the-day. Ask for it "a la talla," butterflied and crusted with a crimson-red, subtly spicy chili paste. For a gorgeous setting check out El Alquimista, which also has tasty vegan and vegetarian offerings. It doubles as a popular boho-style hotel with yoga classes and a spa.
Must-do: In the mornings, usually at 8am, motor boats depart from the beach on guided tours to spot whales, dolphins, and sea turtles. Trips usually last 2.5 hours and cost 200 pesos. Arrange a reservation with your hotel, or just scout around for the guides on the beach.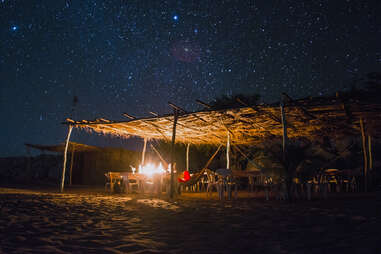 Chacahua
This rustic, lesser-known town features an expansive coastal national park.
For beachgoers seeking more than just sun and sand, Chacahua is an ideal getaway. While it's right on the coast and has its fair share of beautiful beaches, the main attraction is the expansive Parque Nacional Lagunas de Chacahua, where turtles, crocodiles, and shore birds frolic. The area is a must-visit for nature lovers, especially those who want to disconnect; there's still very little WiFi or internet here.
Accommodations in the area tend toward the very rustic and affordable, with few frills. Other than the wildlife, there's not much to do besides lie on the beach, sip a cerveza, and enjoy the calm tranquility of an as-yet-undiscovered gem.
Where to eat: At Restaurante Siete Mares, octogenarian owner and cook Doña Meche plates soulful seafood such as shrimp in a fiery al diablo chili sauce, crispy red snapper in garlic sauce, and seasonal ceviches. Note that availability of food offerings in Chacahua—which are limited to begin with—tend to open and close somewhat randomly based upon how busy business happens to be, so if you're worried about going hungry it may be advisable to pack along some food from neighboring Mazunte. Otherwise, the thatched beachfront palapas offer fresh, thirst-slaking coconuts and a variety of antojitos like tacos dorados and tlayudas.
Must-do: Explore the lush lakes and mangrove forests of the national park. Speak with your accommodations about hiring a local guide, who will pilot a boat through the five major lagoons and chat with you about all the incredible flora and fauna you see along the way.
Sign up here for our daily Thrillist email, and get your fix of the best in food/drink/fun.
Lauren Rothman is a Brooklyn-based food and drinks writer. Check out her collection of food snapshots -- and cat pics -- on Instagram @laurenoliviarothman.
Nick Hilden is a travel, fitness, arts, and fiction writer whose work has appeared in the Los Angeles Times, Men's Health, Vice, Greatist, and more. You can follow his weird adventures via Instagram or Twitter.