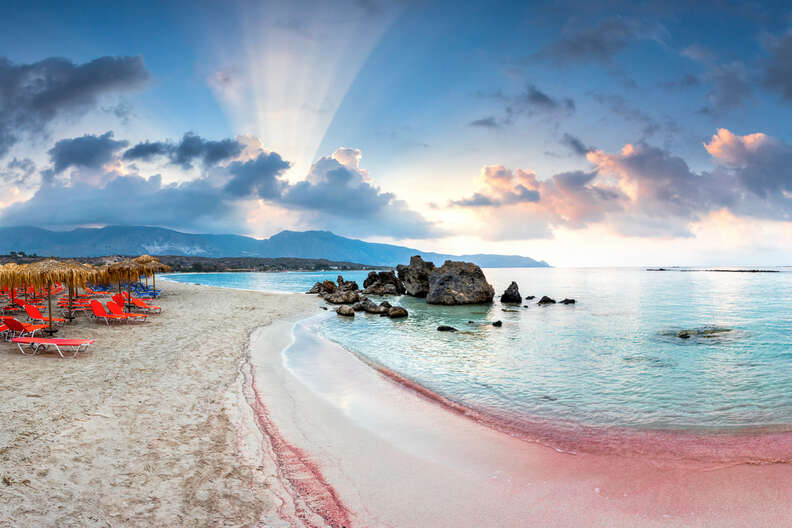 Elafonissi beach, Crete, Greece

| Evgeni Dinev Photography/Moment/Getty
Elafonissi beach, Crete, Greece

| Evgeni Dinev Photography/Moment/Getty
14 Drop Dead Gorgeous Beaches for Your European Vacay
When you're taking a big trip to Europe, going to the beach might not be top of your to-do list. There's so much culture to experience, old buildings to see, cheese to eat, wine to drink! Still, it's perfectly possible to combine all that with a little lazing around on the sand -- in fact, we strongly advise it.
Some of the best European destinations are near the sea. There are thousands, if not millions of beaches around this richly varied continent -- from sandy bays and secluded island coves, to surf beaches battered by ocean waves and city beaches with life-altering seafood. Here are some of our favorites.
La Concha
San Sebastián, Spain
Compared to all the other drop dead gorgeous beaches in Spain, La Concha ranks somewhere in the middle -- a seashell-shaped (hence the name) swoop of golden sand between the forested mountains of Urgull and Igueldo, with the rocky island of Santa Clara in the bay. It's shallow enough for kids, sheltered from the wind, and lapped by gentle waves. So far, so good.
Its real superpower, though, is the city behind it. San Sebastián is an absolute beauty with a world-famous food scene – there are more Michelin stars per person here than anywhere else on the planet. If you've got an appetite for fine dining, start at Mugaritz (the 9th best restaurant in the world) then move onto Arzak, which has 100,000 bottles of wine in the cellar and champion female chef Elena Arzak in the kitchen. If you're on a bitesize budget, just go for drinks on a terrace or stroll along the promenade like it's 1899.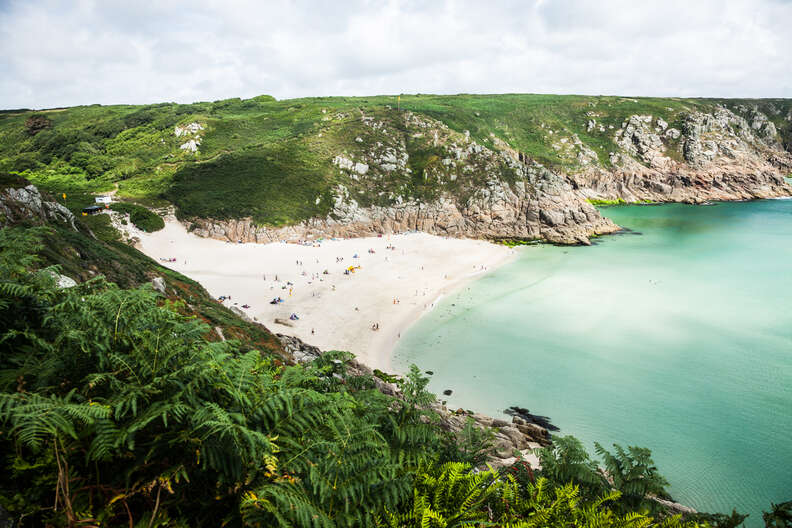 Porthcurno
Cornwall, United Kingdom
You might not think of the UK as a beach destination, and for the most part, you'd be right. But down in the tippy toe of Cornwall there are some absolute beauts, and none better than Porthcurno. The blue-green sea looks more Caribbean than Cornish as it rolls into the beach, a broad bank of crushed-shell sand.
But there's more. Turn left and wade to secluded coves along the coast; turn right and climb the steps to the Minack Theatre, an open-air arena carved into the cliff (time your visit well and you can catch some Shakespeare at sunset). And if the famously changeable Cornish weather throws a wobbly, there's always the kid-friendly Telegraph Museum just behind the beach.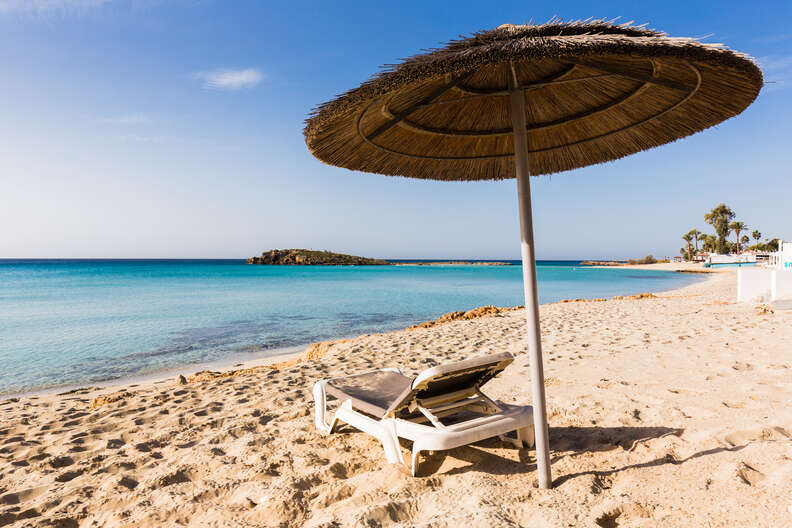 Nissi Bay
Ayia Napa, Cyprus
If you're looking for a "beach by day, booze by night" kinda vibe, Nissi Bay is for you. It's close enough to the dance parties and drinks deals of Ayia Napa, but not so close that you can taste sambuca in the seawater. It's a lively spot packed with beach bars and resorts opening onto the sand, and every water sport under the sun -- literally.
The shallow sloping shoreline makes it ideal for families, not to mention the minigolf and go-karting on your doorstep. And then there's Water World. Fear not, it's not a compulsory screening of Kevin Costner's post-apocalyptic flop -- it's Cyprus' biggest water park, with slides, wave pools and all that jazz.
Elafonisi
Crete, Greece
Imagine that you're a beach designer (OK, first imagine that there is such a thing as a beach designer), and picture your wildest beach-dreams come true. That's basically Elafonisi, on the southwestern corner of the history-soaked island of Crete. Here, sweet-smelling cedar forest gives way to sugar-soft sand, which slopes gently into a lagoon of impossibly clear turquoise water. Oh, and the sand is pink -- really pink. I did say wildest dreams, didn't I.
Most people rent a lounger and hang out near the beach bar all day, popping in occasionally for a fresh cold beer or a plate of giant shrimp. But if you're after your very own piece of paradise, swim across the lagoon to the peninsula, where there's tons more sand and practically nobody around to share it with.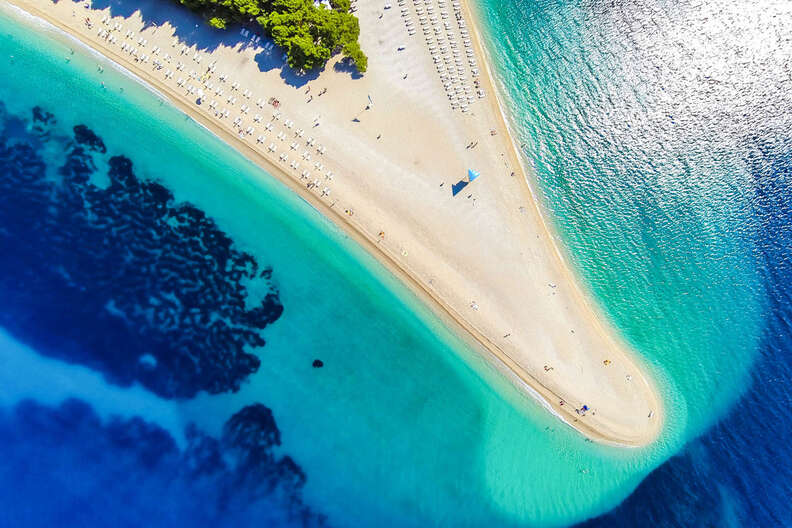 Zlatni Rat Beach
Brac, Croatia
If Dubrovnik is "the pearl of the Adriatic," it's just one in a gorgeous strand of idyllic island escapes. Another is Croatia's Brac island, a getaway hiding innumerable quiet coves and beaches located a short ferry ride from Split. Though only an hour-long, that ferry helps Brac stay less-touristed than its yacht-happy sister islands -- reason enough to sneak off to famed Zlatni Rat Beach.
While you'll find ruins from throughout the island's rich history -- waves of occupation by the Greeks, Romans, early Christians, even fascist Italy, have left their marks -- the best-known destination is Zlatni Rat Beach, sometimes known as the Golden Cape. A short walk from harbor village Bol, this strip of land is a favorite destination for surfers and kite-surfers, distinctive for its shape-shifting sands. The beach juts out of the land like something of a promenade, the shape ever-changing thanks to the influence of tides, wind, and Adriatic Sea currents -- it's never, ever the same. Zlatni Rat can get crowded during the high season (June through August) but its proximity to nearby hiking and historic monasteries can help you break up your beach days.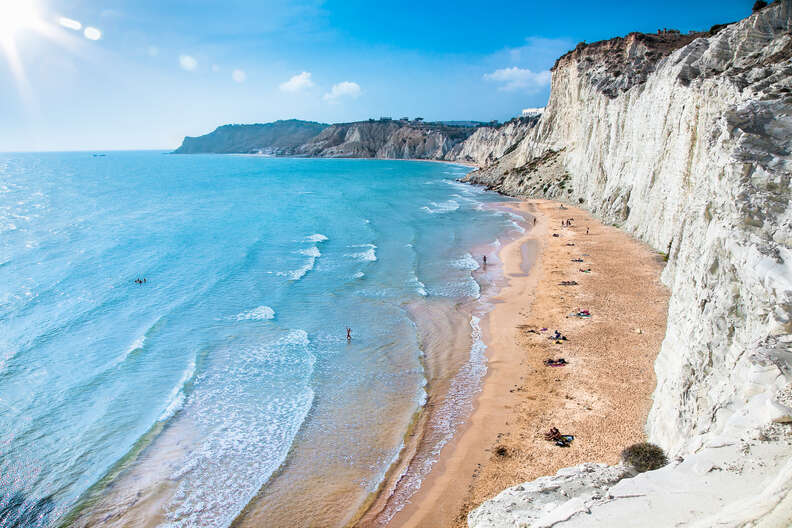 La Scala dei Turchi
Sicily, Italy
One of the most beautiful beaches in Italy looks like its flanked by a giant meringue. Layers of gleaming white marl stone cascade down to the sea, providing the perfect promontory for launching yourself off into the water (disclaimer: be careful, don't sue, etc.). A fiery strip of quartz sand stretches around the coast, but the best place to bask in the sun is on the rock itself -- its smooth, warm surface is split into undulating terraces where anyone can find their ideal incline. The name means "Staircase of the Turks" because Moorish invaders once used it as a handy route to climb inland.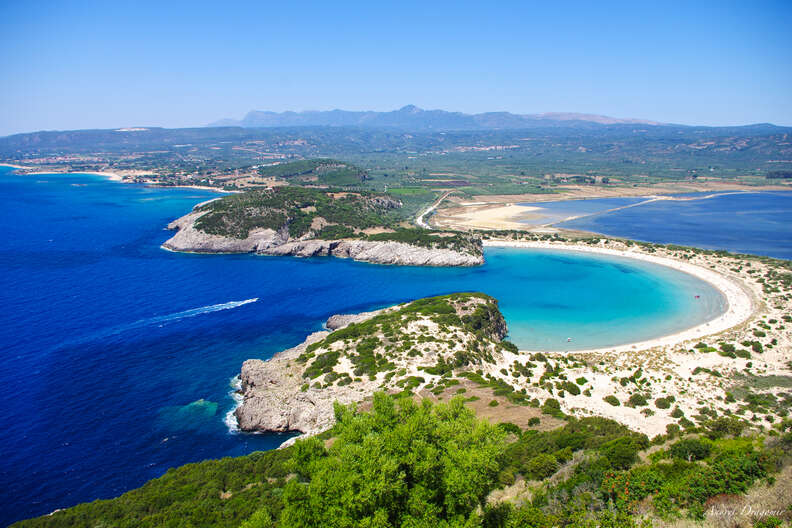 Voidokilia
Messinia, Greece
This horseshoe-shaped beach comes with a backstory, too. In Greek mythology, it's where Hermes hid the 50 oxen he stole from Apollo -- you can still visit the cave where he stashed 'em, in the dusty hills above the sand.
But obviously nobody's going to the isolated west coast of the Peloponnese just because thousands of years ago some imaginary god kept his imaginary bulls there. The real allure of this place is its sheer natural beauty -- the sickle of sand is so immaculately formed it could have be drawn with a compass, and the water hits that sweet-spot between green and blue. There's a nature reserve in the lagoon behind the bay and the ruins of a 13th-century castle on the hillside.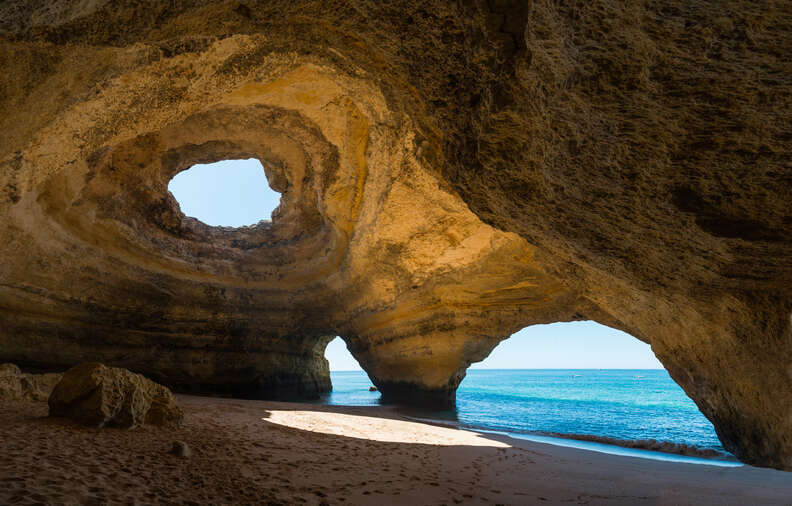 Praia de Benagil
Algarve, Portugal
There is nothing wrong with the regular beach at Praia de Benagil -- it's all your Algarve dreams come true, with emerald ocean crashing into golden sand, and cliffs soaring overhead. But what makes this place really stand out is the Algar de Benagil, a sea cave just around the corner from the beach. It being a sea cave, you can only reach it from the water, so hop onto a boat tour, or rent a kayak or paddleboard. You can even swim across on a calm day -- it's about 200 metres.
However you get there, you'll be glad you did. The waves roll in through twin arches in the rock, and rays of light flow in through a circular hole above. Get there for sunrise and you'll have the best lighting for show-stopping Insta shots. Sunset's not bad either…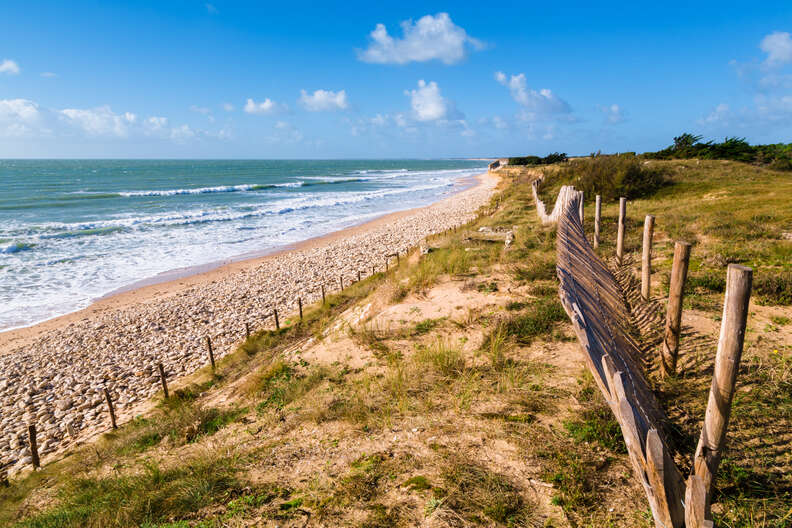 Plage des Gollandières
Ile de Ré, France
To a certain set of East Coasters, Ile de Ré might feel a little familiar -- wild, windswept dunes, whitewashed cottages along the waterfront, and salty Atlantic seaspray hanging in the air. If it sounds a bit like the Hamptons, that's because it is.
But this is France, so you can cycle up to the food market in Le Bois Plage and pick up a baguette for lunch, feast on platters of oysters from a boardwalk shack, and get your kit off in comfort in one of the many nudist zones. Plus, on this side of the Atlantic, you get to look West and watch the sunset over the ocean.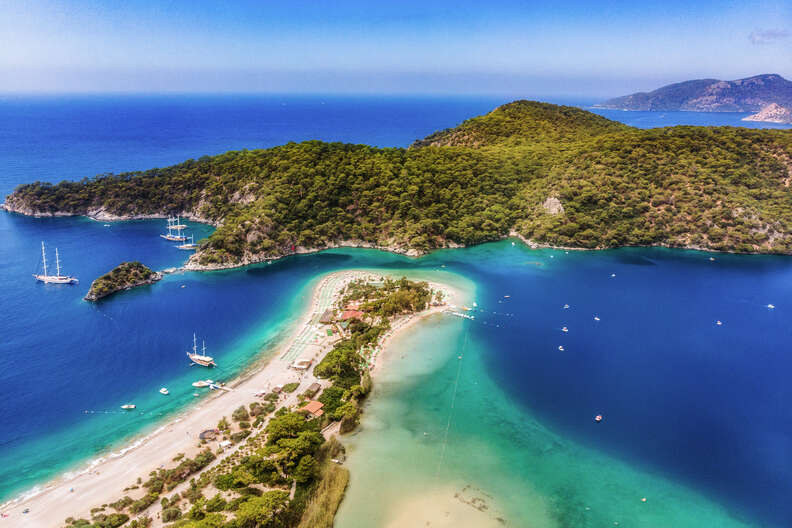 Ölüdeniz
Muğla Province, Turkey
Turkey's Turquoise Coast is blessed with over 450 Blue Flag beaches, but the undisputed champion of them all is Ölüdeniz (say 'eu-leu-den-eez'). Here, where the Mediterranean meets the Aegean Sea, a spit of sand hooks out towards a pine-forested peninsula… but stops just short, creating a perfectly still lagoon of shallow azure water. This quirk of nature is best viewed from overhead -- lucky then, that the jade green Badabag mountain soars into the air at one end, providing a handy launchpad for paragliding above the bay.
This beauty spot is no secret, so expect locals and tourists to join you on the sands. For a time-out, hike the Lycian Way to the ghost village of Kayakoy and the ancient amphitheater at Fethiye.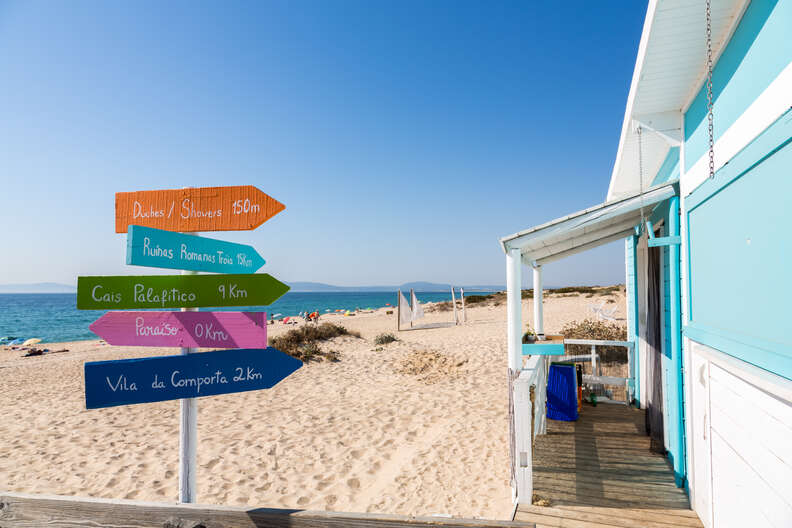 Comporta
Alentejo, Portugal
When Americans go to Portugal, they usually set their sights on Lisbon, the Algarve, or maybe Porto if they're feeling quirky. But what most foreigners don't know -- and what the Portuguese have known for years -- is that one of the best beaches in Portugal is the 7-mile long Comporta, an hour south of Lisbon in the under-visited Alentejo region.
People are wising up, led by celebrities seeking an escape. Madonna, Phillipe Starck and Christian Louboutin have snapped up villas in the cork forests nearby, and boutique hotels are opening up along the coast. But for now it's still low-key -- bohemian beach shacks serve cocktails on the sand, and there's a handful of local restaurants plating up catch-of-the-day sardines.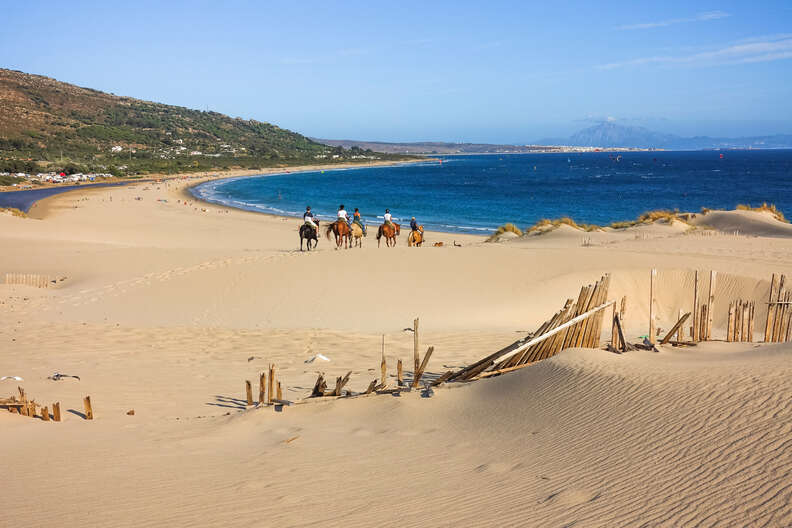 Bolonia
Tarifa, Spain
Of all the Costas in Spain, the Costa de la Luz is the most underrated. Sure, it doesn't have the cutesy fishing villages of the Costa Brava or the banana boats and resorts of the Costa Blanca, but it doesn't have the hordes of tourists either. It's here, just a few miles across the sea from Morocco, where you'll find Bolonia, a 2.5 mile stretch of sand backed by banks of wildflowers and dotted with trendy chiringuitos serving cocktails and ultra-fresh fish.
The wind and the waves lure kitesurfers and windsurfers, but there's enough beach for everyone to stake out their own spot. If you're all done with the sea, climb to the top of a 100-foot dune, or get nerdy at Baelo Claudia, one of Spain's best-preserved Roman ruins.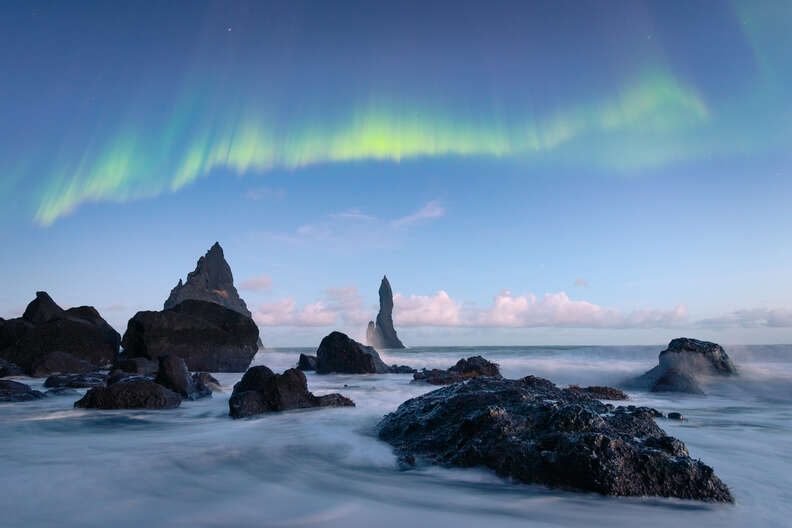 Reynisfjara
Vík í Mýrdal, Iceland
Do not adjust your screen – this really is planet Earth, not Middle Earth. Reynisfjara is a black-sand beach by the fishing village of Vik in southern Iceland, with basalt columns jutting out of the waves and the Katla volcano rumbling nearby. According to a local legend, the craggy sea stacks are actually trolls who spent all night helping ships return to shore, then turned to stone when the sun came up. Whether that's true or not (it's not), they're now home to thousands of puffins, guillemots and fulmars – so bring your binoculars.
Better still, you don't need to embark on a multi-year odyssey to get here – just drive down from Reykjavik in a couple of hours, on Iceland's road trip-ready Ring Road. En route you'll pass waterfalls (Seljalandsfoss and Skógafoss), glaciers (Eyjafjallajökull and Mýrdalsjökull), and the 400ft Dyrhólaey Arch. If you're lucky, the Northern Lights will play ball too.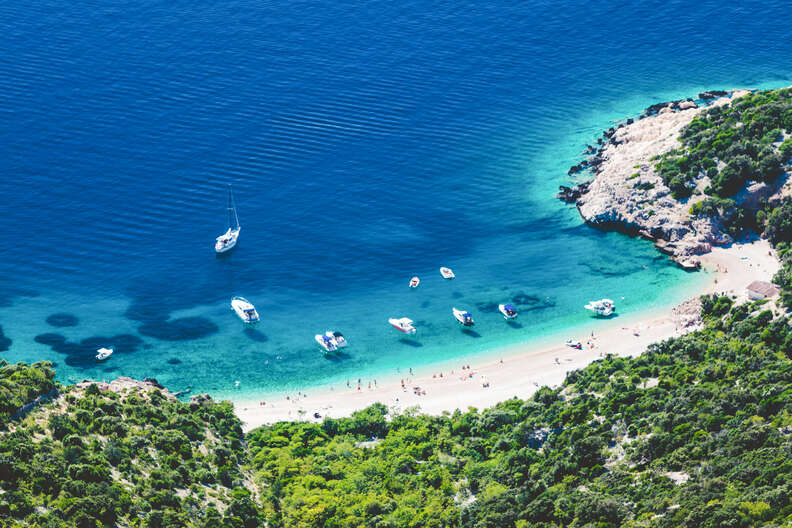 Lubenice
Cres, Croatia
If you want drive-in access, on-tap cocktails and parasols emblazoned with corporate branding, Lubenice is not for you. Its location alone keeps it untouched by all but the most determined of intrepid travelers. It's on the island of Cres, a boat ride from the Istrian Peninsula, which is itself a boat ride from Venice, Italy (or a three hour drive from Croatia's capital, Zagreb). Once you arrive in the hilltop medieval village of Lubenice, a steep path descends a thousand feet down the cliff leading, at last, to the silent, secluded cove.
Why bother? Well, apart from the sense of achievement, there's the Blue Cave. A few yards along the cliff, a natural grotto is carved into the rock -- swim inside, and you'll find yourself in a mystical, magical mini-lagoon lit by sunlight reflecting through the water. Later, hike back up to the village, and brag to everyone about your achievement over a well-deserved seafood dinner.