You know what Europe does well? Wine, food, and vacations. But also: beaches. Lots and lots of beaches. After all, the continent has more seas than a remedial 10th-grade algebra class, and an arsenal of islands and coastlines that hug every one of them. That means locals and tourists alike are in for fantastic sun-and-sand experiences. Here are the European beaches you really, really need to know.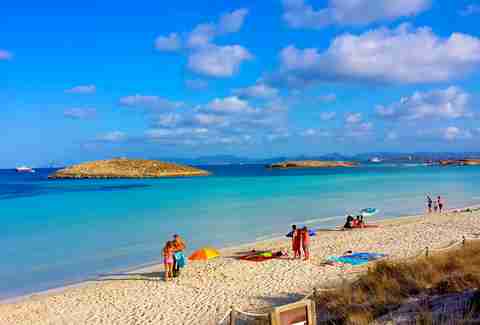 Platja de Ses Illetes
Formentera, Spain
Not quite the crazy party girl her sister Ibiza is, Formentera is the quieter, more reserved sibling who doesn't need the attention. Because much like a Hollywood trope, when this sibling takes off her glasses, she's every bit as hot. The beach to beat on this island is Platja de Ses Illetes, which looks like it was plucked straight from the Caribbean Sea, with turquoise waters and powdery sands. Just a day trip from the insanity that is Ibiza, look to Formentera for a more romantic, informed beach choice.
Porthcurno
Cornwall, UK
What?! The UK isn't just fog and food that's the same color as fog? Correct. You probably aren't going to the UK for the beaches, since it's kinda cold. And it rains... often. But in the English county of Cornwall, you'll find the tiny village of Porthcurno, which has one of the most beautiful white sandy beaches in all of Europe. Don't tell all those continental Europeans, though, because it'll kill England's rep for having zero beaches and crap weather.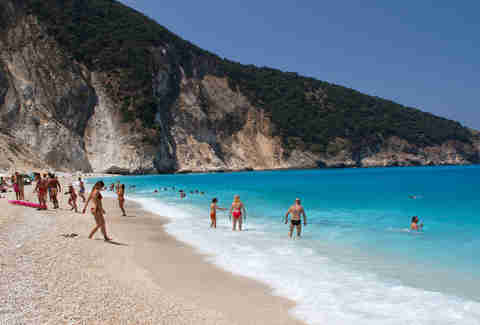 Myrtos Beach
Kefalonia, Greece
There's no shortage of gorgeous beachery in Greece, but Myrtos Beach is the alpha and omega of must-visits. Flanked on either side by mountains, this mile-and-a-half of shoreline is to the Ionian Sea what that shock of white is to the Bride of Frankenstein's hair. Just be careful here -- there's a steep shore break, so novice swimmers shouldn't venture out past 10ft.
Rabbit Beach
Lampedusa, Italy
Land on the shores of Rabbit Beach and find yourself in the presence of greatness -- if greatness is determined by TripAdvisor. OK, maybe not, but in 2013, the user-generated review site ranked Rabbit Beach as the best beach in the world. There's something to it.
Lampedusa is actually closer to Tunisia than it is to the Italian peninsula, smack dab in the middle of the Mediterranean, and the southernmost island in Italy. That also translates to warmer climes, and the best way of getting around being a moped -- as you're wont to get around on a Mediterranean island. It's the 21st century dolce vita.
Fuerteventura
Canary Islands, Spain
The Canary Islands don't get much love from the US, but Europeans have been shuttling off to their version of the Caribbean for eons to bask in the slow-paced life, wine, and three-hour lunches. Which... is not that much different from mainland Spanish life, but with way more warm weather and beaches. What's not better with more warm weather and beaches? Probably skiing, but little else. This particular Canary island is Europe's best kept secret, and less fussy than its neighboring islands. Plus, you can see Africa from your hotel.
Vik
Vík í Mýrdal, Iceland
♫One of these things is not like the others♫... it's Vik. Leave it up to Iceland to have a beach filled with black sand, year-round balmy temperatures, and massive, crashing waves. Iceland has beaches in the same way San Francisco has beaches -- they're pretty, but you're gonna be pretty cold if you plan to go sunbathing. In any case, Vik stands out among the crowd not just for its color, but also for its basalt columns at the base of the cliff fronting the Reynisdrangar sea. But word to the wise: don't try to go swimming here, as the waves can get big quick. But do explore the caves during low tide (high tide is rough, again), and in the summer, go puffin watching. Because really, puffins are like penguins with the cuteness turned up to 11.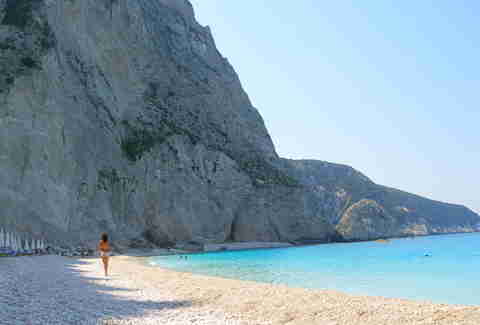 Porto Katsiki
Lefkada, Greece
It's not entirely fair this beach follows Myrtos on the list, since Myrtos got full-on slobbered on with praise. But it's not like Porto Katsiki has anything to be ashamed of -- really, when you're on the island of Lefkada, the last thing on your mind is what other beaches are out there. Porto Katsiki translates to "goat port" because for a time, according to the legend of Wikipedia (that's ancient Greek for "dictionary"), only goats could access the beach. Except now, where at the bottom of a cliff, this sugary paradise fronts the Ionian Sea. Private yachts are the best way to get in -- when aren't private yachts the best? -- and you'll find bars and canteens up the steps from the seaside.
Cala Luna
Sardinia, Italy
Perhaps you recognize Cala Luna from its role in the Madonna cinematic classic, Swept Away. No? Well, who are you to judge a movie that got a 3.6 on IMDb? This best supporting beach features a crescent-shaped plot surrounded by limestone cliffs facing clear waters that kaleidoscope in color as the sun hits the seabed. And for a respite from the heat, caves leading out to the sea offer shade from the summer sun. While the water's shallow, Cala Luna was easily the deepest performance in that otherwise craptacular Guy Ritchie snoozefest.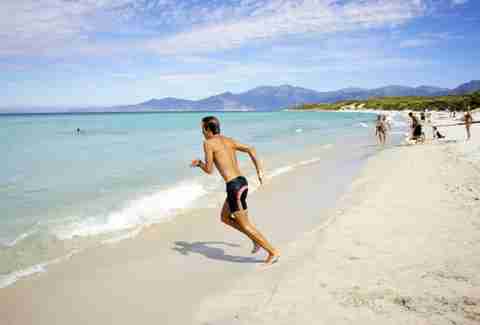 Plage de Saleccia
Corsica, France
The sand at this beach off the coast of France is so white, Aerosmith once went there in the '70s and thought they'd died and gone to cocaine heaven. OK, that part's made up, but the sand is super white. This half-mile stretch of sand is undeveloped and not commercially pimped out, so all you have for company are the sun and the sea... and the occasional French local. But how well do you really know them, anyway?
Falsterbo
Falsterbo, Sweden
If Sweden has taught the world anything, it's how boy/girl pop groups and self-assembled furniture make everyone happier. Seriously, thank you Sweden. But in addition to ABBA and IKEA, Sweden secretly brought the world kick-ass beaches. The beaches of the Swedish Riviera may not get all the international accord, but the southern town of Falsterbo offers some of the country's best, known for its ridiculously cute and colorful bungalows that dot the shore -- no self-assembly required. And after all, this is the land that brought the world the Swedish Bikini Team. There are plenty of reasons to go.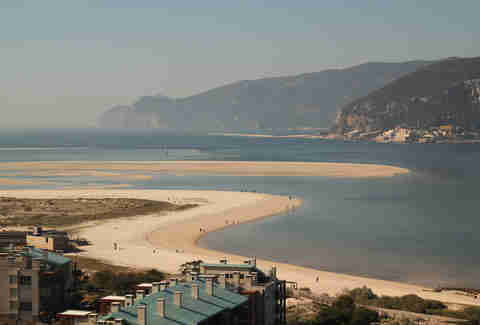 Troia
Troia, Portugal
Just an hour by ferry from Lisbon, this Portuguese peninsula's beaches and resorts rub elbows with the country's famous southern coast. Oh, and it's just considered the most beautiful bay in the ENTIRE WORLD. Eat your heart out, Hong Kong, and eat Tony Bennett's heart out, San Francisco. A tad more chill than touristy Algarve, Troia does beaching justice with seemingly endless stretches of quiet sand, turquoise water, and plenty of more interesting scenery -- the Roman ruins, Porto Palafítico, and Atlantic dolphin-watching that doesn't involve Dan Marino make this as well-rounded a beach as you're sure to find.
Zlatni Rat
Brač, Croatia
Perhaps you only recognize Croatia on a map because "Game of Thrones" is filmed there. That's fine. But now that the country has your attention, you should know its beaches are grossly underrated -- especially considering how much play Mediterranean nations get. Known as the Golden Horn of Croatia, Zlatni Rat's a spit (as in a stretch of land) of pure white sand and pine groves that extends into the Adriatic Sea. Oh, and since it's Croatia, stuff's gonna be pretty cheap. While it's doubtful you'll see Daenerys chilling in a bikini on the shore, that's probably a good thing. Because for every Daenerys, there's a Hodor. Isn't that a Poison song?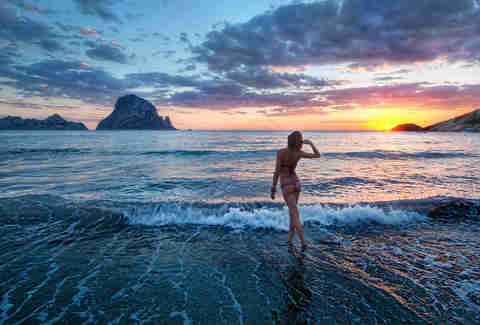 Cala d'Hort
Ibiza, Spain
Undoubtedly the party island in Europe, Ibiza's earned its international reputation for nonstop beach parties, and raving all day and night. It's not the place to go if you're offended by EDM, drinking, or hot European ladies. But while the island offers a bevy of beaches, this one's the most laidback. It also looks out on the limestone island of Es Vedra, providing a stunning view at every sunset (pictured above woman's butt). Cala d'Hort gives even Atlantis a run for its money -- and you won't need to have a local show you how to get there, unlike Atlantis.

Meagan Drillinger is a freelance writer for Thrillist. One time in Europe she said everyone should call her "Pockets." People still do. Follow her on Twitter, Instagram, and Facebook at @drillinjourneys.