Liquid Productions, LLC/Shutterstock
Liquid Productions, LLC/Shutterstock
Say what you will about Florida, rank it last of all the states, defend it to the death, or just make fun of its horribly delusional college football fans—one thing you can't hate on are its beaches. With the most coastline of any state in the Lower 48—much of it pure, unadulterated paradise—Florida has been an American winter escape since the advent of vacation time. Or something like that.
Of course, the problem with being America's beachiest state is that most of the world is in on the secret. And by the time you've selected a spot for your Florida beach vacation, it's already filled with half the ACC. But throughout the Sunshine State, there are still a few beaches that the masses haven't caught on to—those rare spots whose praises locals quietly sing, but whose shores aren't yet teeming with blaring music, fruity drinks, and highly adventurous speedos. Read on for Florida's most underrated beaches, and how you can make the most of your (hopefully) relaxing time there.
Losing Dodgertown was certainly a blow to this often-overlooked beach city about halfway between West Palm and Cocoa. But give Vero Beach a visit now and you'll find a relaxing vacation getaway with a sloping, narrow shoreline that's rarely crowded. Orange juice abounds in Vero Beach; in particular, you can cool off with fresh-squeezed stuff from Countryside Citrus, a beachside OJ shop with an attached taqueria. Grab a glass and stroll along the sand, then lounge in one of three beach parks that make for shady, quiet places to escape the sun if it gets too intense.
Where to eat and drink nearby: OJ not quite strong enough for your Florida beach plans? No problem. Vero's also home to one of the coolest breweries in the state at American Icon, a brick beer palace set in an old power plant. Though the names aren't all that original, dinner at either Ocean Grill or Riverside Café will deliver solid steaks and seafood, plus all the water views you want in a coastal escape.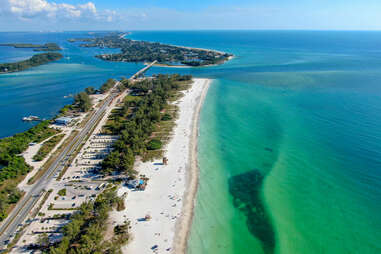 There are no sunsets quite like those on Anna Maria Island. And while the town of Anna Maria has certainly had its day, little Coquina Beach is often overlooked. Technically in Bradenton Beach, this powdery white sand paradise offers the same spectacular scenery, Australian pines, and public grills as its more famous neighbor. If you're not up for grilling yourself, the Coquina Beach Café will be happy to serve you fish tacos, burgers, and many helpings of frozen drinks.
Where to eat and drink nearby: While the Coquina Beach Café is a perfectly serviceable place to grab your beach day lunch, head up the road to Anna Maria and you can enjoy a meal on the sand at the famous Sandbar Restaurant. Plus, Poppo's Taqueria a block away is as close to a beachside taco shack as you'll find in Manatee County.
Long forgotten as a home to harness racing and retirees, Pompano Beach is South Florida's widest swath of sand, a refurbished beach path filled with shady trees and workout gear. The water is the same turquoise vision you'll find in Miami and Ft. Lauderdale, with almost double the powdery real estate for stretching out your towel. This makes the place feel considerably less crowded than other Broward County beaches, and a far more relaxing experience than you'll find anywhere else nearby.
Where to eat and drink nearby: Pompano has put itself on South Florida's culinary map in the past few years, adding top-notch beachside dinner spots like Beach House and Oceanic. Head a little inland, and you'll find creative cuisine at Rusty Hook Tavern, an Intracoastal eatery that makes a solid case as the best waterfront restaurant in South Florida. Beer lovers, on the other hand, should head slightly down Atlantic Avenue to 26th Degree Brewing, a local favorite set in an old grocery store.
Caladesi Island State Park
This natural barrier island off Dunedin is all about making a lot out of a little. While it maintains only three miles of coastline, the beaches on Caladesi are highly acclaimed and have often been named some of the best in America. Take some time to stroll along the shoreline, then grab a quick fish and chips lunch at the marina and cafe before paddling a kayak for a mile or three beneath the shade of the island's mangrove forest as you spot blue herons, osprey, and—if you're lucky—dolphins and manatees hanging out nearby.
Where to eat and drink nearby: As a state park, Caladesi isn't offering a whole lot in the way of food and drink. But head south into Clearwater Beach and you'll find plenty of great spots. The Palm Pavilion delivers on its name, offering you fresh seafood under a grove of palms right on the sand. Frenchy's Rockaway Grill is a great spot for frozen drinks and a lively crowd. For something a little more sophisticated, hit Sekushi on the Beach for fantastic sushi and beach-bod-busting noodles.
Equine enthusiasts, take note: This narrow beach between Port St. Lucie and Ft. Pierce is one of the few places in the state where you can jump on a horse and ride down the shoreline. Depending on your skill level, your guide might also let you gallop into the water, and the whole ride runs through Frederick Douglass Memorial Park. That means you'll be looking at crashing Atlantic waves in one direction and pure wilderness (and no condos!) in the other, a sort of wild escape along the Treasure Coast.
Where to eat and drink nearby: Part of Hutchinson Island's charm is that it's a little removed from the hustle and bustle of Port St. Lucie. The Hutchinson Shores Resort has a pretty nice restaurant at Drift Kitchen and Bar if you don't want to go far. If you're up for a little drive, head down to spooky, haunted Port Salerno, a little fishing town where you'll get insanely fresh seafood and possibly a ghost encounter at the Twisted Tuna.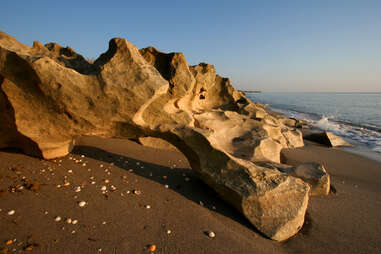 If you've ever wondered what Florida's barrier islands looked like before they were lined with high-rise condos, head to this one-mile nature preserve in Hobe Sound on Jupiter Island. Here, the largest deposit of Anastasia limestone on the Atlantic Coast guards the shoreline, and the waves that crash against it can shoot up to 50 feet in the air. It's like a rocky beach on California's central coast, but warm. And since the area is a nature preserve, you'll also see loggerhead and leatherback turtles on your walk to the sand.
Where to eat and drink nearby: Jupiter might be South Florida's best city for waterside eating and drinking, with one of Florida's most legendary bars, the Square Grouper, enticing guests from right below the city's fabled lighthouse. You can also get your Intracoastal dining on at Guanabanas, a shady, tropical restaurant that feels a little like eating on Disney's Jungle Cruise. But no trip to Jupiter is complete without a stop at Little Moir's Food Shack, an unassuming strip mall masterpiece with the best Caribbean food in the Palm Beaches.
If there's one knock on Florida's beaches, it's that their backdrops don't offer much in the way of elevation that doesn't come with a homeowners association. Not the case at Guana River State Park, a golden beach just south of Ponte Vedra and the alleged spot where Ponce de Leon first laid eyes on Florida. The beach butts up against a stretch of towering sand dunes covered in lush grass and flocks of birds; new visitors will hardly believe they're in the Sunshine State, as the combination of dark sand, deep blue water, and imposing cliffs makes it look more like the coast of Africa. Aside from big weekends, it's usually not too packed, plus it's a relatively easy drive from almost anywhere in the Jacksonville area.
Where to eat and drink nearby: As is the case in most state parks, there's not much right near the beach at Guana River. But venture a little further south and you're smack in the middle of St. Augustine, where you can relax at the most haunted bar in the state, Scarlett O'Hara's, then feast on some of Florida's best barbecue at Mojo.
Miami locals may scoff at Bill Baggs sitting on a list of underrated beaches, as it's a weekend hotspot for families and anyone else seeking a beach day away from music-blaring tourists. This protected area at the end of Key Biscayne is a world away from the crowds of South Beach, a slice of old Florida wilderness where you can lay on the beach and look at nothing but ocean. The park is also home to the Cape Florida Lighthouse, an 1825 structure erected to keep ships off the Florida reef.
Where to eat and drink nearby: Just off the sand, you can grab lunch or drinks at one of the park's two beachside restaurants, Boater's Grill or Lighthouse Cafe. If you're driving onto the Key, be sure to stop at Flour and Weirdoughs, Miami's best bakery and home of the best croissants you'll find outside Paris. For something a little ritzier (pun intended), the Ritz-Carlton Key Biscayne sits right outside the park and offers a fantastic poolside Sunday brunch.
The phrase "catching mullets" can mean a couple of different things in Florida. It could mean heading to the Figure-8 school bus races (and/or the annual fish toss at the Flora-Bama) and peeping the innovative hairstyles. But it could also mean casting nets across a couple of marsh islands and catching fish.
When it comes to Boca Grande, a small section of Gasparilla Island near Port Charlotte, we're referring to the latter. Once one of the state's major seafood hubs, the town's maritime/fishing history has given way to luxury vacation homes and peaceful, empty beaches. You'll have to cross three bridges and pay a $6 toll to get there, but it's well worth it—the beach stays pretty empty save for local residents and their dogs.
Where to eat and drink nearby: The Gasparilla Inn and Club is a stately Florida manor set on this funky little island. Try their Pink Elephant restaurant for something a little more casual, or for upscale vibes, hit their rattan-filled dining room. The latter is closed in the summer, though, so if you're here during the off-season, check out Eagle Grill and Miller's Dockside for fresh seafood and a water view.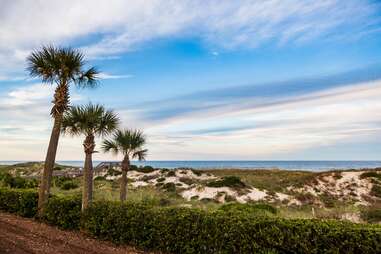 Yeah, we know how people feel about the Redneck Riviera. But if you're ready to do away with old stereotypes and experience the more refined side of the South, try Amelia Island on for size. It boasts 13 miles of beaches, roads framed by oaks dripping with Spanish moss, and the best collection of Gilded Age mansions in the state. And since nature and history in Florida so often give way to condos and more condos, this underdeveloped island is a rare chance to see what the Florida of old was like.
Where to eat and drink nearby: Amelia Island is no bargain location, and while it's not quite as blown up as Palm Beach or Siesta Key, the clientele isn't too different. Salt at the Ritz-Carlton is one of the best spots on the island, but for something simpler, hit the similarly-named Salty Pelican in Fernandina Beach. The Sandbar and Kitchen lets you enjoy your meal right on the sand, and España is the beach's best place for tapas.