Greece: land of legends, history, philosophy, art, eros. But it's kind of too hot for all of that most of the time, so how about lazing around on a gorgeous beach instead?
With their warm azure seas and brilliant sunshine, the Greek islands are among those rare excessively-hyped dream destinations that really do look the same in person as they do in all the postcards and calendars and Pinterest posts. The little white houses with blue shutters; the fishing boats tied up to the docks; the seaside restaurants where you'll post up at a table in the sand for a sort of continuous day-long meal. Yeah, it might just be bliss itself—plus, it's exactly the kind of vibe we're all chasing now that Greece counts itself among the countries that have reopened to vaccinated travelers.
Given that Greece has something like 8,000 miles of coastline and a correspondingly ridiculous number of beaches, you could sail around for years and never see it all. But if we absolutely had to pick, we'd consider these—featuring Hollywood superstars and shipwreck stunners—the definitive very best beaches in all of Greece.
How to visit Greece and what's open
To enter Greece, you'll need to provide proof of a negative Covid-19 test taken within 72 hours of departure, proof of recovery from Covid-19 within the last 30-180 days, or proof of complete vaccination at least 14 days prior to travel. You'll also need to fill out a Passenger Location Form at least a day before departure. More info here.
As of July 2021, most things have reopened with minor restrictions, including bars, restaurants, cafes, shops, museums, and archaeological sites like the Acropolis and the Parthenon. Although nationwide restrictions have mostly been lifted, islands like Mykonos have reimposed a curfew from 1 am to 6 am as Covid-19 cases have spiked—meaning it's still important to keep an eye out for changes.
Right now, you can grab a flight from major US cities like New York and Los Angeles to Athens for around $600-700. Once you've touched down, all inter-island ferries are operating as usual, so feel free to island-hop to your heart's content.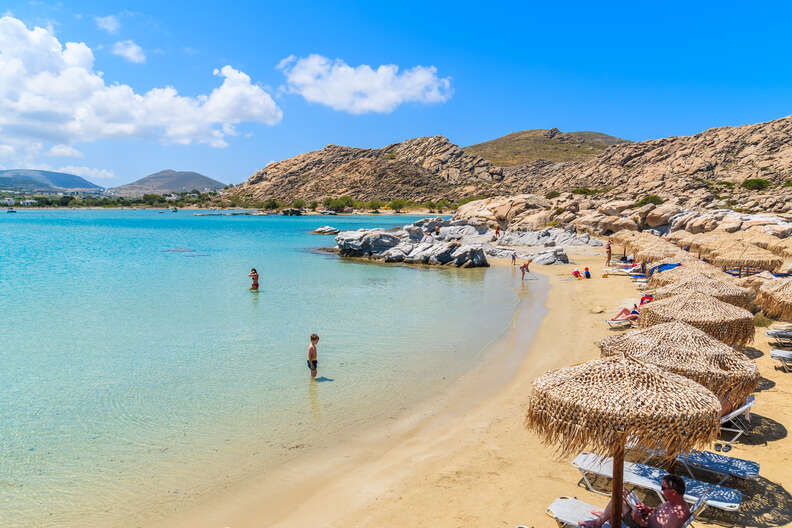 The island of Paros is in the very same Cyclades group as the big boys like Santorini and Mykonos, minus the cruise ships and budget airlines, so you'll get more of it to yourself. Of all the beaches here, the cream of the crop is at Kolymbithres, a relatively popular spot where you'll find a series of secluded coves sandwiched by dramatic, light gray granite rocks, marked by ultra-fine sand and relatively shallow water ideal for a casual dip. Rent a sunbed and order a cocktail straight to your chair, or head inland for a bite at one of the family-run tavernas all over the island; right off Kolymbithres, you'll find beachside restaurants like Taverna Kolymbithres or Anemos Taverna cooking up the catch of the day.
This is the beach from Captain Corelli's Mandolin—you know, the one where Nic Cage somehow persuades Penelope Cruz to make out with him. Anyway, despite the B-list celebrity name drop, trust that this is an A-list strip of shore: a broad, beautifully undeveloped, laundry-commercial white stretch of sand flanked by colossal forested mountains to one side and the turquoise Ionian Sea to the other. Spend some time marveling at what feels like a secret cove detached from time, then explore the area's other highlights: Myrtos Cave, a small grotto you can swim through and back out to the beach, and either of the Myrtos Viewpoints, headland perches from which you can catch amazing views across the sea.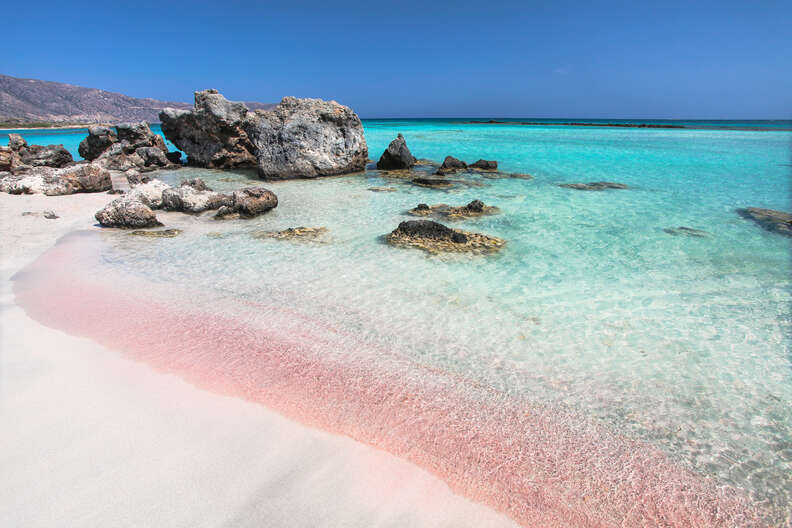 Pink sand? In Greece? Yep, Elafonisi has tons of the shimmering, ground-up corally stuff. Just a half-mile around, the tiny islet is a protected nature reserve attached to mainland Crete by a thin strip of sand, meaning you can walk or wade across, depending on the tide. A handy side effect is that the beach acts as a barrier to the open sea, creating a lagoon of warm, turquoise water. If you're ready to deviate from merely splashing around, you can take a kayak, stand-up paddleboard, or windsurf from Aquaholics or SurfIsland for a spin.
Have you ever wanted to go to the beach and to space at the same time? Well, believe it or not, you can—and we ain't talkin' about water on Mars. On the north shore of Milos, you'll find Sarakiniko Beach, whose remarkable lunar landscape makes the already impressive waters of the Aegean Sea just that much better. Over the years, wind and waves sculpted the volcanic rock into the stellar moonscape we see today. At first glance, you may think the little cove looks far too small for more than a dozen or so spread-out towels. But worry not: the beauty of Sarakiniko (apart from the actual, stark-white beauty) is that the banks of smooth rocks are just as good for sprawling on and leaping off as the beach itself. A heads up: you're gonna want to rent a scooter, ATV, or a car in nearby Adamas or Plaka to get to this one.
Shaped like the letter omega (that's Ω, if you aren't Greek or a frat bro), history buffs can geek out on the mythical past of this beach: it's where Nestor and Telemachus met in Homer's Odyssey, and also where Hermes hid the 50 oxen he stole from Apollo (presumably so he could start his premium leather handbag business). Hit up the ruins of a Mycenaean vaulted tomb or the 13th-century Old Navarino Castle, windsurf in the bay, or hike around the Gialova Lagoon, a 6,000-acre wildlife reserve where you can spot over 270 species of birds and the rare African chameleon. Or...just pick a spot to flop down by the beautiful blue water. That works just fine, too.
What's better than a white-sand beach lapped by the aquamarine Aegean? Two white-sand beaches lapped by the aquamarine Aegean, of course. Megalos Simos and Mikros Simos are joined by this slender strip, forming the kind of curly "X" shape you last saw in algebra class. The island is just off the index finger of the Peloponnese, so it's hard to get to, but well worth the effort. And although camping isn't exactly what you think of when you dream up a Greek beach vacation, that's exactly what's on the menu here: after chowing down on fresh fruit and even fresher fish at Cervi, head a little further north and park it for the night at a Simos Camping site to experience a more unique side of paradise.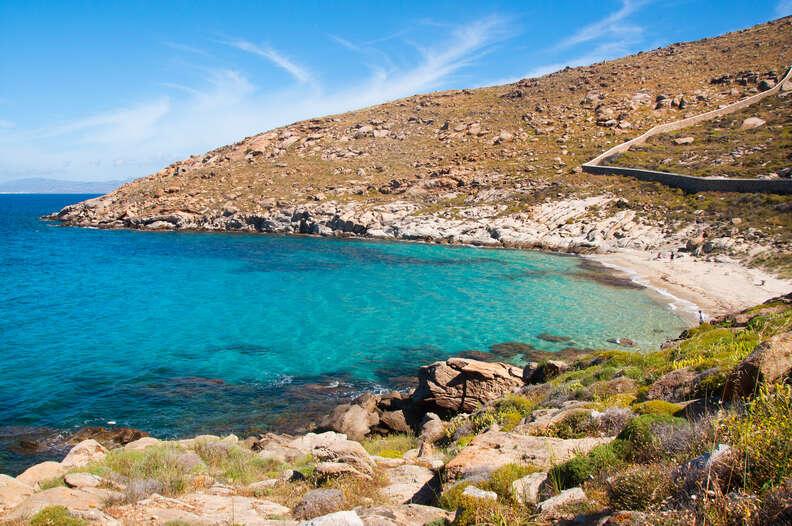 Don't get us wrong, there are a lot of nice beaches on Mykonos. But if you're not careful, you might just end up on one where a cocktail costs a day's budget and people judge you based on how much you spent on your swimming trunks, and also, you spot Lindsay Lohan in the wild. So forget the see-and-be-seen scene of spots like Psarou, and head to Kapari instead. It's conveniently close to Mykonos town and has sparkling calm water, but it's mainly a locals' hangout that remains refreshingly untouristed. After a blissful, non-pretentious afternoon, one of the many, many seaside restaurants that line the shore should top off your day nicely. For Greek sunsets and seafood, try Vasilikos or Kostantis, or dig into more than two dozen varieties of hot, gooey pizza at Bellissimo.
If you're going to run aground, you'd want it to be somewhere like Navagio Bay. That's exactly what happened to a cigarette smuggling ship 30-odd years ago; presumably, the crew consoled themselves by lighting up on the spot. The rusty hull still lies on the sands (hence the name, which translates to "Shipwreck Bay"), giving the beach its unique, brochure-ready look. You can only get there by boat (there are plenty of options in Zakynthos town), but don't expect to be the only one who makes the effort—this is a superstar beach, and everyone knows it. Even if you're just there to catch the iconic view of the beach from above, it'll still take some heavy lifting: the cliffs are, as you can see, way too steep to climb, and the bird's-eye viewpoint is about an hour by car from Zakynthos.
You don't go to Santorini for the beaches: you go to look out over the awe-inspiring caldera and feel cool as hell. Still, all that volcanic history gives Santorini's shores a special appeal of their own: black sand. Kamari is a strip of the stuff long enough that it won't feel too crowded, despite the island's undying popularity. Just grab a straw-topped parasol and settle down for a day of naps, dips in the sea, and (of course) trips to the bar. Plus, along with a very cool open-air cinema and cocktail bar, it's also worth visiting the Temple of Poseidon, whose remaining arch earned this beach its name, and the ancient ruins of Thira, both of which sit at the end of the beach at the base of the Mesa Vouno mountain.