An aerial shot of the ritzy Medano Beach at Cabo San Lucas.

| Danny Lehman/Corbis Documentary/Getty
An aerial shot of the ritzy Medano Beach at Cabo San Lucas.

| Danny Lehman/Corbis Documentary/Getty
Note: We know COVID-19 is impacting travel plans right now. For a little inspiration, we'll continue to share stories from our favorite places around the world so you can keep daydreaming about your next adventure.
Why are you really going to Mexico? For most people, the short answer is very likely: the beach. And for good reason -- Mexico has about 5,800 miles of coastline offering every variety of dreamy beach vacation there is. If you're looking for a remote strip of sand with few crowds and fewer clothes, there's plenty of that to go around. But the tradeoff with these under-the-radar Mexican beaches is they're often lacking in certain conveniences (to say nothing of luxuries), and situated far from major airports, costing you valuable vacation days in transport.
Some of Mexico's best beach towns dot both the Pacific and Caribbean coasts, and not only come with idyllic shorelines, but have first-rate accommodations, bars, and restaurants to match. These are the beaches that put Mexico on the tourist map -- pick any one of them for a care-free trip to a beach dreamland.
Cancún
Mexico's most popular playa playground, and its most easily accessible
Ahh Cancún, the ultimate Mexican beach town. Believe it or not, Cancún was designed to be exactly that; prior to 1970 this part of the Yucatán peninsula was raw, virgin beach backed by hundreds of miles of jungle and mangrove forest. In the '70s Mexico began the Cancún resort project, with the construction of hotels and tourist establishments that would extend 93 miles along the Caribbean Sea.
And it worked. Today Cancún is one of the most popular tourist destinations in the country. It has Mexico's second most important airport, receiving the largest number of international passengers in the country, mere minutes away from Cancún's 187 hotels with more than 35,500 rooms.
Most people who visit Cancún tend to stay in one of the many all-inclusive resorts that line the shorefront, but lately travelers are expanding their horizons to discover what else the surrounding area has to offer, from nearby islands like Isla Mujeres and Isla Holbox, to Mayan archaeological sites like Chichen Itza, to smaller surrounding beach towns like Puerto Morelos. But Cancún proper is absolutely known for its widespread hotel offerings, popular tourist restaurants, bars, clubs, and, of course, a stretch of powdery white sand as far as the eye can see.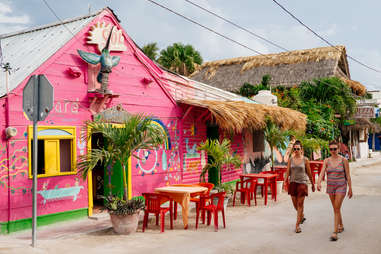 Isla Holbox
Mexico's very own Caribbean island
Everyone knows about Cozumel, but Mexico actually has multiple islands in the Caribbean Sea. One of the most beautiful that absolutely needs to be on your travel radar is Isla Holbox, off the northern coast of the Yucatán peninsula. This tiny, car-free island is only accessible from a quick boat transfer from the town of Chiquila. Once you hit the shores, you'll disappear into Robinson Crusoe mode.
Popular with yogis, backpackers, and Mexican tourists, this slice of Caribbean paradise has hotel accommodations for most budgets (everything from backpacker-friendly to small-scale boutique luxury), as well as restaurants that serve ultra-fresh seafood and delicious cocktails with a side of live music. It's also one of the best spots in Mexico to go swimming with whale sharks -- a once-in-a-lifetime Mexico experience that you absolutely cannot miss.
Playa del Carmen
Like Cancún, but with decidedly more "charm"
After Cancún was "Cancún" and before Tulum was "Tulum," there was Playa del Carmen. Two decades ago Playa del Carmen was just another sleepy Yucatán fishing village just down the coast from Cancún. But that idyllic existence was short-lived once visitors started migrating south to discover bleach-white beaches, turquoise waters, and quaint seaside palapa huts serving fresh ceviche and cold cervezas.
Long gone are the days of cheap beach living in Playa del Carmen; today it's one of the largest cities in the Yucatán. But with that tourist infrastructure comes the comforts and luxuries people look for in a relaxing beach vacation. Meander the famous 5th Avenue for its 24/7 energy. By day go bikini-style at one of the seemingly endless beach bars, but by night slip into something a little less comfortable and sip fancy cocktails at rooftop hotels like The Thompson or Live Aqua Boutique Hotel. Bring your USDs, and plenty of them -- of course there are still plenty of places to grab tacos on the cheap, but you'll have to venture back into the city streets for that.
Tulum
Instagram's favorite boho-chic-lux Mexican beach
And speaking of USDs… if Playa del Carmen was once a sleepy fishing village, then Tulum was downright unconscious. Then, like other made-for-social-media destinations around the world, it endured "the arrival, in order, of backpackers, hippies, rich hippies, scenesters, and eventually bachelor parties" as it was elegantly put in The Cut. Now, Tulum has been jolted wide awake and into the lap of very weird luxury.
Tulum initially was put on the map because of its pre-Columbian Mayan walled city, which served as a major port for the Mayan civilization. Its claim to fame is the stony perch that sits atop a cliff gazing down at the electric blue water below. As travelers ventured further south to explore what lay beyond Playa del Carmen, Tulum rose up as a playground for New Age spiritualists, boho-chic fashionistas, and lovers of moonlight raves. Tulum still tries to cling to that vibe today, but with an overwhelming presence of boutique luxury hotels that vie for their own patch of cocaine-colored sand and clientele of fedora-topped New Yorkers. Add to that a high concentration of wellness centers, organic restaurant concepts, and thinly veiled high-end shopping (potato sack chic, if you will), and Tulum is now one of the world's most recognizable luxury beach towns.
Mahahual
It's like Tulum without being too Tulum-y
Keep driving south past Tulum (like, two-and-a-half hours south). Along Mexico's pristine Costa Maya -- the stretch of shoreline that runs from Playa del Carmen to the border of Belize -- you'll discover Mahahual, which has a Tulum vibe minus the Tulum price tag. This bohemian beach escape is popular among Mexican travelers, and anyone who lives in or around Cancun talks about Mahahual with a dreamy, far-off look in their eyes. Picture shockingly white sand, jewel-colored water, a string of palapa'd beach bars and restaurants, and not much else. Mahahual does happen to be a cruise port (but a very small one), so when you get to the shoreline perhaps avert your eyes from the left side of the beach where sits an unsightly pier. To the right, it's all mangroves, bleached sand, and open sea.
Puerto Escondido
The most active beach bum town you'll ever meet
When 4pm rolls around in Puerto Escondido, a surf Mecca on the coast of Oaxaca, newbies will start to wonder how anyone gets anything done around here. By the late afternoon and into the wee hours of the morning Australian surfers, expats, and backpackers are often in full party mode, though no one mobilizes to get to the parties until after 9. It's the sleepiest surf party town you'll find. After closing down the bar at 4am, watch in amazement as surfers still drag themselves out of their hostel caves to catch the 7am surf. (Getting smacked around by 10-foot waves at dawn will knock a hangover right out of you.)
Beyond widespread surf culture, this beach town is on the cusp of transforming from secret hideaway to full-on hot spot. You can still score dirt cheap taquitos on the street, but you'll definitely find more and more bars and restaurants opening with shabby-chic decor and cocktails with ingredients that sound like they came out of a wizard's pouch (I'm looking at you, Elderflower).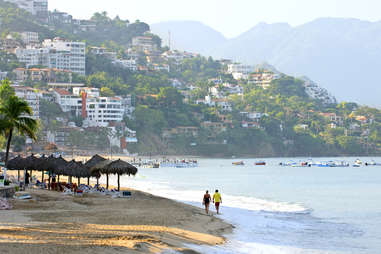 Puerto Vallarta
A gorgeous, gritty town with dance parties that go all night
While the east coast Mexican beach towns are predominantly devoted to the tourism industry, Mexico's preeminent west coast beach town offers a decidedly different vibe. Puerto Vallarta sits on the Bay of Banderas, one of the largest bays in the world. Stunningly beautiful, the city is the perfect combination of coast and thick jungle-covered mountains, and offers great nightlife. From Puerto Vallarta it's possible to explore the many smaller cities and towns surrounding the bay, but Puerto Vallarta certainly ought to be a home base.
The city's historic center, the Zona Romantica, is decidedly rough around the edges, but in the most charming way possible. Cobblestone streets are flanked with historic buildings capped with red tiled roofs and draped with brilliantly purple bougainvillea blossoms. The newer part of the city is a stark contrast with luxury shopping malls, a strip of hotels, and a heavily touristed marina. If it's hotels and upscale restaurants you're after, stick to the Hotel Zone. But if you're after a grittier, more local experience, the southern end of the bay is where it's at.
Disclaimer: Puerto Vallarta proper does not have the most beautiful beaches in Mexico. They are rocky and packed with bars and restaurants that spill practically right out to the water's edge. But what you will find along Puerto Vallarta's beaches is a thriving social scene where locals, tourists, and expats all mingle together in a way that is completely unique to other destinations in Mexico. There are private-esque, hidden beach coves farther long the bay that do offer a more idyllic experience, but you'll have to hunt to find them. (Here's a much fuller guide on how to get the most out of a visit to Puerto Vallarta.)
Sayulita
A backpacker paradise that's turning into Tulum West
Just north of Puerto Vallarta is a once-sleepy surfer town that in recent years has become one of the most photographed and visited beach towns in all of Mexico. Sayulita, a backpackers paradise, was never going to stay off the radar for long, with its crescent beach perfect for starter surfers, its expat-run eclectic galleries, small bungalow hotels, and petite bars with live music. Sayulita had all the ingredients to become the next playground for the, ugh, boho chic.
But before we knock it too hard, Sayulita is admittedly incredibly charming and fun. It draws a mix of young surfers and Mexican travelers looking to escape its far bigger southern sister, Puerto Vallarta. The bar and restaurant scene is small, but vibrant, as diners and revelers spill out onto the street, enjoying conversation and live music that fills the salty, humid night around the main square. It is a very beautiful little corner of Pacific Mexico.
Still, know before you go: holidays will leave the one road into this town moving at a snail's crawl and finding a space to sit on the small beach will actually become your own personal hell. If you travel 15 minutes further up the coast you'll discover San Pancho, which is what Sayulita used to be a decade ago.
Mazatlán
Famous shrimp on a charming, historic coast with epic sunsets
Mazatlán is one of the most underrated Mexican beach towns from an international standpoint, but as far as locals are concerned there is no better spot in all of Mexico. The people of Mazatlán are fiercely proud of their city -- and for good reason. It is one of the only colonial Mexican cities that boasts a beautiful shoreline. Admittedly there was a period of years when Mazatlán wasn't safe for tourists (perhaps you've heard of the Sinaloa cartel?), but the city has since rebounded to become one of the safest and most charming beach towns along the Pacific coast. Surrounded by mountains, the city is veined with cobblestone streets, and known for its epic sunsets.
It's a tourist town for sure, but it still bears a Mexican soul. And in the past few years the government has been investing millions to make city improvements, like renovating its 13-mile coast-hugging malecón (boardwalk) and reinvigorating the colonial downtown. Tip: Book a stay at boutique hotels like Hotel Jonathan or Casa Lucila in the historic center, where pastel-colored buildings and broad courtyards are evocative of Old Havana or Santo Domingo, Dominican Republic. The downtown opens right up to the beach, which is flanked with modest beach restaurants serving up the famous Mazatlán shrimp and ceviche. Wash it all down with a Pacifico beer, whose birthplace just happens to be Mazatlán.
MORE: Mazatlán is one of Mexico's most overlooked destinations... here's what you're missing
Los Cabos
A very fancy phoenix that rose from a near-devastating hurricane
In September 2014 Los Cabos was struck by Hurricane Odile, a powerful blow that gutted much of the Baja peninsula, destroying hotels and infrastructure and halting tourism. But Los Cabos -- an overarching name for the coastal cities San Jose del Cabo and Cabo San Lucas -- has reemerged as one of the most luxurious beach destinations in all of Mexico.
Luxury may even be an understatement when you're talking about hotels co-owned by Robert De Niro and celebrity chef Nobu Matsuhisa, or the new Four Seasons and Ritz-Carlton Reserve. Los Cabos is over the top, so if you're looking for Mexico on a shoestring budget, steer clear. What you will find is stark, rugged natural beauty, stunning hotels, and lots and lots of yachts.
Huatulco
A calm series of nine bays on the rugged Oaxacan coast
If you're a lover of cruises (or a Canadian), then you're definitely familiar with Huatulco. This city on the coast of Oaxaca is a busy cruise port for smaller cruise ships, and a popular destination for Canadians with many direct flights into Bahias De Huatulco International Airport. To say Huatulco is "under the radar" isn't really accurate anymore, but even as one of Mexico's most important beach towns, it still feels decidedly sleepy.
Huatulco sits on nine very distinct bays, all clustered around the main Santa Cruz Bay, which is home to the most popular restaurants and hotels. As to be expected, this is where the busiest beaches are (read: all the people). But even by high tourism standards, we aren't talking the same crowds or prices of destinations like Cancún or Los Cabos. The best advice is to make Santa Cruz Bay your homebase, where there are the highest concentration of hotels, and spend the day exploring the surrounding bays, like Chahue Bay and San Agustin Bay.
One of the most stunning beaches is found at Cacaluta Bay, known for its appearance in the film Y Tu Mamá También. It's undeveloped, and accessible only by boat, or by land with a taxi ride and then a hike. But if secluded, virgin beach is what you're after, this is it.
Ixtapa-Zihuatanejo
One destination. Two very different vibes.
The two sister destinations of Ixtapa and Zihuatenejo share an airport and are less than 20 minutes from one another by car, but for being so close, they might as well be worlds away. If you want the better beaches and resorts, you're going to Ixtapa. But if you want a charming, down-to-earth Mexican seaside village, it has to be Zihuatanejo.
And before you ask, yes, it is THAT Zihuatanejo, the one romanticized by Tim Robbins and Morgan Freeman in The Shawshank Redemption. But you won't see Andy and Red there, as the iconic final scene was actually shot in St. Croix in the Caribbean. So curb your expectations before you go -- the Pacific coast of Mexico is NOT known for its sugar-colored sand. It's more golden, with a cobalt-colored sea. Still, Zihuatanejo is packed with history and charm, from meandering side streets, barefoot beach bars, restaurants, and an energetic nightlife. One of the beach towns in Mexico that is still dominated by Mexicans, you won't find Señor Frogs here. At most it's a vacation rental hideaway for snowbird Canadians, and we are more than OK with that.
Venture just 20 minutes south of Zihuatanejo to discover unspoiled, unending beaches that stretch for miles and miles with only a hotel or two scattered here and there. Sunsets are epic, to say the least, and you'll feel as though you're the only person in the entire state.
Progreso
The one beach in Mexico you need to visit right now. Like, now.
The state of Yucatán (northeast of Quintana Roo, of Cancun/Playa Del Carmen/Tulum fame) is hot right now, and things are going to change. Quickly. Industry speak: One of Mexico's biggest travel events is going to be hosted in the state of Yucatán early next year, and with that comes travel agents and media, all of whom are invited to discover and eventually promote the destination. So the window on Yucatán remaining "charming" without using the word "charming" on a brochure is closing fast.
You're going to Yucatán to visit Mérida, Yucatán's largest city with the largest airport, but while you're there an absolute must is the beach town of Progreso, the state's most well-known beach. This Caribbean-esque beauty has a beautiful oceanfront malecón with thatched roof bars and restaurants, and is one of the best spots to see the flocks of brilliantly pink flamingos that live in the lagoons nearby. Development is in the cards for this stretch of beach, and the resorts are coming. Granted, they will never be as massive as Cancun's resorts, but more hotel options means, well, more of everything else.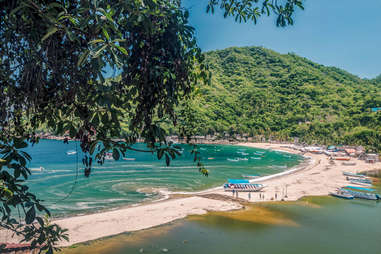 Riviera Nayarit
Read this, then get there while it's still perfect
Riviera Nayarit -- a 200-mile stretch of beachfront towns that extend north from Puerto Vallarta -- is an area that rewards exploration. That means venturing beyond the well-trod towns.
Resist the urge to plunk down in Sayulita and head north, stopping off at San Pancho -- which is what Sayulita used to be like before it got Tulum'd: a town with heavy fishing village vibes and much prettier beaches. If you keep going north you'll hit other beach destinations like Rincon de Guayabitos and Guayabitos, which are great, but what you're aiming for is Chacala. Why? It's so damn beautiful. Why again? No one really knows about it. Maybe it's because it's kind of difficult to get to (the closest airport is Puerto Vallarta, which is two hours away). Or maybe it's because most travelers get distracted by the more popular beaches on the way. But with a bit of patience, you will be handsomely rewarded with views of rolling, green mountains that back a rugged, impossibly gorgeous cove. There's basically one main road (which isn't even paved), some cobblestone streets, a smattering of restaurants (which are cheap and delicious), and... that's kind of it. Which makes it perfect.
Go, and go now. A nearly $2 billion (yes, billion) master-planned community is in the works for this exact stretch of coast. It's called Costa Canuva and it's going to completely change everything, adding luxury hotels and no-doubt bringing with it throngs of tourists. Discover it while it remains undiscovered to all but the locals.
East Cape
The search for "Old Baja" ends here
So, not to be a total downer, but remember that thing about the luxury hotels in Chacala? Yeah, it's not just happening in Nayarit. It's happening all over Mexico. Mexico is very, very trendy for investors right now, and they're thirsty for real estate.
Take the Baja Peninsula. You already know Baja because of Tijuana and Los Cabos. But soon you're going to be hearing about a place called East Cape, if you haven't already. Four Seasons just opened, and an Aman is not far behind. The East Cape is about 70 miles of coastline that stretches from San Jose del Cabo to Los Barriles. People in the know have been coming here for years for a taste of the "Old" Baja -- the Baja that was an outdoor adventurist's escape with vast stretches of pristine beach, winding desert roads, and dusty cantinas, versus the glitz and glam of the yacht-cultured "new" Baja. It really is a whole other, beautiful world of perfect beaches, under-the-radar hotels, fantastic diving, and awesome adventure-travel opportunities.
You'll pass through Cabo Pulmo National Park (the road to the park isn't paved so be prepared for a bumpy ride). Stop. Maybe for a long while. And definitely, definitely bring that snorkel mask because it has some of the highest concentration of fish in the whole Sea of Cortez, and a beautiful coral reef to boot.
That said, with the new Four Seasons and an Aman on the way, paradise may be paved before we know it. Get to it while it's still deemed a new frontier.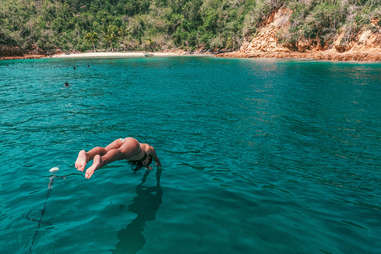 Costalegre
150 miles of pure bliss along the Happy Coast
The beaches north of Puerto Vallarta get most of the attention, but don't sleep on the south. Locals and long-time visitors will be in on the secret that is the Costalegre, a 150-mile stretch of beaches, bays, and coves. The entire coast is, in a word, spectacular. Imagine vast stretches of raw shoreline backed by palm trees and mountains, where often the only things you can hear are the epic waves crashing. (It's a scientific fact that Pacificos taste better when consumed to the soundtrack of crashing waves.) For decades the Costalegre was home to only a few high-end hotels and smaller, local beach towns mostly frequented by locals.
But -- you guessed it -- this is about to change. Another Four Seasons, as well as a commercial airport, are slated to open (the airport is reported to be ready for flights this year), and will likely crush the "under the radar" status that the Costalegre now enjoys. Barra de Navidad is the most well-known beach town, but the beaches are actually better in neighboring Melaque. Both are calm and easy-going, packed with beachfront seafood joints and brimming with lazy, laid-back charm. The best things you're doing here are all outside. Restaurants close early and the nightlife is rather sleepy. But you'll be seeing a part of Mexico that truly is its most beautiful.
Of note: For something really out of this world (albeit pretty pricey), check out Careyes, just north of Barra, a privately owned 20,000-acre retreat for wealthy bohemians. Careyes is something that needs to be seen to be believed, but it's basically the brainchild of an Italian millionaire who built a luxury artist/cultural colony on the beach and into the jungles. It's huge. And you would never even know it was there unless you randomly stumbled upon it. They have fabulous villas perched on cliffs, a small village that looks like Portofino from the water, a hotel, restaurants, polo fields (yep), and even a conservation foundation. Google it. Trust me.
Celestun
A Caribbean color palette with none of the crowds
Mexico's State of the Yucatan is hot. As in trendy. But until now it has managed to avoid the onlsaught of mass tourism. But that's going to change very soon and you're going to want to get in on it now before prices start to go up.
First of all, Yucatan is home to the city of Merida, which is one of Mexico's best-kept secrets. Or, it was. Merida is a colonial city with leafy plazas, beautiful Spanish architecture, and fantastic food (have breakfast at El Barrio). But in the wake of hosting one of Mexico's biggest travel-industry events this March, hundreds of travel agents, tour operators, hoteliers, and media types are poised to give it a big push, so expect to hear more about it. A lot more. (Yes, we understand we're a media outlet telling you to visit. But at least we're early adopters.)
The Yucatan has pretty much everything you love about Mexico -- culture, cuisine, ruins, and, obviously, beaches -- and maybe a fraction of the crowds that Cancun has. The biggest beach town on the map is Progreso (see above). But the other beach destination that deserves your time and attention is Celestun. This stretch of sugary sand has a cute little beach town with palapa-topped restaurants and bars, but the real spotlight is on the Reserva de la Biosfera Ria Celestun, a phenomenal wildlife sanctuary home to thousands of neon-pink flamingos. You can hire a boat right on the beach to take you into the mangroves for an up-close look at a literal wall of pink. When you get back, grab a plastic chair at La Playita and dig into some amazingly good ceviche.
Celestun is very easy to get to from Merida if you want to make it a day trip, as well -- it's less than an hour in a taxi or you can take the bus.
Meagan is a travel writer living and breathing in NYC. But if you give her a plane ticket today, she will be somewhere else tomorrow. She like tacos, music, and making lists. But travel is her life.