A Visitor's Guide to the Best Beaches in North Carolina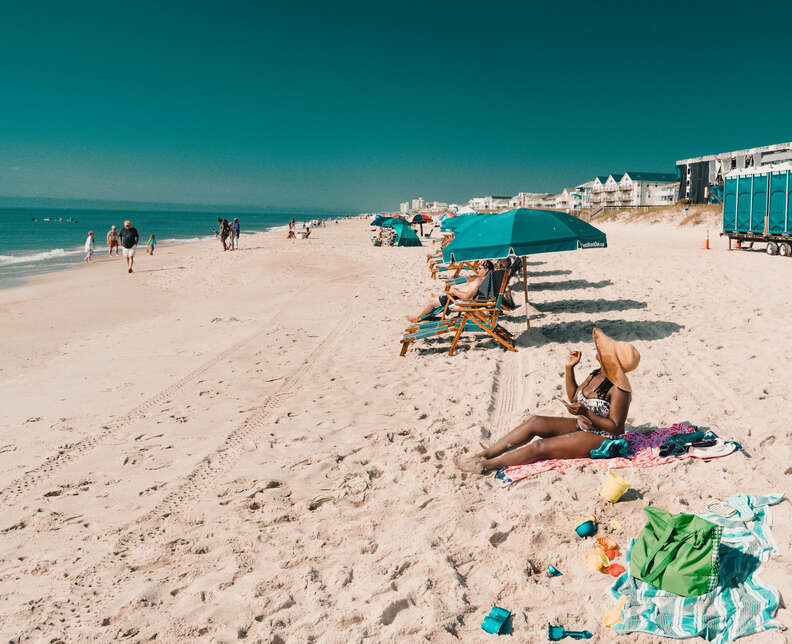 A trip to laid-back Carolina Beach means soaking in the sun and catching a couple waves.

| Sergey Galyonkin/Flickr
A trip to laid-back Carolina Beach means soaking in the sun and catching a couple waves.

| Sergey Galyonkin/Flickr
Known for agriculture, universities with intense basketball rivalries, Cam Newton's fashion choices, and political missteps over the past few years, North Carolina is also home to roughly 322 miles of ocean shoreline. Most people are familiar with the beaches of The Outer Banks, but there are so many more options than just the barrier islands that comprise the OBX.
From family friendly to environmentally friendly -- and everything else in between -- there's a beach for every preference in our fair state. Adventure seekers (especially scuba divers) flock to our coast, which has been given the nickname "Graveyard of the Atlantic" due to the impressive -- and somewhat scary -- number of shipwrecks. Conservationists and nature lovers can come and see turtle nests and hatchings. People who need a break from their hectic lives can just relax. Here's a list of our favorite 10 North Carolina beaches with not-to-miss dining options and activities at each one.
Bald Head Island
Leave your cars and cares behind, at this ferry-only accessible beach
Bald Head Island is the place to go when you want to get away from it all. Play golf, take a hike, relax on the 14-miles of beaches, and visit the "Old Baldy" Lighthouse. Bald Head Island is also known as a sea turtle nesting destination and there are options through the Bald Head Island Conservancy to view these nests responsibly during hatching season.
Where to eat/drink: Rent a golf cart so you can get around (it's care free). When you get hungry, dine on the water at Mojo's on the Harbor, or enjoy Latin flavors at Delphina Cantina. Grab a drink after a day of adventure or sunbathing at Will O' the Wisp. If you're feeling like you want to keep up with the Joneses, check out The Bald Head Island Club or The Shoals Club, BUT you will need to purchase a full or temporary membership.
Kill Devil Hills
Kill Devil Hills: the real "First in Flight" location
Although neighboring Kitty Hawk gets all the glory, the actual location of the Wright Brothers' historic flight occurred in neighboring Kill Devil Hills and they have the monument to prove it. Visiting the monument is a great respite from the beach, especially if you are a little crispy after forgetting to reapply sunscreen. Kill Devil Hills is also super easy to navigate via bike, so bring your own or rent one from one of the many shops when you get there.
Where to eat/drink: Get your day started, and destroy your summer body in the best way, with the smothered hash browns and/or the banana split pancakes from Stack'em High Pancakes & So Forth. The Kill Devil Grill has been providing their signature PBR beer can shrimp and other favorites for over 15 years. Head to the Food Dudes Kitchen for your fish taco fix. And don't leave without trying one of the chocolate chip cookie ice cream sandwiches from Booty Treats.
Emerald Isle
Dolphins and disc golf abound in Emerald Isle
With only one oceanfront hotel, the Islander Hotel & Resort, Emerald Isle is perfect for a memorable, no frills beach getaway. Bring your book, go on a boat ride to watch dolphins swim, get a glimpse of wild ponies, and play disc golf to experience a one-of-a-kind vacation.
Where to eat/drink: Caribsea is where you go for a fancier meal on Emerald Isle. It's the place to go for seafood and steak. For more casual dining options, the Village Market is the perfect place for sandwiches, while Michelangelos serves up delicious subs and pizza. Flipperz is the go-to family-friendly restaurant on the island and Kathryn's Bistro is where to go to sneak away from the family and snag a martini.
Wrightsville Beach
Have an active beach vacation at Wrightsville Beach
Just east of Wilmington, Wrightsville Beach has 5 miles of shoreline that attracts beach lovers and adventure seekers alike. Its proximity to Wilmington and a fun selection of restaurants and bars are perks, but it's the water and water activities that keep many coming back. Want to learn to sail? You can do that here. Want to take a surf lesson or learn how to paddleboard? You got it. Wrightsville Beach is the place for kiteboarding and scuba diving as well.
Where to eat/drink:Oceanic is the place to go to enjoy fresh seafood and eat on the Atlantic Ocean. Situated on Crystal Pier, originally built in 1939, diners can see, hear, and smell the ocean breeze. After a long day in the sun and in the water, Lager Heads Tavern is the perfect spot to listen to live music and enjoy a cold. But be careful, it can turn into a racuous party real quick. Start or end your trip by having brunch at Shark Bar + Kitchen. Served on Saturday and Sunday, we recommend the crab cake benedict and one of their cocktails.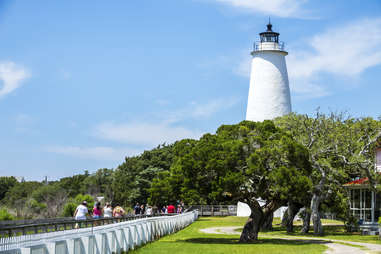 Ocracoke Island
Ocracoke Island is comprised of pristine beaches and pirate lore
Considered Blackbeard's favorite hiding place, and as some say, the place he haunts, Ocracoke Island may seem like a quiet beach town, but there is plenty to do during your stay. Owned by the National Park Service, the beaches are some of the cleanest around. Get there by ferry, boat, or private plane if you've got it like that, and stay to unwind and unplug. Once on the island, rent a bike or a golf cart to get around.
Where to eat/drink: The Pamlico shrimp and grits made with chorizo, homemade pimento cheese, piquillo peppers, cotija cheese, and house shrimp broth from Dajior will have you immediately booking your next stay on the island. Grab a craft beer from Ocracoke's own brewery, 1718 Brewing Ocracoke, which usually hosts food trucks, bands and beer events. Don't leave the island without eating at Eduardo's Ocracoke, which serves up delicious Mexican food to locals and tourists.
Atlantic Beach
Where both the beach and the aquarium have equal drawing power
Atlantic Beach is famous for its translucent waters, but also for its maritime and pirate history, which includes The Queen Anne's Revenge (Blackbeard's ship) running aground there. Considered a family-friendly beach, Atlantic Beach is also home to the not-to-be-missed -- especially on a rainy day -- North Carolina Aquarium where you can see everything from sea turtles to butterflies.
Where to eat/drink:Big Oak Drive-In & Bar B-Q may not be much to look at on the outside, but it is where you can get a mean shrimp burger, which is their specialty. Get your hush puppy and fried food fix at The Shark Shack. Amos Mosquito's Restaurant & Bar may have a kitschy name, but don't let it fool you. This is where to go to take a break from the traditional fried beach food. Pro tip: order their sushi. And finish it off by grabbing a cold one at the Tipsy Turtle Tavern.
Duck
Beautiful sandy beaches, the home of Duck Donuts, and a stellar jazz festival make Duck a 'must' beach destination
With less than 400 year-round residents, Duck is an upscale community at the northern tip of the Outer Banks, with 7 miles of white, sandy beaches. Duck is a dog friendly beach, and has been repeatedly recognized for being family friendly. Although a small beach town, Duck has numerous dining and shopping options. In the fall, Duck is known for the Duck Jazz Festival, which brings an impressive lineup of musicians year after year.
Where to eat/drink: Enjoy delicious organic food and a massage at Aqua Restaurant & Spa (kill two birds with one stone!). Head to the Paper Canoe and enjoy beautiful waterfront views and one of their signature wood-fired pizzas. The Blue Point is a great date night spot with fresh seafood and a solid wine selection. Also, you cannot come to Duck without going to Duck Donuts (yes, the original location).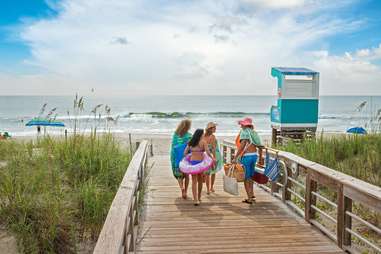 Carolina Beach
Classic beach town complete with a boardwalk and entertainment for all ages
If you're looking for a tried and true beach town, Carolina Beach is your spot in North Carolina. The boardwalk features various shops, restaurants, and amusement park rides. Fishing is a must in Carolina Beach and there are plenty of options depending on your preference (and whether or not you get sea sick). You can cast a line off the Carolina Beach Fishing Pier or charter a fishing boat for the day.
Where to eat/drink: Get your shrimp and oyster fix at the Shuckin' Shack. Get a potent and pretty tiki drink at the Seawitch Café & Tiki Bar, or get your dive bar fix at The Fat Pelican. But remember, no one will believe you went to Carolina Beach if you don't go to Britt's Donut Shop. Open since 1939, these donuts have a cult following and you'll know why as soon as you bite into one.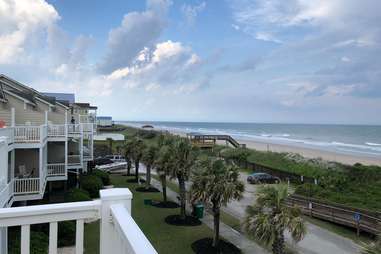 Topsail Beach
Natural beauty at its best in this small beach town paradise
High-rise hotels are not allowed on Topsail Beach (pronounced Tops'l), a beach community with a focus on conservation and the environment. Home to some of the best shell hunting, especially conch shells, Topsail is also a regular summer nesting place for the loggerhead sea turtle. If you are interested in more activities and entertainment, you can easily get to neighboring Surf City, but it's the quiet seclusion of Topsail that is the real draw. Bonus: Dogs are welcome on the beach.
Where to eat/drink: Get the true Topsail experience and eat at The Beach Shop & Grill. Originally a soda shop in the 1950's, the menu has been updated, but still pays homage to its soda shop roots by serving burgers and key lime pie. Named after a greyhound with many passions, including shark fishing (seriously, we love her adventures), Cora's Isle-End Deli makes some of the best sandwiches on the island. The Breezeway Restaurant is a motel and restaurant that has been on the island since 1949 and serves hushpuppies so good you may make inappropriate noises at dinner. Fun fact: You can order the hushpuppy mix online or buy it at the restaurant if you want to try to recreate the magic (but really, you'll never be able to recreate the magic).
Nags Head
Quintessential OBX beach with putt-putt, go-kart tracks and ice cream shops
When most folks think of North Carolina beaches, they think of Nags Head. Nags Head has an endless amount of things to do, so it's perfect for families, the adventure seeker, and the beach bum. Go fishing at the Nags Head Fishing Pier, play miniature golf, go paragliding, or buy a bunch of shirts from the various souvenir and gift shops to prove you were there. Don't miss out on visiting Jockey's Ridge State Park, which features the tallest natural sand dune system in the eastern United States. It's awesome.
Where to eat/drink: Get the catch of the day at the Blue Moon Beach Grill, a spot beloved by both locals and visitors. Grab a beer and a sandwich at Fish Heads Bar & Grill. And no trip to Nags Head would be complete without getting a frosty treat. The froyo at Surfin' Spoon is perfect way to cool down after a day in the sand and surf.
Erin Breeden is landlocked mermaid who dreams of being at the beach on a regular basis, but will settle for writing about the beach. Follow her and her adventures on Instagram: @ErinMBreeden.