Any island hot enough to produce salsa, rum, "La Bomba", and Joan Smalls is sure to have some pretty sweet beaches, and Puerto Rico most certainly does not disappoint. Here are five you shouldn't miss, even though one of them is hidden...
Isla Verde Beach -- San Juan
Why it's on this list: Condado schamado, this is the finer of the two San Juan metro area swaths of sand. The hotels and restaurants are swankier, there are more swaying palms, and Isla Verde's status as the prime playa in San Juan tends to attract a sexier crowd.
Bonus: Check in and party at The Beach House. This tiny boutique hotel hosts some of the hottest weekend parties in the city, with dancing in the sand/under the stars extending 'til hours often referred to as "wee".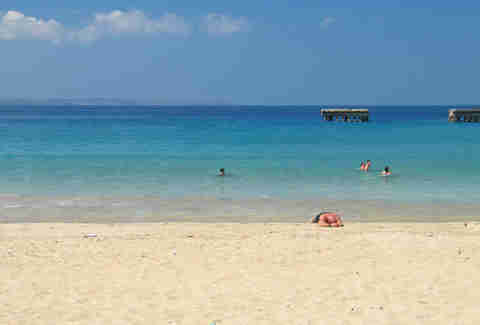 Crash Boat Beach -- Aguadilla
Why it's on this list: Aguadilla is sleepy, laid back, ultra-local, and home to 19 beaches -- more than any other municipality in Puerto Rico. A series of old piers at Crash Boat make for easy and amazing snorkeling adventures, while offshore swells ideal for intermediate surfers also draw crowds. It's best to get here and out on your board early to avoid the throngs that tend to show just after noon on weekends.
Bonus: If you get tired of all that sun, surf, and sand, head over to the nearby Aguadilla Ice Skating Arena, the only facility of its kind in the Caribbean. Hey, it makes as much sense as the Phoenix Coyotes.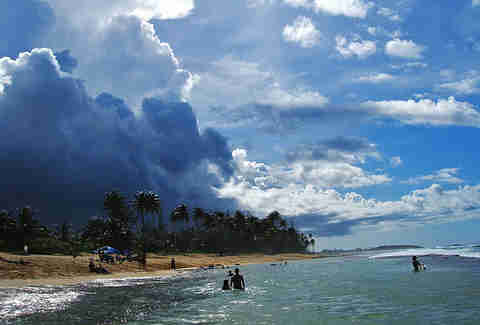 Piñones Beach -- Carolina/San Juan
Why it's on our list: There's no better beach to experience the real flavor of Puerto Rico than Piñones. On Sundays in particular, scores of kiosks sitting between the beach and the road serve the most amazing array of local dishes imaginable. The music is loud, the cervezas ice-cold, the food portions generous; Puerto Rico at its finest.
Bonus: You can work off the pounds you're bound to put on (after you try these tasty specialties) by trekking along the Boardwalk, a seven-mile nature trail that runs along the coast and through the Piñones Mangrove Forest. While communing with nature, take a moment to reflect on the staggering beauty of this island, and how hilarious the word "mangrove" is.
Playa Puerto Nuevo -- Vega Baja
Why it's on this list: Two words: La Peña. This enormous rock formation acts as a natural barrier protecting the sandy shore from ginormous Atlantic waves that would surely wipe out any and all beachgoers given the chance. As you can see for yourself, when the waves slam into La Peña, the effect is surreally apocalyptic…
Bonus: In 1990, a group of locals found a most likely nefarious stash of more than $1 million buried in Vega Baja, making Playa Puerto Nuevo the one beach where the reward of bringing your metal detector outweighs the shame.
Hidden Beach -- Fajardo

Why it's on this list: Just look at the name! You have to trek a bit through bush, swamp, and mangroves to get here, but if you're looking for that deserted island vibe, this is the spot.
Bonus: The best views here aren't all out to sea. Turn around and gaze at the majestic El Yunque Mountain and its surrounding National Forest, and the pleasure on your face will not be… hidden.

Steve Bennett is the Editorial Director of UncommonCaribbean.com.