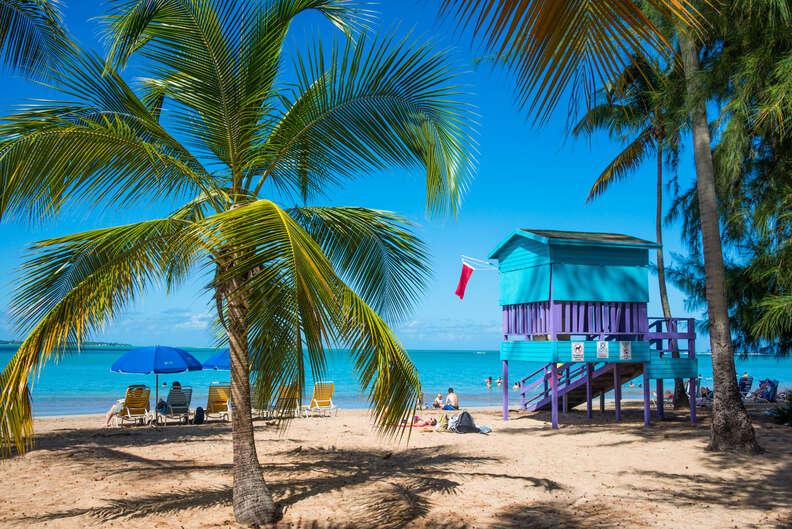 If you're even thinking of being in Puerto Rico, check out the rest of our DestiNATION Puerto Rico travel guide. It's stacked with expert advice from locals on what to eat, where to go, and what to do on the Island of Enchantment.
Puerto Rico has become the American darling of pandemic-era travel. Even as destinations all across the Caribbean reopen, from Turks and Caicos to the British Virgin Islands, the tiny island takes up huge amounts of real estate in the minds of those looking for a balmy weekend getaway (or perhaps a long, sunny workation?).
Along with the tasty mofongos and indulgent rum drinks, we've got a lot of love for the glorious nature PR has to offer: Three bioluminescent bays; El Yunque, the only tropical rainforest in the US. And, of course, some of the world's best beaches.
Puerto Rico is home to some of the most spectacular stretches of shoreline on Earth, from pristine white sand beaches and coral-rich snorkeling havens to crystal-clear swimming holes surrounded by immense, dramatic waves. On any trip to the Island of Enchantment, beaches need to be on your agenda—and these are the country's ten best.
Playa las Picuas, Rio Grande
In Puerto Rico, you can walk out of the jungle and right onto a secluded, sandy beach in a matter of minutes—and there's arguably no better place to do that than Playa las Picuas, about 15 minutes from El Yunque. This secluded beach sits at the end of a thick patch of jungle, and though you'll find a handful of small private houses dotting the coast, you won't find much else.
The small bay transitions beautifully from golden sand to white shoreline to turquoise water, and on some days it also has waves big enough to bodysurf. About an hour from San Juan by car, it's an easy half-day trip if you want some beach to yourself.
More things to do: Take a five-mile boat ride down the Río Espíritu Santo, the island's only navigable river, and check out wildlife in its natural state. Or hit the Carabali Rainforest Adventure Park and ride horses, mountain bikes, or ATVs through the jungle. For food, try Verde BBQ for Puerto Rico's take on barbecue, or head to Richie's Café, a seafood spot right on the Atlantic.
La Monserrate, Luquillo
La Monserrate has long been beloved by both locals and tourists for its clear waters and family-friendly vibe. This is one of Puerto Rico's handful of Blue Flag beaches, meaning it's studiously kept up to make sure it's clean, safe, eco-friendly, and, of course, stunning. The water is usually very calm, so it's great for wee ones or the wave-averse. It lies in the northeastern Luquillo (and also goes by Playa Luquillo)—the small town known as the "sun capital" of the island.
When you inevitably get hungry from all the sun and saltwater, you need not look far—food kiosks line the entrance to the beach. Lots of them. If there's a more ideal setting in which to consume fresh seafood and a piña colada, we've yet to find it.
More things to do: Don't miss visiting El Yunque National Forest—it's just a 15-minute drive away. Hike in the lush, dense rainforest, swim in its crystal clear river waters, marvel at its waterfalls, and even enjoy a panoramic view of Puerto Rico from the summit. The park closes at 6 pm.
Located in the Vieques National Wildlife Refuge, Playa Caracas (aka Red Beach) is considered one of the most beautiful beaches in Puerto Rico. The Navy occupied this area until 2003, restricting access to the beach for decades, so its white sand cove and crystal clear waters are incredibly well-preserved.
These days, though, Playa Caracas tends to get crowded. The water is usually calm enough for snorkeling, especially on the eastern side of the cove near the rock formations.
Vieques is definitely a day trip; you'll need to take a ferry from Ceiba, then a taxi to the beach. But once you've made the trip, you'll have other shores to choose from, too, including Playa Negra which—as the name implies—is covered in black sand.
More things to do: The Puerto Ferro Lighthouse isn't far from here, and even if you can't climb to the top, the views from its base are stunning. For drinks and a good meal, head to one of the several waterfront restaurants along the Malecon in Esperanza. If you stay overnight, kayak across Mosquito Bay, the best and brightest bioluminescent bay in the world. Just make sure to go during a new moon when the microorganisms shine brightest.
Playa Borinquen, Aguadilla
Oh, were the first three on this list not adventurous enough for you? Try this one. Located in the northwest town of Aguadilla, this beach is secluded, comparatively harder to get to, and as a result, way less crowded. Search the waters for remnants of planes from the former Air Force base nearby.
At low tide, you can turn to your right and walk 10 minutes or so to Punta Borinquen, where you'll find some cool-ass caves to explore. A bit further, though, is Survival Beach Cave, which is the coolest of them all. If you turn to your left on Playa Borinquen, you'll reach the ruins of the old lighthouse.
More things to do: Visit the largest "macro-mural" in Puerto Rico at the Cerro Cabrera neighborhood. What is a "macro-mural," you may ask? It is a colorful mosaic composed of 10 colors. Every house is painted as part of the installation, entwining the entire community as one piece of art. Walk up the stairs and along the streets and get ready to Instagram.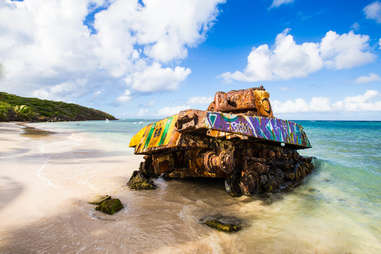 Another great day trip by boat from the main island is Culebra and Flamenco Beach, regularly ranked one of the best beaches in the Caribbean. The water is warm and there are no rocks—just soft sand and little fish, plus one extremely large fish named Godzilla who comes to the same spot every day to hang out. You might even spot some sea turtles if you're lucky.
Yes, Flamenco Beach is ultra-pristine with the exception of, uh—*checks notes*—two Sherman tanks. Leftover from a weapons testing ground the US Navy abandoned in 1975, these time capsules are now considered the most iconic features of Flamenco Bay.
More things to do: If you feel like hiking, drive down the unnamed road off Resaca Road until you hit a dead-end and start your downhill hike from there. The half-hour jaunt ends at the stunning Resaca Beach, which you typically won't have to share with anyone since it's only reachable by foot. Afterward, head to Zaco's Tacos in the town center for some delicious Mexican food. Sit outside to enjoy the beautiful tropical weather and don't be surprised if a rooster walks by your table.
Playa Peña Blanca, Aguadilla
While you're in Aguadilla, you'll also want to see Peña Blanca, also known as Wishing Well Beach. Best visited in early summer, it's constantly being reshaped by the tides, so you could visit year after year and still feel like you're seeing it for the first time. Bring your snorkeling gear and keep an eye out for sea turtles.
If you're really craving some solitude, once you walk down the concrete steps leading to the beach, turn north and keep walking—what little crowd that might be there will thin out pretty quickly.
More things to do: Adrenaline junkies should head to the ruins of the Sugar Mill Pier in Aguadilla, once the busiest pier for sugar trade between the U.S. and Puerto Rico. You can climb the pier, walk to the end, and jump straight into the ocean.
If that feels too intimidating, hike down the hill and enjoy an almost-private beach below. Later, head to Zazones, one of the best Creole restaurants in the northwestern region of Puerto Rico. It may feel like fine dining, but the prices are moderate. Try their house sangria; it is deeeelicious.
Imagine you're standing in a crystal clear infinity pool and, unprovoked, your friend pushes a huge spout of water right over top and drenches you. That's a little like Poza Del Obispo, where the rocks lining the shore form a calm, natural turquoise pool perfect for a lazy afternoon of floating in the sun—and where every 30 seconds, bathers can expect to get splashed by epic, thunderous waves.
While the swimming is glorious, you've gotta be careful: At high tide, those waves can carry you out to sea if you're not paying attention. If you'd rather just enjoy the sounds of the waves and sight of the pool, Poza del Obispo is happy to oblige, with a wide swath of golden sand just past the rocks.
More things to do: Poza del Obispo sits right under the Arecibo Lighthouse, where you'll also find a museum, daily tours, and aerial views of the beach's water show. Since there's nowhere to eat or drink on the beach, you'll want to grab a sunset cocktail and some mofongo at Carbón y Leña, where you can easily get both for under $20. For more seaside drinking, head down PR-681 towards Islote, where seaside bars line most of the road.
Balneario de Boquerón, Cabo Rojo
The beaches in Cabo Rojo along Puerto Rico's southwestern coast are a local favorite, and if you head there on the weekend, families will be out in full force. To enjoy the endless expanses of golden sand and palms, your best bet is Balneario de Boquerón, a national park with limited entry.
Get there early and set up shop along the narrow beach, where the water runs from clear to turquoise to deep navy blue in a matter of feet. The soft, lapping water is abutted by palm trees and other shady shrubs, making it a perfect place to relax away from the crowds. For an overnight adventure, rent one of the onsite cabins so you can enjoy the shores after everyone else leaves.
More things to do: The surrounding town doesn't offer much aside from Boquerón Brewing, so head south and visit Faro Los Morrillos de Cabo Rojo, an 1881 lighthouse with daily tours and views over a frankly terrifying drop down limestone cliffs. If you're looking for seaside eating and drinking, drive ten minutes to Combate Beach, which is typically crowded but has plenty of spots to enjoy a cerveza in the sand.
Playa Vacía Talega, Loíza
If you're undecided on whether you prefer a popular beach or a remote, secluded shore, then Playa Vacía Telega in Piñones might be your answer. Family-friendly and safe for swimming, this crescent-shaped beach with calm turquoise waters can get crowded during weekends and holidays (but even so, don't miss going there, as the sunsets are spectacular). Luckily, if you're looking for a little more solitude, this beautiful local favorite hides its own secret getaway.
All you need to do is hit the short, hidden trail through its beautiful seagrape forest. After 5 to 10 minutes, you'll come across an even more stunning series of secluded beaches and sea caves, including Cueva Escondida (or hidden cave), a small, remote beach with a tiny cave right on the shore.
Come here to sprawl out on the sand, enjoy the quiet, and relax in nature. Just skip swimming in this area: the riptides on this part of the beach are strong and dangerous.
More things to do: Go to Loíza Aldea to learn more about Piñones, its culture, and its people. Piñones is well known as one of the gastronomic regions in Puerto Rico, especially if you like the sound of cafes, restaurants, and bistros serving casual island favorites by the beach. Drive along PR-187 and hit El Nuevo Acuario, Mi Casita Seafood, and Donde Olga Bar to find out what authentic Puerto Rican seafood tastes like.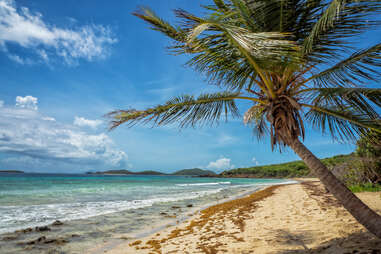 Playa Zoni, Culebra
Flamenco Beach, often considered one of the most beautiful beaches in the world, might get all the glory—but it's not the only stunning shoreline on the small island of Culebra. Zoni Beach is like Flamenco's smaller, less popular sister, but is just as gorgeous and a perfect alternative if you want to get away from the crowds.
Different from Flamenco's cove, Zoni offers a long stretch of white sand and clear water with spectacular views of the archipelago of Culebra, as well as the islands of St. Thomas and Tortola in the distance. Being on the opposite end of the island from Flamenco, this beach feels like a secluded and seldom-visited oasis in what is already paradise.
Worth keeping in mind if you visit: Zoni is relatively remote, so bring your snacks, drinks, enough sunblock, a book, and a towel or chair to keep you comfortable under the shade of a palm tree.
More things to do: Zoni's big allure is its seclusion, so there's not much to do nearby. But drive your Jeep or golf cart across Culebra and head to Dinghy Dock for a delicious Caribbean meal and great atmosphere. If you have an extra day in Culebra, also be sure to hop to Culebrita Island for an even more remote getaway at Culebrita Beach.