The Best Beaches in Southeast Asia, by Country
Ko Kam Tok, Kham Islands, Thailand

| Teerasak Khunrach/Shutterstock
Ko Kam Tok, Kham Islands, Thailand

| Teerasak Khunrach/Shutterstock
Paradise has a bad reputation in Southeast Asia. It's been more than 20 years since Alex Garland's The Beach first sent scores of backpackers along the banana pancake trail to the pure shores of Thailand's tropical islands -- and today, resorts and tour buses have overrun those white sands and pristine reefs. Nowadays, you're as likely to find serenity at Disney World as you are among the 7-Elevens on Thailand's Koh Phangan.
But the secluded beaches and coconut palm coves that backpackers fantasize about on 15-hour bus rides still exist, albeit a little off the (banana pancake) trail -- in Indonesia and Cambodia, or tucked away inside Thai national parks and Vietnamese jungles.
You can still find a tropical paradise, castaway-style solitude, or a sociable firepit to light your poi wicks, whether you're trawling touristy Thailand or landlocked Laos. Here are the region's best beaches.
Best beaches in Thailand
Pattaya Beach, Koh Lipe
Scorched by sunshine during the day, Pattaya Beach on Koh Lipe is the place to go for laid-back nightlife. Once the fishing boats have pulled in for the night, its long beach is lit up by twirling fire poi and bohemian bars. Sleep off their lethal cocktail bowls on Lipe's "Sunrise" beach the next day, a quiet stretch of sand with more shade than Pattaya.
Ao Khao Kwai ("Buffalo Bay"), Koh Phayam
A huge wooden shipwreck dominates the spectacular beach at Buffalo Bay on Koh Phayam island. This is the Thailand of The Beach: Phayam has no roads, intermittent electricity, and sketchy Wi-Fi. For solitude-seekers, it's a paradise. Overtaken by jungle, its beautiful beaches are so peaceful that once the fireside acoustic guitar dies down all you'll hear is the call of the island's famous hornbills and the swish of yoga mats unfurling.
Best beaches in Malaysia
Mira Beach, Pulau Perhentian Kecil, Perhentian Islands
Monitor lizards scuttle about beneath the stilts of the basic bungalows on this gorgeous tropical island. Kecil -- the most popular of the Perhentians -- is accessible only by speedboat and has no roads. It's possible to swim around the tiny island in a day, a feat that surely earns you a glass or two of the cheap local rum, known as "monkey juice," best enjoyed on Mira's quiet, white sand beach. Surrounded by coral and in the middle of a marine park, the Perhentians are also a diver's paradise, boasting some of the best snorkeling in Southeast Asia.
Bako National Park, Sarawak, Malaysian Borneo
Watch searing sunsets from the rugged little beach on the northern coast of Malaysian Borneo's stunning national park. As the sun drops between the twin peaks of the islands opposite, monkeys clamber down from the surrounding mangrove forest and warthogs and wild pigs trek down for a drink. Sure, it's not a spot for sunbathing, but the diverse wildlife and staggering sunset make this a must-visit for beach-seekers out for more than just lazing around on a towel.
Best beaches in Vietnam
Cat Co 2, Cat Ba Island
Wild and craggy Cat Ba Island, in Vietnam's spectacular Halong Bay, has been tamed and civilized in recent years. Head away from civilization to Cat Co 2, the most relaxed of Cat Ba's three beaches, which is dotted with bungalows offering views of the bay's spectacular limestone mountain islands.
Thom Beach, Phu Quoc
Vietnam's last paradise island is a victim of its own success: the beaches along the western side of Phu Quoc are crawling with resorts and awash with their trash. Avoid them and instead brave the rutted dirt track that links the beaches and jungle on the eastern side of Phu Quoc as far as Thom Beach. Nestled in the forest that dominates this island, Thom Beach is too far off the beaten track for the coach tourists, but brings in enough intrepid backpackers to sustain the local snack shacks and their surprisingly delicious homebrewed beer.
Best beaches in Indonesia
Gili Trawangan, Gili Islands
The trek to "Gili T," as it's known, is a rite of passage for backpackers who make it as far as the southern hemisphere. A kind of Woodstock-on-the-Sea, its long beach is broken up by stores selling tie-dye, space cakes, and woodfired pizzas. There's a quiet bar at the southern end where you can watch the sun set into the ocean, and superb snorkeling at the northern tip. Head to Trawangan's quieter, less-developed neighbors, Gili Meno and Gili Air, for bragging rights and a chance to look back at the crowded party island while shaking your head and complaining that you couldn't even get a place at yoga this week.
Pulau Tuangku, Banyak Islands
If your dream beach vacation involves spearfishing for your supper in between debates with your surfer buddy commune about how permaculture could work in a tropical climate, this is the island for you. Clustered off the western side of Sumatra, the Banyaks are a hard-to-reach archipelago -- try to find a ride in Padang -- but offer a genuinely off-grid tropical paradise. There is some basic accommodation on the beach, but don't expect much in the way of electricity or nightlife -- this is a conservative Muslim region, so no booze allowed.
Best beaches in Cambodia
Lonely Beach, Koh Rong
It's remote, ringed by reef, and sitting unapologetically at the end of a jungle hike, so no wonder most visitors to Koh Rong shun Lonely Beach in favor of the island's more accessible, eastern party side. But you're not most visitors. So pack plenty of water -- or pay a local boatman for a ride -- and set off for the wild north. It's worth it: Cambodia's quietest beach is devoid of all but crickets and the most intrepid ukulele-strumming beach bums. You'll also find a rustic, but idyllic, resort to overnight.
Otres Beach, Sihanoukville
Cheap beer, cheap bungalows, and so much fire poi you'll run out of relevant Instagram hashtags: A trip to Otres Beach is like traveling back in time and along the banana pancake trail of the '60s and '70s. It's a miracle the place has been preserved; further along the coast, brash Sihanoukville town has turned its beaches over to the resorts. Plan a trip to Otres' stretch of hippy paradise now before they radiate any further out.
Best beaches in the Philippines
Alona Beach, Panglao Island, Bohol
In the day it's all white sands, crystal clear sea, and coconut palms whispering in the tropical breeze -- the usual. What makes Alona truly special is its food scene. At night the beach transforms into a food market, a strip of local restaurants running right out of the fishing boats. Catch of the day, crabs, lobsters -- everything tastes amazing grilled out of the sea on one of the beachside barbeques.
El Nido, Palawan Island
In the turquoise tropical waters of the South China Sea, where forested limestone cliffs rise up out of the water, El Nido is renowned as perhaps the most stunning beaches in the Philippines' 7,000 islands. Pro tip? Flee its busy main drag by hopping a tour boat to one of the pristine islands in the nearby archipelago. The view over the Jurassic Park-esque bay is as good as you'll get from El Nido proper, but you'll have enough space to roll out your towel.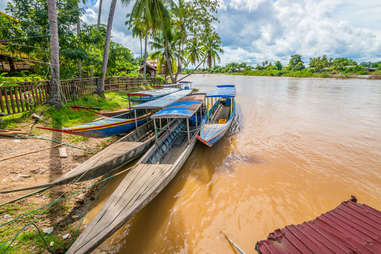 Best beach in Laos
Don Som, Si Phan Don ("4,000 Islands")
OK, it's not a beach in the classic sense, but the little river beaches on this island in the Mekong river have sand, seclusion, and dolphins. Nearby Don Det island is the backpacking basecamp you've been looking for: It's got space cakes, smoothie bowls, and bars playing Friends 24/7. Dump your pack then escape all the above by hiring a bicycle and heading for the beaches of Don Som. Take a boat from Don Det and follow the path along the west coast of Som until you find a beachy stretch you like the look of. For a chance to spot Irrawaddy dolphins, the endangered freshwater dolphins that live in the Mekong, head south toward the border with Cambodia.
Sign up here for our daily Thrillist email and subscribe here for our YouTube channel to get your fix of the best in food/drink/fun.
Liz Dodd is a British travel journalist currently cycling really slowly around the world. A former news editor, her travel writing has been published in
The Guardian
,
National Geographic Traveller
,
The Telegraph
, and
Independent
newspapers. Her specialties include camping in inhospitable places, trying to find vegetarian food in inhospitable places, cycling over mountains, and craft beer. She still can't believe she gets paid to go on holiday, ride bikes and drink beer. Check out her Instagram, @elizdodd.