There's something tantalizing about the beach. The sounds of waves ease you into a steady rhythm; the sun-dappled sand makes each step feel like a luxurious mini foot scrub; the motion of the water stirs every cell in your body. It's no wonder they've become the epitome of what it means to vacation.
But not all beaches are created equal. Whereas some are incessantly crowded, tarnished by debris, or just plain-old nothing to write home about, others are unaffectedly idyllic, unspoiled, and impossibly beautiful. The 20 international beaches on this list are absolute stunners, all worth ticking off your list whether or not beach holidays are your thing. From the wind-battered Mediterranean coasts to the small islands of the Caribbean, here are our top picks. Sail in and drop anchor.
La Digue, Seychelles
Located on a remote island that's about as far away from the US as it's possible to get, massive granite boulders make Anse Source d'Argent feel like a prehistoric piece of paradise, carving out cozy nooks where those seeking peace and quiet can hide away from any crowds. Its blissfully shallow waters are sublime for those who prefer to dip and float rather than swim. Explorers, on the other hand, will get a kick out of meeting the colorful marine denizens who live in the patches of coral reef that pepper the area.
El Nido, Palawan, Philippines
When people speak of "tropical paradise," El Nido might just come to mind—and more specifically, Nacpan Beach. Nestled in the north end of the archipelagic Palawan Province in the Philippines, this 2.5 mile-stretch of sand fringed with row upon row of coconut palms feels like heaven on Earth—especially if your idea of heaven comes with nipa picnic huts, unassuming seafood restaurants, and whitewater waves great for brushing up on your surfing skills. The sunsets are epic, too, and well worth the 45-minute scooter ride from the main town.
Oludeniz, Turkey
Take a trip down to the resort town of Oludeniz, and you'll soon forget about the otherworldly outcroppings of Cappadocia. Here, you'll find the Blue Lagoon, where azure waters are trimmed with turquoise hues, and where the Aegean Sea kisses the Mediterranean. Part of a national marine sanctuary, the views here are nothing short of spectacular, whether you're paragliding high in the air, going for a proper dive, or sunning on the beach. A quick jaunt to the nearby ghost town of Kayaköy should round out your trip nicely.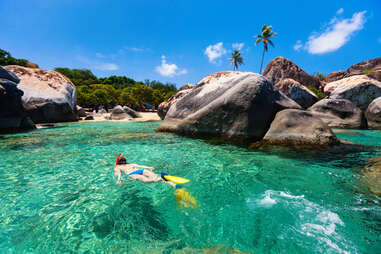 Virgin Gorda, British Virgin Islands
The BVIs have many wildly beautiful beaches, but it's the Baths in Virgin Gorda that really takes the cake. Its granite boulders are the sweet spot here, forming mini coves, hidden pools, and makeshift caves that are a magnet for the adventurous set. Here exploring the nooks, paths, and crannies is a favorite activity, as is snorkeling. And when you're famished, the Top of the Baths restaurant serves up quite a view alongside your seafood dish.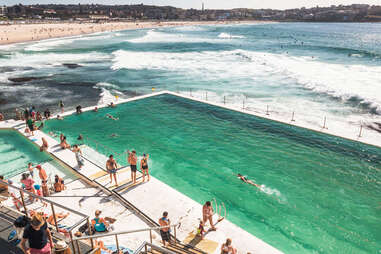 Sydney, Australia
Bondi Beach isn't exactly a hidden gem. However, this crescent-shaped beach in Sydney's suburbs is a sine qua non of any Australian vacation and every best beaches list. Those emerald-blue waters are a venue for surf sessions while the Bondi to Bronte Coastal Walk is more than just a nice little retreat from the crowds as untamed panoramas abound. Set off to Ben Buckler Point for serene sunrise views or go for a couple of laps in that Instagram-famous pool at the Bondi Baths (for a fee, of course).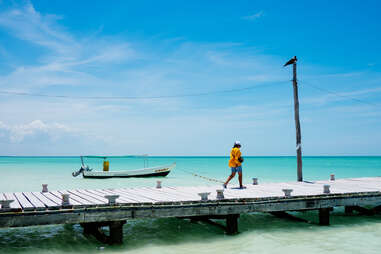 Quintana Roo, Mexico
As we're sure you know, Cancun is fun and vibrant. Your DJ ex, bachelor party attendees, and sorority girls on spring break all think so, too. Instead, skip the resorts and head to Isla Holbox: a tiny, car-free Caribbean island just two hours north, where you'll be able to enjoy peaceful beach bungalows (or luxury stays!), white sands, and calm, flamingo-filled waters—not to mention way fewer crowds. Eat seafood plucked from the ocean minutes ago, swim with whale sharks, and sip tropical cocktails alongside locals equally as keen to escape to a quieter slice of heaven.
Cape Town, South Africa
Camps Bay Beach is to Cape Town as Bondi Beach is to Sydney—only grander, with iconic Tabletop Mountain and the Twelve Apostles Mountain Range towering behind it, elevating your beach experience twofold. Being so close to a major city, it gets pretty busy, but its large swath of sand offers a spot for everyone, making it the perfect venue for locals and tourists to rub elbows. Shoot the curl, hike the Pipe Track, or dive the Camps Bay Reef if you crave the more active endeavors.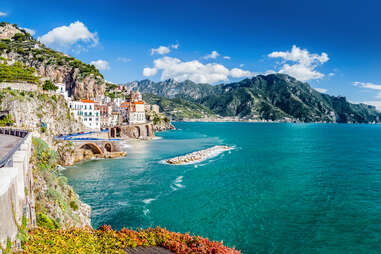 Castiglione di Ravello Beach
Amalfi Coast, Italy
Found on the Amalfi Coast, Ravello Beach is among the few super-touristy spots that you must absolutely tick off your list. Although it's teeming with tourists, this umbrella-lined beach at the base of a cliff—and the gateway to the bohemian town of Ravello—is something that must be experienced (and photographed) by everyone. There's much to do besides taking a dip or relaxing under one of the vibrant parasols; happiness lies in days spent slipping into the slow rhythms of the bougainvillea-trimmed gardens of Villa Cimbrone and Villa Rufolo.
Cannon Beach, Oregon
Whether it's the occasional driftwood or the hazy salty air, Oregon's Cannon Beach looks very Pacific Northwest: serene, misty, sweeping. It stands out from the crowd with its wave-and-wind battered rock outcroppings that jut out to sea, with Haystack Rock being all the rage amongst beach-goers and tufted puffins alike. Folks come not for a swim but for the coastal idyll, rolling up their pants for a nice, starfish-studded walk along the lapping waves. Perch yourself somewhere for the sunset and a bonfire or at the Pelican Brewing Company for a local pint.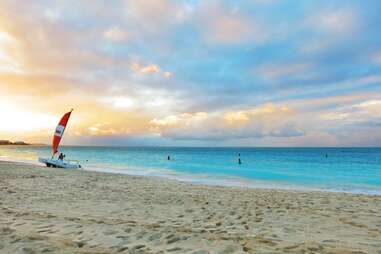 Providenciales, Turks and Caicos
If paradise to you means soft white sand and warm pristine waters, then Grace Bay is Valhalla. This glittering piece of tellurian heaven in the Caribbean has won awards for its three-mile long stretch of powdery sand and special brand of perfectly calm, aqua-colored water. It's just the ticket for a relaxing beach vacation, despite the resorts and hotels (and sea oats) that fringe it. Rent a catamaran and go sailing, or swim out to the nearby barrier reef where spotting marine life is effortless.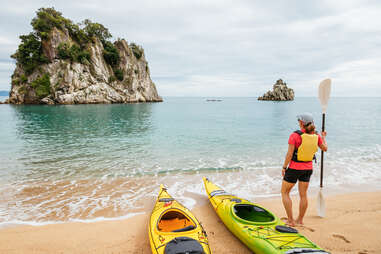 Abel Tasman National Park, New Zealand
If white sand just doesn't do it for you anymore, Totaranui Beach might just be your brand of beach. With sand the color of the setting sun, it adds a different level of exoticism to your beach vacation, especially against the aquamarine of the Tasman Sea. It's a bit of a remote outpost too, which makes it a sweet spot for those who have an aversion to crowds. The nearby campground is a venue for quiet slumber under the clear New Zealand night sky. Opportunities for kayaking, snorkeling, and sailing abound.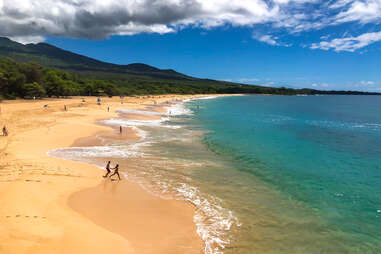 Maui, Hawaii
Hawaii has so many paradisal beaches that it's hard and somewhat unfair to pick just one. But if we must, we have to go with Makena Beach, whose mile or so stretch of untamed sand is sandwiched between lapping waves of the Pacific and the verdant forest of the state park it sits in. While not exactly remote, it's certainly a place to avoid the crowds. The tri-colored water is unbelievably inviting (if sometimes rough) and the nearby reefs are just as fecund, with massive sea turtles often making a special appearance.
Crete, Greece
Elafonissi Beach in Crete takes extraordinary to a whole new level, tantalizing beach-goers and social media addicts with its powdery soft pink sands, a result of the pink shells who have made the ultimate sacrifice to give us something to Instagram about. The sandbar and shallow waters are a perfect venue for relaxing and for family-friendly dips, and the local loggerhead sea turtles are a sight to see (from afar, naturally).
Fernando de Noronha, Brazil
Brazil will not leave you wanting with its abundance of beaches. But while most of its popular shores are crowd-magnets, Baia do Sancho—once voted TripAdvisor's best beach in the world—offers a bit of refuge. Part of why it keeps the crowds at bay is that it's not exactly easy to get to; you'll have to squeeze past boulders and brave vertical stairs to get there. But your efforts won't be for naught: This beach rewards the valiant with a pristine, crescent-shaped beach and marine life-rich waters in different shades of azure and turquoise.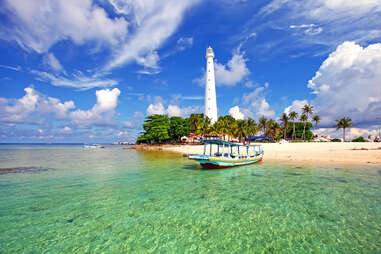 Belitung, Indonesia
Hire a boat out to Lengkuas Island just off the northwestern coast of Indonesia's Belitung Island for a rarer beach experience. This tiny island has a ragbag of features—a lush mini forest on the western side, a nice sandy beach on the eastern front, granite boulders peppered all over, and a Dutch colonial lighthouse in the midst of it all. It's the ultimate hideaway for a more unpretentious way of cosseting, and second to none as far as island-hopping adventures go.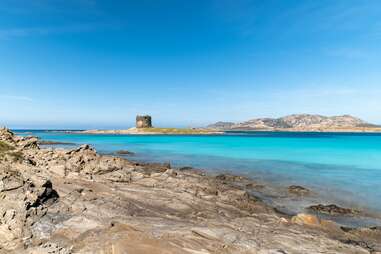 Sardinia, Italy
The best gifts often come in small packages, and La Pelosa is proof of that. This small stretch of sand on Sardinia's northwestern tip is one of Italy's most celebrated beaches—which is saying a lot, considering it's Italy. At the same time, it's also one of the most unassuming, with a relative lack of big business and the need to book your visit in advance keeping overtourism at bay. This is a prime spot for watersports from paddleboarding to kitesurfing, and the nearby Aragonese Watchtower offers opportunities for seaside exploration—and, of course, excellent photos.
Ko Phi Phi, Thailand
Maya Bay on Ko Phi Phi Island doesn't need a sales pitch, although the cult movie The Beach is often name-dropped to pique interest. Still, this beach's emerald waters dotted with Thailand's signature limestone karsts are more than enough to convince even those who aren't partial to beaches. If you can forgive the crowds, it's a vital addition to your island hopping tour. The area has been closed for two years to give it a bit of respite from over-tourism, but it's anticipated to open back up sometime in 2021.
Fuerteventura, Canary Islands
Take a breather from Costa Calma's tourist-laden streets and head to Playa de Sotavento de Jandía. This 17-mile stretch of underdeveloped coast offers the perfect antidote for those turned off by the pretentiousness of Fuerteventura's resort culture. And it does so with just a wide expanse of sandy beach, golden dunes, and low-tide lagoons. Away from the crowded waters, here is where you can partake in your favorite water sports in peace.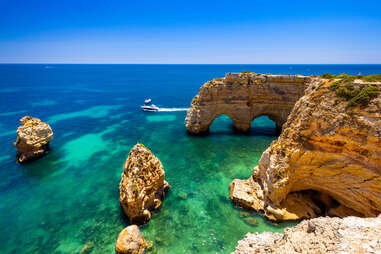 Lagoa, Portugal
Praia da Marinha might just be the most covetable beach in Algarve, its golden sea-battered cliffs and limestone outcroppings reminiscent of Australia's Twelve Apostles, except somehow wilder and sexier. Swimming through its twin limestone arches is a challenge you might want to take on, although not-so-strong swimmers can always take a boat out, carve out their own sea trails, and drop anchor near the caves and grottos that pepper the area.
Cape Le Grand National Park
Western Australia
Cape Le Grand National Park is home to Australia's superlative beaches—and although declaring all of the park prime sunning territory is technically cheating, there are too many goodies to name just one. Lucky Bay, for example, boasts some of the world's whitest sands. Meanwhile, Twilight Beach is home to the most colorful golden hour. So, we're lumping them all into one epic beach vacation, complete with chance encounters with kangaroos (it is Australia, after all). Take a hike through its heathland brimming with wildflowers, and check out the whistling rocks near Thistle Cove. One day isn't enough to explore the park, but campgrounds are on hand if you book in advance.
Michelle is Los Angeles-based writer, editor, and photographer with a bad case of wanderlust. Her dream, next to traveling the world, is to own her own funky, boutique hotel with a small animal sanctuary so she can spend the rest of her days chilling with cats and hedgehogs. Follow her on Instagram.