Any list of great beer destinations will include the mainstays: San Diego. Grand Rapids. Burlington. Asheville. Both Portlands. Seattle. Basically any city in Colorado. Dig a little deeper and you'll find your Traverse City, Michigans, and Hood River, Oregons. They're all great places. You should go to them and drink all their wonderful beer and enjoy their corn hole tables and eat your weight in Bavarian pretzels. But here's the thing: The big list of Great American Beer Cities has been sitting around stagnating longer than a hard-to-find stout in a beer snob's cellar (which is actually just a closet).
To add a little freshness to go with our fresh hops, we tapped some of our favorite and most trusted beer writers to identify the best under-the-radar beer destinations around the US this year. Beyond the beer scenes, they're places we straight-up love that'd be worth a visit even if they weren't drowning in excellent ales. Pack extra growlers: These are the essential trips for beer lovers this year. 
Recommended Video
Please Don't Hang Up: The Best Things to See, Eat, and Do in Seattle, WA
Raleigh, North Carolina
Essential brewery stops: Fullsteam, Brewery Bhavana, Trophy 
Beer fans with an appetite should have Raleigh in their flight plans for 2020: The city's brewery scene is booming at a rate only surpassed by its restaurant scene. Bon Appetit named Brewery Bhavana -- a combination dim sum restaurant, brewpub, bookstore, and flower shop -- one of its best new restaurants in 2017; look for the team's new Laotian restaurant, Luang Prabang, to open later this year.
Fullsteam Brewery has championed local, often culinary ingredients in its beers for years, and paved the way for a crop of two new breweries and a cidery set to open in 2020: Standard Beer and Food, Black Fire Brewing, and Shady Grove Cider Co. Celebrated Asheville brewery Burial also recently opened an outpost in the newish Transfer Co. Food Hall, where visitors can fill up on barbecue from the first brick-and-mortar location of popular food truck Longleaf Swine. Didn't get enough to drink while you're in town? Have a final pint at the airport's new Bond Brothers Beer Company or Raleigh Taproom. -- Kate Bernot
Yakima, Washington
Essential brewery stops: Bale Breaker Brewing, Single Hill Brewing, Varietal Beer Co.
At first glance, this rural Central Washington community seems like more of a stopover for agricultural supplies than a thriving beer destination. But step out into the rolling hillside and you'll immediately be smacked with the glorious scent of fresh hops. With 73% of US hop production based in Washington --  and the majority of that coming out of Yakima -- this might just be the low-key most important beer community in America.
Every fall, brewers from around the world converge on the valley to make their annual hop selections while tasting and smelling the newest trendy hop varietals, making it the epicenter of craft beer innovation. And with that comes great breweries, highlighted by combination hop farm/brewery Bale Breaker, a standout for its impeccable IPAs (duh) and a trailblazer among the dozen-plus established and new breweries in the valley. Visit during October for the Yakima Fresh Hop Festival, the largest single showcase of fresh hop beers in the world. Leading up to fest is Yakima Fresh Hop Week: six days of tastings, brewers dinners, and hop-farm parties. For fans of hoppy beers, this is a bucket list pilgrimage. -- Ezra Johnson-Greenough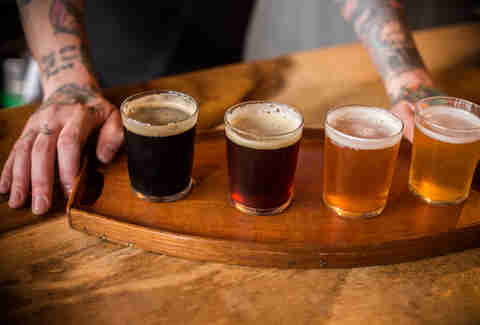 Sonoma County, California
Essential brewery stops: Russian River Brewing, Third Street Aleworks, Bear Republic, Fogbelt
Sonoma's wine bonafides are as well established as county seat Santa Rosa's obsession with Charlie Brown, but beer has been steadily making a play for beverage dominance. This is, after all, home to some serious game changers, among them triple IPA pioneer Russian River in SR, the original Lagunitas in nearby Petaluma, and IPA mavericks Bear Republic lording over the impossibly idyllic hamlet of Healdsburg.
With those big dogs in place, the scene has exploded all around them in recent years, with brewers across the region increasingly taking cues from winemakers -- and often borrowing barrels from them -- to create a community of experimentation that spans from the banks of the Russian River to the rustic charms of LGBTQ oasis Guerneville, and the many ale houses that emerge in bends in the heavily forested roads. About those forests: Sonoma's spent the past few years being partially gutted by wildfires, meaning that a trip to the area not only provides a chance to tick off a bucket-list destination for beverage fans who love nature, but also contributes to recovery in a region that thrives on tourism. Plus, we hear the wine is also pretty good. -- Andy Kryza
The Hudson Valley, New York
Essential brewery stops: Drowned Lands, Hudson Valley Brewery, Obercreek Brewing Company, Suarez Family Brewery
Many beer nerds fly into JFK and head east for Other Half Brewing, but those in the know head north for the quiet refuge of the Hudson Valley, one of the best up-and-coming scenes in the US. For generations, the verdant, hilly area that stretches from White Plains to Albany served as a playground for hikers and day trippers from the city, but more and more young families are choosing to call the rustic paradise home. With them come the ideals, passions, and business practices of much more competitive markets. Oh, and beer. Obviously.
The standouts of the area's recent explosion in brewers -- of which there are many -- take cues and ingredients from the area's numerous vineyards, orchards, and farms, yielding products with an exquisite sense of terroir. Drowned Lands near Warwick is a saison-lovers paradise, while Hudson Valley and Obercreek -- in the town of Beacon and on a rural organic farm, respectively -- make unparalleled sours. Meanwhile, the vaunted Suarez crafts impeccable lagers in Hudson, establishing themselves at the forefront of the style's resurgence. On your way north, don't miss Storm King Art Center, a 500-acre, open-air sculpture park, or Innisfree Garden, a 150-acre nirvana of twisting paths, streams, and waterfalls. This is an area where ever bend in the road leads to a surprise, be it a waterfall or liquid gold in a tulip glass. -- Kenny Gould
Duluth, Minnesota and the North Shore
Essential brewery stops: Bent Paddle, Castle Danger, Voyageur Brewing
As people say, the North Shore is the French Riviera of the Midwest. Okay, no one says that. But now is the perfect time to realize what Minnesotans have known for a while: The North Shore is a Midwestern paradise in the summer, and it's prime beer country. It's not a tiny jaunt from Duluth to Grand Marais -- get a designated driver! -- but the gorgeous drive along Lake Superior is loaded with beers that will make you say "oh ja" like you've lived in Minnesota your whole life. Many of the breweries in the area have a woodsy, hidden-gem feel. They're Minnesota's secret getaways, filled with kind, slightly passive-aggressive people playing stump or talking smack over a game of cornhole.
In Duluth (let's call it the Marseille of Minnesota) there are barge-loads of quality breweries, but you can't pass up Bent Paddle. Its Barrel-Aged Double Shot Double Black is legendary, and there are plenty of other options for whatever your palate desires. Just a bit up Highway 61, you'll find Castle Danger, best known for its Cream Ale and incredible name. (Castle Danger is actually the name of a city, but that's 11 miles from Two Harbors, where Castle Danger Brewery is located. Go figure.) The taproom has plenty to offer, especially if you like a spacious patio and yard for tossing bean bags while working your way through a Red Hop India-Style Red Ale. When you hit Grand Marais -- the Nice of this jaunt -- don't miss Voyageur. It's not as well-known as the other two since those breweries can popular beers, but Voyageur embodies everything that's enjoyable about breweries along the North Shore, and that includes damn good beer. -- Dustin Nelson
Miami, Florida
Essential brewery stops: J. Wakefield, Unseen Creatures Brewing & Blending, The Tank Brewing, 3 Sons
Miami is a perennial vacation for the beach-obsessed, but it's increasingly one for the beer-obsessed as well. From J. Wakefield's pioneering fruited "Florida weisse" ales to Unseen Creatures' mixed-fermentation beers to Tank Brewing's easy-drinking lineup, there's plenty of variety to explore. And explore you should. A new Museum of Graffiti recently opened in Wynwood within walking distance of J. Wakefield, Wynwood Brewing, Veza Sur, and Concrete Beach -- the latter of which offers free tours at 7 PM on weeknights and on weekends every hour between 1-4pm.
Food-focused travelers will also want to hit up the new Luna Park, a three-floor, 40,000 square-foot Italian-focused food hall housing bars, restaurants, and a market that opened in mid-December 2019. Frontier, Delta, and American Airlines are all adding new service to Miami International Airport this spring and summer, making it easier to immerse yourself in Miami's suddenly booming beer scene than ever. -- Kate Bernot
Indianapolis, Indiana
Essential brewery stops: Black Acre, Sun King, Brugge Brasserie, Triton, Metazoa, Scarlet Lane
Mark our words: All the hopped-up East and West Coast haters attempting to write Indiana off as flyover territory are truly missing out. The Hoosier State has been holding it down as one of the Midwest's most innovative brewing hubs for decades, from Southern sour wizards Upland to the game-changing 3 Floyds up north. Capital city Indianapolis has recently come into its own, invaded by dozens of new and established craft outposts, excellent beer bars, brew-savvy restaurants, and hordes of enthusiastic devotees.
Back in the mid-aughts, still-stellar OG breweries Sun King and the Belgian-inflected Brugge Brasserie paved the way for subsequent standouts like The Bier Brewery, Black Acre, Triton, and Eilise "Queen of Stouts" Lane's prolific Scarlet Lane, which supplies four satellite taphouses from its suburban McCordsville facility. These days, ambitious up-and-comers like Metazoa, Centerpoint, and the red hot 18th Street are throwing their hats in the ever-evolving ring. Between sips, visitors can soak up Indy's quirky cultural landscape, exploring Newfields's 152-acre art museum campus and  downtown's cutting edge iMOCA before fueling up at the historic steakhouse St. Elmo and boundary-pushing brunch-focused pioneer Milktooth. Thirsty for more? Throw in a bevy of pro sport teams, incredible dive bars, and music venues (looking at you, Slippery Noodle), and a hotel where you can spend the night inside a real Pullman train car and you'll be saying "San Francisco, who?" in no time. -- Meredith Heil
Columbus, Ohio
Essential brewery stops: Hoof Hearted, BrewDog, Seventh Son
Columbus is home to Ohio State University and its damn good football team. Similarly, if burgeoning beer scenes had a playoff, it would be in the top four. Sure, it's worth visiting alone for the Buckeyes' gorgeous campus, a massive indoor Legoland attraction, or to witness one of America's top NHL squads. And while we encourage you to visit all 46 breweries on Columbus' Ale Trail, in the interest of time, check into one of the brand new, 1100 square foot BrewDog Kennels (aka mini-hotel rooms) above the Scottish brewpub's Short North location, with beer fridges in the showers and a "speakeasy" in the room's closet.
Tip your hat to the town's storied brewing tradition (and peek into its future) by visiting Columbus Brewing's fresh taproom and sipping its innovative pilot brews. The Italian Village neighborhood features two exemplary brewers within walking distance from one another: delicious fruity sours and new American pub food at Hoof Hearted and a slew of top-notch IPAs from the Central Ohio beer OGs at Seventh Son. Columbus also attracted a brewpub outpost of Chicago-area botanical beermaker Forbidden Root to Easton, and Florida-based brewery Crooked Can recently opened a taproom in Hilliard that'll soon become a full-fledged food hall. This is a town making a serious play for beer-world domination, and now's the perfect time to say you knew it before it blew up. -- Lee Breslouer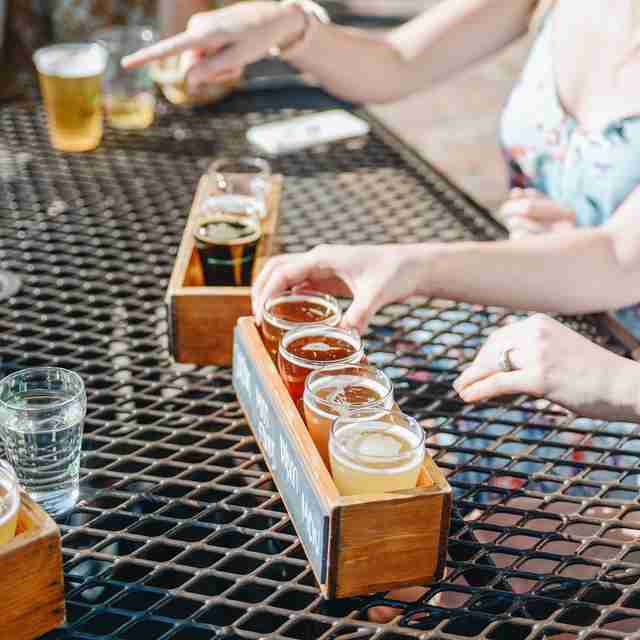 Birmingham, Alabama
Essential brewery stops: Trim Tab Brewing, Good People Brewing
When it comes to craft brewing, Andre 3000 wasn't lying when he said "The South got something to say!" With archaic laws continuing to gradually loosen up favoring the breweries and aficionados, there are some standouts worth hitting up while in BHam, a city that's slowly but surely seizing the spotlight thanks in part to its rising beer scene.
Trim Tab -- consistently heralded as the best brewery in the state -- is flexing serious muscle with numerous beer styles, including IPAs, stouts, and fruited imperial sours. Good People are just that: pioneers of the scene since 2010 who provide a personable staff; a beautiful taproom across the street from the baseball team the Birmingham Barons; and the nationally renowned El Gordo Russian imperial stout, which causes a frenzy on its annual release date. The beloved Back Forty, quickly burgeoning Ghost Train, and brewing staple Avondale are no slouches either. To try what else Alabama has to offer  Hop City Craft Beer & Wine is one-stop shopping, a bottle shop equipped with 60 taps for onsite sipping. Take notes. This scene has nowhere to go but up. --AS
Missoula, Montana
Essential brewery stops: KettleHouse, Bayern, Draughtworks
Missoula has long been a four-season outdoor recreation destination, offering river rafting, fly fishing, hiking, biking, and Nordic skiing -- with quality beer to wash down all those adventures. Recent years have seen an uptick in the number of brewpubs and taprooms (11 currently, plus a cidery and three distilleries), with a few more in planning. OddPitch, the city's first dedicated mixed-fermentation brewery, plans to open in Midtown in late spring.
Visit in the summer and fall to catch a show at KettleHouse Brewing's riverside amphitheater that draws nationally touring acts; this year's lineup includes Ben Harper, Louis The Child, and Vampire Weekend. Also keep an eye out for beer festivals that take place in downtown Caras Park seemingly every summer weekend -- they're laid-back and fun to check out after a Saturday morning trip to the nearby farmers market. And if somehow none of this is Montana enough for you, you can have your outdoor adventures and drink them too thanks to River City Brews, which loads you onto a raft and floats you down the Clark or Blackfoot river while you enjoy an expertly curated selection of local beer. Think of it as Montana's answer to those pedal-pub tours, only with more rapids. -- Kate Bernot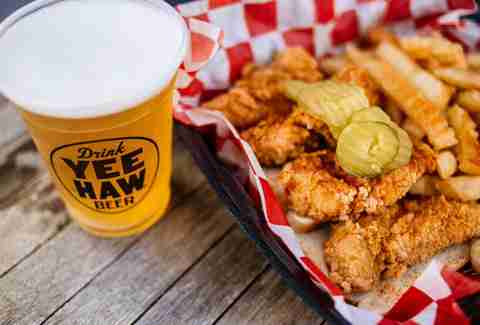 Greenville, South Carolina
Essential brewery stops: Birds Fly South, Quest, Swamp Rabbit, Yee-Haw, Brewery 85, Eighth State
Look out Charleston and watch your back Savannah, little old Greenville is nipping at your cosmopolitan heels. Over the last decade, the humble Upcountry hideaway has been vying for its rightful spot among South Carolina's most coveted vacation destinations, transforming from a sleepy, traditional college town into a sudsy, outdoorsy oasis with a beer scene to rival anything neighboring brewing powerhouses like Asheville has to offer. Birds Fly South is the frontrunner here, peddling brilliant farmhouse ales, IPAs, and everything in between from their sunny, rustic outpost, while Quest, Yee-Haw, Brewery 85, and Eighth State handily hold their respective own.
Want to catch them all? Ditch the car and hit the Swamp Rabbit Trail, a 22-mile cyclist's paradise following the Reedy River from Greenville all the way to picturesque Travelers Rest. The breezy greenway not only delivers the best breath of fresh air in the Upcountry, it also provides speedy access to a number of top notch bars, cafes, and breweries including the aptly-named (and delicious) Swamp Rabbit Brewery. All that pastoral beauty is guaranteed to work up an appetite, so make sure to dip your toes into the town's burgeoning culinary scene at modern standouts like The Anchorage, Roost, and the always-impressive regional specialist, Husk. If this kind Southern charm tickles your fancy, you better hurry -- it's only a matter of time before the seersucker suits from the coast catch wind of Greenville's infectious greatness. -- Meredith Heil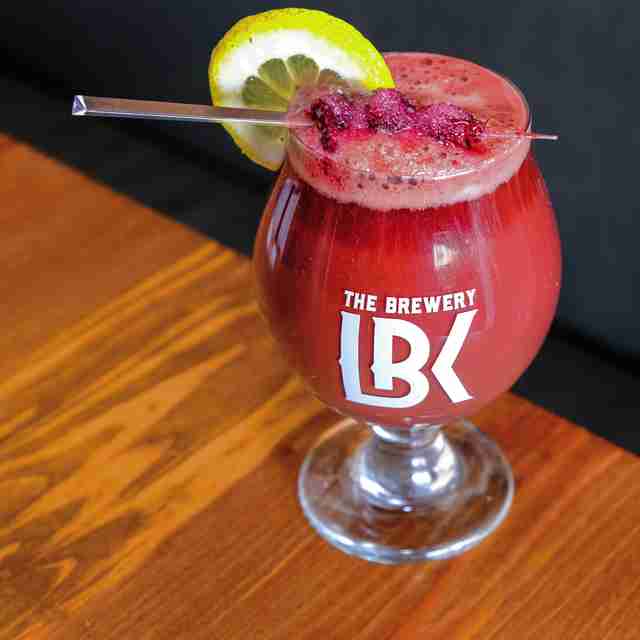 Lubbock, Texas
Essential brewery stops: The Brewery LBK, Two Docs Brewing
Lubbock is smack in West Texas' wine region, which produces 90 percent of the Longhorn state's grapes, with wineries including McPherson Cellars, English Newsome, and Llano Estacado reaping awards continuously (don't sleep on the latter's 27th annual Grape Day in fall), but beer is steadily helping out the area's beverage-destination status. Chief among them, Two Docs throws down with live music and a consistent wave of local food vendors to complement their solid menu of ales and lagers, guaranteeing a truly indigenous Lubbock sipping experience. They are also hosting the inaugural Beards and Brew Competition benefitting Women's Protective Services in late March.
As for the winning combination of stellar brews served alongside amazing local food, look no further than the industrial-chic Brewery LBK; the brunch featuring a city staple, chilaquiles -- tostadas, scrambled eggs, Cotija cheese, avocado crema, and salsa verde -- is no joke. For a wider taste of Texas' beer scene, Crafthouse Gastropub's 18 rotating taps is worth a visit to get a taste of beers from across the Lone Star State. And then there's Evie Mae's, which invites visitors to grab a complimentary can of Lone Star from an ice tub to keep you refreshed while waiting in the traditionally long line for some of the best and most overlooked BBQ in Texas. It doesn't really get more Texas than that. While you're here, definitely check out the Buddy Holly Center, paying homage to Lubbock's most famous son, as well as Texas Tech's stunning public art collection. Oh, and drink some wine. It goes well with BBQ too. -- Ale Sharpton
Ann Arbor, Michigan
Essential brewery stops: HOMES Brewing, Wolverine State Brewing, Salt Springs
While Grand Rapids and Traverse City tend to hog Michigan's beer spotlight, ultra-walkable Double A offers a veritable shitton of breweries smack in the middle of the Mitten -- and it's time to stop dismissing this city as simply a college town.
HOMES -- an acronym for Huron, Ontario, Michigan, Erie, and Superior -- specializes in a plethora of styles, but takes the experience to the next level with phenomenally prepared Korea-inspired bites. For lager lovers, Wolverine has them covered with virtually every style mastered. For drinkers with an eye for architecture, Salt Springs in nearby Saline is worth the trip, offering house-crafted ales and lagers; ciders and wine; and a killer culinary program encased in a jaw-dropping 121-year-old former church. Get your sours on at nationally renowned Jolly Pumpkin and pay your respects to the city's first brewpub, Ann Arbor Brewing Company, before checking out the new school at 734 Brewing Company, which whets the palate with solid brews while thriving to promote inclusion and equity.
For beer bars, Michigan-born beer-bar chain Hop Cat needs no introduction, and one of the local musts for communal drinking is neighborhood gem The Grotto. And if you need more proof of Michigan's dominance in beer beyond what's happening in Ann Arbor, hit the Michigan Summer Beer Festival in neighboring Ypsilanti for a sampling of Michigan's best beers.  -- Ale Sharpton