This West Country city has grown up a bit in recent years, thanks to an influx of up-and-comers from London who've ditched the big city for greener (and cheaper) pastures. Their arrival has spurred a culinary renaissance of sorts, and Bristol's food scene now includes everything from gourmet burgers to homestyle Indian curries. Here are the 12 best places to eat in town right now.
Recommended Video
Nashville Absinthe Cocktails & the Hottest Chicken (Literally)
Best tasting menu: Bulrush
Kingsdown
This narrow restaurant has one hell of a pedigree, founded by chef George Livesey (of such iconic spots as Roux, L'Enclume, and St John) and partner Katherine Craughwell. Whether you go vegetarian or carnivorous, the tasting menus combine traditional ingredients with some more unusual choices (like pine yogurt and hay-baked celeriac), many of which are sourced locally or made in-house.
Montpellier
With a history going back to 1976, this latest rendition of Bell's comes from the hands of chef Sam Sohn-Rethel and features internationally inspired small plates like slow-cooked octopus with peas and mint, chicken oyster pinchos marinated in chipotle, and Turkish falafel with tahini sauce. This is the place to go with a (smallish) group of friends where you order the entire menu and fight for final bites.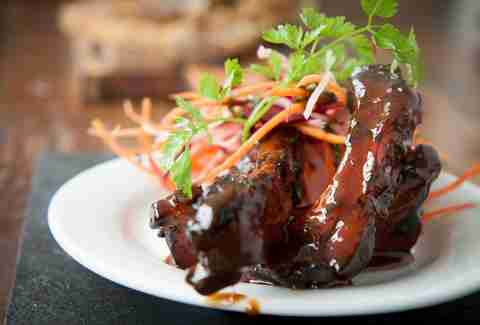 Best meal you'll eat in a basement: The Ox
Broadmead
While the beautiful union of meat and booze is nothing new, this particular combination of succulent steaks and cocktails comes from the same team as Hyde & Co and The Milk Thistle. Go solo with a 6oz filet and triple-cooked chips, or bring some friends and split the 30oz T-bone (or bone-in rib steak). The atmosphere is all dark-leather booths, bookcases, and chandeliers, so whatever cut you choose, it'll be eaten in exquisitely classy surroundings.
Best Spanish tapas: Bravas
Cotham
Loud, lively, and filled with mouth-watering smells from its semi-open kitchen, this small room is like walking through a portal to some effortlessly cool part of Barcelona -- expect small tables, exposed brickwork, and brass metalwork. Owners Kieran & Imogen Waite take annual trips to Spain to make sure they consistently get the flavours right, as well as pick up new points of inspiration to create menu items like wild venison chorizo, boquerones en vinagre, and hake frito.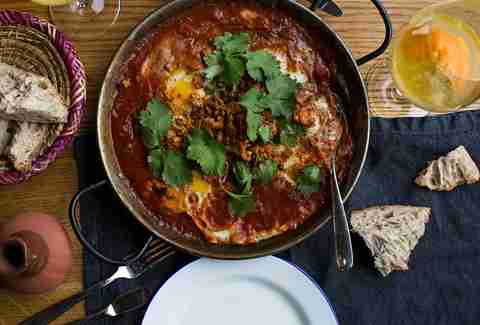 Best place to eat while saving the world: Poco
Stokes Croft
One of the forerunners of the British movement for local, sustainable, good-for-everything types, Poco takes this scene to another level. From limiting the mileage its ingredients can travel to maintaining a 95% recycled waste average, this is the kind of joint that makes you (at least feel like) a better human. We're in small-plates territory, so try a bit of everything from house-made merguez and scallop ceviche to a goat's milk chocolate pot. Naturally, there's a strong gluten-free game here as well (if that's your thing).
Best hyperlocal fare: Birch
Southville
With a history dotted with London hotspots like St John and Quality Chop House, Sam Leach and Beccy Massey started off throwing supper clubs to really hone what they wanted to create and the result is perfect. Everything here is handmade (or at least locally sourced), from the fresh bread baked in-house to the wildflowers picked in the owner's backyard. The menu is short and simple, changing every few days and highlighting local ingredients like deviled pig skin & ewe's curd.
Best place to relax: The Lido
Clifton
Connected to an award-winning spa and breathtaking swimming pool, this isn't your usual OCD health-food spot. Sure, it's all actually pretty good for for you, but chef Freddy Bird offers a cornucopia of menus to choose from, including a daily breakfast, hearty a la carte, set menu, all-day tapas, and even a special "BirdFood" menu. Expect dishes like smoked cod's roe on sourdough toast, imam bayildi, and lamb tagine. There are also poolside tables (literally; prepare to get your feet wet) in case you've forgotten your suit but still want the ambience.
Best place to wine & dine: Casamia
Redcliffe
This family-owned hotspot started as a mom-and-pop shop serving classic Italian fare, until mom and pop handed over the keys to their sons in 2006, who flipped the entire thing on its head and went on to earn a Michelin star (one of only three in the Bristol area) by combining hyper-seasonal ingredients and modern techniques with their family's proven formula. You'll find wildly different menus here depending on what time of year you visit, but the level of care put into each is what makes it stand out, throughout not only the region but the entire country as well.
Best burger: Chomp
Broadmead
This spot started off as the fantastically named Beef & Beer pop-up, which grew into a cult-favorite food truck before this brick-and-mortar location opened in 2014. Burgers are the place's claim to fame, but it also grills up some mean steaks, from soft and juicy filets to lean and beefy flat-iron cuts. While its love affair with beer is still alive and kicking, Chomp's expanded its liquid menu with a strong selection of bourbon, wine, and even cocktails.
Best homestyle Indian: Chai Shai
Brandon
Originally opened as more of a deli than a true sit-down eatery, this family-run Bangladeshi restaurant offers up delicious bites like pakoras, samosas, and rice bowls. The formerly cramped interior has (thankfully) been expanded a touch, but it's still highly recommended to plan ahead for this one.
Best place to take the parents: wilks
Redland
The first clue with this chef-driven restaurant should come from the fact that it picked up its first Michelin star within a year of opening. The next should be that when you walk in, it still feels like a family restaurant with small (thankfully well-behaved) children in high chairs, even though the dishes look like artwork. wilks -- named for the chef in question James 'Wilks' Wilkins who trained with Gordon Ramsay, the Galvins, and Richard Neat (to name a few) -- is a classic neighborhood restaurant that also happens to serve up plates filled with caramelized lamb sweetbreads, violet potato gnocchi, and wild monkfish escalope.
Clifton & Southville
This place serves blanket Middle Eastern fare, meaning you'll get the best bites from across the region with plates like Moroccan-spiced lamb with couscous, mint, mechouia & yoghurt, Harissa-fried potatoes topped with feta, and ras el hanout salmon with slow-cooked fennel in yogurt and pine nuts. It's also known for making some seriously creative brunch and at the Clifton branch, there's even a shop where you can buy some of those delicious ingredients to take home with you.

Sign up here for our daily Thrillist email, and get your fix of the best in food/drink/fun.