Fasten your seatbelt and adjust your mirrors—this is Rerouting, your one-stop-shop for mapping out the ultimate summer road trip, no matter what gets your engine going. Cruise over to the rest of our coverage for pit stops at offbeat roadside attractions, sweeping desert panoramas, epic mountaintop vistas, oceanfront oyster bars, dynamic public art, and so much more.
It'd be an understatement to say that the Great Outdoors has become a welcome respite over the past few pandemic-ridden years. Biking is on the rise. RVs became mobile motels for a new generation of road-savvy travelers. Camping (and glamping) is now a go-to weekend activity for backcountry pros and novices alike. And Arizona, with its sweeping landscapes, rugged trails, and breathtaking dark skies, might just be the ideal destination for a little open-air adventuring.
The Grand Canyon State is a massive playground for road trippers of all stripes, whether you're planning to scope out the country's most celebrated national parks or one of its most underrated. Here, jaw-dropping vistas reward onlookers after conquering a long hike or by simply pulling off the road. You'll find red-rock deserts and dense forests, waterfalls, and dry basins… much of which welcome guests all year-round. Plug the coordinates into the GPS and fuel up the tank—these are the Arizona campsites you need to hit this summer.
Valle
Leave your camping gear at home: Under Canvas Grand Canyon has all of the camp-ready amenities you'll need, down to organic bath products and s'mores supplies. Located just outside of Arizona's incredibly scenic Grand Canyon National Park, this glampground sprawls across 160 acres of juniper and piñon forest and offers a variety of upscale accommodations including suites outfitted with a king-size bed and safari-style tents equipped with wood-burning stoves. Its remote location is optimal for nighttime stargazing, and since you'll be well-rested from sleeping on a plush bed, you'll wake up ready to crush that rim-to-rim hike.
Oak Creek Canyon, Sedona
Sedona's impressive lineup of scenic lookouts, epic hiking trails, and unbeatable all-season scenery are primed for a little campfire action. Enter Pine Flat, a postcard-perfect campground located along Oak Creek Canyon that's set against a backdrop of orangey, red-hued rocks, and towering ponderosa pines, all a scant 12 miles from Sedona's city limits. This well-frequented destination is also just a stone's throw from Slide Rock State Park. Here, the adventure-bound will find a popular swimming hole and an incredible natural waterslide that offers a thrilling, white-knuckle ride 80-feet across the smooth sandstone surface.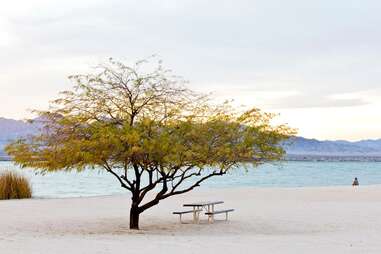 Lake Havasu City
If you're looking to enjoy the Great Outdoors without all this "peace and quiet" nonsense people keep going on about, pitch your tent on the lively shores of Lake Havasu. Not far from one of America's greatest lake towns, this is one of the best party spots in Arizona.
Spend your days floating with friends or hopping from boat to boat before parking it at one of the area's campsites for the evening, each of which comes with a fire pit, a picnic table, and (usually) a shade ramada. Starting at $35 for a standard site ($40 for beachfront sites), it's definitely on the pricier side. But when you start to think of it as less of a campground fee and more of a cover charge, things will start to make a little more sense.
Mogollon Rim, Coconino National Forest
"The Mogollon Rim is great for any type of camper," says former Arizona resident, van-lifer, and travel blogger Kate Moore. "The road to the Rim is paved and not very curvy, so you can easily get an RV to the top. There's a paved hiking path along the rim that has some fantastic views. It's relatively flat and easy for anyone to walk. The best part about the rim is the weather: You get a fresh breeze because of the geography, so it stays fairly cool year-round—and the lack of humidity means there are hardly any bugs."
Arcosanti
Dreamed up by Italian architect Palo Soleroi, Arcosanti—easily one of Arizona's coolest small towns—began as an experimental project: a model of sorts for utopian sustainable living. And today, that 1970s mission still rings true. Situated in Arizona's high-desert some 70 miles north of Phoenix, Arcosanti serves as a year-round urban laboratory, assuming a significant role in conversation surrounding environmental stewardship, inspiring research, and fostering educational opportunities for cultural transformation.
Arcosanti's small resident population practices urban farming and arcology (AKA the fusion of architecture and ecology), and conducts a series of workshops and public programs aimed at curious visitors. Ready to get in on the eco-action? Book a campsite in the Minds Garden and see what's happening for yourself. During your stay, you'll have full access to all of the public spaces (hello, swimming pool) as well as the chance to participate in riveting community events.
Lauren Topor Reichert is a Thrillist contributor, avid camper, and a s'mores connoisseur who prefers her marshmallowy treats extra toasted.