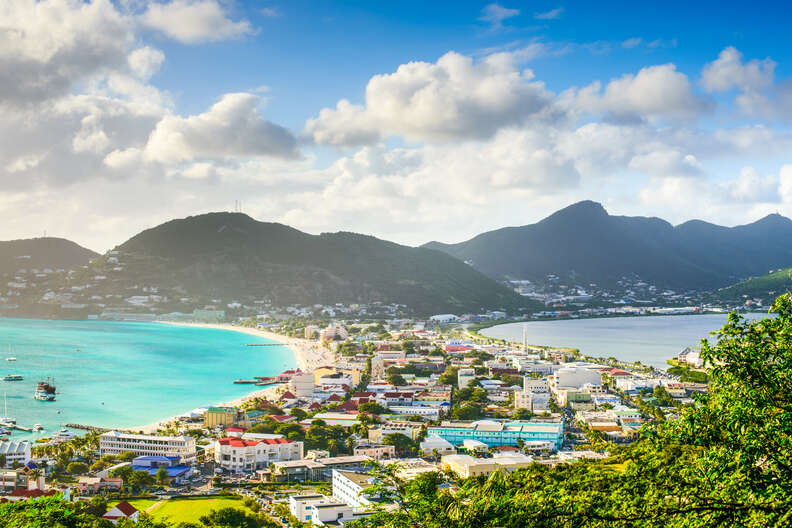 The Best Caribbean Cruise Destinations for Your Next Itinerary
From Alaska to Athens, cruise ports all kinda look the same. You've got your jewelry stores, three-for-$10 T-shirts, throngs of taxi drivers, and shady dudes on the corner who totally aren't looking to sell you anything illegal. But once you get past the first few blocks around the docks, some ports are legitimately cool places to visit -- even if you only have a few hours.
These are the destinations that should absolutely be on your next Caribbean cruise itinerary -- they'll surprise you with spectacular beaches that aren't infested with tourists, trails through seaside desert wilderness, and 21st-century modern marvels. Trust us, you'll be glad you got off the boat.
Philipsburg, St. Maarten
Great for: Shopping, architecture, beach time, fine French cuisine, watching planes take off
If you've only got six hours: Head to Maho Beach, just across the fence from Princess Juliana International Airport, where planes take off within mere yards of the sand.
If you're perpetually confused by the alternative spellings for St. Maarten and St. Martin, there's a good reason. The island has both Dutch and French sides, each spelled accordingly. But that's what makes a stop here so unique: It's like a trip to Europe minus the nine-hour flight. Stroll the Dutch Colonial architecture near the port, then take a short ride over to the French side, which is like a tropical Saint-Tropez with top-notch restaurants. Beaches on both sides of the island might be small, but are stunningly gorgeous -- including the clothing-optional Orient Beach. And because the island has nonstop flights from The Continent, the shopping here is as good as you'll find anywhere in the Caribbean.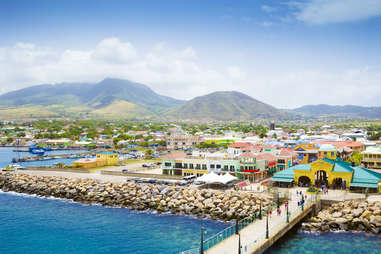 St. Kitts
Great for: History buffs, Hamilton fans, hiking, relaxing on the beach
If you've only got six hours: Take the 45-minute ferry ride over to Nevis, where even if you're not hell-bent on seeing the birthplace of Alexander Hamilton, you can visit a ton of historic sites or relax on considerably less-crowded beaches.
Broadway musical hysteria aside, St. Kitts and Nevis are two of the oldest settlements in the Eastern Caribbean. Add to that the sheer jungle wilderness and dormant volcanoes you can easily hike in an afternoon, and this is one of the most diverse cruise ports in the islands. Touring Caribbean relics like the 350-year-old Romney Manor, the colonial town square, or the Brimstone Hill Fortress lets you experience what life must have been like here in the 1700s. If colonial-era imbibing is more your speed, the beach bars in Frigate Bay are a relaxing way to drink away your time on the island.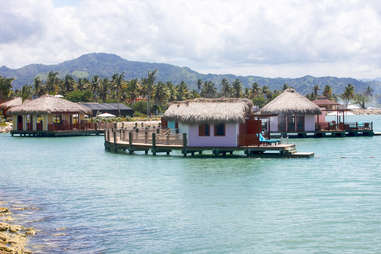 Puerto Plata, Dominican Republic
Great for: Museums, shopping, water park enthusiasts
If you've only got six hours: Hit the Ocean World adventure park, where unlike typical depressing dolphin-and-whale parks, the marine mammals live happily ever after in a giant lagoon. You can also swim with dolphins or sharks, or enjoy the massive attached water park.
This lesser-known spot on the north coast of the Dominican Republic features a brand-new port at Amber Cove that just opened in 2015, with water slides, hilltop and in-water cabanas, and A-list shopping. But venture outside the port and you'll find a city that's not yet teeming with tourists, providing an authentic look at Dominican culture. There's also an entire museum devoted to amber (this is where the amber in Jurassic Park came from... fictionally, of course) and some of the most underrated beaches in the DR.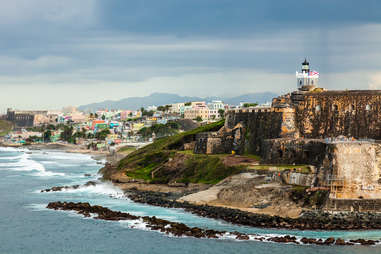 San Juan, Puerto Rico
Great for: Wilderness hiking, historic sites, dining, nightlife
If you've only got six hours: Take a short tour bus ride to El Yunque, the only tropical rainforest in the US National Park System. You won't have time to hike to the top of the Caribbean's tallest mountain, but it'll expose you to some wilderness you don't get back home.
Since it's a major port of departure for cruises to the Southern Caribbean, San Juan is hardly a hidden gem. But with Old San Juan just a short ride away -- where you can hit up the 16th-century El Morro and 18th-century Fort San Cristobal -- it's your best chance to explore Spanish colonial history on a cruise. Puerto Rico is huge, and the best beaches aren't necessarily doable in a day. But the rainforest at El Yunque can be visited in a few hours, the Bacardi distillery isn't far out of town, and the dining options are expansive.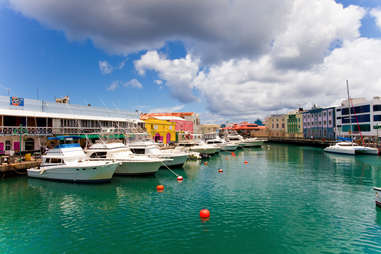 Barbados
Great for: Coral sand beaches, shopping, diving
If you've only got six hours: Dive or snorkel the coral reef within a couple miles of the shoreline. The island isn't as popular as ones close to the US, so the reefs are more pristine and full of colorful marine life.
Barbados is the easternmost island in the Caribbean (technically in the Atlantic), so the waves and breaks on its eastern coast make for some of the most impressively rugged coastline in the islands. A 4x4 tour out here is definitely worth your time, though a stroll through the historic British colonial capital of Bridgetown is a whole different kind of impressive. If you want to get in the water, in addition to the coral reef there are more than 200 sunken shipwrecks near the island.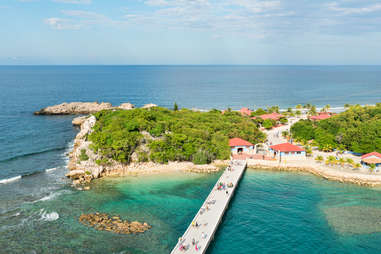 Labadee, Haiti
Great for: Relaxing on the beach, zip-lining
If you've only got six hours: Speed down the exhilarating 500ft-high zip line. It takes you out over the water and is the longest zip line in the world.
Once upon a time, Haiti was a world-renowned tropical vacation destination on par with Havana or St. Barths. And, yes, going there now might involve a cultural immersion you're not quite ready for, but a cruise stop in Labadee is the perfect happy medium. The beach here is private, owned by Royal Caribbean, with tranquil white sands backing up to towering jungle mountains. As private cruise line beaches go, it's tops in the Caribbean, and also features the world's largest zip line.
Bonaire
Great for: Diving, snorkeling, outdoor adventures
If you've only got six hours: You might not have enough time for a full two-tank dive, but try and at least get in the water at the Bonaire National Marine Park. It's the best-preserved coral reef in the Caribbean.
Bonaire is the go-to destination for divers seeking the best the waters of the Caribbean have to offer. But an afternoon here isn't limited to those with PADI certifications. Don't get us wrong, if you've got a card you absolutely must hit the marine park -- but even snorkeling around Klein Bonaire is better than the diving almost anywhere in the US. If you're more for staying on land, a hike through Washington Slagbaai National Park takes you through a spectacular desert with 203 different species of birds. Your kids, if you've got 'em, will go bonkers feeding and petting the donkeys at the Donkey Sanctuary, or taking in the colors at the Bonaire Butterfly Garden.
Colon 2000, Panama
Great for: Dining, drinking, nightlife
If you've only got six hours: Take the hour-long trip into Panama City. It's a steel-and-glass marvel, and the most modern city in Latin America.
Yes, the Panama Canal and Miraflores locks are the obvious draw here, and a cruise stop is the easiest and least congested way to see them both. But at the relatively new Colon 2000 port, you'll be docking so close to the canal, seeing them won't take up much of your time. There's not a ton of shopping to be done here, unless you're looking to import electronics from the world's biggest duty-free zone, so take a ride to Panama City, just over an hour away. It's the only foreign metropolis you can visit on a Caribbean cruise, and gives you a chance to see how this country has exploded economically since regaining control of the canal.
Roatan, Honduras
Great for: Beach time, diving, snorkeling, water sports
If you've only got six hours: Dive or snorkel the second-largest coral reef in the world.
Though it's not nearly as sleepy as it might have been a decade ago, Roatan is still one of the most pleasantly serene ports you'll find on a cruise. The largest of Honduras' Bay Islands, it's the launching point for excursions to see the marine life off the second-largest coral reef in the world. Even if you're not into diving, the nature here is still spectacular. Kayak through mangroves without any noise or commotion, or zip-line above the jungle at Gumbalimba Park. And while the beaches are pretty, it's better to go if you're the only ship in port.
George Town, Grand Cayman
Great for: Dining, shopping, wreck dives, swimming with stingrays
If you've only got six hours: Take a short boat ride to Stingray City, a sandbar where you'll literally be surrounded by rays. Afterwards, enjoy a drink at Rum Point.
For those who want to experience the Caribbean but aren't quite ready to dive head-first into the island culture, Grand Cayman is an absolute paradise. The food here is unmatched, with restaurants from the likes of Eric Ripert, plus an annual culinary cookout that draws A-list food celebs from the world over. Grand Cayman is also home to the Kittiwake, one of the coolest wrecks in the Western Hemisphere. And the shopping at Camana Bay is, like the restaurants, as good as you'll find anywhere in the States.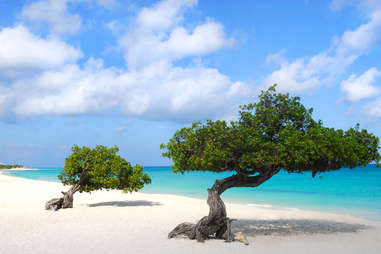 Oranjestad, Aruba
Great for: Hiking, desert adventures, sunny beaches
If you've only got six hours: Spend them at Eagle Beach, said by some to be the best beach in the Caribbean and not always as crowded as resort-laden Palm Beach.
Aruba calls itself "One Happy Island," which might have something to do with the fact that it rains here less often than Cleveland wins championships. (Well, close: This spring it got its first legit rainfall in half a decade.) So a sunny day at Eagle Beach is pretty much a guarantee, but beyond the beaches, even a short port call allows you time to check out Arikok National Park, the most spectacular desertscape in the Caribbean. A horseback ride to the hidden seaside swimming hole is the ultimate peaceful getaway from the teeming masses on your ship.
Sign up here for our daily Thrillist email, and get your fix of the best in food/drink/fun.
Matt Meltzer is a staff writer with Thrillist who is banned from the cruise port at King's Wharf, Bermuda stemming from an unfortunate incident involving a shank and the McDevitt High School class of 2005. Follow him on Instagram @meltrez1.