For some, cruising is all about what's on board the ship—including dining, entertainment, and on-deck pools. But let's be honest; if it was simply about the spas and swanky guest rooms, you could just book an all-inclusive resort and have an absolutely bangin' time on dry land. A cruise sets itself apart by taking you on a joy ride across the ocean, depositing you briefly at various appealing destinations along the way.
Now, we'll be honest; not every port can be a winner. But if you're cruising the Caribbean, there's a lot of fun to be found in or around some of the area's best ports. From stunning national parks to incredible beaches, interesting historical sites to beautiful architecture, world-class restaurants to adrenaline-inducing zip lines, some of the Caribbean's top cruise destinations are absolutely worth any minor seasickness you might experience along the way.
Trust us: You'll be glad you got off the boat.
Philipsburg, St. Maarten
Great for: Architecture, beach time, fine French cuisine, watching planes take off
If you've only got six hours: Head to Maho Beach, just across the fence from Princess Juliana International Airport, where planes take off within mere yards of the sand.
If you're not sure whether to call it "Sint Maarten" or "Saint Martin," don't worry about it. The island actually has a Dutch side and a French side, each with its own spelling. That's what makes this such a unique place to visit; it's like a trip to Europe, but more tropical (and minus the lengthy flight). Stroll around the port to take in the Dutch Colonial architecture, then take a short ride over to the French side, which is like a tropical Saint-Tropez with top-notch restaurants. Beaches on both sides of the island might be small, but are pretty much all stunningly gorgeous—including the clothing-optional Orient Bay Beach.
If you haven't filled up on French cuisine, be sure to grab a plate of cod fritters or creole-spiced fish from one of the island's lolos (local outdoor restaurants) before you head back to your cruise ship; the island is considered one of the Caribbean's great food destinations for a reason.
Basseterre, St. Kitts
Great for: Historical sites, national parks, beach time
If you've only got six hours: Take the 45-minute ferry ride over to Nevis, where you can visit historical sites (including the birthplace of Alexander Hamilton) or relax on quieter beaches. Or, alternatively, hike through one of the island's multiple national parks.
With monkey-filled jungle wilderness, dormant volcanoes you can easily hike in an afternoon, and plenty of historical sites, this is one of the most diverse cruise ports in the islands. Touring Caribbean relics like the 350-year-old Romney Manor, the colonial town square, or the Brimstone Hill Fortress lets you experience what life must have been like here in the 1700s. If colonial-era imbibing is more your speed, the beach bars in Frigate Bay are a relaxing way to drink away your time on the island. And if you're more of an outdoorsy type, you can't skip the lush rainforest of Central Forest Reserve National Park, though those who would rather not walk can also catch island views from the St. Kitts Scenic Railway.
Puerto Plata, Dominican Republic
Great for: Museums, shopping, water parks
If you've only got six hours: Hit the Ocean World adventure park, where marine mammals live happily and humanely in a giant lagoon. You can also swim with dolphins, sharks, and sea lions, or enjoy the massive attached water park.
This lesser-known spot on the north coast of the Dominican Republic features a port at Amber Cove, where you can find water slides, hilltop and in-water cabanas, and exceptional shopping, as well as a brand new port at Taíno Bay that just opened in 2021. But venture outside the ports and you'll find a city where you can experience Dominican culture and look at Victorian architecture. There's also an entire museum devoted to amber and some of the most underrated beaches in the DR.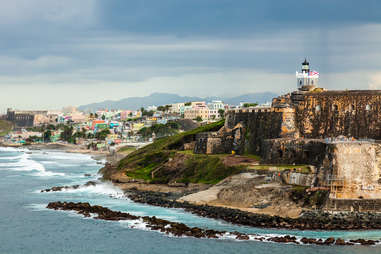 San Juan, Puerto Rico
Great for: Wilderness hiking, historic sites, dining, nightlife
If you've only got six hours: Take a short tour bus ride to El Yunque, the only tropical rainforest in the US National Park System.
As a major port of departure for cruises to the Southern Caribbean, San Juan is hardly a hidden gem. But it's easy enough to visit nearby Old San Juan, where you can hit up the 16th-century El Morro, 18th-century Fort San Cristobal, and the well-known Santa Maria Magdalena de Pazzis Cemetery allowing you to really dig into Spanish colonial history (or at least, as much as you can while on a cruise).
Puerto Rico is huge, and the island's best beaches aren't necessarily accessible if you're just there for the day. But the rainforest at El Yunque can be visited in a few hours, the Bacardi distillery isn't far out of town, and the dining and nightlife options are expansive. And hey, if you really want to visit a beach, you definitely can; you'll find a number of beaches within the city of San Juan, including sandy Isla Verde.
Bridgetown, Barbados
Great for: Coral sand beaches, shopping, diving
If you've only got six hours: Dive or snorkel along the coral reef, within a couple miles of the shoreline. The island isn't as popular as ones close to the US, so the reefs are more pristine and full of colorful marine life.
Barbados is the easternmost island in the Caribbean (technically in the Atlantic), so the waves and breaks on its eastern coast make for some of the most impressively rugged coastline in the islands. A 4x4 tour out here is definitely worth your time, though a stroll through the historic British colonial capital of Bridgetown is a whole different kind of impressive. If you want to get in the water, there are a number of shipwrecks near the island, in addition to that pristine coral reef.
Labadee, Haiti
Great for: Beach time, zip-lining, and other thrills
If you've only got six hours: Speed down the exhilarating 500-foot-high Dragon's Breath zip line. It takes you out over the water and is the longest zip line in the world.
In contrast with other Caribbean ports, Labadee is actually a private resort for the exclusive use of Royal Caribbean passengers. As a result, you won't visit the port with other cruise lines, and you'll also basically be at a resort during your entire stay. That said, it's still worth the trip, offering tranquil white sand beaches backing up to towering jungle mountains. If you fancy a little adventure, you can even take a ride on the world's largest zip line, an alpine coaster, or a 300-foot-long waterslide.
Kralendijk, Bonaire
Great for: Diving, snorkeling, outdoor adventures, wildlife
If you've only got six hours: You might not have enough time for a full two-tank dive, but try and at least get in the water at the Bonaire National Marine Park. Its miles of accessible, protected coral reef have given the small island a reputation of the diving capital of the world.
Bonaire is the go-to destination for divers seeking the best the waters of the Caribbean have to offer. But an afternoon here isn't limited to those with PADI certifications. Don't get us wrong, if you've got a card you absolutely must hit the marine park—but even snorkeling around Klein Bonaire is better than the diving almost anywhere in the US. If you prefer to find your adventure on dry land, a hike through Washington Slagbaai National Park will take you through a spectacular desert with more than 200 different species of birds. Animal lovers will also love boat or kayak tours at Bonaire's Wild Bird Rehab, befriending the donkeys at the Donkey Sanctuary, or taking in the colors at the Bonaire Butterfly Farm.
Colón, Panama
Great for: Drinking, dining, nightlife
If you've only got six hours: Take the hour-long trip into Panama City. It's a steel-and-glass marvel, and the most modern city in Latin America.
Yes, the Panama Canal and Miraflores locks are the obvious draw here, and a cruise stop is the easiest and least congested way to see them both. But at the Colon 2000 port, you'll be docking so close to the canal that seeing them won't take up much of your time. When you're done checking out the canal, take a ride to Panama City, just over an hour away. It's the only foreign metropolis you can visit on a Caribbean cruise, and gives you a chance to see how this country has exploded economically since regaining control of the canal.
Once you're in the city, admire the old-meets-new architecture, a blend of historic buildings and towering skyscrapers. If a museum day appeals, make your way over to the Biomuseo, an interactive biodiversity museum, or check out the Panama Canal Museum if you haven't had your fill of the canal. You'll find plenty of restaurants and nightlife here, too; grab food and drinks with a rooftop view at Lazotea or CasaCasco.
Roatán, Honduras
Great for: Diving, snorkeling, outdoor adventures, wildlife
If you've only got six hours: Dive or snorkel the second-largest coral reef in the world.
Though it's not nearly as sleepy as it might have been a decade ago, Roatán is still one of the most pleasantly serene ports you'll find on a cruise. The largest of Honduras' Bay Islands, it's the launching point for excursions to see the marine life off the second-largest coral reef in the world. Even if you're not into diving, the nature here is still spectacular. Kayak through mangroves, zip-line above the jungle, or tip-toe across a 237-foot-long suspension bridge while observing the island's considerable array of wildlife at Gumbalimba Park. And while the beaches are pretty, you might want to skip them unless you're the only ship in port.
George Town, Grand Cayman
Great for: Dining, shipwreck dives, swimming with stingrays
If you've only got six hours: Take a short boat ride to Stingray City, a sandbar where you'll literally be surrounded by rays. Afterwards, enjoy a drink at Rum Point.
It's hard to go wrong with the absolute paradise that is Grand Cayman. The food scene here is unmatched, with seafood restaurants from the likes of Eric Ripert, plus an annual culinary cookout that draws A-list food celebs from the world over. In terms of water activities, you can swim with the rays at Stingray City, or take a dive to explore the Kittiwake, one of the coolest shipwrecks in the Western Hemisphere.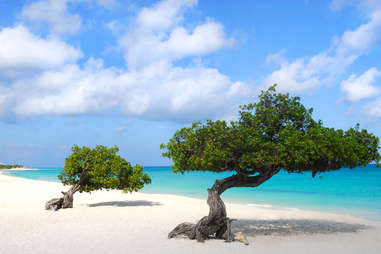 Oranjestad, Aruba
Great for: Hiking, desert adventures, sunny beaches
If you've only got six hours: Spend them at Eagle Beach, recently declared one of the best beaches in the world.
Aruba calls itself "One Happy Island," which might have something to do with the fact that it rarely experiences a rainy day. So if you're looking for a warm, sunny excursion to the famed Eagle Beach, you're practically guaranteed nice weather. If you can bring yourself to leave the beach, however, you'll be glad you did. Even a short port call should allow you time to check out the spectacular landscape of Arikok National Park, which despite its Caribbean location, has rugged, desert-like terrain filled with cacti—overlooking the sea, of course.