St. Lucia

| Jade Mountain
St. Lucia

| Jade Mountain
The Caribbean is doing just fine, thank you. This season's brutal hurricanes wreaked havoc on destinations like Dominica, Barbuda, Puerto Rico, and the Virgin Islands, but make no mistake, there are plenty of islands that emerged unscathed. And not only are they open for business, tons of Caribbean hotels, resorts, and even cruise lines are offering some stupendous deals this fall and winter. Combine that with a wealth of new, cheap flights and this may well be the perfect season to escape to the islands.
The best deals aren't always easy to find, so we enlisted to help of some experts to find the islands with the best bargains in the Caribbean. Daniel Marmontello from CheapCaribbean.com and Jessica Bisesto from Travel Pirates both dished on where you'll save the most on both flights and hotels, throwing out some eye-popping deals in the process.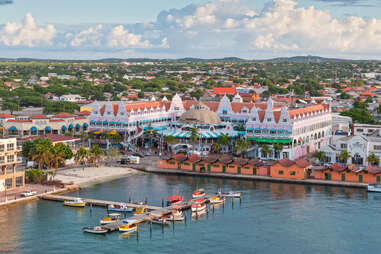 Aruba
Sunny, windswept Aruba fell safely out of the path of storms this year (as it does most years) and has one of the most unique landscapes to discover in the Caribbean. To help you along, the fancy-shmancy Riu Palace has four-night deals with air starting at $1,259. The four-star Amsterdam Manor Beach Resort is slashing 30% off the rates for its rooms, which offer incredible views and four-star amenities. But the sweetest deal by far is at the Divi Village Golf & Beach Resort, which is pushing mega low rates starting at $145 per night. As always, we've got you covered once you touch down: here are the 20 cool things to do in Aruba.
Bahamas
The Bahamas escaped in relatively good shape after close calls with both Irma and Maria. To celebrate, local hotels and resorts are making stuff stupid cheap. Lighthouse Pointe at Grand Lucayan is offering all-inclusive stays with premium drinks for $169-$191 per night, now through the rest of the year. Resorts World Bimini will ferry you from Miami to their island resort for $250 per person for two nights with a free drink at Luna Beach. Hurricane-stressed Florida residents can get a free night at Resort World, and a $99 rate for every night after.
"There were also great rates to Atlantis Paradise Island a week and a half ago," says Bisesto. "They were offering $100 nightly room rates, which appear to be gone. But we have a page where we track that, so stay tuned, it might come back."
Barbados
Welcome to the world of cheap airfares, Barbados! A country that was once prohibitively expensive to reach has flights this season starting at $75 one-way and $185 round trip. And they're on airlines like JetBlue and American, so that price is pretty reflective of what you'll actually pay -- none of that extra fee, budget airline tomfoolery. Once you're there, the Hilton Barbados is offering rooms at $215 a night, down a pinch from the usual $230. And the Accra Beach Resort, a four-star hotel right on the beachfront, is offering up five-night deals for $582.
Cayman Islands
The Cayman Islands have also seen some stupid-cheap airfares this fall, starting at about $64 on American Airlines. To sweeten the pot, hotels are offering some serious discounts in an effort to jumpstart the tourist season. For a bit of luxury on a budget, check out the Grand Cayman Marriott Beach Resort, which will knock $150 off your room every night. Or if you're even more cash-strapped, the Shangri-La Boutique Bed & Breakfast has rates starting from $130 per night.
Curaçao
Even though it's closer to Venezuela than it is to most other Caribbean islands, flights to Curaçao are averaging a low $308 round trip right now. For lodging, the luxurious Lions Dive & Beach Resort has 40% off rooms there. And the Santa Barbara Resort and Beach Club, set on a sprawling 27-acre natural preserve, offers 35% off per night, plus an extra $25 daily resort credit in your pocket if you travel before the end of 2017.
Guadeloupe
The tiny island of Guadeloupe is gearing up for a serious influx of tourists, as Norwegian Air has started service there with flights from Boston for $250 round trip. The hotels are matching those deals, like the three-star Le Rayon Vert where you can enjoy the ocean views and infinity pools for $40 off per night. The Canella Beach Resort is also discounting its rooms by 40% in anticipation of all the new visitors. Maybe you should be one of them.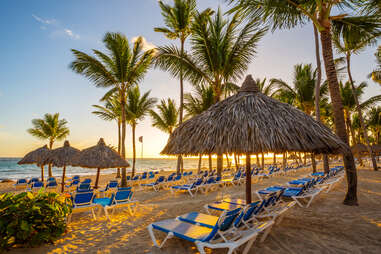 Dominican Republic
"There are some incredible deals to Punta Cana due to the increased amount of hotels there," says Marmontello. More competition means more savings for you, dear traveler! Case in point: the Be Live Collection Marien has rooms for $98 a night that usually cost $280. But the deals aren't limited to Punta Cana. The four-star LifeStyle Tropical Beach Resort in Puerto Plata has a five-night vacation with air for $645. But with round-trip flights for as little as $259 right now the entire country might be the best deal in the region.
Jamaica
Sorry to disappoint, but Hedonism doesn't seem to be running any crazy winter specials, so your swingers resort fantasy is gonna cost full price. But if you're cool with keeping your clothes on, there are deals to be had in Jamaica. The Azul Beach Resort Sensatori cuts your room rate more than half if you book by October 31, and throws in $1,000 worth of resort credit if you stay three nights. The Jolly Beach Resorthas a package with airfare running until December 20 where four nights and flights will run you $719 out of NYC. Not too shabby.
Haiti
Now's a swell time to check out one of the most underrated destinations in the Caribbean. A good way to dip your toes into this less-visited nation is at Indigo Beach, where the four-and-a-half-star Royal Decameron resort gives you five nights with airfare starting at $629. An exceptionally-low price, considering flights to Haiti can cost you $500 without the sprawling resort set on a private white-sand beach.
Mexico
Drop in on most beaches in the Yucatan, and you'd probably mistake it for some faraway paradise hundreds of miles east. But the mainland Caribbean is just as spectacular, and flights to Cancun can be had for a couple hundred dollars. If you book from November 16 to December 8, the Mahekal Beach Resort has rooms for a silly $149 a night, with a $200 food and drink credit if you stay more than four nights. Just down the road in Riviera Maya, the Azul Beach Resort will give you 40% off if you book before Halloween and travel before Christmas. That's $196 per night, with a $1,000 resort credit thrown in for four nights or more.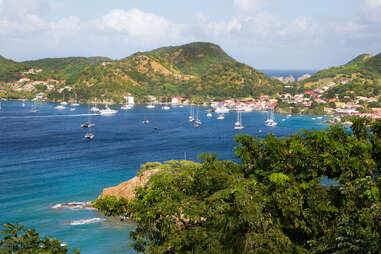 Martinique
The closest you can get to France without hopping the pond is this little gem in the Windward Islands. Martinique is set to see a dramatic increase in flights, led by Norwegian Air's new service from Providence and Fort Lauderdale. Look for $250 round trips in the very near future. "The best hotel deal there is this stunning five-star resort, La Suite Villa," Bisesto says. "It offers guests plenty of peace and quiet in addition to a whirlpool spa on a private terrace from $240. Prices normally start at $280 per night."
Saint Lucia
Perhaps the most up-and-coming destination in the Caribbean is the jagged, adventurous island of Saint Lucia. Though it ain't cheap, the absolute best splurge value here is the Ladera Resort, where your open-air room comes with a private swimming pool and a front row seat to the Pitons. It's discounting its rooms by over $300 a night this fall. The Bay Gardens Beach Resort is offering 40% off its normal rates. For a rare extended stretch of white sand on this volcanic island, stay at the Landings Resort and Spa at Rodney Bay. They've cut their rates in half, and have rooms starting at $297 a night.
Turks and Caicos
Though they had a small amount of storm damage, the Turks and Caicos are back up and running, and some of the nicest resorts on the islands are offering steep discounts. The four-and-a-half-star Windsong Resort, where rooms usually go for upwards of $700 a night, is offering 45% off this fall. Or you can peep the water from your balcony at the Royal West Indies Resort where rooms are $60 cheaper than usual. Finally, the Regent Grand at Grace Bay gives you access to one of the best beaches in the Caribbean, with rates floating around $300 a night when they're usually $500.
BONUS: Cruises!
Cruise lines aren't skimping on deals either. The best among them is Norwegian Cruise Lines' Spooktacular Splash, offering $1,000 in credits to blow onboard for all 2017 Caribbean sailings. But the fun doesn't stop there! Book an ocean-view, balcony, or mini-suite and you can choose two free onboard amenities: an unlimited open bar, free specialty dining packages, $50 towards shore excursions in each port, 250 minutes of free Wi-Fi, or free third and fourth guests.
Not to be outdone, Royal Caribbean is offering packages out of Port Canaveral in Central Florida with Universal Orlando. These include hotel, park-to-park admission to all three Universal parks, hotels at Universal, and transfers from the airport, port, and parks.
Sign up here for our daily Thrillist email and subscribe here for our YouTube channel to get your fix of the best in food/drink/fun.

Matt Meltzer is a contributing writer to Thrillist who reminds everyone to research "island time" before planning any trips to the Caribbean. Follow him on Instagram @meltrez1.