Travel to enough 86-star resorts in the Caribbean and you start thinking to yourself, "How are there enough rich people in the world to keep all these places in business?" And assuming they're not all money-laundering fronts, this is a very valid question. In a region where private butlers, infinity pools, and exquisite cuisine are but the baseline for a luxury resort, how does one set itself apart?
Some resorts and hotels on the islands have that certain something special. Whether it's the oldest wooden house in the Caribbean, or the best collection of rums you'll find in a 200sqft bar, some properties are just flat-out cool spots worthy of at least a visit if you're in the area. Some are ultra-luxe. Others you might actually be able to afford. But all of them make where you stay just as much a part of your vacation as the island you visit.
St. Barths
Price per night: From $700
Why you should go: This ultra-chic spot has a glamorous Hollywood past.
Jutting out on a promontory into the turquoise water, this massive compound on the Caribbean's poshest island looks like a mega-resort, but in truth the luxurious Eden Rock has only 34 rooms. But who needs space when you've reached legendary status? The original Eden Rock was a Hollywood hotspot in the '50s and '60s, long before St. Barths blew up and other sexier properties drew all the celebs. Since the early 1990s, Eden Rock has been reinvented with lavish private villas, beach houses, and oceanfront suites. It also sits just off a coral reef, making it the best place to stay if you came to St. Barths to actually see things, instead of just being seen.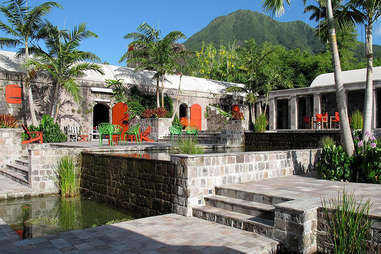 Nevis
Price per night: From $210
Why you should go: Explore the lush tropical grounds surrounding this old converted sugar plantation.
Irish castles are great and all, but they can get a bit drafty. Caribbean sugar mills, however? Nice and balmy. For stone structure lodging with temperate air, nowhere beats the Golden Rock Inn, an 11-room resort built onto the side of Nevis Peak from the ruins of an old sugar plantation. Guests stay in lava-rock cottages, wooden bungalows, and the aforementioned sugar mill house. Between the cottages are intricate tropical gardens and a spring-fed pool, bordered on one side by the rainforest and the other by a pretty decent surfing beach. The whole thing sits on 96 acres, and while getting out and exploring the island is a must, the time you spend here won't leave you feeling confined.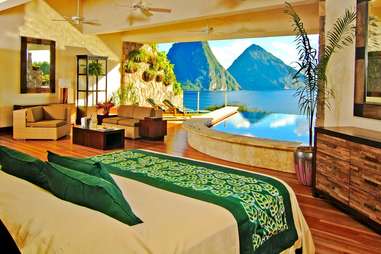 St. Lucia
Price per night: From $1,480
Why you should go: The over-the-top rooms feature private infinity pools, butlers, and open-air views.
Sometimes, three walls are better than four -- you'll certainly agree after spending a night with nothing separating you and the Piton mountains but air and the Caribbean Sea. Nearly each room in this ridiculously decadent resort is equipped with an infinity pool that flows out from an open wall, merging with your view of the bay. Oh, and your own personal butler is on call 24 hours a day to bring you breakfast or a rare rum from the bar. If you choose to leave your room, the restaurant has a menu crafted by James Beard winner Allen Susser, which can be enjoyed in the open-air dining room or upstairs on the starlight terrace.
Negril, Jamaica
Price per night: From $95
Why you should go: You get your own private hut and terrace right on the water with property-wide Wi-Fi.
Though Jamaica has some of the world's best coffee, you won't need it to wake up here: Just stroll outside your thatched-roof cottage, stare out at the crystal-clear Caribbean, then jump straight in like you're one of the famous Negril cliff divers. Perched atop small cliffs at Pristine Cove, this boutique hotel boasts 34 little stone huts that are connected by jungle-like gardens and pathways, while the less chic standard rooms can be had for $100 a pop. With daily classes for everything from African drumming to Bob Marley portraiture, you won't even notice that the entire resort has free Wi-Fi.
Antigua
Price per night: From $175
Why you should go: The 18th-century property in Nelson's Dockyard is dripping with nautical history.
For fans of nautical history and sailing, there is no cooler place to stay in the Caribbean than this resort, which was once a storehouse in Admiral Horatio Nelson's dockyard. The buildings are made of bricks brought over as ballast in English ships, and the pillars around the property were once the foundation of a great boat house. A trip to the bar has you looking at the deck plans for Nelson's HMS Boreas, with names from other 19th-century ships carved into the bar. Even if history gets old, the hotel sits in Nelson's Dockyard National Park, and offers free shuttles to the relatively undisturbed beaches nearby. And the best part is rooms start at a not-eye-popping $175.
Nevis
Price per night: From $150
Why you should go: You can stay in refurbished gingerbread cottages on this historic plantation property.
For all you Hamilton-heads out there looking to make a pilgrimage to Alexander's homeland, this old plantation house will give you a glimpse at what life might have been like during his time... provided "his time" also included high-speed Wi-Fi. The main house is reported to be the oldest wooden house in the Caribbean, dating back to around 1670. It had fallen into ruin until the early 1970s, when a couple from Pennsylvania bought the place to tear it down and build a home for their retirement. Upon learning the house was made of one of the strongest woods in the world, they instead opted to rehab the property, outfitting it with chattel houses from around the area that were refurbished, repainted, and repurposed as the colorful gingerbread cottages around the resort. The Hermitage now stands as a bastion of luxury at the base of the Nevis rainforest.
British Virgin Islands
Price per night: From $225
Why you should go: This eco-resort, only accessible by private boat, has an extensive bar of rare rums.
While yacht-up resorts aren't exactly a rarity in the BVI, the king of the crop is at Cooper Island. By day, the bar overflows with folks in Vineyard Vines and Sperrys, taking their drinks to the in-water cocktail tables. The solar-powered resort is also home to one of the Caribbean's most extensive rum bars, where you'll find rare-production stuff in a space barely bigger than a utility closet near the main restaurant. The custom-roasted coffee is worth the ferry ride from Tortola, even if you're not staying at the resort. But if you are, the rooms are big, airy suites perched atop the hills behind the main house, each with balconies staring out onto the vast Caribbean.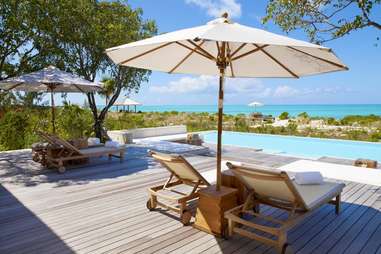 Turks and Caicos
Price per night: From $670
Why you should go: Stay in a private house with your own private beach and pool.
The undisputed Caribbean champion of turquoise waters and gleaming white beaches is Turks and Caicos. And while the posh resorts along Grace Bay in Providenciales are nothing to sneer at, sometimes you just don't want to share. Take a short boat ride from Grace Bay to this private island and you'll have your own personal stretch of beach, like being marooned on a tropical island with air conditioning and Donna Karan décor. Each house also comes with its own swimming pool, outdoor shower, and room service, while the main house boasts a gourmet restaurant and an Olympic-sized infinity pool. And if you do want to venture out and experience the colors and warmth of the TCI sans the throngs of tourists, this is the place to do it.
Exuma Cays, Bahamas
Price per night: From $260
Why you should go: The waterfront bungalows, marina, and clubhouse have old-school '50s charm and history.
Sometimes the classics just hold up, and this 1950s glam spot on a tiny island near Exuma is just as spectacular a resort as it was when Sammy Davis Jr. and Sean Connery were regulars. The place consists of one main clubhouse and a bunch of funky, pastel cottages held up on pillars, like a little Stiltsville but still in operation. All-inclusive packages get you the use of your own Boston Whaler to take around the islands for fishing, snorkeling, or visiting the swimming pigs at Big Major Cay. After you're done with your water excursions you can hit the clubhouse bar and visit with the assorted yachtsmen who tie up offshore and use the place to party.
Dominica
Price per night: From $280
Why you should go: This eco-retreat affords access to lush rainforest trails, sans tourists or stereotypical resort snobbery.
Dominica is not a place you go to get pampered. You won't find any Ritz-Carltons or St. Regii here. Instead you'll find this solar-and-wind-powered eco-resort set right at the foot of a thick rainforest, amidst swaying palm trees on a rocky beach. The resort sits where the Rosalie River empties into the Atlantic, so walks around the property go from serene riverside to waves crashing into boulders to relaxing black sand beach. It also employs people from the surrounding mountaintop villages, who'll happily tell you about all the hidden waterfall hikes that no other tourists find. The rooms are mostly oversized two-room suites with high ceilings and big windows, so the ocean breeze can flow over you after a long day in the hills. And a dip in the onyx-lined pool, flanked by towering dark green mountains, gives the feeling of swimming in the jungle with a bar 20ft away.
Sign up here for our daily Thrillist email, and get your fix of the best in food/drink/fun.